In those days, 81% of data breaches are due to weak passwords and policies. Strong passwords are very important while most users have problem in creating and remembering different & complicated passwords. Keeper password manager comes to help. It creates unique and powerful passwords as well as stores them safely. Do you need Keeper Promo Code to save money? After applying Keeper Promo Code, you will get extra discount. Get more about Keeper promotion information in this article.
What is Keeper?
Keeper password manager is owned by Security which is committed to the industry best practice of responsible disclosure of potential security issues. It is one of the early entrants into the password-manager market. Their goal is to build the world's most innovative and safest security apps. It offers to generate new and strong passwords for all of your accounts. Your passwords will be stored in your account and you can access them any time you need them. It stores your sensitive files, documents, photos and videos in a highly secure and encrypted digital vault. You can securely share files with partners and have confidence for knowing that your information is backed up in Keeper's Cloud Security Vault. It is very popular tool with multiple features.


Pricing & Promotion
Keeper offers products for individuals and business. It only provides yearly plans. Under individuals, you can choose unlimited e or family package. The unlimited package costs $2.50 USD per month per user. The family package is $5.00 USD for five users per month. The individual paid plan includes unlimited password storage, syncing across all platforms, a password generator, cloud backup of credentials and records, record sharing, and automatic form filling for websites and applications. The extra feature comes with family package is 10GB Secure File Storage. The business package is $2.50 USD per month per user. The Enterprise package is $3.75 USD per month per user. You can purchase the package for 5 to 100 employees. The business premium plan comes with Admin Console, Vault for Every User, Unlimited Devices, Policy Engine & Enforcements, Security Audit, Recent Activity Reporting, Shared Team Folders, Automated Team Management, Advanced Two-Factor Authentication, Email Support, Developer API, Automated User Provisioning, Active Directory and LDAP sync and Single Sign-On SSO Integration. Keeper enables companies to take control of their passwords. Every employee is provided a secure, cloud-based digital vault that stores passwords and any other critical information such as encryption keys and digital certificates. Currently, the provider offers promo code to allow users to save extra 15% off on each package. You can spend less money than other users with Keeper promo code.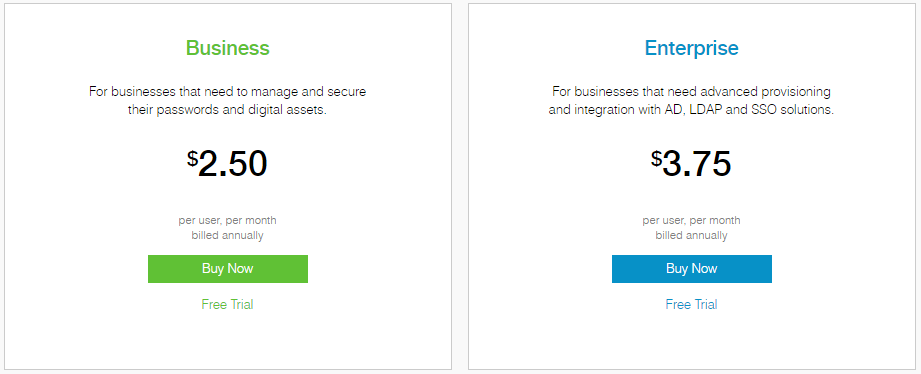 About Keeper?
Keeper password manager is one of the popular products. It has attracted lots of users around the world with various useful features. It is able to create high-strength and random passwords every time you create a new account. You are allowed to import passwords and other personal information. Its security audit gives you an overall security score for all of your credentials, and specifically calls out weak passwords and reused passwords for replacement. When you browse the website, it captures login info and passwords and securely stores them in a neatly organized vault that's easy to access, and generates passwords for you on the fly. Keeper utilizes best-in-class security to safeguard your data vault and make sure they are safe from hackers and snoopers. This password manager supports multi-factor authentications to add extra layer of protection to your account. It lets you use the fingerprint scanner on your mobile device to quickly log into your Keeper vault, website or application conveniently. Keeper is fanatical about protecting your information and allowing you to access it from anywhere at any time. The drawbacks are its password updater and form filler features are not as good as Dashlane and RoboForm. Keeper Promo Code, Coupon Code 2019 – Get Extra 15% OFF.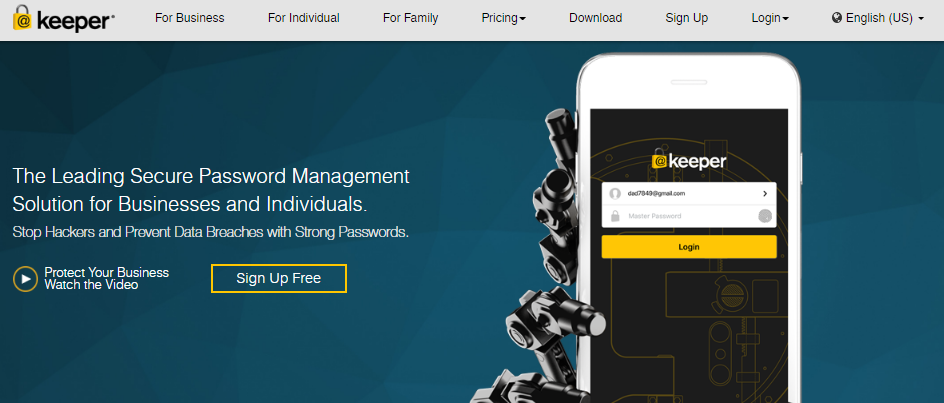 Useful Password Manager
How do you manage your passwords to make sure that they are safe and can't be forgotten? In fact, we find that it is very difficult to remember passwords to dozens of accounts. Simple passwords are easy to remember, but also easy to crack. Reused passwords can cause massive passwords theft if one account is compromised. Besides, storing your passwords on paper in a spreadsheet or in your browser is vulnerable to cyber criminals. The best solution is getting a password manager like Keeper. Keeper generates strong passwords and protects unlimited passwords in your vault. We all know that the stronger your password, the better you're protected against hackers. Its password generator provides what you need. By default, Keeper creates 12-character passwords using all character types while the one-click password updater creates 16-character passwords. You can also create your own passwords and Keeper will measure their strength and provide suggestion for stranger one. Given that you don't have to remember these passwords, it's okay if you create 16-character or longer passwords.
Keeper doesn't include fully automated password updates such as you get with Dashlane, LogMeOnce Password Management Suite Ultimate or LastPass. When it detects a password-change page, it offers an option to update and save a new, strong password. You can change password with one click. Keeper also takes care of your existing passwords. Its Security Audit lists all your saved passwords, from weakest to strongest, flags the worst of them for update and assigns a security score. If needed, let it strengthen passwords for you. Simply click on the update options, all of your passwords will be strong and unique. From password manager software or browser extensions, you can view all of your accounts and passwords clearly. You won't forget or get confused by different passwords with Keeper.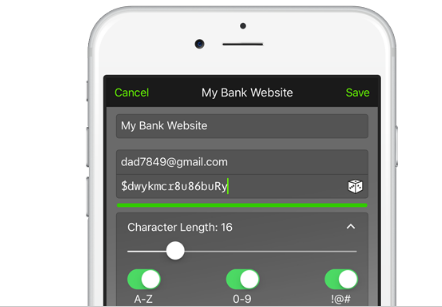 Is It Safe to Store Password on Keeper?
Passwords are vital to our digital property. Once others have your passwords, they can access your email, social media accounts and even bank accounts. Here comes the question. Is it really safe to store passwords on Keeper? Yes, it is safe. Your stored data vault will be encrypted with a 256-bit AES key which is randomly generated on the device. AES with 256-bit key-length is secure enough to encrypt classified data up to TOP SECRET classification for the U.S. Government. The random keys are protected by an additional key called the Data Key and Data Key is encrypted by a key derived on the device from your Master Password. Only you have knowledge of and access to your Master Password and your encryption key. Others have no chance to access your confidential information as your data is encrypted and decrypted at the device level not on Keepers servers or in the cloud. Keeper's certified TRUSTe and SOC-2 also give you peace of mind.
In addition, this company has zero-knowledge security. You are the only person that has full control over the encryption and decryption of your data. Keeper cannot decrypt your stored data, access your master password or access to the records stored within the Keeper vault. If you forget your master password, there's no way to access the passwords you stored in the password manager. The company can't recover them for you. Others have no option to view or steal your confidential information. It is highly recommended that you use a complex Master Password and enable Multi-factor authentication in order to provide maximum security for your encrypted Keeper Vault.


Great Personal Data Storage
Keeper also works like data storage with high protection. Its import wizard makes it easy to quickly add your passwords from a spreadsheet, web browser or another password manager. It allows you to import passwords from all web browsers. It can also import from almost 20 competitors, among them Dashlane, LastPass and RoboForm. You can save time in adding passwords manually. The password manager organizes passwords and other information with folders and categories. Keeper utilizes Amazon AWS to host and operate the encrypted Cloud Security Vault offering you with unlimited secure backups. You will be able to access and sync your passwords from any of your devices.
Is it secure to sync your passwords? The encrypted binary data travels over an encrypted SSL tunnel and stored in Keeper's Cloud Security Vault in encrypted format when you sync your data vault to another account. Your files, photos, credit and debit card information are locked safely in your secure vault. In case you lost you loved device, you can restore your personal data on a new device by accessing your data vault. Comparing with other products, Keeper provides basic personal information categories and no preset options to save driver's license or passport numbers.


KeeperFill
Like other products, Keeper has the feature to fill web form. The KeeperFill enables you to access your websites and mobile apps quickly without having to remember or enter passwords. When you first use it, the software will guide you through the process of creating your first record and installing the browser extension along with an optional tour of the extension's features. It offers guide to show you how to add a payment card and personal information for filling web forms. Keeper captures passwords when you log in to secure websites. When it detects a login screen, it pops up a small window that offers to create a new record or add to an existing one. If you choose to create a new record, you enter your username and password directly into Keeper, after which it fills them in on the login page.
Unlike other password managers, Keeper does not let you create multiple identities on one platform. The good thing is it lets you add multiple phone numbers, addresses and payment cards. When adding bank card detail, you can use your smartphone to scan the card for information. You don't have to type in the long series of digitals. KeeperFill isn't quite as automatic as with most other password managers. Dashlane auto fills detail information when you open a web form. To make KeeperFill work, you need to click the lock icon in any field to display specific information. You can select an address and click to fill all matching fields, or expand the view and fill fields one by one. It takes more times and clicks to fill form. On iOS, you have to add KeeperFill to the Share Sheet, which is the pop-up menu that appears when you need to share info between apps. On Android, you need to enable KeeperFill in the general keyboard settings. In this aspect, Dashlane is more helpful. You only need to import personal information and the form filler works automatically when you are about to fill a form online.


Multi-Factor Authentication
Keeper supports multi-factor authentications like biometric login and Keeper DNA. It allows you to integrate with two-step verification providers. It also is compatible with Apple Watch for two-factor authentication. You are able to login with fingerprint or facial recognition on PC or mobile devices. Random passwords can be helpful for multi-factor authentication. Keeper generates a 10-byte secret key using a cryptographically secure random number generator. The one-time code is valid for about a minute and it can be sent to you by SMS, Duo Security, RSA SecurID, TOTP application, Google Authenticator or Keeper DNA-compatible wearable devices. That makes pretty difficult for hackers to crack your account. For further security, you also can make changes in settings to require the second factor just once on new devices, every 30 days, or at every login.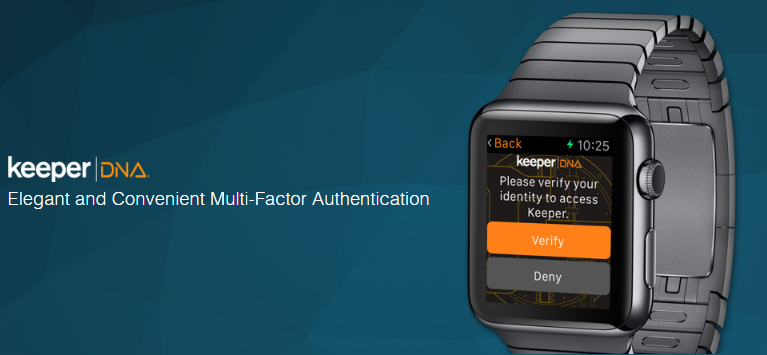 Secure Password Sharing & Emergency Access
Passwords are confidential and sometimes you may need to share them with your trusted partners. Will you write them down and give the note to your partners? What if your partners are on a business trip in another country? You will need to share the passwords via the Internet. Hackers can intercept your sessions and grab your confidential if you are not protected. Keeper allows you to securely share passwords and logins. According to the provider, each Keeper user has a 2048-bit RSA key pair used for sharing records and messages between users. All shared data is encrypted with the recipient's public key while the recipient decrypts the shared information with their private key. No one can steal your information as only the intended recipient is able to decrypt it. Please not the intended recipient is required to have a Keeper account. When you enter the recipients' emails, it will tell you the recipients need to create a free account to receive your information if they don't have one. You can set to allow recipients to view and use logins only, or enable them to edit or share logins or make them as the account owner.
What happens to your online accounts after you shuffle off this mortal coil? How would you like to deal with your logins? Keeper comes with a system to grant a trusted friend or relative emergency read-only access to your accounts. It lets you enter the email address for up to five trusted individuals with Keeper account to accept your invitation. It is possible to set the wait to be few days or months. Once a specified wait time has elapsed, the emergency contact will gain access to your vault. The process of sharing a vault does not require Master Password. Besides, RSA encryption is utilized to share a 256-bit AES key with the emergency contact at the expiration of the wait time set by you. It makes everything safe.

Easy-to-Use Software
Keeper password manager offers native apps for Windows PC, macOS, Android, iOS, Kindle, Windows Phone, and Linux, as well as browser extension for Chrome, Firefox, Safari, Edge, and Internet Explorer. It is able to manage passwords for you on every smartphone, tablet and computer. Your stored data will automatically sync with all your devices with full online and offline access. The manager client is constantly improved and updated to provide users with the latest in technology and protection. The user interface is clear and streamlined, so you can find functions you need easily. New users can get started with it easily because it will walk you through the basics of using the application without making it feel too drawn-out. On its official websites, you find many kinds of useful information on Video Tutorials, User Guides, Webinars and FAQs. If you need instant help, click the live chat button to contact their support team.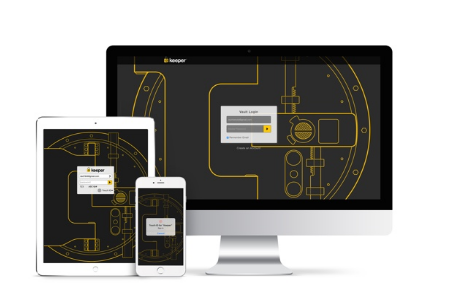 Top 5 Best Password Managers In The World
| Brands | Key Features | Support Platforms | Offers | Price(USD) | Official Website |
| --- | --- | --- | --- | --- | --- |
| | Two-Factor Authentication, Fill Web Forms, Multiple Form-Filling Identities, Actionable Password Strength Report, Browser Menu Of Logins, Application Passwords, Secure Sharing, Digital Legacy | Windows, Mac, iOS, Android, Linux, Chrome OS, watchOS | Offers Free Version | $39.96/Year | Best Choice |
| | Two-Factor Authentication, Fill Web Forms, Multiple Form-Filling Identities, Actionable Password Strength Report, Browser Menu Of Logins, Application Passwords, Secure Sharing, Digital Legacy | iOS, Android, Windows, Mac, Linux, Chromebook | Offers Free Version | $19.95/Year | View Deals |
| | Two-Factor Authentication, Fill Web Forms, Multiple Form-Filling Identities, Actionable Password Strength Report, Browser Menu Of Logins, Application Passwords, Secure Sharing, Digital Legacy | Windows, Mac, iOS, Android, Linux, Chrome OS, Windows Phone, watchOS | Offers Free Version | $24.00/Year | View Deals |
| | Two-Factor Authentication, Fill Web Forms, Multiple Form-Filling Identities, Actionable Password Strength Report, Browser Menu Of Logins, Application Passwords, Secure Sharing, Digital Legacy | iOS, Android, Safari (Mac), Chrome and Firefox (Mac and Windows) | Offers Trial Version | $29.99/Year | View Deals |
| | Two-Factor Authentication, Fill Web Forms, Multiple Form-Filling Identities, Actionable Password Strength Report, Browser Menu Of Logins, Application Passwords, Secure Sharing, Digital Legacy | Windows, Mac, iOS, Android | Offers Free Version | $10.20/Year | View Deals |
Conclusion(Keeper Promo Code, Coupon Code 2019 – Get Extra 15% OFF)
Want Keeper Promo Code to get saving? Keeper promo code helps you save money. Keeper is a useful password manager which includes the advanced features found in the very best password managers. You can benefit from the great password generator, encrypted data storage, KeeperFill, two-factor authentication, an actionable password strength report, password inheritance and secure sharing & syncing. For security reasons, it doesn't perform fully automated password updates, but you can update and save a password with a single click. If you want automated password update, you may need Dashlane. It would be great if Keeper improves on its feature for storing and filling out personal information. Some users also expect that Keeper can reduce the number of steps needed to change a password in its security audit. All in all, Keeper is a helpful product. In the end, we would still recommend either Dashlane or Roboform to most users because of their more extensive feature sets. They also are cheaper. They have high reputation and trusted by worldwide users.


Published by & last updated on February 19, 2019 6:38 am