Are you looking for a way to secure online accounts with less effort? We have multiple devices, multiple applications with multiple passwords, IDs and logins. It is a tough job to manage all of them. Do you use simple passwords or reuse the same passwords? Password theft is a simple way for hackers to grab valuable information and money from you. You should use a long and strong alphanumeric password to keep your data secure. Want multiple layers of protection to keep your online identities and your information safe? LogMeOnceb offers what you need. Learn what it offers in this LogMeOnce Review.
Brief Information of LogMeOnce Password Manager
LogmeOnce is a great company with high reputation. It provides revolutionary computer security solution to help user select strong passwords and therefore strengthen their online activities. You can use the random generator feature to produce complex and stronger security credentials that will protect digital property. This password manager employs Advanced security encryption technologies such as AES and SHA-512, so feel free to store your passwords on it. It also protects your email, bank account and even physical devices like laptops, cell phones and computers. Logmeonce is constantly updated and it's always one step ahead of phishing methods, RATs and Keylogger programs. That makes it one of the leading password managers trusted by worldwide users.

Why Use LogMeOnce Password Manager?
According to research, users tend to use easy to remember passwords and rarely change them. That's not suggested. If you are one of those users, you got yourself an identity security issue which makes you an easy target for hackers. You should note that multiple weak passwords and log in challenges are causing security nightmares, costing valuable time and money, and putting users at risk. With your passwords, hackers can grab your money and abuse your identity to perform illegal activities. That's horrible. Let a password manager help you create and store strong password. Why should you choose LogmeOnce? There are many reasons. LogmeOnce has rich experience and the industry recognitions. This company has been inventing security and encryption products since 1998. They provide Last-Mile and End-to-End security even after the SSL/TLS is terminated. Your passwords are protected with AES-256 encryption technology. You don't need to worry about password theft any more.
LogmeOnce also works like a web form filler. With it, there is no need to type in passwords to access applications or fill a long form to make payment any more. A Simple click on an application or website icon, and you will be logged in automatically through LogmeOnce secure and encrypted access management process. LogmeOnce provides product at reasonable prices. The Business package starts from $2.00 USD per user per month. It allows unlimited apps and minimum three users. Free account of this package is available which allows up to three users and five apps. The Enterprise package starts from $4 USD per user per month. It supports unlimited apps and minimum ten users. This package suits you if you need to manage an organization or company. There is no free account on this package, but you can test the product without paying money because they provide 30-day trial. It is a risk free service.

Is it Safe to Store Passwords on LogMeOnce?
Passwords are very important for use. Passwords let you access your money, control your social media accounts and more. Is it really safe to store this kind of important information on password manager? Yes, it is. After you import related information, your information is deposited and locked into your Cloud Safety Deposit Box with a unique user-selected key. Only you have the master password to access your account. LogmeOnce's employees and servers and servers do not have access to your confidential. How about the hackers? Rest assured. Your data is securely packaged and encrypted. When using password manager, your login information is communicated over SSL/TLS encrypted tunnel based on VeriSign Digital Public/Private certificate and deposited to AmazonCloud. To enhance security, LogmeOnce encrypts both user-IDs and passwords with key packed with SAL and HASH algorithms which are then electronically shredded with AES-256 Encryption based on NIST guidelines. Hackers won't choose to spend months or years to crack your account. Therefore, you can trust security of LogmeOnce.

Password Shock
Hackers seize any chance to grab information for money. What if hackers try to access your password manager account? They will fail. When someone tries to gain access to your account, LogmeOnce states that authentication failed and the Password Shock protects the device. Next, it warns that it will capture the hacker's photo, IP address, geolocation, and other metadata for use in legal action. You can make it loudly announces like "Hey, are you trying to hack me?" A loud and honking alarm will be heard. Furthermore, it is able to blast loud music and visibly shake the screen. If the hackers do not give up and keep attacking your account, this password manager can vibrate a mobile device flash the screen in Morse code, sound a siren and do more similar things to scare the hackers. With LogmeOnce, hackers don't have the chance to view or steal your confidential.

Two-Factor Authentication
LogmeOnce provides the richest selection of Two-Factor Authentication methodologies. Two-Factor Authentication is a security method in which the user provides two pieces of identification. This feature is combined with military-grade AES encryption, along with 26-layer encryption method operates entirely within the LogmeOnce system, providing unbreakable protection. Hackers can be easily stopped in the second layer of security with multifactor authentication even if a hacker gains access to one of your passwords. This password manager's PhotoLogin patented technology enables you to log in to any website without typing a password, or use facial recognition tools. If your phone supports biometric log-ins, you can use your fingerprint in place of your master password to log in to sites, a godsend to avoid tapping uber-complex master passwords onto a smartphone screen. There also is hardware authentication. The encrypted USB authenticates you with hardware token to log in to your accounts. This method is very popular as no one can access your account with the hardware. Others can't grab it via the Internet because you can hold it on hands. Your authentication factor can change in a millisecond when you use SMS or voice for two-factor authentication whether you're showing off your cufflinks or holding a stapler. With this feature, your mobile device is tied to the authentication process. This vastly reduces the risk of bad elements gaining access to multiple credentials on PCs and mobile devices.

Password Manager
We know that strong password is necessary as fraud and identity theft starts with users who may be employing weak or easy to guess passwords. The problem is how we can create complicated passwords without forgetting them? Can't remember long and random passwords? Don't want to spend time in creating and memorize unique passwords? Get a password manager to help you get this job done. When you create a new account, LogMeOnce's password calculator offers to generate a strong password. By default, it creates 15-character passwords using all character types. You can change length and content of password if you are not satisfied. It allows you to generate a password using the browser extension and it will automatically save to your LogMeOnce database. You also can generate a new one when you're adding an entry within the application.
How about your existing passwords? LogMeOnce allows you to import your stored passwords in Chrome and Internet Explorer to this tool very easily with a couple of steps. It also offers to get all your stored passwords imported from other Password managers like Lastpass and Roboform, if you are switching from them. This password manager marks all passwords in the vault. You will know which one is strong and which one is not. Replacing all your weak or reused passwords will take time, especially if you're dealing with dozens of accounts. It will be different with a password manager. It marks your weak and reused passwords as well as offers help to strengthen your passwords with one click. All of your passwords are strong and all of your accounts are safe.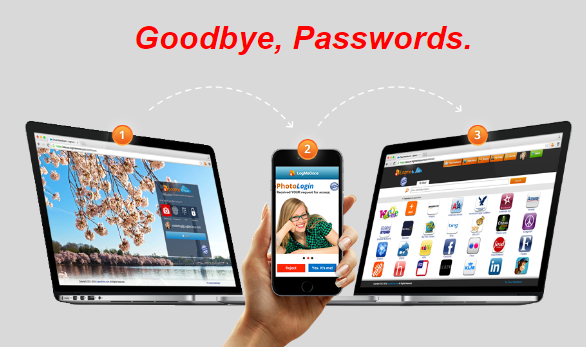 Form Filler
LogmeOnce stores your information safely and helps you fill form on the Internet. It is able to capture manually entered usernames and passwords, fill in those credentials on demand, and deal with contact and credit card data. You don't have to fill every blank when finishing a web form. That helps you save lots of time. You may think that your browser itself has a built-in password manager that can store and autofill passwords for sites you visit. In fact, it does not offer security you need. When you store bank account detail in browser extension, others can access your account if you go away and leave your PC open. They can make payment or transfer money with the stored information. If you store information in password manager, others can't access them without the master password. Besides, many people are still using passwords that can be easily cracked and they realize that. No weak or reused password with this product. To prevent hackers from capturing your passwords, it secures them with bank-grade encryption. Besides, it checks security of the website you visit and it will not match your profile on malicious website. The password manager will not abuse your login information without your permission. LogmeOnce's form filler is very useful and secure.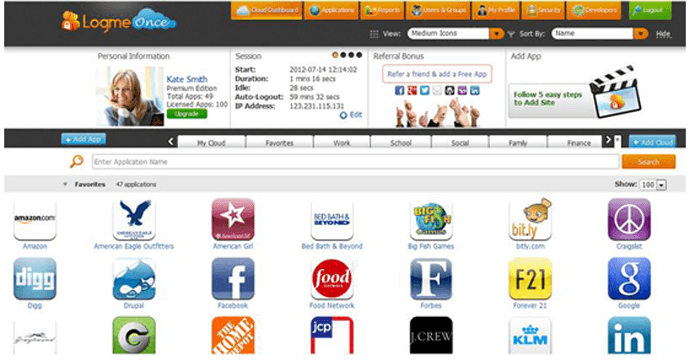 Device Management and Anti-Theft
LogmeOnce has Device Management to let you manage multiple devices conveniently. Under Device Management, you can see a list of all devices covered by your LogMeOnce account. It lets you view detail information, such as the operating system version, the last time it was active, and the current location, as well as the date the device first joined your account. In case you lost one mobile device, you can see it on the Map. Click on the icon of lost device, you can locate, lock and remotely log out your account. The thief will have no chance to access your confidential vault. To stop the thief from access your system, you can make the device ring at top volume. It sends you information of the thief, such as email address, date/time stamp and IP address etc. With the collected information, you hand over the information and ask police for help.

Password Sharing
Want to share passwords with your partners while worrying about Internet security? LogMeOnce enables you to share confidential information safely via the Internet. You can share any of your passwords with another LogMeOnce user, using the recipient's email address. It's easy and safe. If you are using the free version, you have five chances to share password. If you are a premium user, there is no limit on sharing. Besides, it has the ability to synchronize with all your devices like PC, Mac, iOS, and Android so that you can access your all of your passwords at anytime from anywhere.
How to Get Started with LogMeOnce Password Manager?
Does it require much computer knowledge to use password manager? No. The app is well-designed and has intuitive user interface. It is pretty easy to navigate to functions and features you need. How to use LogMeOnce? First of all, download LogMeOnce app based on what device you use. Secondly, enter your name, email, and password and it will prompt you to install the browser extension. Thirdly, you can import passwords already saved in your browser, or enter them manually once the browser extension is installed. Fourthly, click Finish and you will be brought to your LogMeOnce dashboard, and you can start adding more information to the database. When you click on Password Manager, it will even show you a YouTube tutorial on how it works. The guide is very clear. If you still have problem in using the product, you can contact the tech support.

Top 5 Best Password Managers In The World
| Brands | Rating | Support Platforms | Offers | Price(USD) | Official Website |
| --- | --- | --- | --- | --- | --- |
| | #1 Read Review | Windows, Mac, iOS, Android, Linux, Chrome OS, watchOS | Offers Free Version | $39.99/Year | Best Choice |
| | #2 Read Review | Windows, Mac, iOS, Android, Linux, Chrome OS, Windows Phone, watchOS | Offers Free Version | $36.00/Year | View Deals |
| | #3 Read Review | Mac, iOS, Windows, Android, Linux, and Chrome OS | Offers Free Version | $35.88/Year | View Deals |
| | #4 Read Review | iOS, Android, Safari (Mac), Chrome and Firefox (Mac and Windows) | Offers Trial Version | $14.99/Year | View Deals |
| | #5 Read Review | Windows, Mac, iOS, Android | Offers Free Version | $12.00/Year | View Deals |
Conclusion
By reading the content about LogMeOnce review then you must know well that LogMeOnce is a reliable and advanced password manager. There are enough security features here to make this a password manager worth checking out. It is famous for AES encryption, SSL, electronically shredding passwords, and use of industry standards. It makes your online accounts uncrackable. Password managers become more and more popular in those days as they realize that multiple weak passwords and log in challenges are causing security nightmares, costing valuable time and money, and putting you at risk. Long and random passwords are important for the security of your digital life. Are you frustrated as you always forget passwords? Nobody can remember a strong, unique password for every website. You need extra help. Let LogMeOnce assist you to do the tough job. You only need to create the account with a master password and add your passwords. The password manager will take care of the rest. Logmeonce is easy to use, available on every device and you can take it with you everywhere around the world. Everyone can benefit from this password manager as the company generously offers free trial and affordable prices. It is only $2.00 USD per month.


Published by & last updated on October 24, 2019 6:52 am