Are you looking for a reliable VPN to defend your privacy? Private Internet Access would be a great choice. Private Internet Access VPN will prevent data mining, allow you to browse anonymously and even block ads, trackers, and malware. Would like to get saving on VPN subscription? Private Internet Access is currently running a special offer. Get 58% off on the cost of a 2-year subscription to Private Internet Access.
Brief Information of Private Internet Access VPN
A VPN is a network connection that allows you to create a secure connection to another location to make you appear as if you were in another place. Private Internet Access is a leading VPN Service provider specializing in secure, encrypted VPN tunnels which create several layers of privacy and security providing you safety on the Internet. It utilizes shared IP addressing to keep your privacy and help increase your anonymity. Besides, it encrypts your data and provides a safe browsing tunnel, keeping you safe from spies and hackers. You will get the best browsing experience as this VPN offers high speed servers with Gigabit ports and unmetered bandwidth. You can use the encrypted servers to gain access to blocked websites and download via P2P privately.


Pricing & Promotion
Private Internet Access provides one package with three plans. Depend on how long you need VPN protection, you can choose from the monthly, yearly and 2-year plans. If you only need it for a trip in another country, the monthly plan is flexible. Though there is no discount on the monthly plan, it is still cheap. You only need to spend $6.95 USD for one month. If you are a heavy Internet user, the long term subscription is recommended as you can get discount on them. The provider is offering deep discounts on their VPN service. They don't use coupon codes. Instead they run special promotions with discounted prices on unlimited VPN access. The yearly plan is 52% off. It costs $39.95 USD for one year and $3.33 USD per month. The 2-year plan is the best value as it includes the biggest savings. It is 58% off. It only takes $69.95 USD to get VPN protection for two years. It's $2.91 USD per month. You can enjoy one of the most popular VPN while you won't be broke. The provider does not offer a free trial, but they offer all new subscribers a 7-day, 100% money back guarantee. You have enough time to fully test their VPN network and figure if it is what you want.


How to Get Started with Private Internet Access 2-year Special Deal?
1. Click on the Get Deal button above or next to the 2-year deal.
2. You shall be taken to the deal page automatically where you will be able to see the discounted price.
3. Click on the "Sign Up Now" button closer to the subscription you wish to buy.
4. Choose your desired mode of payment. There are several options available: PayPal, Credit/Debit card, Amazon Pay, Bitcoin Cash, Bitcoin, ZCash, OK PAY and more.
5. Enter the required details which include your email, name, address (in certain cases) and hit the Pay Now button.
6. Upon successful payment, you shall receive instant access to PIA. You will receive the account details like your login id, password, link to the portal and various apps that they provide.
Why Do You Need Private Internet Access VPN?
You may wonder if it is necessary to invest a VPN. The answer is yes. When you are using the Internet without protection, you are exposed in front of the snoopers, hackers and governments. Private Internet Access VPN secures your online traffics, protects your privacy and gives your Internet freedom. Businessmen need Private Internet Access VPN when they communicate or transfer document to their partners without being seen. The VPN makes it safer to discuss your job or express your political or religion view online in private. It prevents data mining so you can be anonymous on the Internet. As Internet Private Access is a true no-log VPN service, your privacy is guaranteed. For regular users, Private Internet Access VPN is needed if you would like to use public WiFi safely, safeguard your online data and secure your online activities. With this VPN, you won't need to worry about hackers or having your information stolen. For streamers, this VPN makes it possible to access geo-restriction contents and download via P2P freely. It offers worldwide servers to let you change your virtual location, thus you can access content that's not available in your country.


Why is Private Internet Access VPN a great choice? This VPN not only offers private network features, but also provides help to block ads, trackers and malware with the new MACE feature. It stops traffic with a kill switch if the VPN connection is unexpectedly terminated. The provider supports large collection of servers and unlimited bandwidth, so you are able to browse freely at satisfied speed. They offer affordable price and attractive discount on their product. It also is a risk-free service with a full 7 day money back guarantee. This VPN is compatible with all kinds of devices & systems and allows the use of 5 devices simultaneously. You can protect all of your devices with one single plan. The provider kindly offer easy setup guides and loads of information to get you started. This is why Private Internet Access VPN is so popular.
Solid Encryption
Lots of users suffer from information leak and identity theft every day. The hackers make use of technology to attack unprotected users and grab valuable for illegal money. From browsing on an unsecured connection to malware, you are vulnerable each time you sit down and connect to the Internet. To secure your possessions, it is necessary to encrypt your connection to the Internet. The good news is securing your browsing sessions doesn't have to be crazy expensive, nor hard to do. Simply install Private Internet Access VPN on your device. This VPN uses advanced encryption algorithm and high standard to provide the best balance of speed and security. It offers AES 128 and 256 bit key to encrypt all of your Internet traffic. In addition, it utilizes HMAC with a 256 bit key to guard all of your data against active attacks. No one can modify your data in transit. For the algorithm it establishes the initial secure connection and verifies that you are talking to a PIA Server, it uses Transport Secure Layer v1.2 for this connection and signs all certificates with SHA512. Some governments use the same algorithm to encrypt their secret document. It is extremely difficult and possibly impossible to break the encryption technologies this VPN use. You got unbreakable protection. Likewise, Private Internet Access VPN supports OpenVPN SSL, PPTP and mschap-v2 or IPSEC/L2TP to stop hackers from intercepting your account details and network traffic. Want Internet security? Get PIA 2-year deal.


Global Network
Like other leading VPN providers, Private Internet Access offers outstanding servers to enable users access the global network freely. It provides more than 2,906 servers in 20 countries & 31 regions, crossing five continents – Europe, North America, Central and South America, Asia, and Oceania. You can select servers in Australia, Brazil, Canada, France, Germany, Hong Kong, Ireland, Israel, Italy, Japan, Mexico, Netherlands, Romania, Russia, Singapore, Switzerland, Sweden, Turkey, USA and UK etc. With the worldwide servers, it allows you to connect to the closest one for the best connection all the time. As their servers on their network have gigabit ports, you can enjoy the amazing speed when visiting foreign websites or using local streaming services. To select a server, right click the disconnected icon in the system tray will open the list of servers. To pick the last server that you connected to, select "Connect" option. This makes it easy to reconnect to a server. To connect to a different server, click "More" to see the complete list and select. If you don't need certain server, you can choose "Connect auto" and it will connect you to a VPN server at the fastest location from where you currently are. There is no need to do complicated configurations to get the best connection. With the global network of Private Internet Access, you can access your favorite content from anywhere regardless of their geo limitation and get fast speed on foreign websites.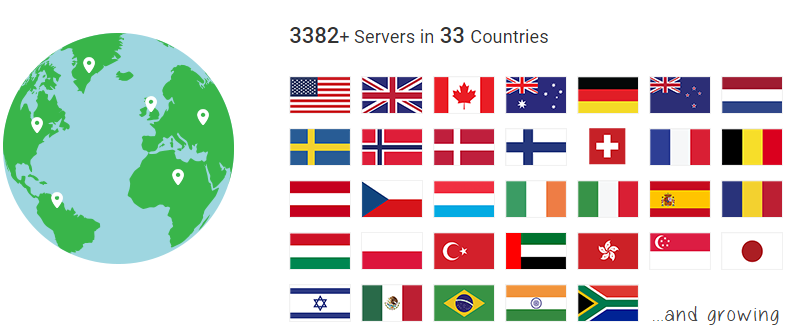 Privacy Protection
Do you remember that the Congress voted to allow the ISPs to sell users' browsing histories to the third parties without users' permission last year? Any one on the earth can pay to view what you are doing on the Internet. That's awful. How to reclaim your privacy? Hide your IP address and secure your online traffic. That's how Private Internet Access helps. It protects your privacy and increases your anonymity. To wipe your digital footprint, it replaces your IP address with shared one. The IP addresses are shared with millions of users all over the world. Snoopers, advertiser or ISPs won't be able to track to you according to the IP address and DNS you show them. It is a very effective way to block ads, trackers, and other malware. DNS leak protection is offered to ensure that all DNS request are routed through the VPN network. We also tested that IPv6 leak protection was on when we browsed. This will provide you with the greatest level of privacy. Small packets are support to let you transfer the data in smaller packets which can fix some network issues. You also can enable debug mode to allow support staff to track connection issues and disable it when you don't need it. Another useful feature is the Internet kill switch. It will kill all Internet traffics from the device if your VPN connection drops. The VPN client will restore your Internet access once the VPN connection is re-established. This is great for P2P users. The ISPs and others parties have no chance to snoop at your connection even when the VPN connection is interrupted. Besides, Private Internet Access does not keep log, providing a high level of security and privacy to all users. You can avoid abuse issues and information leak.


Split Tunneling
Some of you may not want all of your traffics go through VPN tunnel because some local websites refuse Internet request from foreign IP address. In fact, you can set it up to avoid this issue. Private Internet Access VPN settings will allow you to set up "Split Tunneling" for your Android apps. By default, traffics of all apps are rerouted through the VPN tunnel. Click on the "Disable access for all apps" button if you only need few apps to be tunneled. Simply tap the open lock beside those apps you want to channel. It also allows you to choose the ones you do not want to channel by tapping on the closed lock beside them. This can help save money on metered networks. Selecting the dark theme will change the interface to a dark background with light writing. It is very easy to navigate and operate. You won't miss it.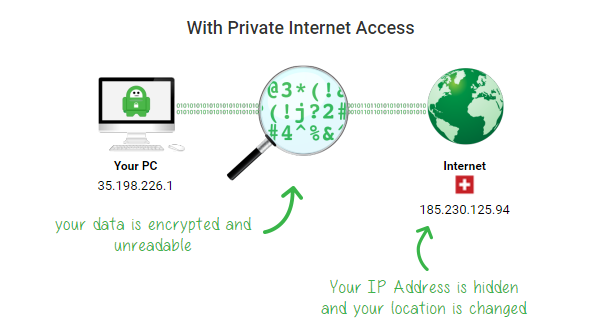 Unblock Censorship Filters
If you live in country with restrict Internet censorship, you may not be able to watch the most popular social media platforms or streaming services. In countries like China, Russia, Turkey and Iran, the government controls the network and stops users from accessing content they consider as "bad." Famous services like Google, Facebook and YouTube are not available for users in those countries. You can use Instagram to follow your idols or use WhatsApp to contact your foreign friends there. Luckily, Private Internet Access VPN masks your location with IP cloaking. Your real IP address will be replaced by one from another country where your favorite services are available. Your data channels through remote server so that the firewall system won't detect that you are located in their territory. This VPN also is used to defeat geo-restriction issued by streaming services. Many famous streaming services are restricted in their own country due to copyright or other issue. Private Internet Access VPN enables you to unblock Netflix, Hulu and BBC iPlayer abroad. It makes Internet freedom possible even in the country with the strictest Internet censorship. You can travel or move to another country with your favorite show all the time.
Likewise, it supports file sharing and BitTorrent. P2P and torrent may be banned in your country. Once you get caught, you will have pay a fine and face law issue. This VPN masks your IP address and makes you anonymous on the Internet. When you try to download sharing files, others can't track to you or figure out who you are. With the unlimited bandwidth and superfast VPN servers, you can fully enjoy the benefits of P2P and torrent. Private Internet Access VPN provides unrestricted and uncensored access to the complete Internet.


Instant Setup
Private Internet Access VPN offers free custom software apps for Windows, Mac OS X, Linux, Android, and iOS. The apps are well-designed and easy to install, allowing users to connect to VPN servers in the Private Internet Access network with just a few clicks of the mouse or taps on the screen. If you didn't use VPN before, that's not a problem. The provider offers excellent tutorials and visual setup guides to manually connect to their service using Windows, Mac OS X, Android, iOS, Windows Phone, Ubuntu, and DD-WRT or Tomato routers. You only need to follow the guide and get it work within minutes. In addition, their support begins with an extensive FAQ database and extends to a 24/7/365 email ticketing system. Submit a ticket for tech support if you have any problem in using the VPN. They also maintain a social media presence on various sites like Facebook and Twitter. You can discuss or seek solution from other users there.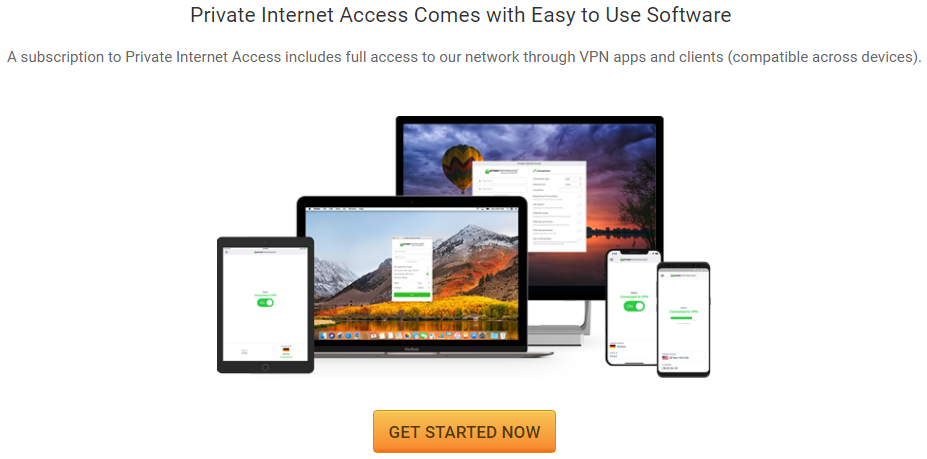 Top 10+ Best VPN Services In The World
| VPN Brands | Servers | Country | # of Connections | Price(USD) | Official Website |
| --- | --- | --- | --- | --- | --- |
| | 2000+ servers in 94 countries. | British Virgin Islands | 3 | $6.67/Month (Save 49%) | Best Choice |
| | 1,000+ servers in 60+ countries. | USA | 10 | $4.87/Month (Save 60%) | View Deals |
| | 4410+ servers in 62+ countries. | Panama | 6 | $3.99/Month (Save 66%) | View Deals |
| | 200+ servers in 70 countries. | Bulgaria | 6 | $4.18/Month (Save 50%) | View Deals |
Click Here to Read More Top 10 Best VPN Services »
Conclusion
Private Internet Access is one of the most popular and trustworthy VPNs in the market. It assists you to protect privacy by spoofing your IP address and encrypting your online traffics. By using military-grade encryption and multiple protocols, it safeguards your identity and online activities with several layers of privacy. You are safe from the hackers and government spies even when you're connected to public WiFi at coffee house or airport. You will be able to put an end to incessant digital advertising while maintain privacy, security and high speed at the same time. If you are blocked by strict censorships by your government, Private Internet Access VPN will bypass the censorships and firewall, effectively providing you unrestricted access via a shared IP address based in country with less Internet censorship. Streaming web servers will believe that you are located in the "legal" place and give you access to their content. There are more benefits of using this VPN and you will know what are they after giving a try. This is an affordable service and it is trusted by a huge number of users throughout the world. It started from $2.91 USD per month. The yearly plan is 52% off and the 2-year plan is 58% off. Get the 2-year deal with the biggest savings.


Published by & last updated on February 12, 2019 9:17 am