Need a security product? Don't know which security product you should trust? Is BullGuard safe to use? Is BullGuard fast? BullGuard is a reliable service, offering effective antivirus and Internet security software. This service provides innovative layered protection that stops all types of malware, whether it is known malware or new types of attacks that have just surfaced. Their product is a good option for those who are not as tech savvy and need some direction when installing antivirus software. It is simple to use while it is powerful. Want BullGuard latest promotion and discount information? You will get what you want in this article. BullGuard Coupons & Promo Codes 2019: Get 100% Guaranteed Deal .
What is BullGuard?
BullGuard is a safe and useful security product which offers industry-leading Antivirus protection. It protects everything in your digital life from your data, to your identity, to your Smart Home. It utilizes constant innovation to provide you the best multi-layered protection possible against all types of viruses, malware, ransomware, and all online threats. It blocks harmful contents and stops intruder effectively when you browse or shop online. BullGuard also offers helps to safely back up documents, photos, music, and so on. It assists you to schedule computer access at certain times each day, restrict access to specific applications, and block specific websites to give your family a safe network environment. The company designs their apps powerful yet simple to navigate and understand. New users can get started with it within minutes.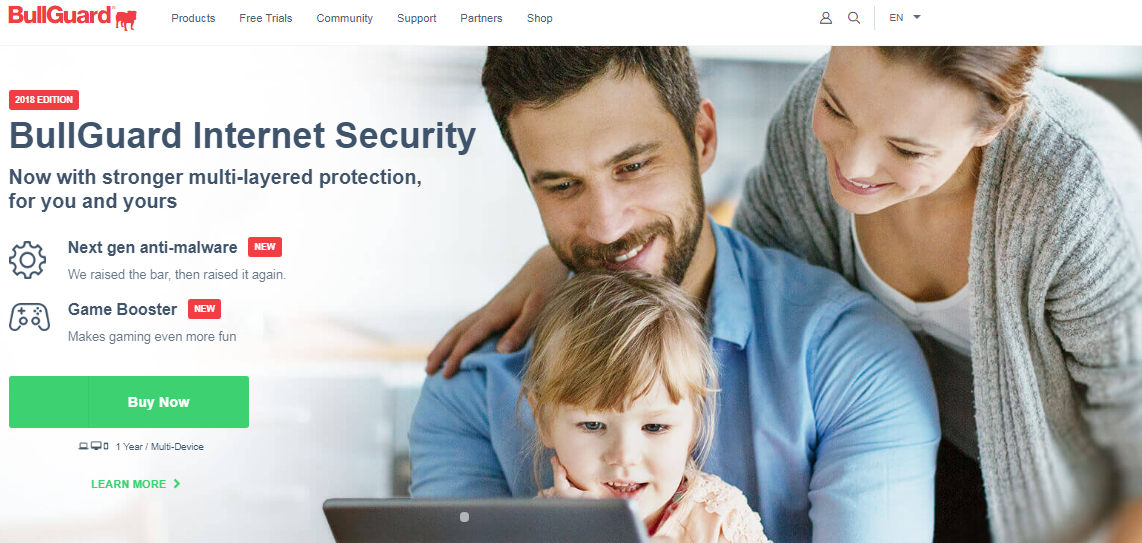 Products & Coupon
BullGuard Coupons & Promo Codes 2019: Get 100% Guaranteed Deal . BullGuard provides top-tier security suite and solid protection. They offer three products, BullGuard Antivirus, BullGuard Internet Security and BullGuard Premium. You can choose to sign up one year, two years or three devices. It allows you to protect three, five or ten devices when purchasing BullGuard Antivirus and BullGuard Internet Security. BullGuard Premium package only allows one device. BullGuard Antivirus is 20% off and costs $ 29.97 USD for three devices a year.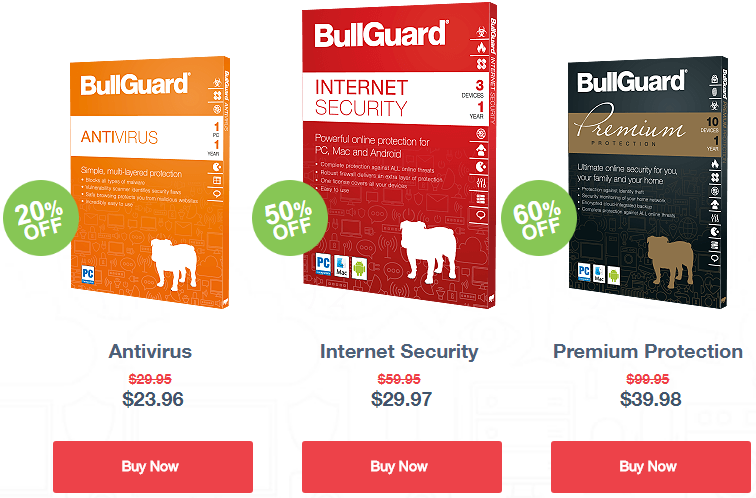 BullGuard Internet Security comes with a firewall, parental controls, a vulnerability scanner, a system optimizer and 5GB of online backup storage. This package is 50% off at this time. It costs $ 29.97 USD to protect three devices for a year. BullGuard Premium package includes 25GB of online backup space, monitors your kids' Facebook profiles, and scans the Internet to see if any of your personal or financial information may have been stolen. This is the best seller as it includes the biggest savings. BullGuard Premium is 60% off. It was $ 99.95 USD for a year, now it is only $ 39.98 USD. If you are wondering how to save money, get deal when discount is available. Sometimes, the company release BullGuard coupon codes, promo codes or discount codes to let users get extra discount. Currently, no code is required. The discount will be activated automatically. If you are already a BullGuard user, renewal coupon code is available. We always keep an eye on the promotion and coupon information and we will show you detail information in time when they are available. If you need to renew your plan, visit BullGuard here and copy coupon code. Pick the product you need to checkout. Apply coupon code you copied and finish the payment. You will get extra 30% off.


Why BullGuard?
BullGuard is an IT security company established in 2002 with the purpose of developing advanced antivirus products for all users. It receives high rankings from independent testing labs and trusted by a large number of users all over the world. BullGuard has added behavioral-based detection to identify new viruses or variants of existing viruses by recognizing abnormal "behavior" that is something that doesn't conform to the myriad known processes that happen on a computer. It takes early detection seriously by helping you eliminate existing threats and prevent future ones. During our test, BullGuard detected all virus samples and removed all related files completely. It's okay if you don't know how to recognize the malicious contents because its web shield blocks all dangerous websites you try to visit in any web browser. BullGuard software does not take much space on your PC or affect your PC performance obviously. It suspends some functions while you are playing online games to reduce the lag those functions tend to cause. BullGuard offers full features of security products and extra tools like data shield, parental control, network monitor and more while its price is friendly. Besides, they offer big discount at this time. You can save up to 60% off.


Anti-Malware
In those days, hackers develop and spread malware everywhere on the Internet. If your device is not protected, it can be compromised easily. Adware can be installed without your knowledge and deliver you endless ads. Browser hijacker corrupts your browser and redirects you to unknown websites. Trojan opens back door to other threat and ruins your system silently. Ransomware encrypts your files and demands a ransom to recover. Spyware can monitor you and steal your confidential information. Cyber threat can cause huge loss. Taking the powerful new malware as an example, the criminals spread it through phishing campaigns using a Microsoft Word attachment. If you open the attachment, it enables macros. That will allow the malware to be installed. What can this malware do on your computer? It is able to download browser plug-ins and extensions for Firefox, Internet Explorer, Chrome, Opera, QQ Browser browsers, Thunderbird and Outlook email clients etc. Those plug-ins and extensions are designed to steal stored credentials, such as passwords, and also sensitive information transferred over a browser. The malware can also be injected into remote tool to allow hackers to remotely control victims' desktops. Therefore, it is very necessary to safeguard your PC with powerful anti-malware program like BullGuard.
When you browse the web, send emails, play online games, watch online videos, and download and upload files, BullGuard performs full virus scans and runs in the background. It scans code for signature and anomalies associated with malware. It is able to recognize trusted domains and applications. When you open suspicious websites, it alerts and disconnects you before the threat access your system. Criminals will not be able to steal your financial or other confidential information. BullGuard also examines email attachments and compressed files for threat as hackers can pretend to be from famous online shop to tricking you into clicking an attachment. Many victims had no time to respond and stop malware from installing. Once they were attacked, they couldn't enjoy their browsing as they were cautious and felt nervous all the time. BullGuard gives you full protection and you can use the Internet carefree. In case your device is corrupted by malware, BullGuard locks the malware down in quarantine and then neutralized before infection can take place. That prevents your data from being encrypted and avoids money loss. BullGuard lets you enjoy great online experience without risking your device and possession.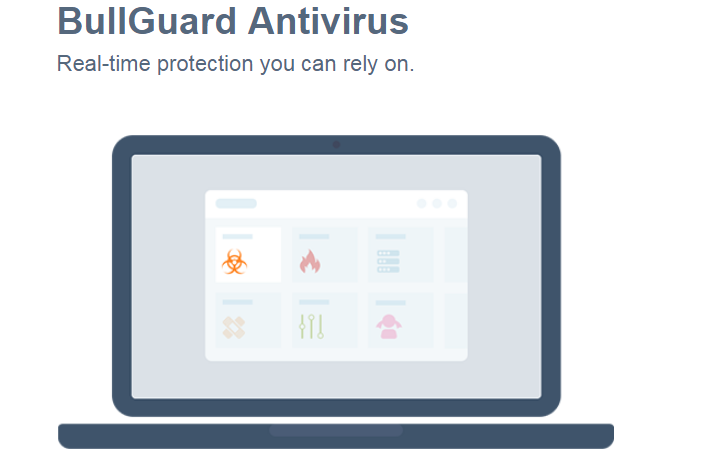 Vulnerability Scanner
The hackers make use of advanced technology to update viruses every day. They can exploit various software and system vulnerabilities to attack users. To keep your PC safe, BullGuard's vulnerability scanner searches for weak spots in your system where malware, spyware and other threats try to sneak in. You will get alert to missing security updates, or connections to insecure Wi-Fi networks from BullGuard timely. The scanner also blocks applications that could contain malware from downloading automatically. It checks if the applications and drivers have valid digital signatures to prevent unknown threat effectively. BullGuard's scanner kindly gives you suggestions on how to strengthen these vulnerabilities and keep your computer safe. That makes computer security and protection easier.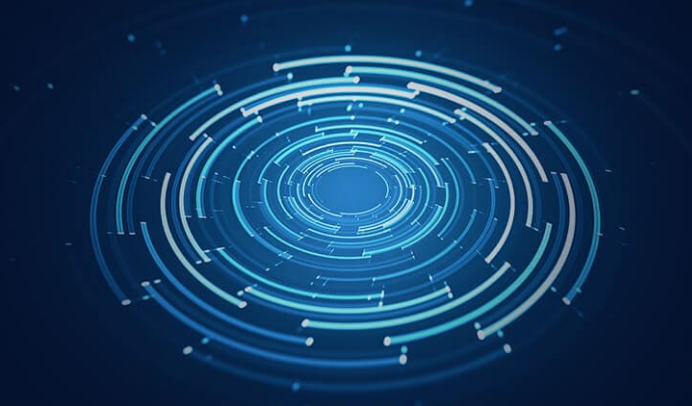 Identity Protection
By stealing your identity information, hackers can exploit them to make payment, copy bank card and even commit a crime. That can cause money and affect your reputation. Therefore, it is very important to secure your online and offline data. Don't know how to get started? Take it easy. BullGuard covers you. It protects your personal information from being abused by cyber criminals. It scans the entire websites for your usernames, email, phone numbers and credit card detail etc. To prevent malicious programs abusing your information, it monitors your apps and plugins. Once it detects one of your registered details is made public online. It alerts you via email or text message along with suggestion on how to deal with the issue. The hackers will have no time to grab money or conduct other malicious activities.
Besides, BullGuard product has home network monitor. The hackers can access your valuable data via the network. Any device on your network can be a potential back door for criminals to access everything on the whole network. Users who shop frequently on the Internet need to be very cautious. To give you safe digital life, BullGuard monitors and scans your entire network and devices once they are connected. Criminals can't exploit your network to attack you.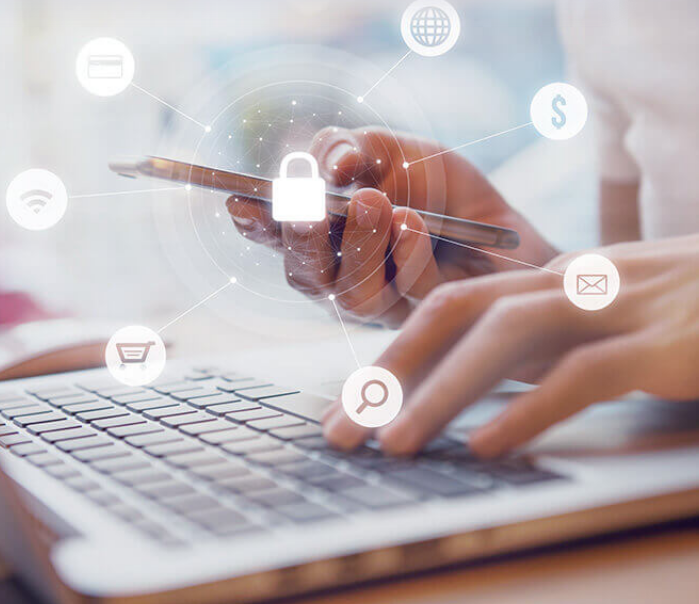 Parental Control
Would like to learn what your kids do online? Don't have time to monitor your kids' online activities? There are all kinds of contents on the Internet. Kids can learn many useful things that they can't get from the book. However, there also are many contents that are not proper for their ages. Besides, they may lose interest in study after spending too much time on the Internet. As parents, you need to ensure that they access the right content and get balance between study and game. In fact, it is not an easy job. You can't always keep eye on them and keep telling them what they can't do. That will not work effectively and even cause conflict. Luckily, BullGuard offers help to do that with less effort. It lets you block access to suspicious websites, put search filters in place, limit your kids' time online, monitor their activities and even block certain applications. You can see all the phone calls, messages, and pictures sent and received on a protected device, as well as track its location to help your kids develop a healthy habit.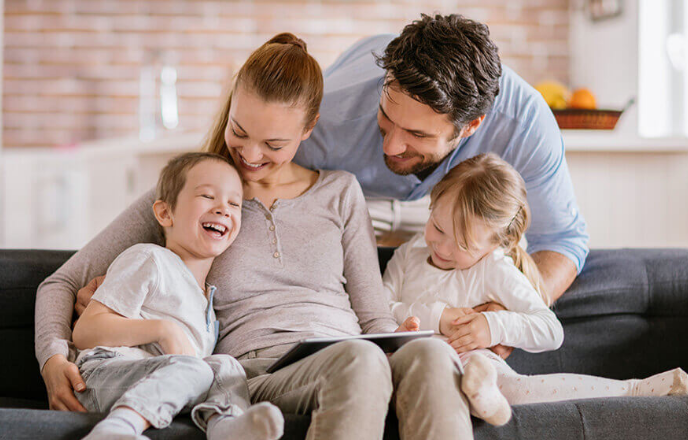 Firewall
BullGuard's firewall gives you extra layers of heavy duty protection against malware and intruders. It also tracks security updates. Your software and system will be updated in time to avoid bugs and vulnerability. Malware usually is installed along with free applications from unknown websites and app store. You will not notice it's malware until it locks your screen and damages your system. BullGuard has application filtering feature. It offers end-to-end protection before, during and after you download apps. This is an effective to prevent hidden threat. Besides, the firewall blocks unauthorized attempts to connect a device to the Internet. Some Trojans activate network and allow remote hackers access victims' system. BullGuard will not let it happen. It blocks the access and pops up alert with date and time of the attack. It guards your devices and keeps intruder at bay all the time. The firewall uses less power and will affect your others applications' operations.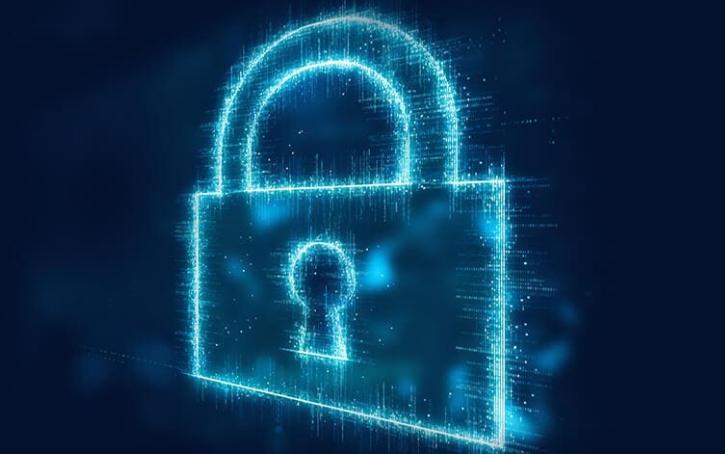 Game Mode
BullGuard has a gamer mode and it is disabled by default. To use this feature, you need to enable it manually. When gamer mode is on, it protects your PC against Internet threats while it doesn't tax your system's resources as heavily. Virus scans and pop-up notifications are suspended while you play games or watch videos online. The game booster optimizes CPU performance while blocking pop-ups and other annoying interruptions. In this way, you can play game and watch movie at fast speed without lag.
Block Unwanted Programs
When you connect your device to the network, you may see ads anywhere. To promote products, the advertiser spare no effort to deliver you ads no matter you want them or not. When you open a website, ads can be played at any corner. When you run an app, ads pop up at right bottom frequently. Some of the ads are harmless while some of them are not. They can redirect you to phishing websites. That will allow viruses to sneak into your system easily. BullGuard product blocks ads on browsers and other applications. It assists you to remove adware and harmful browser extensions that deliver you endless ads. Your browser will load faster and you can enjoy the neat page. BullGuard also blocks spam. It lets you create whitelists of safe contacts and domains, and blacklist dangerous ones. You are allowed to set the filter to automatically whitelist any contacts to whom you've sent email. Spam with malware and nasty links won't be able to access your inbox.


Ease of Use
BullGuard works greatly on all versions of Windows operating systems and other systems. The software doesn't drain your battery or take up much space on your PC. The user interface looks simple and neatly organized. Pull-down lists for each category select the required functionality. It does not require complicated computer knowledge to operate the software. Simply install it and let it work for you. If you want it to work as you like, you can customize it. There are advanced settings for experienced users. Its products will greet you with a short welcoming slideshow that shows you the product's main features. If you do not want to watch it, you can skip it. When using BullGuard, every protection module and essential feature is displayed on the central console as large tiles. From those modules, it will be clear to view their state and what actions and changes you can launch in the menu. For instance, you can launch system scans or access the Quarantine from the menu found on the antivirus tile. Under Firewall, you can see the Network Activity or Manage rules. This product automatically downloads the latest antivirus definitions, rather than setting that as a task for the user. When BullGuard works, it disables Windows Defender, so you should not encounter conflicts or performance issues as a result of your computer running two antivirus apps simultaneously.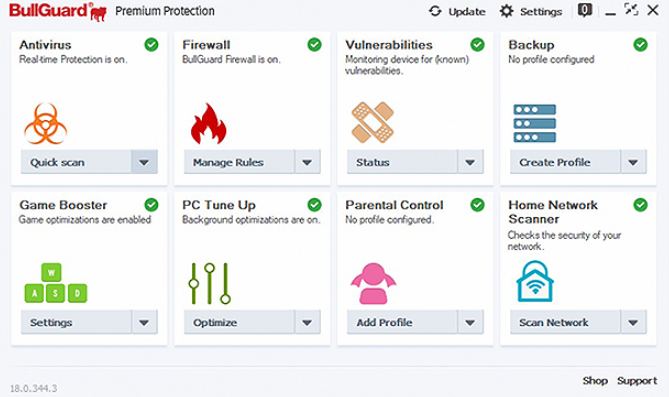 Global Tech Support
BullGuard's office is based in London and their tech support team works 24/7. No matter which time zone you are in, you can get instant support. The support staff always is ready to take your emails, respond online or live chat with you. If you speak English, Spanish or Chinese, you can contact them any time. They also support other languages such as French, German, Danish, Dutch and Swedish, but they are only available from 9 a.m. to 5 p.m. local time. When we tested the security product, we contacted them for help via email. We got respond within one hour and they offered useful solution to our issue. Feel free to contact them if you meet any problem or have any confusion when using their products. They are knowledgeable and patient. Never feel helpless when dealing any tech issue.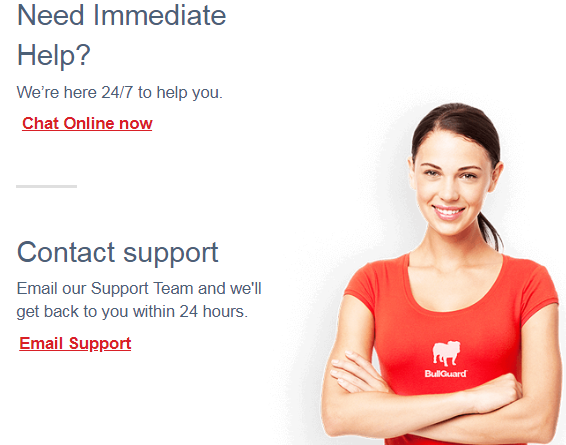 How to Get BullGuard Best Deal?
Conclusion(BullGuard Coupons & Promo Codes 2019: Get 100% Guaranteed Deal)
BullGuard is one of the most popular security products. It has perfectly adequate AV performance. It is capable of finding and removing spyware, worms, Trojans and rootkits, both those attempting to infiltrate your computer from online sources and from outside media sources such as USB drives and incoming email. Extra features like Identity Protection, Parental Control, Home Network Monitor, Firewall and 24/7 free online support are included in BullGuard's products. It safeguards your precious data, supervises your kids, protects your network and conducts more activities to make your digital life easier. It lets you play game at lightning fast speeds without being forced to disable your protection. With BullGuard, you can connect confidently, control easily, and travel freely throughout your digital world. BullGuard offers affordable prices and big discount. Currently, you can get up to 60% off on BullGuard order. Using BullGuard coupon code, extra discount is available. Want to save money? Get deal when the promotion and coupon code is still valid.
》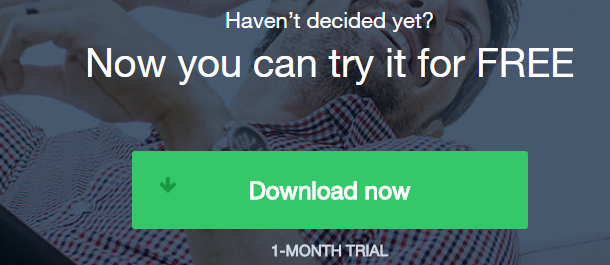 Published by & last updated on February 13, 2019 6:57 am