As there is more and more Internet limit set by location, VPNs become increasingly popular amongst the general public than ever before. Others people use it to protect their privacy. There are many VPNs in the market, but not all of them are worth to invest. You need to consider several factors to get a satisfied VPN. F-Secure Freedome VPN is reliable service and a great choice for online security and protection. Lots of users pick this VPN to safeguard their digital worlds. Learn why it is so popular in this F-Secure Freedome VPN review.
Brief Information of F-Secure Freedome VPN
F-Secure Freedome VPN is one of the most popular VPN services. It has a long and rich history on delivering. VPN is only a product of F-Secure. In fact, F-Secure also offers a variety of other products including an anti-virus platform, a password manager, and additional internet security for all of your devices. Furthermore, F-Secure also offers free tools like an online PC scanner, Router Checker and AdBlocker. They combine the advantage of security products with advanced VPN features to make F-Secure Freedome VPN become an advanced service. It hides your IP address by relocating it to another country or city and you become anonymous on the Internet. It creates an encrypted and secure network link between to ensure that all of your online traffic will be secured from prying eyes. It keeps you safe when you conduct online activities like doing taxes, online banking, streaming, and browsing. Besides, it gives access to geo-blocked content from anywhere.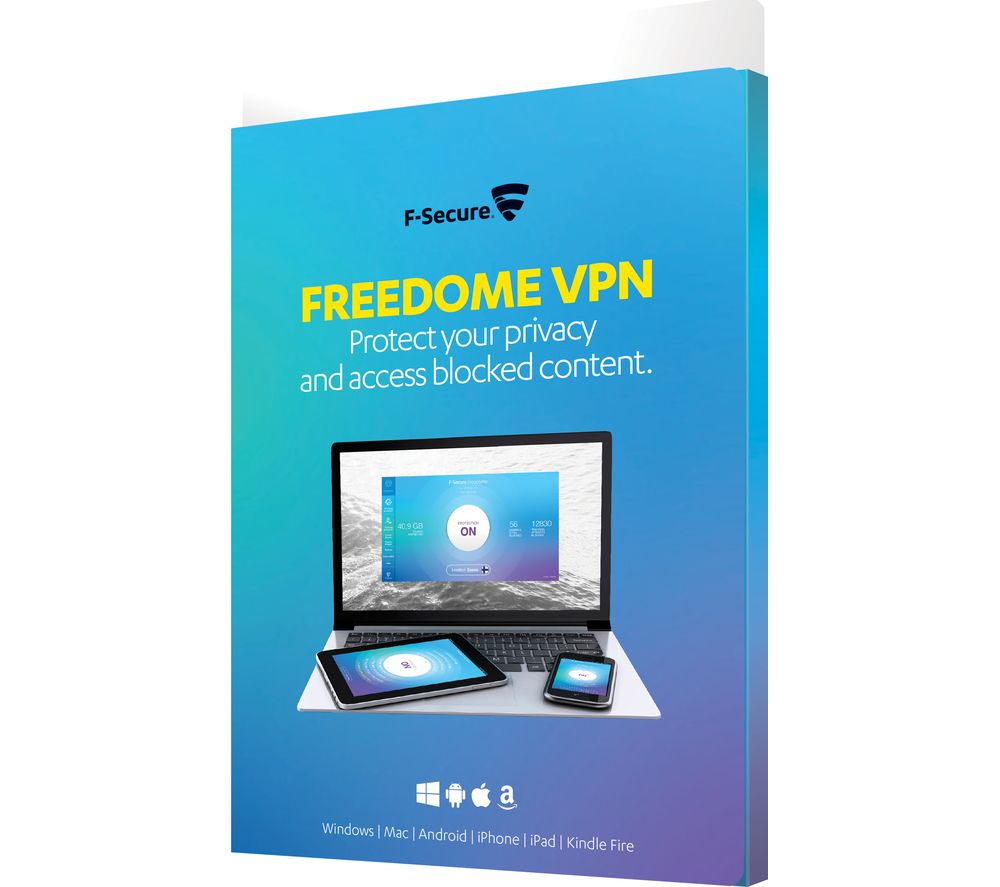 Cost of Money
F-Secure Freedome VPN provides one package with three plans. Each of the subscription plans is for an entire year. There is no monthly or quarterly plan. The price difference determines how many devices you will be able to connect to the service. You can protect three to seven devices with one plan. If you need a plan to protect three devices for one year, it is $34.99 USD. The yearly plan for five devices is unavailable. If you have more devices to protect, get the plan for seven devices, it is only $69.99 USD for a year on family plan or $89.99 USD for 2 years. To be honest, the prices are reasonable with high speeds, strong encryption, and a variety of different security features. The provider offers a number of different ways to pay for their VPN. You can pay via Visa, MasterCard, American Express, JCB, PayPal and PayNearMe card. They also accept payment by bank transfer, check and money order.
The provider generously offers a free trial of F-Secure Freedome VPN. If can't decide now, get the free subscription. You will be able to download and install the app without signing-up for anything or giving any payment details. Once installed, you're given a short walkthrough on how to use it. You have enough time to test if it is what you want. Most users became F-Secure Freedome VPN fans after they gave a shot. At the end of free trial, you need to sign up to have F-Secure Freedome VPN's protection all the time.
Reason Why You should Choose F-Secure Freedome VPN
F-Secure has been defending tens of millions of people around the globe from digital threats for over 25 years, with a spotless record of consumer trust. The company adds the advanced technology of security software into VPN service which is a guarantee that you get unbreakable protection from F-Secure Freedome VPN. It protects your Public and Private Wi-Fi experience through the secure OpenVPN protocol and a strong AES-256 encryption. That prevents hackers from viewing your session and stealing precious information. You can shop, check important email and share business files with your partners via the Internet safely. It hides your IP address and encrypts your online sessions to stop third-parties, like advertising companies, from tracking where you go and what you do online. This VPN service has no log policy. They don't access your traffic or store your sensitive information. Your privacy is highly protected. The VPN provider offers worldwide servers to let you access the global network from any corner. It assists you to bypass government censorship and defeat geo-restriction. You can unblock many restricted content at home and on the go. F-Secure Freedome VPN has clean user interface and it is very simple to use. Even new users can get started with it within minutes. In addition, the provider offers reasonable prices with amazing features for multiple devices.

Is F-Secure Freedome VPN Secure?
Hackers are very rampant nowadays. They develop and spread cyber threat to attack users and steal money every day. If you are frequently surfing the web when you are out by using public WiFi, it can be dangerous because hackers would like to generate fishing network or attack unprotected public network to grab precious information for money. For example, the hackers can view financial information you typed online by connecting to the same network. Therefore, you need to secure your network. F-Secure Freedome VPN encrypts your connections to the Internet to prevent hackers, as well as malicious apps and websites from harming your computer or stealing your data. This VPN relies on state-of-the-art, AES-256 encryption. This hack-proof key is considered as the strongest available option on the market. Some government agencies and leading banks use the same encryption standard to secure their confidential files.
All F-Secure Freedome VPN's servers apply 256-bit encryption with 2048-bit RSA keys and SHA1 authentication for Windows, Mac and Android operating systems. Similarly, the provider gives 256-bit encryption along with 2048-bit keys and SHA-256 authentication for iOS devices. That means all your data travel through the encrypted server and it's almost impossible to decrypt the content with key so far. As F-Secure has been creating Internet security products for a long time, it uses the technology to detect and block harmful websites so that you can surf the Internet carefree. F-Secure Freedome VPN supports OpenVPN and IKEv2 protocols. It would be great if more protocols were offered. The OpenVPN tunneling protocol is default on all Android, Windows, and Mac OS X products. IKEv2 is offered for iOS devices. Luckily, both protocols are the best of the best, and should be used whenever available.


Server Locations
F-Secure Freedome VPN offers roughly 30 different server locations. It lets you connect to remote servers in Germany, Belgium, Czech Republic, Denmark, Finland, France, Ireland, Italy, Norway, Poland, Spain, Sweden, Switzerland, The Netherlands, United Kingdom, Hong Kong, Japan, Singapore, Canada, Mexico, United States, and Australia etc. This is perfect for those looking to access geo-restricted content or those simply looking to hide their IP address behind a virtual location. By default, F-Secure Freedome VPN connects to the VPN server closest to your physical location. This is great option if you only need protection while don't need to be connected to a server from a particular country. If you use VPN to unblock contents in a certain country, you can connect to the target server manually from the VPN client. It can be done with few clicks.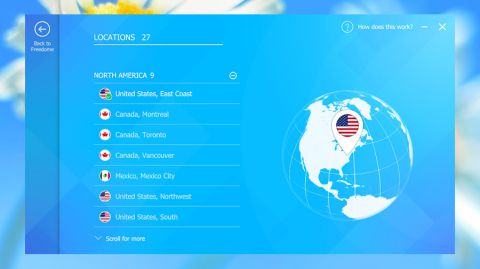 Privacy Protection
F-Secure Freedome VPN provides a stable VPN designed to maintain your privacy. It promises complete privacy for your activities online. It offers IP addresses from different cities and countries to hide your real IP address. Your IP address works as your online ID which reveals your location and other personal information. The ISP and advertiser can spy on your online activities according to your IP address. Last year, the U.S. Congress has been rolling back Internet privacy laws, making it easier for them to snoop, pry, and pull your data from just about anyone they want. That means anyone can purchase your browsing histories and know exactly what you do on the Internet no matter they know you or not. When you are connected F-Secure Freedome VPN, snoopers only see IP address offered by the VPN provider and encrypted traffic. This VPN also helps you block tracker. As trackers aren't tracking you and trying to constantly sell to you based on their knowledge of the websites you have visited. This means that you will have a much smoother experience when it comes to surfing the web. You won't get annoying popup as the advertisers can't target you and deliver ads.
Besides, F-Secure Freedome VPN has great, clear privacy policies, making it clear what they log and what they don't do with your information or your traffic. Relatively harmless information like order numbers, operating systems, and service information will be stored for customer service and VPN development. They do not retain any personally-identifiable logs of users or their activities. Your privacy won't be shared with the third party, but stay safe with you.


Unblock Restricted Content
If you always use streaming services, you may notice that not all streaming services are available in your country. Some of them are only restricted to users in their countries while others are blocked by your government. For example, Netflix is only open to users in the US due to copyright issue. BBC iPlayer is only available for users in the UK. Once the streaming web servers detect your location beyond the US or UK, your requests will be refused. You may be greeted with "This content is not available in your country." Besides, some Restrictive governments block websites they consider as a threat. China, Russia and Turkey etc. block many famous international websites and services. Online medias are very effective way to spread news as well as rumors. They try to control the Internet and prevent rumors from damaging they government. The government realized people are using VPN to bypass the censorship, so they often use DNS leaks as a way to detect VPN use and then block it. F-Secure Freedome VPN enables you to change your virtual origin location, letting you get around a wide range of censorship so you can experience the web as it is meant to be. You can connect to servers in the US to unblock Netflix, Hulu and more contents outsides US. Switch to servers in the UK to access BBC iPlayer. The web servers only see IP address offered by the VPN provider, so they believe that you are from the "legit" country and give you access to their content. If you are located in China, Russia or other country with strict Internet censorship, you can connect to servers in the US, UK, Singapore or country where there is less Internet limit. You will be able to use YouTube, Google, Instagram and WhatsApp etc. without any limit. Get F-Secure Freedome VPN and you will have Internet freedom.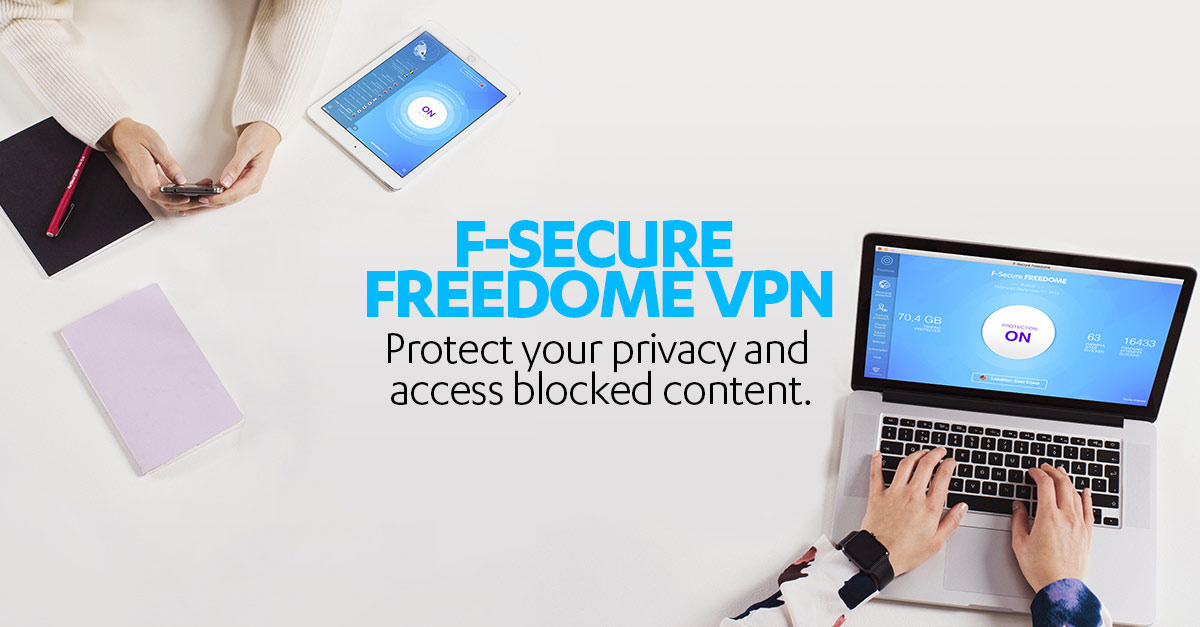 Jurisdiction
F-Secure's Helsinki home base proves to be a savvy move. Finland has one of the strictest privacy laws in the world is recognized as one of the best jurisdictions for VPN companies. We all know that privacy is a very important selling point for VPN services. A large numbers of users purchase VPN to mask online activity from both Internet service providers and prying government eyes. It's not enough to simply hide online activities from your ISP. Some governments can force the VPN providers to log traffic and hand over users' information. The good news is F-Secure Freedome VPN is based in Finland. That means the provider has no obligation to hand over information. Besides, F-Secure Freedome VPN do not log users' traffic and they can't hand over information that they don't have.
Easy-to-Use
F-Secure Freedome VPN has free software which is easy-to-use, flexible, cross-platform and lightweight. It is compatible with all the major platforms, including Windows, Mac, Android and iOS. Its subscription plans allow up to seven devices. It's possible to protects all devices of your family with one plan. The F-Secure Freedome VPN clients for Windows OS, Mac, Android and iOS are extremely user-friendly and visually pleasant. The installation is quick which can be done with few clicks. If you need more detail information of the VPN, you can navigate to their knowledge base and downloads section which is comprehensive and easy to understand. There are answers to common seen questions and useful guides. If you meet any technical issue when using the VPN, the provider offers generous tech support. They provide live chat and a list of phone numbers by region. They only are available at business hours, nine-to-fivers. Its blog and the community forum also are great sections. You can get security tips and other useful information from experts as well as other users.


How to get started with F-Secure Freedome VPN?
1. Download and install the .exe file for PC.
2. Select the giant Protection OFF button.
3. To change server location, select Location.
4. When connected, the giant button will display Protection ON
5. Select Browsing protection to view harmful websites blocked.
6. Select Tracking protection to view tracking attempts blocked.
7. Select Tracker Mapper to start 24-hour logging on how you're tracked.
8. Select Settings to change connection, status and language settings.
Top 10+ Best VPN Services In The World
VPN Brands
Servers
Country
# of Connections
Price(USD)
Official Website
3000+ servers in 94 countries.
British Virgin Islands
5
$6.67/Month (Save 49%)
Best Choice
5570+ servers in 60+ countries.
Panama
6
$3.49/Month (Save 70%)
View Deals
200+ servers in 70 countries.
Bulgaria
6
$4.18/Month (Save 50%)
View Deals
800+ online servers in 50 countries.
British Virgin Islands
Unlimited
$1.99/Month (Save 83%)

Chinese Click Here>>

View Deals
1,300+ servers in 60+ countries.
USA
10
$6.49/Month (Save 46%)
View Deals
Click Here to Read More Top 10 Best VPN Services »
Conclusion
After reading this F-Secure Freedome VPN review you understand F-Secure Freedome VPN is a leading VPN service, helping users safeguard online sessions, protect privacy, bypass government Internet censorship, defeat geo-restriction and get better browsing experience. Variety of useful security features and robust DNS leak protection are offered by this VPN provider. The military-grade encryption ensures that the criminals have no chance to access your valuable information. The advanced VPN protocols and blocking tracker feature gives you fast and clean network environment. As the VPN masks your IP address and reroutes your connection to the remote server, you become anonymous and your virtual location is changed to a city based on your choice. You will be able access all restricted content no matter they are blocked by government or streaming services. You can travel with your favorite show to anywhere. The provider has zero log policy, so your privacy is guaranteed. Free user-friendly clients are available for major devices and systems. Personal support is offered if you have any question or problem related to their products. F-Secure Freedome VPN comes with affordable pricing and free trial. Every Internet user can be protected by F-Secure Freedome VPN at less cost.


Published by & last updated on June 10, 2020 2:26 am