How many discounts can you get on Panda Security Coupons, Promo Codes & Deals? During this promotion, you get 60% off coupon discount. Why you need Panda Security antivirus products and VPN products? Well, do you shop online frequently? Have to transfer data and money via Internet for work? Are you concerning of cyberattack? From the questions always asked by people you can learn that you need Panda Security product to secure your device and data. Hackers can snoop at what you do and grab credit card detail you provide on the Internet. Panda Security is one of the most reliable and useful security services. Is there any coupon or discount of the security products? Want to save on your next purchase from Panda Security? Check out the latest Panda Security Coupons, discounts and special offer in this article.
Brief Information of Panda Security
Panda Security is a Spanish multinational which is specialized in the development of IT security solutions. It delivers high-quality protection and usability at a reasonable price. This company uses its patented technology to block unknown viruses, along with its collective Intelligence model, the first system to automatically detect, analyze, and classify malware in real time. It has 16 subsidiaries with 600+ employees, being trusted by 30+ million users in 180+ countries. The intelligent team never stops trying to give you the best experience. They states, "We propose an advanced, dynamic, ever-evolving cyber-security model based on the principles of artificial intelligence." This service provides a complete antivirus and software security suite for Windows, Mac, and Android devices. If you need protection, Panda Security is a great choice.

Panda Security Black Friday and Cyber Monday Special Deals – November Sales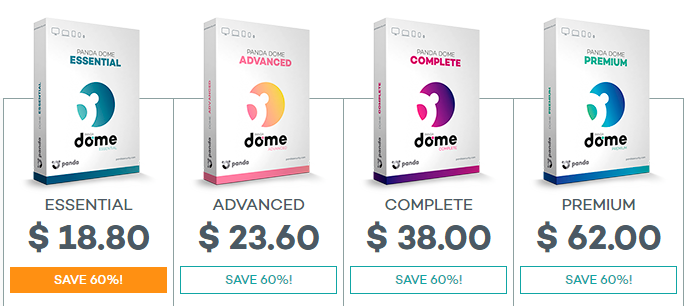 Panda Security November Sales: Black Friday and Cyber Monday promos are coming. We wanted to inform you here so that you won't miss the Panda Security's special offers during Black Friday and Cyber Monday. Take advantage of with this insane Antivirus and VPN deals! The amazing offers are listed below:
60% Off on all Panda Dome products: Panda Dome Essential, Panda Dome Advanced, Panda Dome Complete and Panda Dome Premium.
BLACK FRIDAY Coupon – 60% Off – Panda Dome Essential Antivirus, Panda Dome Advanced Antivirus and Panda Dome PREMIUM Antivirus.
70% Off on Panda VPN.
All deals are available from today until December 2nd.
Panda Security Basic Pricing & Coupons
Panda Security provides four plans to meet users' different needs. The prices vary depending on the type of service you require. Currently, all of the plans are 50% off. The Panda Dome Essential plan is the basic one which costs $23.49 USD per device per year. This plan comes with Antivirus protection with Firewall for Windows, real-time antivirus protection for Mac and Android devices, free limited VPN, WiFi network protection and external/USB device scanning. The Panda Dome Advanced plan is $29.49 USD per device per year. The extra features are Parental Control, Identity protection and advanced threats protection. It is worth the money. The Panda Dome Complete plan is $47.49 USD per device per year. Based on the given features, Data Shield, Password Manager and Cleanup Tool features are added. The Panda Dome Premium is the most expensive one. It costs $77.49 USD per device per year. This plan covers all features the rest three plans offer. It also provides Premium Unlimited VPN, 20GB Cloud Storage and Unlimited Premium 24/7 Technical Support. This is why it is more expensive. Those features allow you to use one Panda Security plan with multiple functions of different products.

Let us continue to read details about Panda Security Coupons, discounts & deals. Sometimes, the provider offer coupon code to let you save money on its order. Coupon and discount are available from time to time. We would like to collect the VPN promotion information and offer the valid coupon, promo and discount code to let save as much money as possible. You can find today's best Panda Security promo codes, coupons, and clearance sales on our website. To use Panda Security coupon, you only need to visit the provider here and copy coupon code. Pick a plan you need and click on "Save 50%!" Paste Panda Security coupon code and apply it on the payment page. Please note that extra product like Extended Download Service may be added into your cart. If you don't need it, you can remove it from your cart to reduce budget. Now enjoy the Panda Security 50% Off discounts.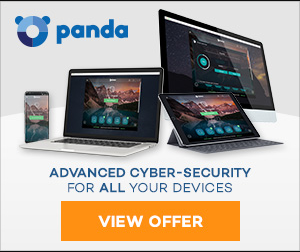 Why Panda Security?
Panda Security is a leading company in the security industry. It utilizes technology based on Big Data and AI to monitor every running application on your systems and classify everything, giving your desktop and mobile devices the highest protection. Its security products are able to identify known and unknown malware, APTs, fileless attacks and other malicious content before they can access your system. It also filters the traffic coming into your computer and block potentially malicious activity. You can use it to protect your privacy and avoid data leaks no matter it is the criminals or your employees who are trying to spy on you. Panda Security product offers WiFi Network protection, securing your online traffic and safeguard your precious information. You will gain total control on everything happening on your network. Panda Security lets you manage all of your devices with one click and gives you parental control to supervise your child properly on the Internet. It can work as a password manager to help you manage passwords and other important data. The security package also includes VPN features that help you protect privacy and get Internet freedom. The appealing and customizable interface is one of the reasons why it is so popular. Panda Security provides satisfactory protection along with a slew of extra features at friendly prices. You can get protection for the whole year at $ 29.49 USD. Save 50% Panda Security Coupon.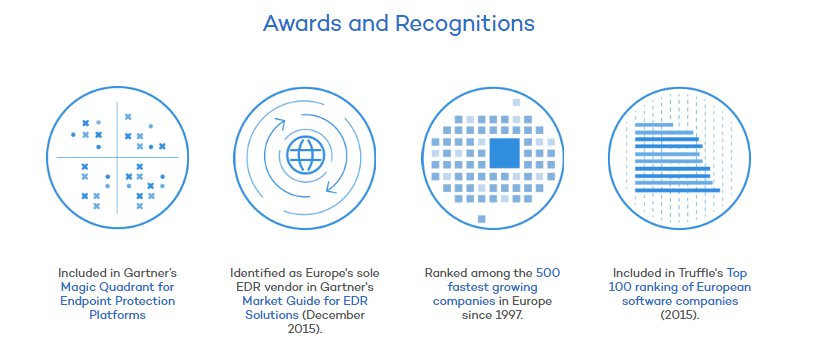 Prevent & Remove Virus
Panda Security is considered as the top ranked virus remover with the Antivirus protection with Firewall. It also has done a great job in blocking virus. It has earned perfect scores for malware detection and protection in independent labs. Preventing viruses is more important than removing virus because some aggressive viruses do irreversible damage to your files and devices. Even though you can remove the viruses completely, but your files may be corrupted and can't be recovered. Ransomware is the most classic example. It takes users' files and device hostage and demands a ransom. You need to pay a huge amount of money while there is no guarantee that the hackers will give you a key to restore your files and unlock your device. It is easy to remove the virus while it is almost impossible to decrypt your precious data. Therefore, Panda Security offers ransomware cyberattacks and advanced threats protection. It scans email, instant message and external/USB devices etc., keeping them safe from any kind of threats. Its malware scanning tool provides industry-standard functionality. When you browse the web, it scans for malicious contents and blocks them from accessing your device.
You may mistakenly download an aggressive virus that corrupts your important documents and ruins your system. You may even can't boot the system and access the desktop. Blue Screen Of Death is a headache for all computer users. Luckily, Panda Security enables you to create a bootable antivirus USB that will save your bacon if malware locks up your computer. You won't lose the precious family photos or business files. If any threat sneaks into your system, it detects and isolates the malicious files immediately. Once it takes control of nasty viruses, it eliminates them completely. Data of new and rare threat will be recorded by its lab and they will not be able to access your system next time. Panda Security is a very effective tool to keep you away from any cyber threat.

Cleanup Tool
No matter what device or system you use, you will notice that your device becomes slower after you use it for a period of time. Especially when you use Android or Windows device, it runs obviously slow if you don't maintain it well. Don't know how to operate with limited computer knowledge? Don't worry. You only need Panda Security. It assists you to speed up and improve your devices performance regularly. A file shredder and a system vulnerability scan are offered to keep your computer clear of old programs that tend to bog your system down and create weak points for hackers to break through. It clears duplicate, temporary and junk files to free up your hard drive space. With Panda Security's cleanup tool, your device can operate fast after you use it for long time.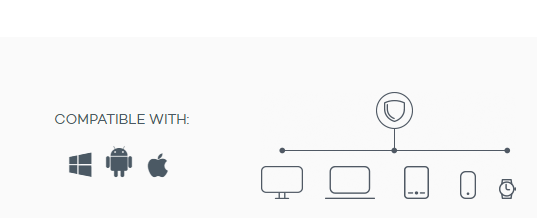 Free VPN & Premium Unlimited VPN
Panda Security provides useful VPN features. If you purchase Panda Dome Essential, Advanced or Complete plan, you have free VPN with limited 150MB per day. You can browse anonymously from a single virtual location. If you sign up Panda Dome Premium plan, you can enjoy the unlimited VPN. A VPN can hide your IP address, encrypt your connection to the Internet and connect you to remote servers. You become anonymous and stay safe even on public network. The advertisers, snoopers, your ISP and government will not be able to track or view your online session. With IP addresses and remote servers, you can unblock Internet restriction set by government or streaming services. You won't be blocked from your favorite websites and services no matter which country you move to.

Password Manager
Panda Security kindly offers password manager to let you secure and manage all your passwords with a single click. If you have too many passwords to keep in mind, you need this feature. It helps you creates, strengthens and stores strong passwords. Whenever you need an account and password, it shows needed information and even fills web forms for you. Simply import all of your passwords and you will not forget a single one. This security product secures your data with high encryption standard and your passwords are safe with it.
WiFi Network Protection
Wi-Fi Protection feature evaluates the security of your network and connected devices. You will likely benefit from this option if you frequently use public Wi-Fi connections. The hackers always make use of public networks or generate fishing networks to grab users' financial information. Therefore, Panda Security protects you against threats common with using open and public Internet connections, particularly when signing into websites with secure and personal information. It gives you strong data shield and identity protection for online security while browsing, shopping and banking. Besides, it also safeguards your WiFi network from hackers and prying neighbors. You can browse safely and securely.

Manage Mobile Device
Have multiple devices and can't manage them properly? Panda Security assists you to control all of them with less effort. It has a feature named Application Control which lets you see what apps are installed on your device and know the app's current security level. The Android suite also is very useful. It offers the expected antivirus and anti-theft features, keeping your device away from cyber threat and avoiding information leak. If the thief grabs your device and tries to access your apps, the unusual motion alert option sounds an alarm to scare the thief and let you find it easily. When you are watching a video shared on Facebook, a malicious app can be installed secretly which will turn out to be a piece of ransomware. It is necessary to block malicious app. Panda Security's Privacy Auditor helps you identify apps that may be exposing your private information. You can use the App Lock to put a PIN requirement on specific apps that is handy for those times when you hand your phone to a child or a friend who would like to dig others' privacy. In addition, its task killer lets you terminate any program to free up space. Your device will have high performance and stay safe all the time.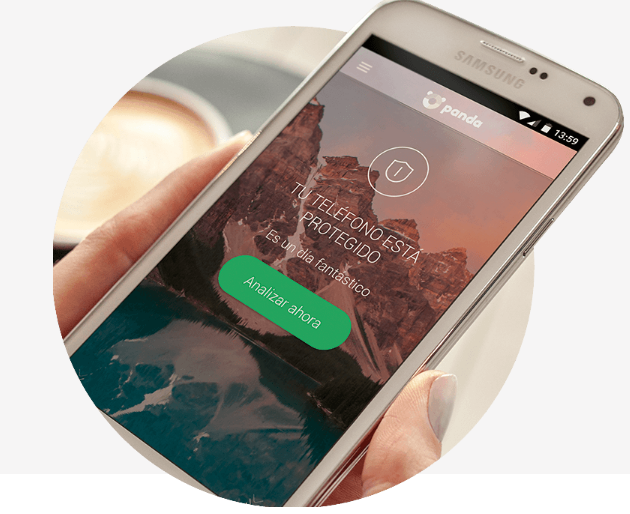 Parental Control
Want your child to learn useful things and relax themselves on the Internet while concerning they may overuse the Internet or access improper content? Panda Security gives you parental controls that enable you to create user profiles for each member of your family and add both blocked and allowed website lists. There are Kid, Teen, Employee, Custom and Without Filter profiles for you to choose. This feature effectively assists you to prevent child from accidentally or deliberately consuming inappropriate web content. The identity protection tool allows you to block your kids from sharing certain information, such as names, addresses and birthdates online without your permission to avoid scam. Panda Security will create a detailed report showing which websites your kids opened and any blocked website they attempted to access. You also are able to monitor their instant messaging, track social media and block games based on ratings. In this way, you can stop them timely before it becomes serious issues.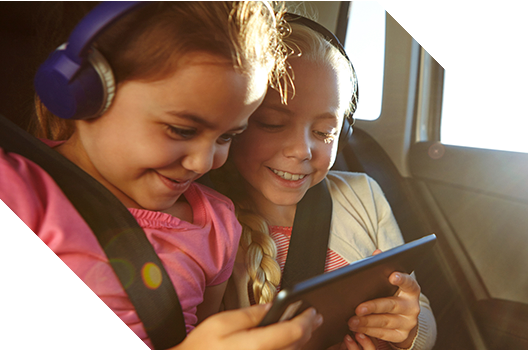 Unlimited Premium 24/7 Technical Support
What do you do when facing issue of using security product? Contact the technical support. Panda Security has a lot of online support information, including a startup guide, FAQs and a searchable knowledgebase. You can see specific guides and get solutions to commonly seen problems from its websites. The databases are updated regularly. There is also an active user forum where you can get help from other users. The customer support is always quick and efficient. Panda Security does offer limited telephone and live chat support with your purchase. 24/7 and more personalized help is available if you purchase a premium support package, or it comes standard with Panda Gold Protection. This security product does not require you to pick and choose settings during the setup process. The user interface is very intuitive and user friendly. All of this is set for you after the installation. The most essential features are turned on by default. That includes Real-Time Monitoring, Safe Browsing, Process Monitor, USB Protection, and Personal Firewall. It is pretty easy to use.

Video Guide On How to Get Panda Security Coupons And Deals
Conclusion
Panda Security is full-featured service. It protects your devices from viruses and other threats. It works effectively to help you discover and resolve system and application vulnerabilities, and detect targeted attacks against your systems. It is possible to browse the web safely, download and share files without unexpected and nasty content. You are able to shop and pay online with zero risk. It kindly offers help to manage your passwords, anonymize your online activities and unblock restricted content. To give you best experience, it optimizes and makes the most of your devices. In addition, it gives you parental control to protect children from dangerous websites. If you need a tool including the features we mentioned, get Panda Security now as you also get full information about Panda Security Coupons, Discounts & Deals. The Panda Dome Essential plan only costs $23.49 USD per year per device. At this time, 50% off is not the best value as Panda Security Black Friday and Cyber Monday promos are coming. BLACK FRIDAY Coupon – 60% Off Panda Antivirus Deals & 70% Off Panda VPN Deals. Get the latest coupons, promo codes and discount codes automatically applied at checkout at Panda Security.

Published by & last updated on April 30, 2019 8:32 am