On the Internet, hackers, thieves, nosey companies and even governments could be spying on you and storing your personal data. You might be blocked from your favorite websites after moving to another country. You need a VPN to safeguard your online traffic and change your virtual location to access content that is no available in your country. Can't decide which VPN you should pick? Avast Secureline VPN is a great choice with high reputation. Take a look at this detailed Avast Secureline VPN review.
Brief Information of Avast SecureLine VPN
Avast SecureLine VPN is the brainchild of Avast Antivirus which is one of the world's most popular security companies. It was first introduced to the market in 2013. As a popular VPN provider, it offers a list of compelling features to the users. For example, it utilizes the highest encryption standard in VPN industry to secure your online data and keep safe on the Internet. The provider develops fast servers across several continents. They are stable and have high uptime, giving you the freedom to explore the web and access content freely any time. Users who value their privacy pick this VPN hides their online ID and activities. It has favorable privacy policy and your browsing history and messages won't be tracked by anyone, even the government. It is welcomed among Internet users as it brings users excellent speed and performance, safe and private connection, unlimited bandwidth, and it is compatible with a lot of major platforms.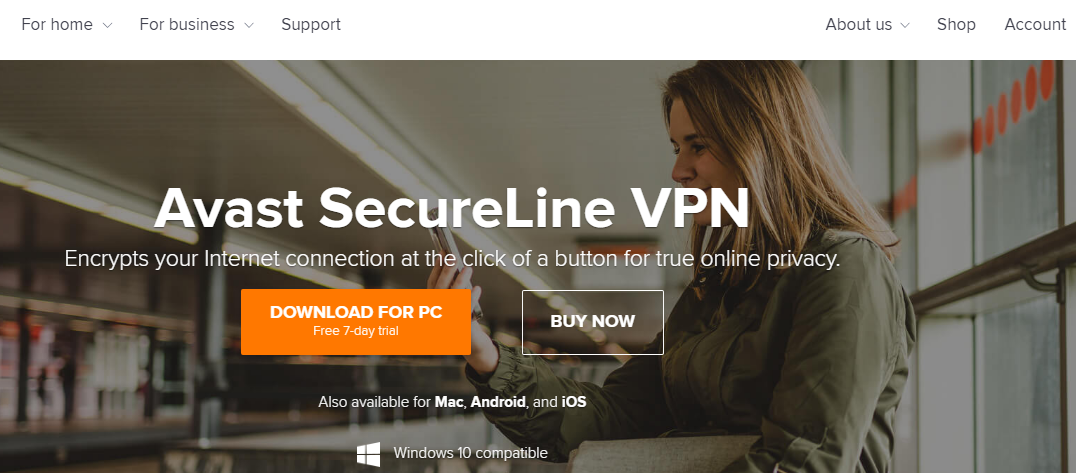 Pricing & Promotion
Avast SecureLine VPN provides one package with three plans. They are 1-month, 1-year and 2-year plans. There is no discount if you choose to sign up monthly. It will cost you $ 8.99 USD per month. The 1-year plan is the best deal. It is currently 20% off. You only need to pay $ 63.99 USD per year. It is $ 5.33 USD. If you prefer the 2-year plan, it is $ 149.99 USD for 2 years and $ 6.25 USD per month. The provider accepts PayPal, Wire Transfer, VISA, MasterCard, Discover and American Express payment. It is flexible.
Avast SecureLine VPN exclusively offers 30-day money back guarantee. You can use and experience the impacts of true online anonymity without any hassle with the amazing features. If the service does not meet your need, you can claim for the refund within 30 working days from anywhere. Likewise, it provides all new users a free 7-day trial of their VPN service, so you can test if it is what you want without spending a penny.


Reason Why You Choose Avast SecureLine VPN
Avast SecureLine is an easy-to-use VPN that offers great performance, allowing users from across the world to use the Internet with anonymity and enhanced security. It has a strong pedigree from its antivirus roots and notches some successes in its own right. The provider offers 256-bit military grade encryption to let users enjoy online anonymity concept instantly. OpenVPN is supported to give you the best protection. Your data will travel through secure tunnel within the public network. You can use public WiFi hotspot safely. Your employers, advertisers, governments, or your own ISP will not be able to snoop on what you do online. Avast SecureLine VPN masks your location with anonymous IP address and remote servers. Others have no clue to track you because they won't know your real IP address. Its network has servers in Africa, Asia, Europe, North America, Oceania, and South America. That means you can access the global network without limit. You will be able to unblock all favorite websites like Netflix and YouTube even though they are blocked in the country you live. Avast SecureLine VPN allows you to watch hi-def movies, avoid lag-sensitive twitch gameplay, and download large files at fast speed. Also, it is one of the rare VPN providers who support P2P network. It helps you download safely and anonymously from torrent sites. In additional, this full featured VPN comes with friendly price. It starts from $ 5.33 USD per month. The provider also offers discount and coupon to let you save money on VPN order. It also is a risk free service with a free trial and money-back guarantee.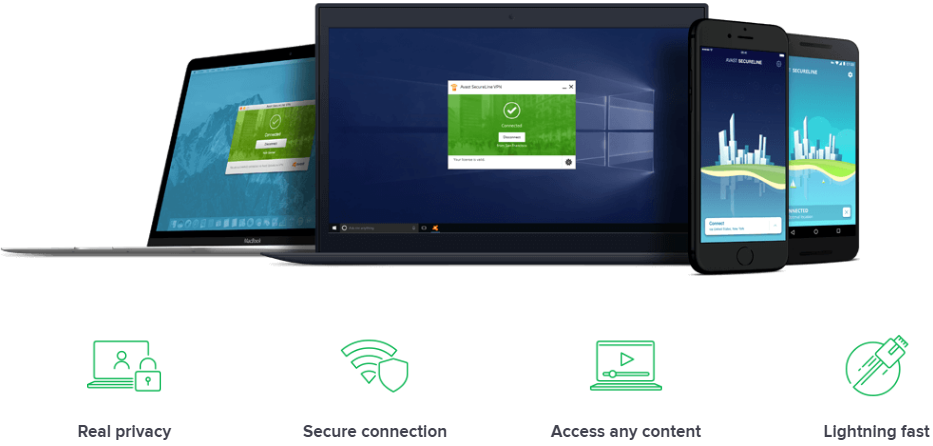 Is Avast SecureLine VPN Secure?
When you conduct private activities, hackers can steal your identity and hack into your accounts easily if your connection is not protected. When you are connected to fishing network, hackers can view what you do and what information you use. If you make payment or check your email. They can steal your money and email account. You need to install Avast SecureLine VPN to safeguard your precious information. Avast SecureLine VPN implements Advanced Encryption Standard with 256-bit key length to encrypt and decrypt your Internet traffic. How do you know it is secure enough? This is the same encryption used by the United States government for secret documents. This VPN also uses SSL/TLS for server authentication and control to establish the initial encryption tunnel between your device and the VPN gateway. In addition, it uses RSA-2048 bit certificates for verification of all negotiated keys and certificates are verified using SHA256 and keys support forward secrecy. All your incoming and outgoing data is encrypted and invisible to snoopers. With the unbreakable protection, it is possible to connect safely to any hotspot at coffee shop, airport, library, park or even on a stranger's phone tether. You can check email to deal with business on the go without concerning about information leak.
Avast SecureLine VPN only supports IPSec and OpenVPN on UDP with AES 256-bit encryption. Though it has fewer protocol options, the two both come with the highest encryption standard. OpenVPN is the latest VPN protocol and is used on Windows and Android platforms. Built-in IPSec protocol is used on Mac OS X and iOS for security. Its apps are built on Apple's proprietary stacks for compatibility and performance. When you connect to the Internet, the VPN software encrypts all ports, not limiting encryption to Internet browser ports, thus keeping all of your activities secure. You will highly protected from malicious Internet denizens and threats like packet sniffing, fake hotspots, evil twins, and man-in-the-middle attacks. Avast SecureLine VPN is surely secure.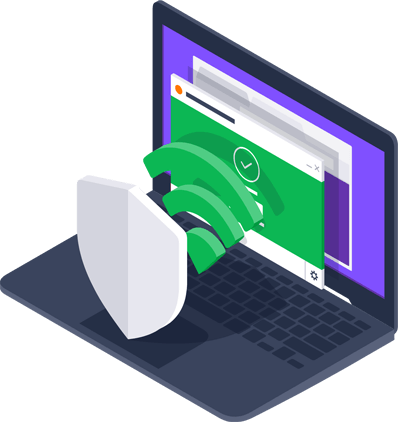 Global Network
Avast SecureLine VPN offers 54 locations over 34 countries which is a medium-sized network today. Though the number of servers and server locations is quite average, it is more than enough to meet the needs of most users. The servers are located in Australia, the United Kingdom, France, Germany, Israel, Canada, Finland, Denmark, China, Malaysia, the USA and many more, covering all the popular locations. No matter where you live or want to go, you can keep your original Internet habits and don't have to give up your favorite in a different country. The VPN provider offers a collection of IP addresses from different regions and countries along with the worldwide servers. Why do you need different IP address? Your IP address isn't only used to keep track of what you do online. It's also used to bar you from certain services and charge you higher prices. Avast SecureLine VPN enables you to access any part of the web from wherever you are. By changing your virtual location, you will get a better deal and save dollars when booking tickets or hotel rooms. You can select a server from a pull-down menu, or let it choose the closest and fastest server for you. When you need to download via P2P, it is required to connect to certain servers. P2P-supported servers will be marked. Avast SecureLine VPN offers unlimited bandwidth and claims it delivers speeds of up to 2GB/s. That is perfect for users who would like to stream HD videos, up and download big files and play video games. Get VPN to enjoy global network without limit from anywhere.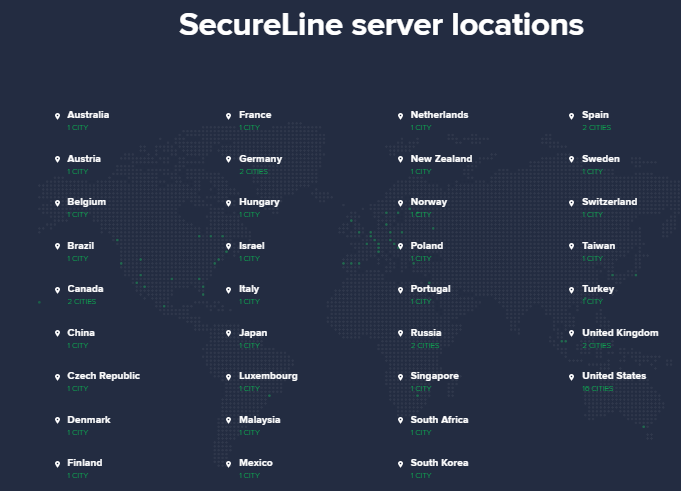 Privacy Protection
You may not notice that your privacy has been invaded badly. When you using the Internet, your ISP can see everything you do and sell your financial, medical and browsing history. They are allowed by the Congress to do that. You employers can control what you do online and limit your opportunities. Your govern ment censors what you see and spy on you. You can't use the Internet as you like. How can they track you on the Internet? Your IP address is one of the main ways that ISPs, advertisers and others keep track of you online while an IP address is necessary to deliver your Internet request. You can hide your real IP address with a new one which is not related to your ID in any way. Avast SecureLine VPN helps you mask your true IP while surfing the Internet and provides a virtual IP that other Internet users see.
Avast SecureLine VPN creates an encrypted tunnel for you. The tunnel comes out of one of remote secure servers placed strategically around the world, whoever you connect to sees VPN provider's IP address, not yours. Your incoming and outgoing data is secured against ISPs, malicious third parties, or other invisible snoopers. No one including your government can monitor your online activities, the websites you visit or programs you use. Besides, it offers DNS leak protection and single shared IP as well as keeps your real IP under wraps over IPv4 and blocks IPv6 requests. The provider also supports built-in OpenVPN and OpenSSL that are the most reliable, widely-used and transparent privacy protection protocols. All those features are provided to give your privacy the best protection.
Also, Avast SecureLine VPN provider has clear no log policy, stating that they do not capture any sensitive information. They do not log the apps you use, the sites you visit, or the content that you access. Only technical data like time, duration, bandwidth, and network location when the VPN connection is established are stored. This data will be used to improve the VPN performance and will not be sent to any third party. There is no need to worry about information leak or privacy invasion.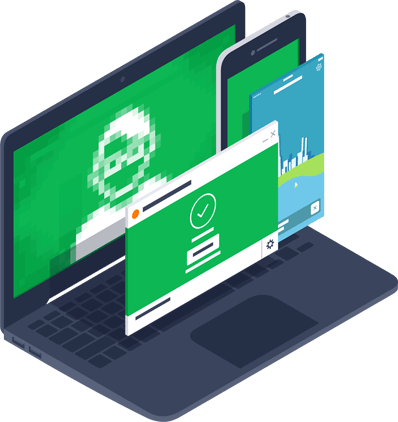 Unblock Restricted Content
Avast SecureLine VPN also is used to circumvent Internet restrictions imposed by some governments or companies. It helps you get around artificial limitations placed on your web so you can experience true Internet freedom. If you live country with high Internet censorship like China and Turkey, you may find that many websites have been blocked by the government. You can't use Google, Facebook, YouTube and more famous services in those countries. Besides, come services come with geo-restriction and you can't access them when you are not in their country. To make sure only UK citizens can stream videos on BBC iPlayer, BBC set geo-restriction to stop users from outside UK accessing their contents. Netflix is another famous streaming platform with restriction. It is restricted in the US. You can open its website, but you will only see message like "Sorry, this service isn't available in your country."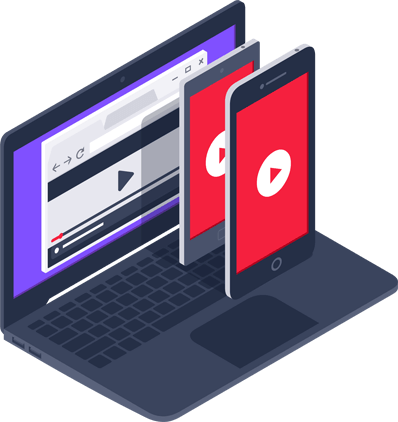 This VPN let you connect to servers located in places other than your actual physical location. If the government blocks your favorite websites, you can choose to connect to server in another country which allows your favorite websites. If you would like to stream videos on BBC or Netflix abroad, you need to connect to server in the UK or US. It is necessary to note that not all VPNs are able to unblock BBC iPlayer and Netflix because these two services block VPNs as well to prevent foreign users accessing the streaming platform. The good news is Avast SecureLine VPN still works with them. That defeats many VPNs in the market. It enables you to get around censorship and access any service or media regardless of your location. With it, you can watch your favorite show, stream videos on any platform you like and access any content you want. To let unblock restricted content at fast speed, the provider offers worldwide and stable servers. They also use OpenSSL libraries and run the whole thing over UDP ports so you get the best speeds.
Torrent is Supported
If you would like to download via P2P/torrent safely, Avast SecureLine VPN should be your choice. P2P/Torrent is popular among Internet users while it is banned in some countries due to copyright issue. You can get fined for P2P/torrent downloading. Does that mean you have to give up downloading via P2P? No, you only need to anonymize yourself. This VPN hides your IP address and encrypts your online traffic. It lets you select servers that support P2P networking. As the provider constantly improves their server speeds and performances, you will get a speedy online experience so that you can enjoy P2P downloading smoothly. Besides, there is no bandwidth limit. It is a useful tool to stream, game, or download large files. Need to download Hi-def movies, lag-sensitive twitch gameplay, or super-large files via P2P? Avast SecureLine VPN allows you to download securely and privately at superfast speed. You won't get caught or be fined.


Multiple Platforms
Avast SecureLine VPN is compatible with Windows XP, Vista, 7, 8, and 10, Mac OS X 10.9.x, 10.10.x, and 10.11.x, iOS, and Android etc. It allows five simultaneous connections, so you can protect all devices you have. No matter you are computer master or illiterate, you will have no problem to get started with this service because it is very simple to use. You can download and set it up quickly and easily, without any previous knowledge of how a VPN works. With the simple on-screen instructions, you can install it and have it running in just a couple of minutes. After you install it, it will take care of the rest.


Customer Support
Avast SecureLine VPN offers useful tech support. The support section of the website is filled with useful information and the forum can be helpful for both beginners and advanced users. Sometimes you may need to dig deep for answers on FAQs page, but the search field makes it easier to find what you need.
You also can send an email to their billing support or technical support via the ticketing system and get an instant confirmation. When we tested the VPN, the staff was rather quick to respond. Usually, it may send you a detailed and helpful answer in no more than 24 hours. It is also possible to contact their support directly through the Avast Secureline VPN client which is very convenient. Besides, this service has an excellent presence on different social media platforms, including Facebook, Twitter, LinkedIn, YouTube, Google+ and Google+ Developers. It is very easy to get its tech support.


Top 10+ Best VPN Services In The World
| VPN Brands | Servers | Country | # of Connections | Price(USD) | Official Website |
| --- | --- | --- | --- | --- | --- |
| | 2000+ servers in 94 countries. | British Virgin Islands | 3 | $6.67/Month (Save 49%) | Best Choice |
| | 1,000+ servers in 60+ countries. | USA | 10 | $4.87/Month (Save 60%) | View Deals |
| | 4410+ servers in 62+ countries. | Panama | 6 | $3.99/Month (Save 66%) | View Deals |
| | 200+ servers in 70 countries. | Bulgaria | 6 | $4.18/Month (Save 50%) | View Deals |
Click Here to Read More Top 10 Best VPN Services »
Conclusion
Avast SecureLine is a reliable VPN provider. This VPN is both secure and fast. With the highest encryption standard, your connection to the Internet is completely safe. The VPN wipes your digital footprint and replaces your IP address with an anonymous one. Snoopers won't be able to track and view what you do on the Internet. As the provider has zero traffic log policy, your privacy is untouchable. With a solid number of strategically distributed servers and good average speeds, you should have no problem streaming Netflix or downloading content. It is possible to watch HD video and play video games smoothly. If you connect to the right server, you probably won't notice the buffer. Avast SecureLine VPN also assists users to defeat geo-restriction and avoid government censorship. You will be able to access restricted contents both at home and on the go. Besides, the VPN package comes with DNS leak prevention, built-in customer support, automatic enabling of the VPN upon connecting to an unsecured or home network and more useful features. The provider equips the VPN with advanced technology and adds many security features to give you the best browsing experience. To let users enjoy secure network with less concern, they make it very simple to use and offer affordable price. You can spend less money to secure your valuable data and protect your privacy at the highest level. You will never know how useful it is until you give it a try. Get Avast SecureLine VPN and enjoy the Internet at ease.


Published by & last updated on January 31, 2019 8:00 am