Need antivirus protection for your digital life? Which security program should you pick? We review security software based on the most important factors such as level of protection, ease of use, customer satisfaction, and price etc. With verified functions, we recommend the best security programs for you. McAfee is one of the recommended programs. It is a reliable and useful tool to prevent and remove Trojans, malware, spyware, viruses, and other digital threats. Get more information in this McAfee review.
Brief Information of McAfee
McAfee is a famous security program which has a reputation for consistently delivering quality protection. It is committed to offering powerful protection to every user, on every device, software and network, every single time they connect. The company won 50 awards for their online protection and were rated 6/6 for performance on AV Test in 2017. As one of the original pioneers of the antivirus market, antivirus packages such as McAfee Antivirus Plus, Internet Security and Total Protection etc. Its expert team works on a signature database, monitoring the Internet 24 hours a day, 7 days a week. New virus will be indexed, catalogued and added to the software's database once it's reported. As long as your antivirus software is up-to-date, it is equipped to tackle the new virus which tries to reach your device. McAfee's package includes options for built in virus removal, PC optimization tools, parental controls, email spam blocking, hacker and thief firewall protection, safe searching and social media link protection for unlimited devices. From national governments to individual users, there are 325 million devices that are protected by this service worldwide.


Overview of Products and Pricing
Whether you need virus protection for home or for your business, there are several options available. McAfee offers AntiVirus, AntiVirus Plus, Internet Security, Total Protection, LiveSafe and Mobile Security products. If you get an auto-renewal subscription, you will get a 100% virus removal guarantee. If your PC get infected and one of their techs can't remove it via remote control, they will refund your money.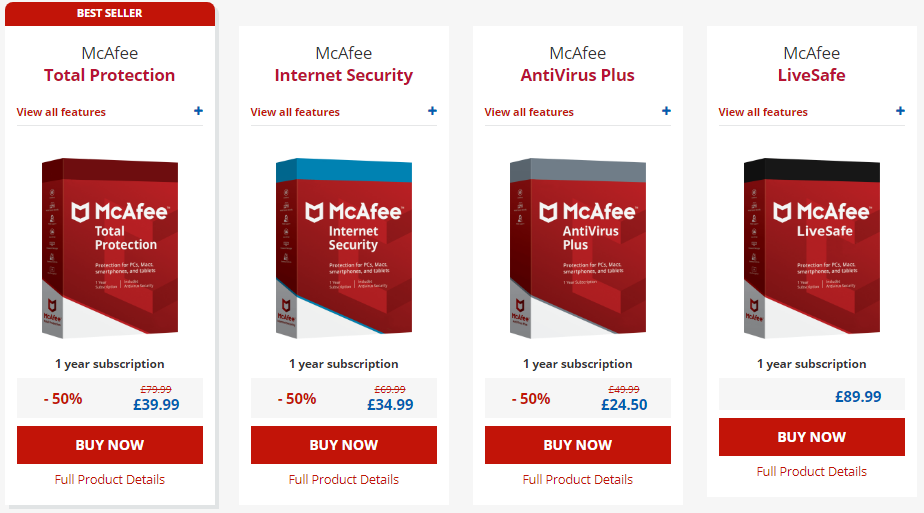 McAfee AntiVirus includes full antivirus protection with free 24/7 support and built in PC optimization tools for a single device. It is a Windows only package. This package is 45% off and costs £21.95 a year. AntiVirus Plus plan has features like Home Network Protection, Wi-Fi Protection Tools, Firewall, McAfee WebAdvisor and Network Manager etc. It is £24.50 a year.
McAfee Internet Security comes with full antivirus protection with free 24/7 support, built in PC optimization tools, parental controls, true key identity Manager and e-mail and spam blocking for unlimited devices. It was £ 69.99 and now is £34.99 during promotion period.
McAfee Total Protection provides full antivirus protection with free 24/7 support, built in PC optimization tools, parental controls, email spam blocking, hacker and thief firewall protection and social media link protection for unlimited devices. It secures private files with encryption software and safely stores your passwords with the true key app. The true key feature allows five users. McAfee File Lock is offered which is an extra protection. This is most expensive plan while it's still affordable. It is only £39.99 a year. McAfee offers cheaper price in the market. You can select any plan that you need.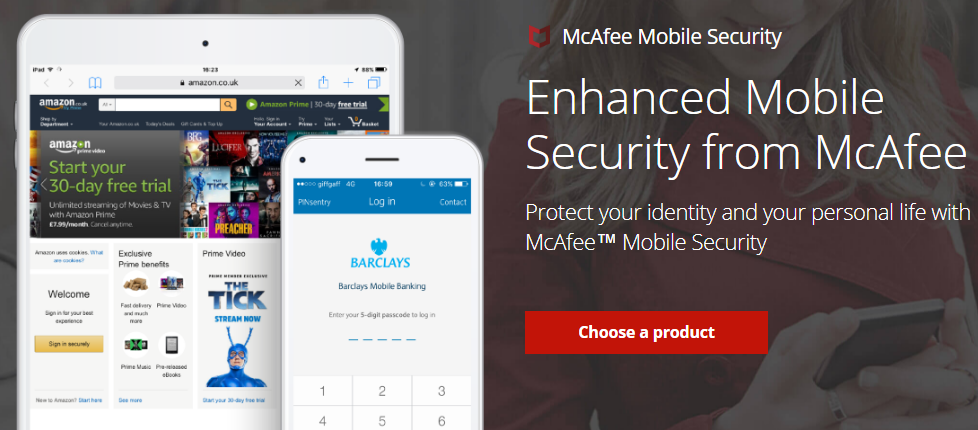 Reason Why Choose McAfee
McAfee is considered as one of the strongest antivirus program in the world and it receives lots of recognition for its products throughout the years. Its excellent experts confidently detect and correct threats faster with a scalable SecOps architecture built for big data and analytics. The viruses have been updated every day and McAfee delivers the best security solution to fight against the latest and stubbornest viruses. During our test, it passed all programs with high scores. You can use it as many products because one subscription includes antivirus features, PC optimization tools, anti-spam, hacker and thief firewall protection, parental controls, password manager, safe searching, social media link protection for unlimited devices and more useful features. It has helped lots of users block malicious programs and get rid of various kinds of dangerous viruses. It also is a good choice for you with their Kid Safety and parental controls. McAfee is adept at identifying & deleting malware, coming with robust extra features. Have a try and you will know why so many users pick it. To let all users secure their devices, the provider offers affordable price. It starts from £21.95 a year. You will find out that it is worth every cent.


Outstanding Antivirus Features
As our lives become increasingly digitized, the cyber criminals' business becomes ever more lucrative. They create various viruses as tools to help them swindle money out of innocent users. Every user can be attacked by viruses because the viruses are spread everywhere and very aggressive. Lots of users have been attacked and scammed by viruses every day. You should pay more attention to preventing virus. You give no chance to the virus to attack your device and you will not lose your precious information and device. McAfee's Antivirus module comes with antivirus, antimalware and anti-ransomware features. It's easy to use and efficient. When the protected mode is on, it keeps malicious programs from attacking you online and stops unwanted pop-ups from appearing when surfing. It gives you online banking protection to cover every transaction you make. Any attempt to load a page with malware on your device will be blocked. Hackers and thieves have no way to view or access your confidential information. Virus won't have any chance to sneak into your device.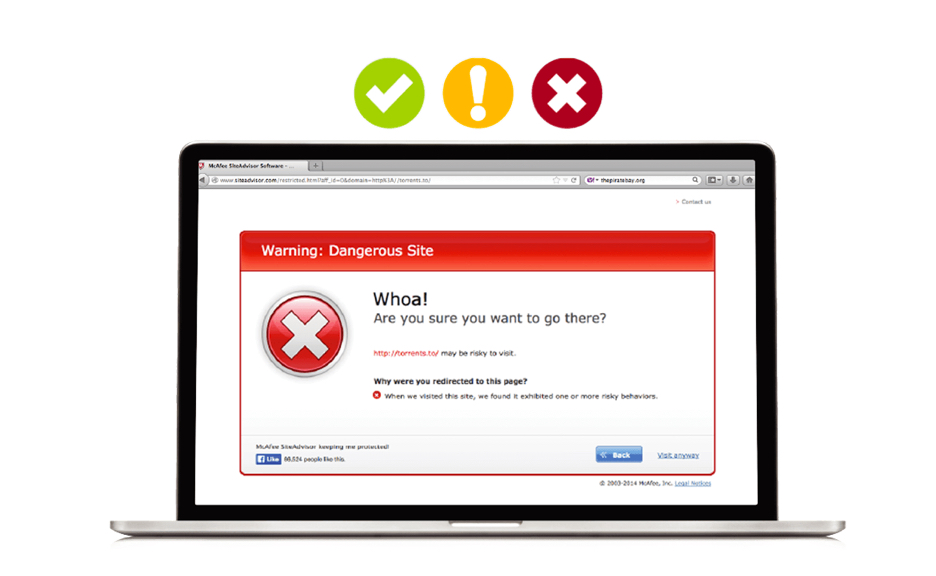 If you downloaded virus for thinking it's legit, McAfee will take care of it. Once the virus invades your system, it finds malware and quarantines it in no time. Virus will be disabled in quarantine folder. The folder will keep the virus isolated and prevent it from spreading or causing further damage to other files. If the ransomware is conducting encryption, this security program stops it time to reduce loss. Once it controls the virus, it will eliminate all related files immediately. You can get back to work quickly. Antivirus can be passive or active. If you set it passive, it requires you to make scheduled or manual virus scans. When you set it active, it runs in the background, detecting and fighting threats in real-time. You will be highly protected against various malware with McAfee.


Personal Firewall
The hackers create threat to attack Internet users by using illegal access of the ports a computer uses to connect to a network. In this way, they can steal precious information, use computer resources for different activities or monitor activity illegally. Therefore, you need McAfee's firewall to guard against threatening activity and prevent suspicious incoming Internet traffic and programs trying to steal your data. It lets you know clearly what information travels between devices on your network to avoid malicious programs timely. Hackers can use spyware to collect your information while McAfee firewall will immediately stop malicious applications that are trying to send your personal data over the Internet. The firewall allows customization and advanced settings like traffic control, personalized connections for different applications, activity history, network connectivity and the control of ports. You customize it just like your personal firewall. Within the Firewall settings, you can set Wi-Fi networks to which you connect as trusted or untrusted, which changes firewall rules automatically. It will recognize when you connect to new networks and prompt you to classify the level of your trust of that network as well to make sure that you are always connected to safe network. You can create quite sophisticated instructions for blocking or allowing networking traffic from ports and addresses under Manage Rules. McAfee's firewall is an extra layer of protection for Internet users.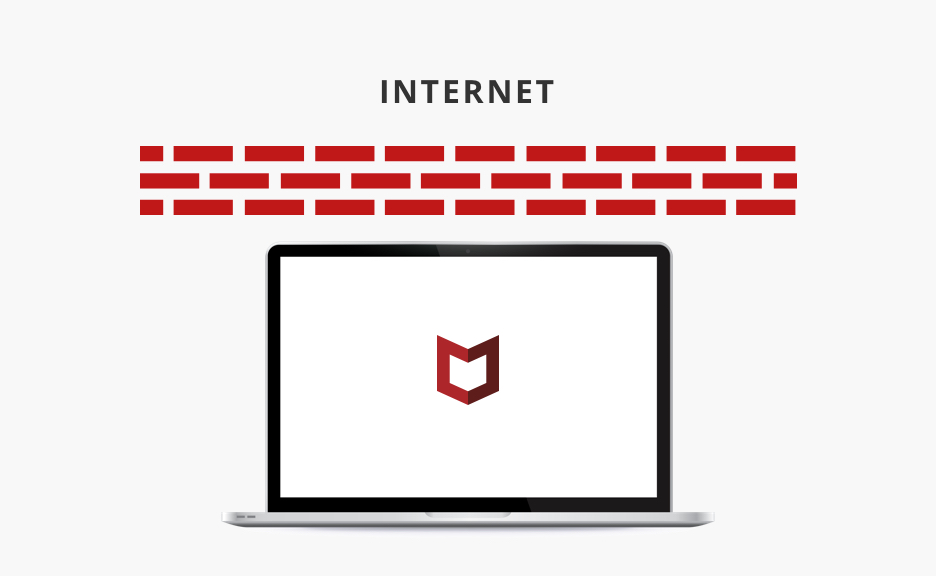 Anti-Spam protection
Anti-spam feature is only available for the LiveSafe security suite. It comes with advanced settings and five different levels to filter spam: minimal, limited, balanced, aggressive and restricted. After you install it, it auto-detects emails trying to expose you to malware or trick you into giving away your data. Unsolicited emails will not reach your inbox. By default, it moves email with potential threat to a folder called Spam. Hackers usually spread threat via attachment or embedded link in email. As McAfee blocks spam, you can stop spyware from infecting your devices and stealing your data to share with the third parties. During our test, it filtered unsolicited, infected and phishing emails flawlessly every single time. Can't stand endless spam and want to stop them effectively? As you can't stop others from buying your email address for advertisement, you can stop spam from entering your inbox. Get McAfee to end annoying spam.


Password Manager
McAfee offers password manager which places heavy emphasis on multi-factor authentication. It allows you to log in with facial recognition or fingerprint. Have too many passwords and logins to remember for work? Its password manager helps you store your passwords locally on your device and sync them to your profile. The True Key system stores your information centrally, and relies on a browser extension that uses in-browser encryption and decryption. The central storage only stores encrypted entries. It's more secure to store precious information on password manager than on browser. With the stored information, it enters your login details and password on safe website every time you need. If you are too lazy to set a password, it also generates a unique, random and strong password for you. McAfee's password manager has an attractively designed, easy-to-use interface for managing and adding passwords. It is really a nice extra feature to security package especially if you want to strengthen your passwords while at the same time simplifying it.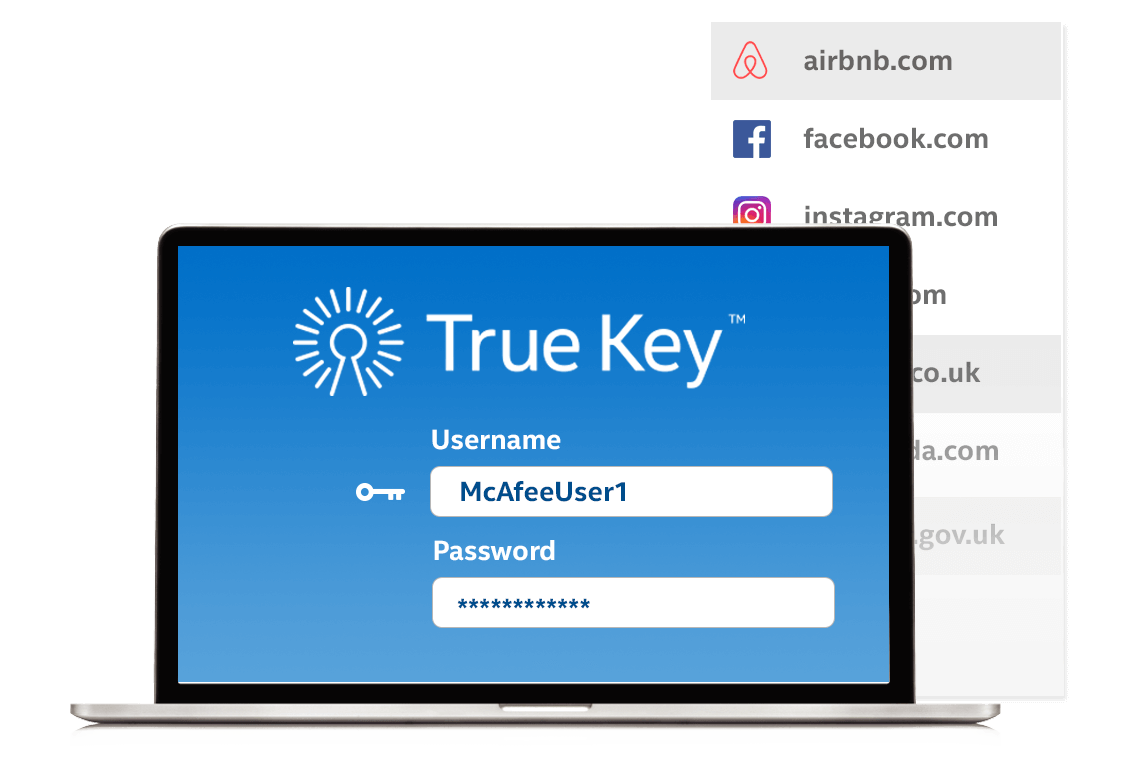 Anti-Thief for Mobile
McAfee not only helps you defeat cyber threat, but also gives you anti-thief protection in daily life. If you lost your mobile device, you can use your centralized McAfee account to locate and lock your lost mobile phone using your centralized McAfee account. To help you find your device, you are able to have your stolen phone's location sent to your account along with a photo of the thief. Even when its battery runs low, you will still get an emergency location update from your lost device. If you can't take back your device for some reasons, it is possible to remotely back up, restore or wipe your personal information from the lost device. You will not lose your valuable data and the criminals will not be able to access any of your personal information even they got your device. Snoopers can have a look of your sensitive information when you walk away and leave the device screen unblock. McAfee lets you lock your apps with PIN codes to restrict access to others using your device. No one can view your privacy on device without your permission.


Device Optimization
You may notice that your device becomes slow after you use it for a period of time. McAfee assists you to optimize and speed up your device. For mobile devices, it helps you close unwanted background apps to free up memory, improve speed and save power. Your device will run just like a brand new one. For computers, it schedules regular scans for your devices and their disks and folders. You will find a feature named Quick Clean which helps free up room on your device. Its function is pretty similar to the native Windows disk cleanup tool, but the McAfee cleaner goes a little further. It detects and cleans both unwanted and unnecessary files to free up space. You also can have McAfee scan your registry too as some viruses can drop or corrupt your registry to cause chaos. It also cleans up your browser history, wipes the cache and removes cookies. Though it's not an essential feature, it is a popular extra. Is there any file that you want to delete while you just can't? McAfee offers file shredder feature to let you destroy unwanted files completely and make it impossible to retrieve files. It works by using overwriting in locations where the file doesn't exist anymore. When destroying a file, you can choose from security level among Quick, Basic, Safe, Comprehensive and Complete.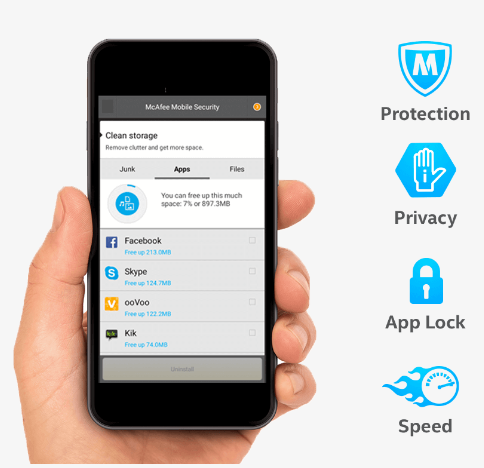 In addition, McAfee scans installed software for missing updates, including checking to see if Windows itself is up to date. Software and system updating are very important because many vulnerabilities and exploits in software can be fixed through updates. Running out-of-date software puts you at risk. This security program keeps your software and system updated so as to eliminate potential threat in time. The update scanning can be scheduled to run once a week. It will ask for your permission before it installs any update. That makes sure it will not abuse the right to update anything your device.
Safe Kid Browsing
If you have kids or want limited access to certain websites for some members of your family, the Parental controls module integrated in the LiveSafe version is the way to go. You may have several kids or are too busy to monitor your kids' online activities. As there are many kinds of improper contents for kids on the Internet, you need to monitor kids properly as they are too young to identify accurately which thing is good or which thing is bad. You can't keep an eye on them 24 hour a day or take away their freedom of using Internet. Using McAfee to supervise them is the most effective way. You can set it to block or allow websites based on your kids' age. It has several filtering and traffic blocking versions, depending on various predefined age groups: under 5 years, 6-8 years, 9-12 years, 13-15 years, 16-18 years and custom. Kids may search for adult content out of curiosity. Luckily, McAfee lets you make Google search engine safety filters to automatically exclude inappropriate content. To help kids form a healthy habit, you are allowed to set up a schedule to restrict the amount of time your kids can spend online. You will be able to find out who is visiting blocked sites or going online outside scheduled hours. It lets you find out the problem and fix it before it become serious.


Multiple Platforms
McAfee supports unlimited devices, offering one security solution for your desktop, tablet, mobile and wearable technology. You will get protection for you, your family and friends from one simple-to-use console with one subscription. No matter which system you are using, it has your devices covered because it is compatible with all major systems like Windows, Mac, Android, and iOS devices. McAfee has intuitive interface optimized by device, giving you instant access to all security features. The friendly interface hides most of the complexity of virus scanning and malware interaction, and the program automates tasks like real-time scanning, regularly scheduled full-system scans, and update installations. It works silently and does not interfere with your job, study or movie.

McAfee Video Review
Conclusion
McAfee is a one of the biggest and most trusted names in antivirus software which has been chosen by a large number of users from all over the world. It helps you prevent and remove dangerous malware effectively. You are allowed to use it to manage and store passwords securely. It gives you parental control to give your kids a safe network and help them form healthy habit. With it, you will not receive annoying spam and stand slow device performance. As it supports unlimited devices, you can safeguard all of your devices with one single subscription. The simplicity of the primary dashboard ensures you know the current state of its operating system protection. You can easily configure parental controls, firewall, anti-spam settings, scheduled virus scans and update settings directly from the user interface. It's easy to set up auto scans. If you would like to do it manually, performing both quick and full scans is only a few clicks away. If you have any problem is using McAfee, contact the customer support and they will help you fix the issue right away. Need security protection? Get McAfee products. During the promotion, the product starts from £21.95 a year. It is a great deal.


Published by & last updated on March 15, 2021 8:48 am