Nowadays, every Internet user has a list of online accounts and passwords to manage. Most of us either use weak passwords or reuse passwords on multiple accounts. However, weak or reused passwords can lead to identity theft. Have to reset passwords frequently because of forgetting various passwords for different platforms? You should get a password manager. A password manager generates, retrieves, keeps track of super-long, crazy-random passwords across countless accounts as well as keeps them safe for you. Which password manager you should choose? We would like to test password managers and show you the useful and reliable ones for you. RoboForm is a great one. Get more information in this RoboForm password manager review.
Brief Information of RoboForm?
RoboForm is a well-established and competently designed password manager released in 2000 and updated continuously ever since. It organizes and encrypts your passwords and other important data, increasing the convenience and security of your online experience. With it, you don't have to remember hundreds of passwords to access your online accounts. Instead, you only need to memorize your one single password unblock all of them. It gives you the option to locally store encrypted passwords and data, or sync to the web and across devices if you like. RoboForm also supports multiple identities, so you can autofill online form based on different users, addresses, or any other mix-and-match of data you choose. Besides, it delivers both online and offline password management options which is very convenient.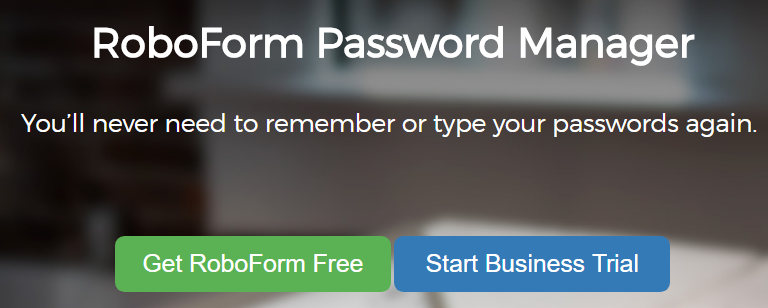 Pricing & Plans
RoboForm Password Manager has Free version, Personal and Business packages. The Free package comes with limited features. It supports unlimited logins, fills forms, password audit and password generator. If you want more functions, you need to upgrade to Personal or Business plan. Under Personal package, there are Everywhere and Family plans. The Everywhere plan is $1.99 USD per month and billed annually, total cost is $23.88 USD per year. It is relatively cheap in the market. This plan allows access to all devices, account data backup, secure logins sharing and premium 24/7 support. This version allows you to automatically sync information across multiple devices using RoboForm's secure cloud. It also gives you the option to add an emergency contact. The Family plan costs $3.98 USD per month and billed annually. You can enjoy all features of Everywhere plan and get five Everywhere users. That means this plan can cover all of your family. The business package helps your company organize logins and passwords, making your password generation, storing, and sharing both easier and more secure.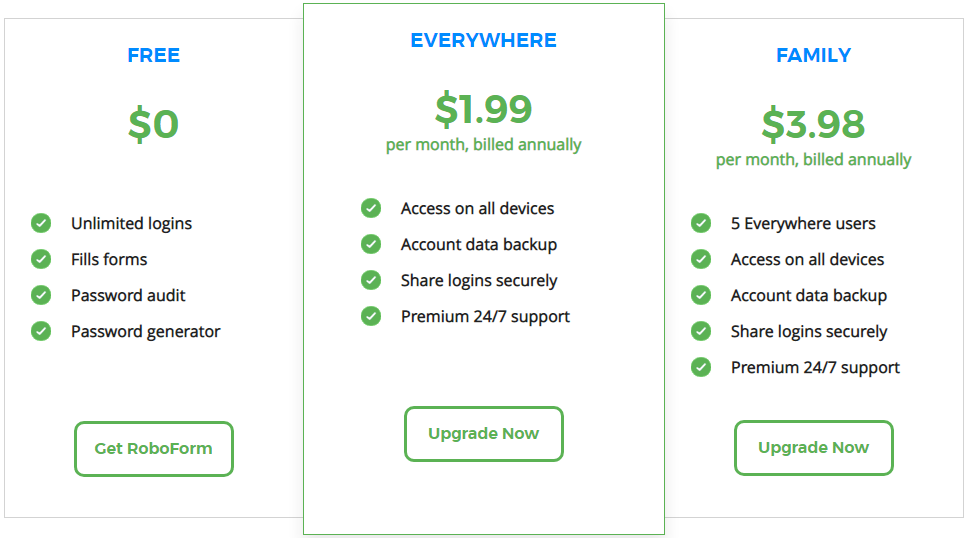 The Business plan costs $29.95 USD per user per year. This plan offers a centralized Management Console which allows administrators to designate permissions, assign credentials, view password security reports, and streamline the onboarding process for new employees. To let you work effectively, it also offers Role based permissions, unlimited sharing groups and security policies etc. After you let it work for you, you will realize that it is worth every cent.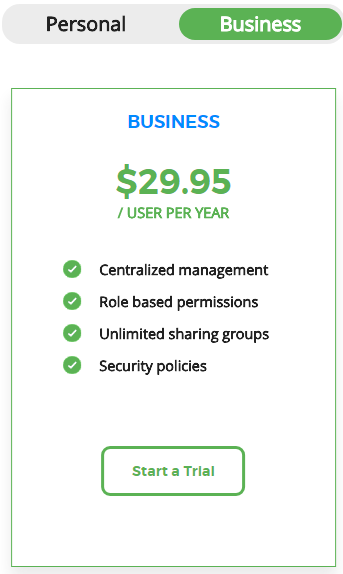 Educational Discount
RoboForm offers big discount to university students and professors. The Everywhere plan normally costs $19.95 USD per year while they can get a free year. To extend their plan, they only need to pay a discounted rate of $12/year for as long as they remain an active student or professor. To get educational discount, you need to sign up with your college email. You can enjoy all features of everywhere plan for free for the whole year.

Why Choose RoboForm Password Manager?
RoboForm has 18-year experience and six million users as well as zero security breaches. It keeps your passwords in an encrypted vault. As a useful tool, it defends you against criminals by generating and storing a unique and complicated password. There is no need to worry that you can't remember complicated passwords because this password manager will do it for you. After you create a password manager account, you only need to remember the master password which you use to unlock your so-called vault. RoboForm also works as form filler. It stores and fills log-in data and passwords, as well as your address, contact data, or any form fields you're always entering the hard way in Web sites and Windows programs. It also manages bookmarks, downloads, notes, and much more to help you save lots of time. Your data on device is well-organized and easy to access at all the time. In addition, its desktop and mobile apps provide offline access to RoboForm data, and the desktop version offers optional local-only storage. You are able to access your account without network from anywhere. The RoboForm interface is clean and simple enough to use, so you can use it without any problem. It is a very useful tool and it is affordable as well.

Secure Password Manager
Do you have problem in dealing with passwords? As we know, easily remembered passwords are also easily cracked and reused password makes you vulnerable on multiple sites if it is ever compromised. The criminals can guess your password easily because they have rich experience in this field. The attacker could access your entire digital life including your email, cloud storage, bank accounts, social media, dating sites, and more when there is a security breach. It is necessary to create a strong and unique password for each account. The problem is most of us can't remember strong passwords and have to reset it every now and then. It is very upsetting. RoboForm allows you to input existing passwords via a CSV, from a browser's native password saver and even via another password manager. You also can type in manually. Every time you create a new account, it saves your account detail automatically and displays it next time you revisit the website.

You can use RoboForm as a password generator, it will create strong password including capital & lowercase letter, figure and symbol etc., making it pretty difficult to crack. This tool utilizes JavaScript to generate passwords on your device only and the passwords will not be sent to RoboForm's servers. In order to use password generator, you have to visit a website and enter a username first. Then, click on the browser extension and click generate. It's customizable, so you can decide the length and the number and types of characters in the password. RoboForm will then automatically save that to your passwords folder.
RoboForm not only creates secure passwords for you, but also strengthens your existing passwords. Its strength ratings are more reliable. RoboForm calculates individual password strength using zxcvbn which is a powerful open source password strength estimator. After analyzing the passwords, it gives you option to upgrade. You can view the strength of your existing passwords and ensure duplications do not occur across various sites by using Security Center feature. It's free to upgrade as many passwords as you want. If you would like to upgrade all of them at a time, it may take a while.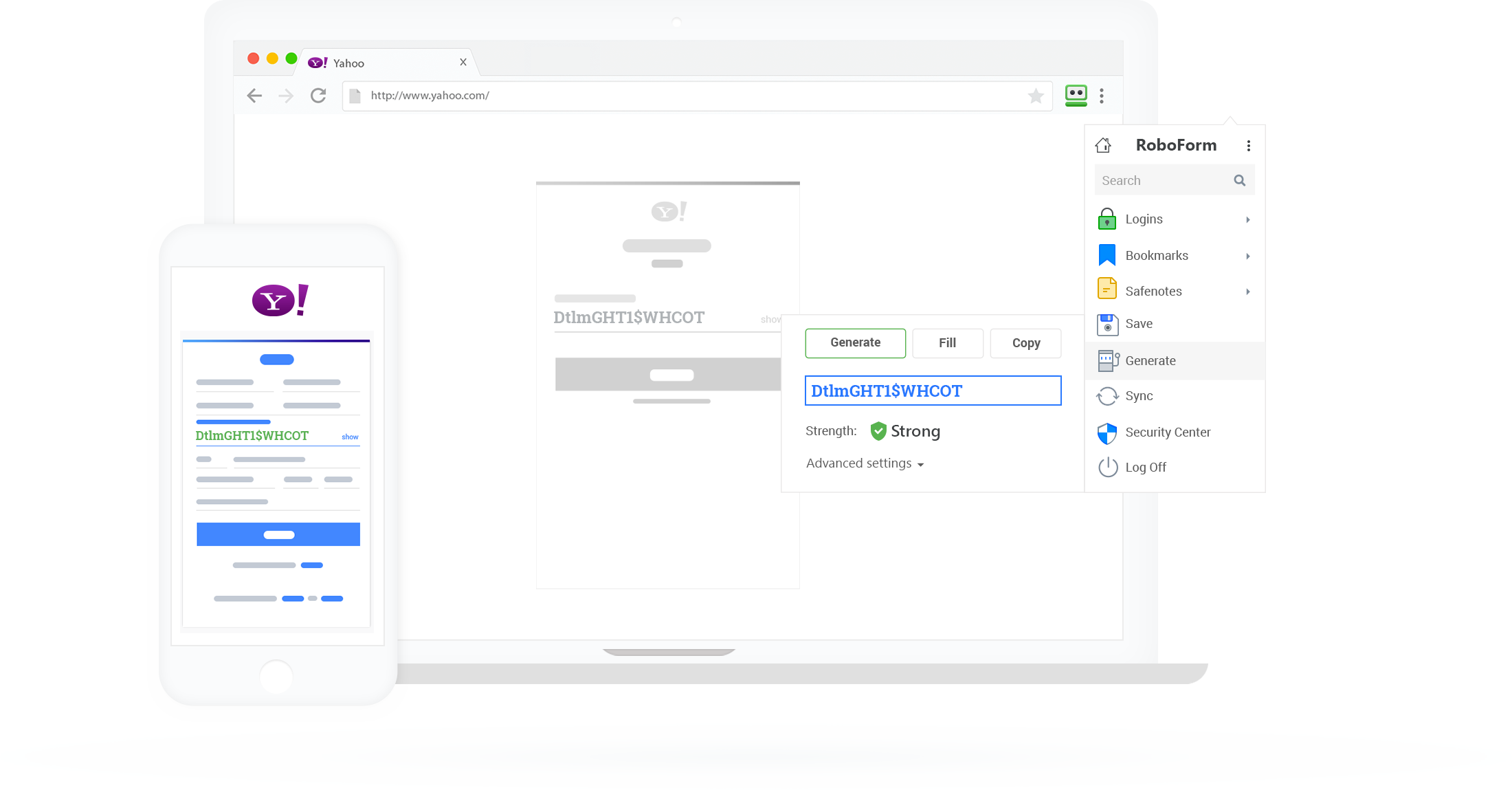 Advanced Security
Some of you may wonder if it is safe to store passwords and other confidential information on password manager. To secure your data, RoboForm uses AES-256 bit encryption with PBKDF2 SHA-256. So far, it is one of the most advanced encryption option and it is almost impossible to decrypt the 256-bit encryption key. The master password you create is not stored in the cloud and you are the only person who can view it. Even if someone were to hack RoboForm, the information needed to access your account wouldn't be there to steal. Besides, it has two-Factor authentication which adds an extra layer of protection to your account. This password manager supports TOTP based authentication apps including Google Authenticator, Authy, and Microsoft Authenticator. With those features, it's safe to let RoboForm store and manage your passwords.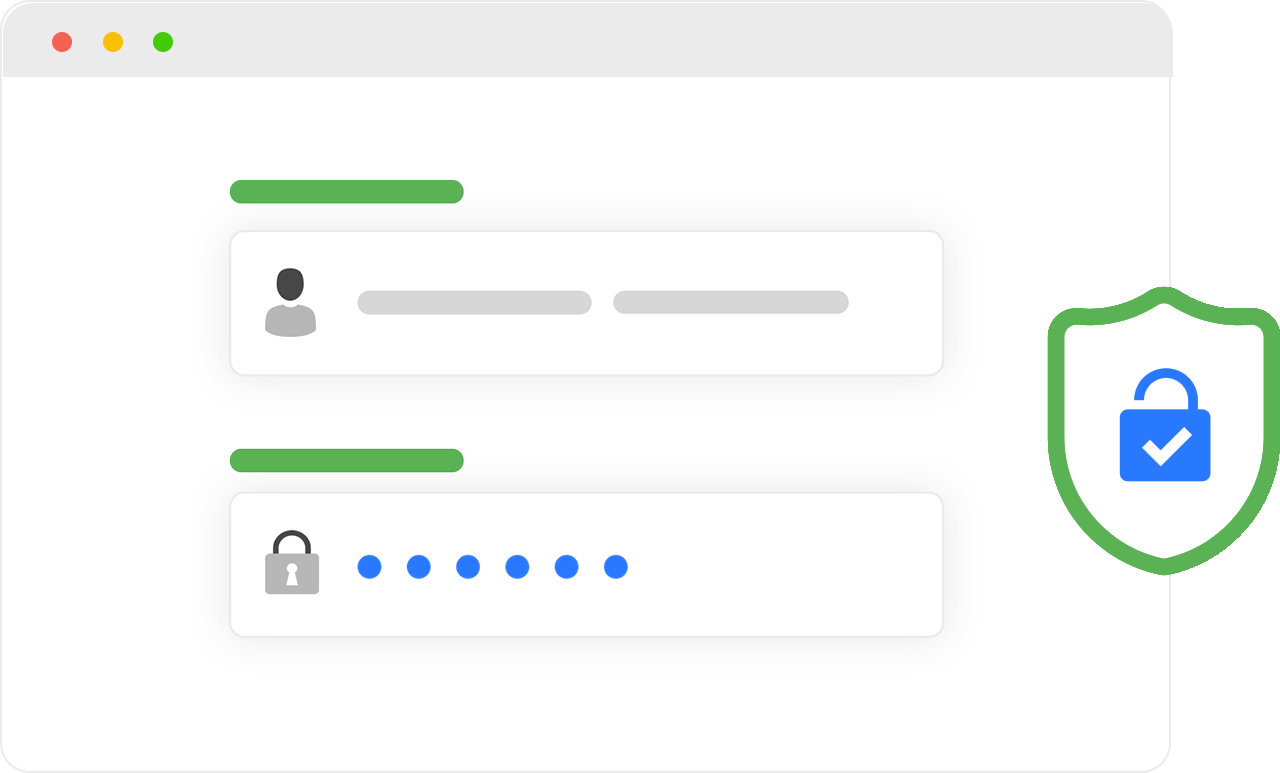 One Click Form Fill
RoboForm has the most reliable automated saving and login technology for your passwords. It acts as form filler. The technology it utilizes allows you to skip filling in those long, tedious web forms manually. The password manager lets you finish filling form with the simple click of a button. This is ideal for online shopping, entering contests, resume submission, and much more. Can't make payment because you left wallet at home? Let RoboForm store the information for you and you will be able to access them on the go. You also can use this feature for automated population of HR forms, real estate forms, insurance forms, hospital records, medical forms, and much more. This password manager also stores the URLs for sign-ins which is a very useful security feature. According to a recent research, many phishing programs try to trick users into offering account information by redirecting them to fraudulent websites with slightly different web addresses. Though it may look like an Amazon website, you will notice the difference if you take a closer look. It is suggested to use the link stored in your password manager to sign in, or type the URL yourself instead of clicking on links in a suspicious email. To find account and websites you need quickly, simply use RoboForm's strong search functionality.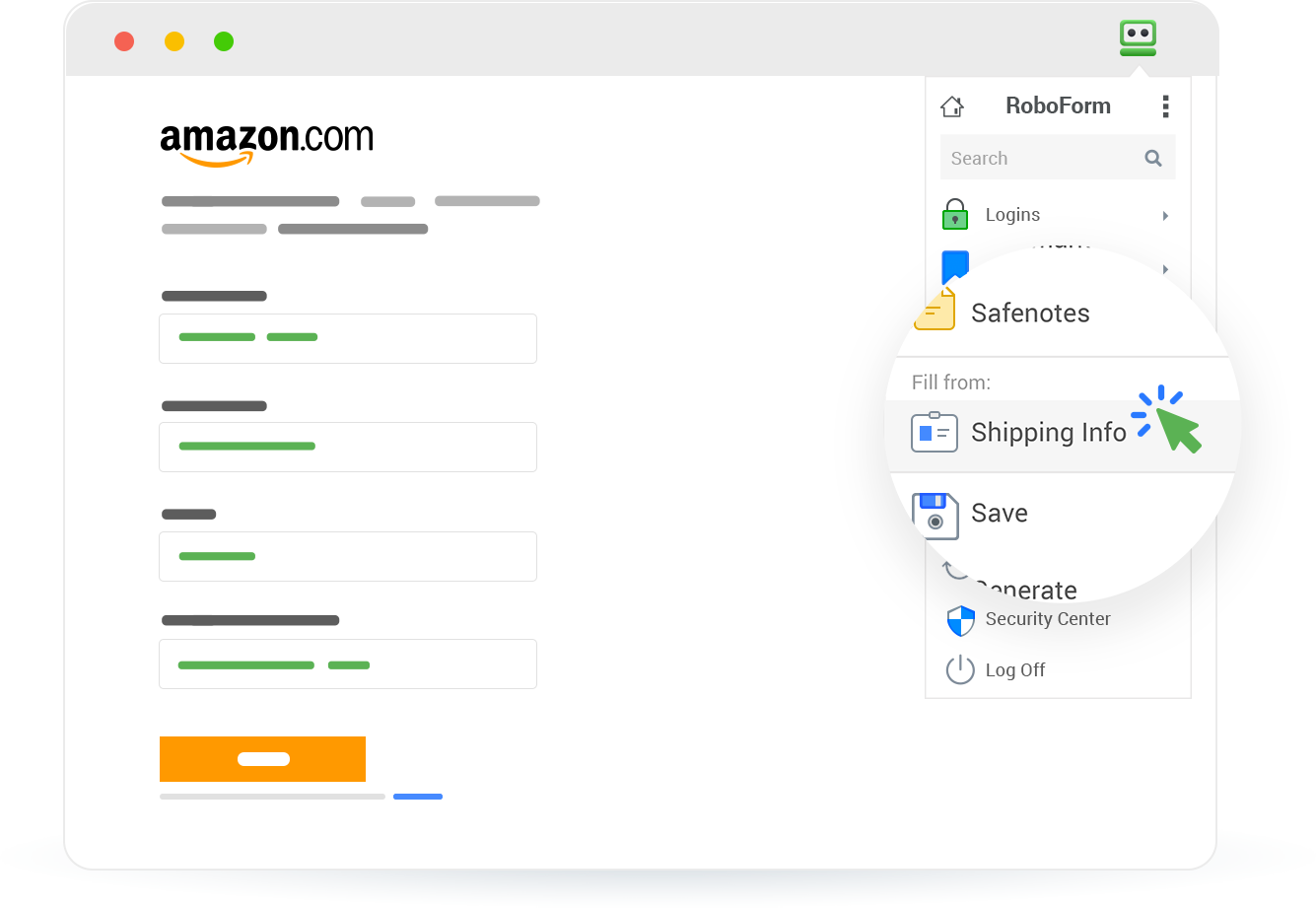 To use form filler, click the "Setup Form Filling" button on the RoboForm toolbar. From there, you can add your name, address, telephone, email, etc. into corresponding fields. Then, click save button after you finish entering information. In this way, you will not need to type that information into a web form again. Every time you get to a secure website where you'd like to use the form filler, simply click the Identity button on the toolbar, and RoboForm will do the rest. It's really simple and convenient.

Share Logins Securely
Want to give your partner access to a password or folder with confidential information? You should keep them safe and prevent hackers from intercepting it. How to make sure that they are safe? After all, hackers can be anywhere. RoboForm password manager is able to help you securely share login information. They use public-private key encryption for secure sharing feature. You are able to provide access to your RoboForm data to trusted recipients with different permission levels without sharing your Master Password. You can either create a shared folder or enter the email addresses of the people who can access the folder. If you only want to share one entry, just double click on the one, click Sharing and enter the email address of the person you want to have access. It is flexible to set what recipients can see. It is a secure and simple way to share important information.

Multiple-Platform Support
RoboForm is available for Windows, Mac, iOS, and Android etc. If you don't like a mobile app, get its browser extensions. It supports all respective major browsers like Microsoft Edge, Google Chrome, Safari and more. You can switch to any browser without losing access to your accounts and passwords. It has a minimalist design. Ease of use is built into all stages of administration and usage. It requires little thought so newbies can use it easily regardless of your computer knowledge. RoboForm will not interfere with your job or study because it disappears until needed and does it jobs quickly and with minimum interaction. Just install it and it will give you convenient online experience.
More Support Options
RoboForm has one of the most comprehensive customer support networks. It is the only password manager that offers live phone support, live chat, and 24/7 email. If you have any problem in using password manager, feel free to contact them any time. During our test, the supports team responded friendly and quickly. They helped us fix issue right away after we contacted them via live chat. Likewise, RoboForm provides extensive knowledge base to display answers to common user topics and solutions to the most frequently asked questions.

How to Get Started With RoboForm?
Get RoboForm
Download and install RoboForm. When you click on the application, it will ask you to choose which browsers you want to use for the browser extension. Otherwise, it will automatically integrate with any compatible browsers installed on your computer. Next, you need to create a RoboForm account with just an email address. This allows you to sync your data between your desktop and mobile devices.
Choose Your Master Password
To create a RoboForm account, you need to set a master password which is the key to access the rest your passwords. The master password is the only one you need to keep in mind. You can write in down to make sure you won't forget it because this service doesn't store your master password anywhere.
Add Logins to RoboForm
Add your passwords manually or have them save automatically as you log in to your online accounts. RoboForm can also import your passwords from a CSV or even another password manager.
Log in with a Single Click
Once it's done, it will take care of valuable information and let you access them from anywhere. It also fills form automatically for you. You can save time by logging into every website with a single click.
What People Say about RoboForm?
Over the years I have tried several other password managers, but to this day I haven't found any better. I know this sounds like a commercial, but well… I don't mind praising a product with such great results and very good support. Can't help myself. I'm hooked! – Egbert van den Bosch
I recently lost my wallet. Thanks to keeping all my credit card information using a profile in RoboForm I was able to contact the banks of the cards I had lost and had all the information like the customer service phone numbers and card numbers right in front of me… Such a time and frustration saver! – Mike Weiss
Every now and then a software application comes along that is so amazingly useful it can leave you literally breathless. Siber Systems' RoboForm fits very comfortably into that category. RoboForm is a "jack of all trades" password manager, forms filler, ID info storage manager, and more. It takes routine, time-consuming, repetitive chores in those categories and makes them quick and effortless. RoboForm is a five star utility that we recommend enthusiastically for all users from beginner to expert. – Sarasota PC monitor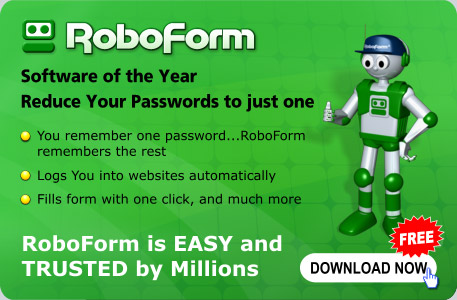 Video Guide On How to Get RoboForm Discount
Top 5 Best Password Managers In The World
| Brands | Key Features | Support Platforms | Offers | Price(USD) | Official Website |
| --- | --- | --- | --- | --- | --- |
| | Get more details on Dashlane Review | Windows, Mac, iOS, Android, Linux, Chrome OS, watchOS | Offers Free Version | $39.99/Year | Best Choice |
| | Get more details on RoboForm Review | iOS, Android, Windows, Mac, Linux, Chromebook | Offers Free Version | $23.88/Year | View Deals |
| | Get more details on LastPass Review | Windows, Mac, iOS, Android, Linux, Chrome OS, Windows Phone, watchOS | Offers Free Version | $24.00/Year | View Deals |
| | Get more details on Sticky Password Review | iOS, Android, Safari (Mac), Chrome and Firefox (Mac and Windows) | Offers Trial Version | $14.99/Year | View Deals |
| | Get more details on LogMeOnce Review | Windows, Mac, iOS, Android | Offers Free Version | $12.00/Year | View Deals |
Conclusion
When using complicated password, others can't crack your password while it's hard to remember. Many users choose to set simple password to make sure they won't forget it. However, weak password put your data at risk. RoboForm is the tool you need to manage your password. It makes you less vulnerable online by generating strong random passwords, syncing them securely across your browsers and devices, and filling them in forms automatically on your favorite websites. The password manager will remember and secure your passwords, and you only need to remember your master password. It delivers complete security on all levels. RoboForm lets you evaluate how each app performed basic tasks such as capturing manually entered usernames and passwords, filling in those credentials on demand, and dealing with contact and credit card data. It also gives you the option to add an emergency contact, someone who will have access to your RoboForm account in the event of an emergency. You also have to upgrade to RoboForm Everywhere in order to create shared folders. If you purchase the business package, deployment requires no learning curve and your employees will love our intuitive interface. All features are built to directly address all critical points in the password cycle. RoboForm provides free trial to let you test the service before purchasing a plan. The premium plans are affordable. RoboForm starts from $1.99 USD per month. Get this great deal to manage and encrypt all of your passwords on all of your devices and browsers now.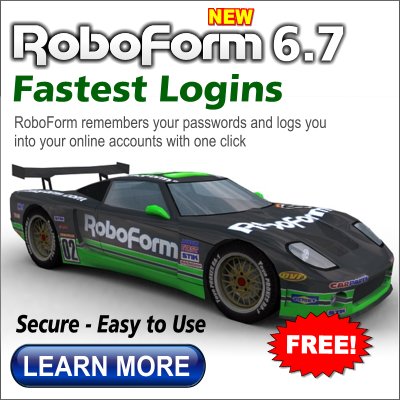 Published by & last updated on May 21, 2019 6:48 am