A recent report shows that hacking-related breaches are due to weak or stolen passwords. Besides, 37% of surveyed adults forget at least one password per week according to a survey. Creating and remembering passwords is not an easy job. You need extra help to get this job done easily. Password manager is the most popular option. How to pick the right product? LastPass is a strong contender if you're looking to have a more secure password management option than your built-in browser manager. It will eliminate password fatigue and security lapses by deploying a secure, centralized vault for password storage and access. Learn why it is so popular in this LastPass review.
Disclosure: When you purchase the password manager, we sometimes earn affiliate commissions that support our work. Our review is based on real test results aiming at helping users find the best product. The review is independent and is not affected by the password manager providers.

Brief Information of LastPass
LastPass is a useful and secure tool which does the work of creating, remembering and filling in passwords. It assists Internet users to better organize their growing number of passwords, as well as help secure those passwords in a manner befitting the Internet age. It is very helpful in simplifying your digital life with a strong password generator which is built into your browser or an app on your phone. LastPass not only helps you store and create password, but also remember all of them once you created them to let you log in automatically every time you revisit the website. You can a lot of time with this password manager.

LastPass Plans
This LastPass review also includes introducing its service plans. LastPass offers free, personal and business packages. You can start the free 30-day trial to test it before purchasing a plan. Most features are supported with the free trial and you have to upgrade to personal or business plan to enjoy the full-featured service at the end of the trial. Under personal package, there are free, premium and family plans. The premium plan is $3.00 USD per month per user and billed $36.00 USD annually. The family plan is $4.00 USD per month per. Its price is twice of the premium plan, but it will cover six users. It costs $48.00 USD annually and all of your families' passwords will be organized and secure at your fingertips.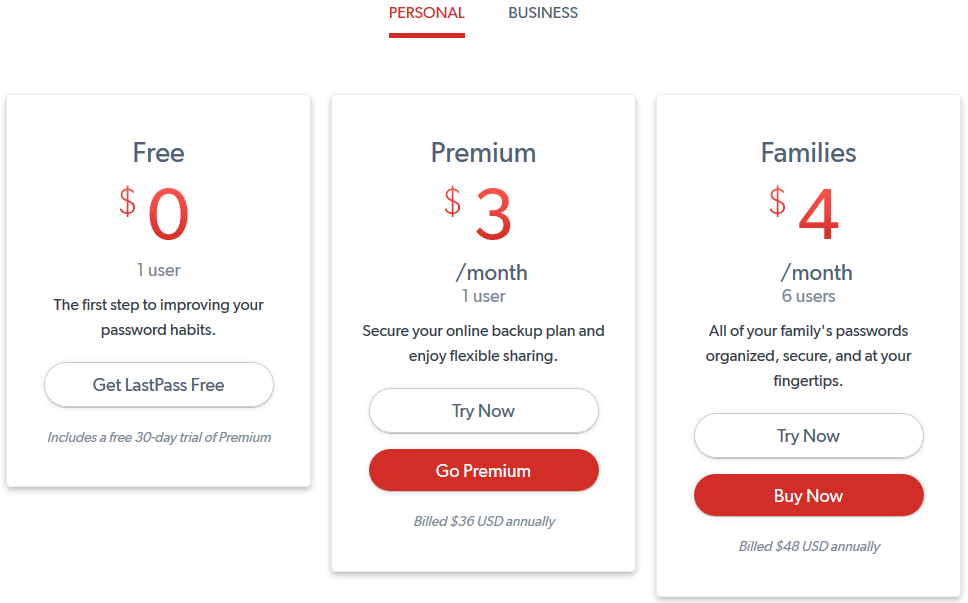 Under business package, there are teams and enterprise plans. If you need teams plan, you will be billed $48.00 USD annually. It's $4 USD per user per month. You can sign up for up to 50 users. The enterprise plan is $6.00 USD per user per month, coming with IT-level control to monitor and manage password behavior. With the business package, you can configure over 100 polices, see actionable security reports and manage LastPass company-wide. To let you work effectively, it protects every password and gives employees convenient access with single sign-on for cloud app. It assists you to generate and change passwords and fill form automatically with the information you stored on it, removing the burden of password-related tasks. Besides, LastPass lets you automate provisioning, deprovisioning, and group management with Active Directory, Okta, OneLogin, Microsoft Azure AD or a custom API. You can collaborate across the business with group-based sharing that keeps everyone in sync. It is one of the most useful tool to manage business password.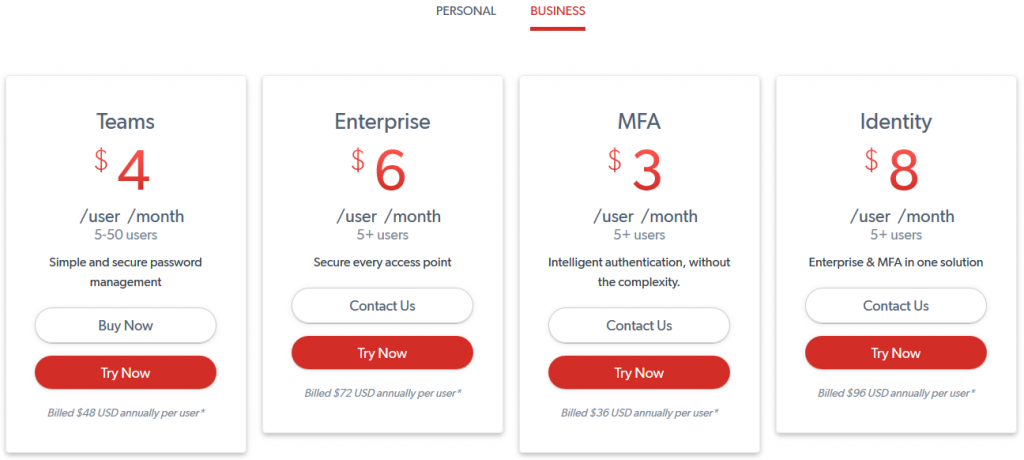 Why Choose LastPass?
LastPass is a powerful, feature-rich password manager with a large number of worldwide users. Why is it important to use a password manager? As we know, there are many cyber attacks in those days. People lost money and valuable information. If you use simple username and weak password, they can be found easily by hackers and can be used in a brute-force attack to gain access to your accounts. LastPass is the right password manger to store and manage all of your passwords and other important personal information. By generating strong passwords and upgrading your weak passwords, it improves IT productivity many times and reduces the chance of identity theft by automating frequent password changes required in critical systems. It secures your privacy with military-grade encryption and protects your data with a zero-knowledge model, and you can add security with multi-factor authentication. You are the only person who can access your data vault. Surprisingly, LastPass is free to use as a secure password generator on any computer, phone, or tablet. Anything you create and save on one device is instantly available on the others. Even though you need a premium or business package, it is still affordable. You can pay less money while managing your passwords with the best standard.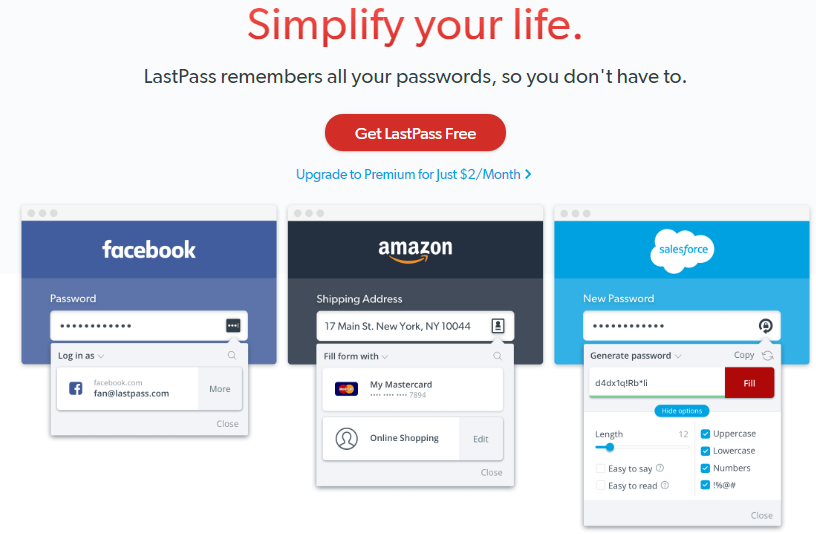 Secure Password Manager
In those days, Internet users have many online accounts on many platforms. Most of you reused one password many times to make it easy to remember. Besides, your passwords may contain your names, birth date or telephone number. It's easy to remember, but also is easy for hackers to crack your passwords and steal your money. There is a big confidential risk. Hence, it's essential that each account have a unique and strong password. Have difficult in remembering complicated passwords? Get LastPass. It will store and manage your usernames and passwords securely. What passwords you particularly need to protect? One of them is your email password because your email is the hub of your online life, acting as the gateway to performing passwords resets for many online accounts. Even the hackers can figure out your passwords, they can reset by using your compromised email account. Accounts of social media sites also are very important as they contain a lot of personal information that hackers love. They can use your social media accounts to scam as many users as possible. You need LastPass to create unique passwords for these websites and store them securely for you. You can secure every account with strong password and you don't have to remember it at all. It helps you solve poor password habits by avoiding weak, commonly used passwords like asd123. You can avoid using personal information for your security questions and giving your personal information. It saves new passwords automatically as you type them or create them. LastPass has implemented AES-256 bit encryption with PBKDF2 SHA-256 and salted hashes to ensure complete security in the cloud. No one can access your account without the master password as it utilizes the most advanced encryption standard.

Generate Strong Username & Change Password
The criminals hack users by collecting username and email addresses. They can figure out your username, email and password according to your personal information if you set them easy. If you use the same online username across multiple platforms and websites, one exposure to your username can open the door to identity theft. It is necessary to create a secure username to protect your information online. Have no idea which username you should pick? That's okay. Ask LastPass for help. It will instantly generate a secure and random username for you every platform. It will adjust your password length and make it easy to read or say. The password it generates can be a mixture of lower and uppercase letters, symbols, and numbers. Here are tips for creating better username. Firstly, you are supposed to create different usernames for emails and bank accounts. Secondly, do not use your SNN as a username. Thirdly, you should pick a username which does not contain your personal information to protect your identity if you prefer privacy on the Internet. Fourthly, you should create a username which is easy to remember but hard to guess. If you don't want simple username, just get a complex one because LastPass remember all the usernames and passwords for you. Last but not least, it is suggested to avoid using familiar numbers with your usernames, such as an address or birth dates as hackers can collect this kind of information easily.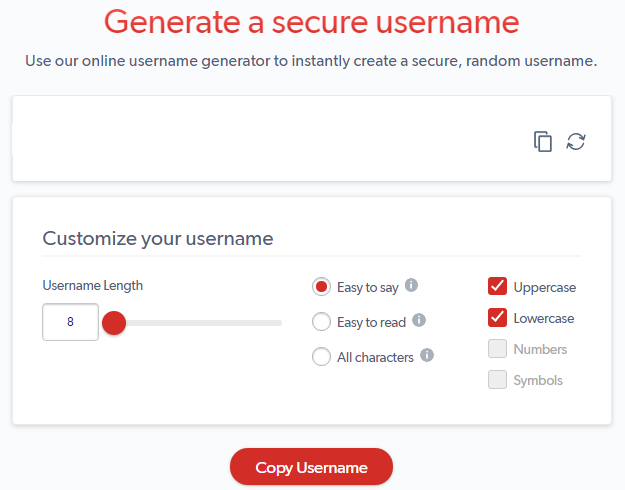 LastPass analyses existing passwords for security and help you change them. It has Security Challenge to rate your overall password security and master password security, helping you identify weak and duplicate passwords. It offers option to let you upgrade your password with a single click or you can set it to update them automatically. With LastPass, the hackers will not be able to hack your account. To change your password, you only need to click on Change Weak Passwords or Change Used Passwords. It will display a list of website. Choose the ones you would like to change, and then it will walk you through to process of updating your passwords of the selected websites. Every time it changes your passwords, you will get an alert, so there is no need to worry that the password manager will abuse this feature.

Two-Factor Authentication
Two-factor authentication adds extra security to your LastPass account by requiring a second login step before authorizing access to your vault. It integrates with multifactor authenticators like LastPass Authenticator, Google Authenticator, Toopher, Duo, Transakt, Grid, YubiKey, Fingerprint / Smart Card, Sesame and Salesforce Authenticator. Once two-factor authentication is enabled, you'll login to LastPass as usual with your email address and master password. Next, you'll be asked to complete another step, based on the multifactor option you chose. This is an extra layer protection to your valuable information. It helps you better protect and mitigates risks for your LastPass account, and your online life as a whole.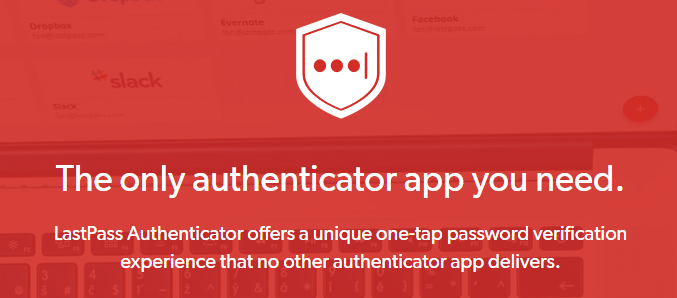 Store personal Information
LastPass lets you create a Secure Note for each and store all the relevant information. Can't remember your digital information and have to carry your credentials everywhere? This password manager lets you store passport, credit cards and social security etc. for free. You only need to login your password account every time you need them. Concerning that your information may be stolen? Once you store them, the data in your vault is encrypted and decrypted at the device level. They are kept secret even from LastPass. Your master password is the only key to encrypt and decrypt data. Your data are never sent to the password manager's servers or accessible by others. In addition, you are allowed to share your notes with your friends and they need a LastPass account to accept it. It's a convenient and secure way to share important information via the Internet.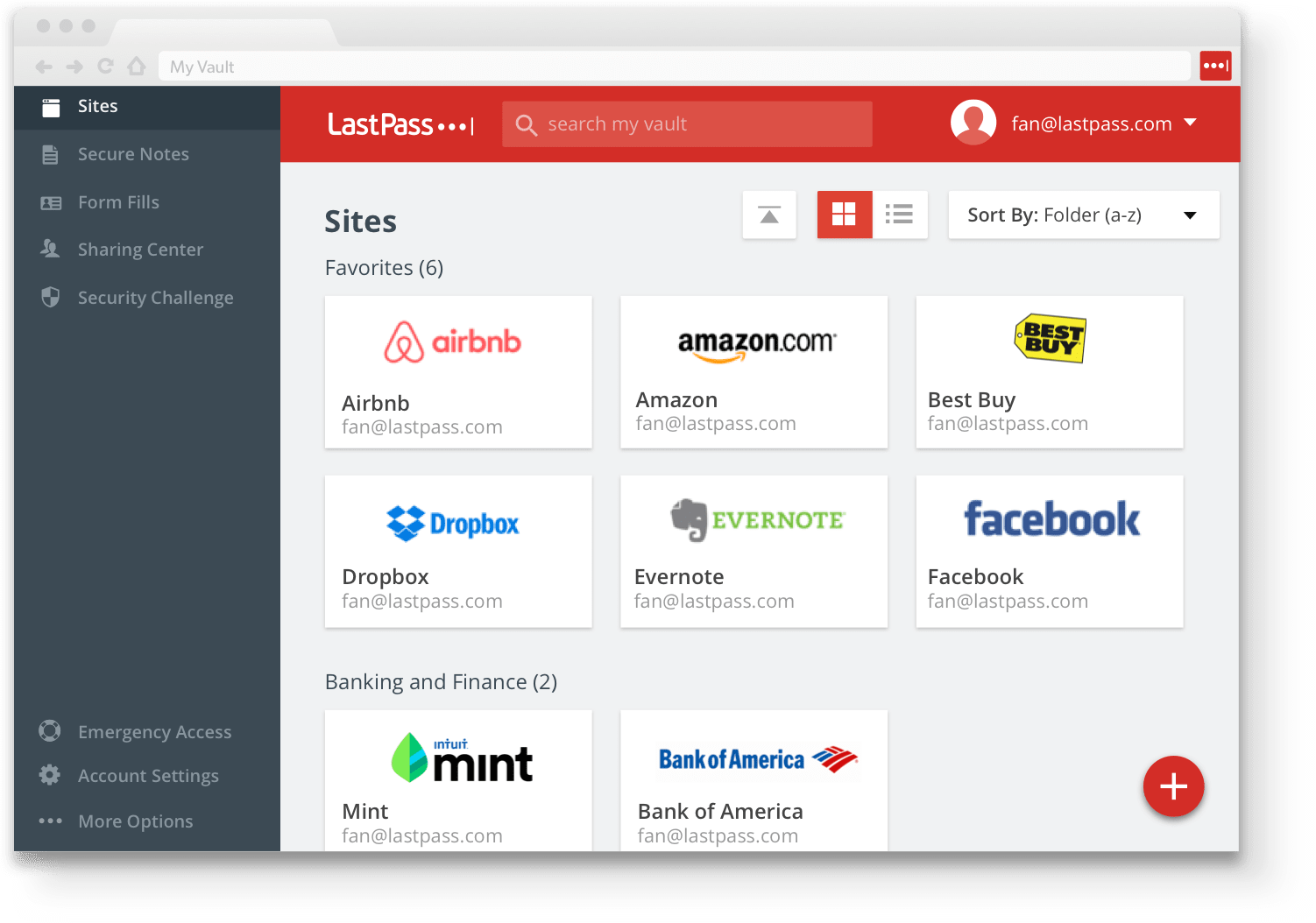 Fill in online forms
LastPass lets you import passwords from your browsers or other passwords manager. It also lets you store digital information such as ID number, passport number, address, email, telephone number and more and it will protects with high security standard. It uses the stored information to help you fill form when you make payment or join a forum. You don't have to type the long address or credit card number every time you shop online as this kind of information can be securely stored in LastPass and filled in with one click. The drawback is it supports this feature on less websites than other password manger. The company itself admits that filling online forms isn't their focus. They mainly put their effort on privacy and security.
Passwords Sharing & Emergency Access
LastPass lets you conveniently and safely share passwords and notes with anyone. If others need access to your accounts, you can share login information securely though LastPass either with your team at work or with your family at home. You are able to share credentials inside and outside the organization without giving away passwords or losing accountability with the business package. When sharing a password folder, you can decide whether others can see all or some of the folder's contents.
You can set up emergency contacts to let your loved ones access your account in case something bad happened to you. It is allowed to identify one or more LastPass users to receive your passwords in the event of an emergency or crisis. You will get a notification once the recipient requests access. You are able set a waiting time. During the waiting time, you can revoke access any time when you change your mind. It's a useful and safe way to prepare for bad things.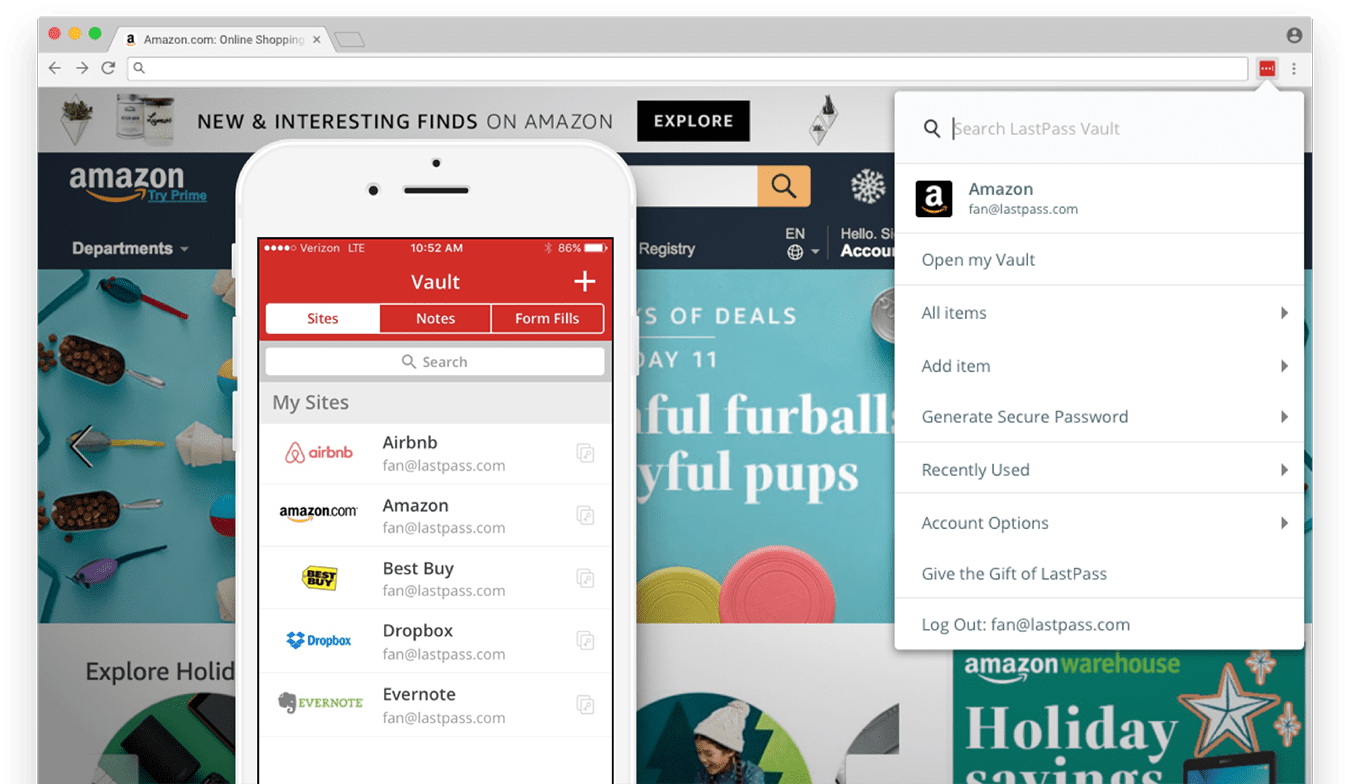 Easy-to-Use Password Manager
LastPass is a fairly powerful and thankfully modern security tool. Its browser extension and mobile app let you quickly generate strong passwords, manage your saved logins and more with less effort on your side. It can be installed as a plug-in for Chrome, Edge, Firefox, Internet Explorer, and Opera. If you prefer an app for better experience, it is compatible with Windows, Mac, Linux and mobile devices with various systems. It offers a user interface update as well as enhanced features constantly to improve the password manager. Its Authenticator is the only app you need for easy, secure access to all of your top sites. Once you install LastPass and add or important related data, it will take care of the rest for you. Loading passwords from the vault is an easy enough affair, and switching between passwords when multiple accounts exist is simple as well. It does not require complicated computer knowledge to use this password manager. Computer illiterate can get started with it easily.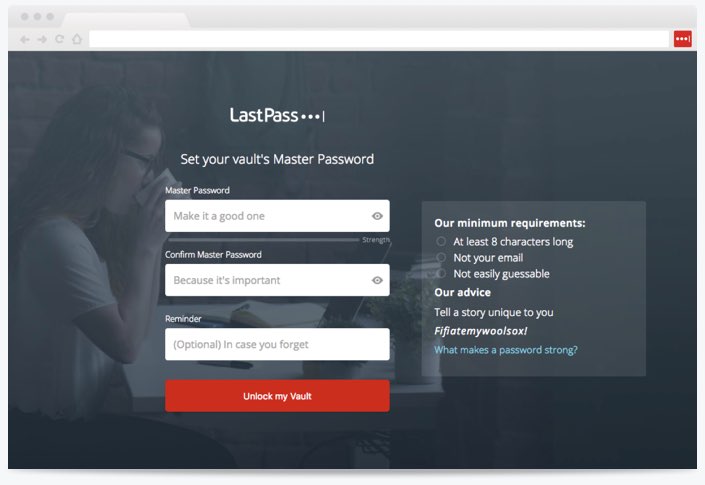 Top 5 Best Password Managers In The World
| Brands | Rating | Support Platforms | Offers | Price(USD) | Official Website |
| --- | --- | --- | --- | --- | --- |
| | #1 Read Review | Windows, Mac, iOS, Android, Linux, Chrome OS, watchOS | Offers Free Version | $39.99/Year | Best Choice |
| | #2 Read Review | Windows, Mac, iOS, Android, Linux, Chrome OS, Windows Phone, watchOS | Offers Free Version | $36.00/Year | View Deals |
| | #3 Read Review | Mac, iOS, Windows, Android, Linux, and Chrome OS | Offers Free Version | $35.88/Year | View Deals |
| | #4 Read Review | iOS, Android, Safari (Mac), Chrome and Firefox (Mac and Windows) | Offers Trial Version | $14.99/Year | View Deals |
| | #5 Read Review | Windows, Mac, iOS, Android | Offers Free Version | $12.00/Year | View Deals |
Conclusion
By finish reading this LastPass review you must be well understand that LastPass is a combination of a host of great features with a handful of additional security tools. It is able to create an account with an email address and a strong master password to locally-generate a unique encryption key. The encryption key is long and complicated enough to prevent hackers from cracking it, so your confidential information is highly protected. This password manager also works like a time saver because it remembers unique passwords, auto fills passwords into safe sites and strengthens passwords for you when necessary. It enables you to securely store data like credit cards, bank accounts, social security numbers, and addresses etc. and helps fill forms when registering. You can save trouble in remembering all the complicated passwords, typing long online forms and keeping all your accounts safe. With LastPass, you can get many things done quickly with several clicks. Give it a shot and you will know exactly how useful it is.

Published by & last updated on July 3, 2020 7:59 am