Remembering passwords and registering for new websites with new passwords is a pain. This is why you need a reliable password manager. Can't decide which one you should pick? Read this Dashlane review then you will understand why we recommend Dashlane. It is due to its solid features and great reputation. Dashlane is a secure and innovative product for internet-wide personal data processing, password management and click-to-pay platforms. Dashlane saves time by creating a master password and importing other account information. Dashlane is a rising star in password management, redefining "security and convenience". This Dashlane review is written based on real-time test results. It includes all you need to know about a password manager.
Brief Introduction of Dashlane
Dashlane is a security and productivity app. Its reputation seems to be growing thanks to an evolved feature set that works with lots of different browsers and devices. In this Internet age, we have dozens of online accounts, and each should have a unique login. In order to access those accounts, you need to create safe passwords and remember all of them. However, it's not an easy job. Dashlane comes to help you create secure password, store them all in one place and auto-fill forms. Dashlane uses the world's leading AES-256 encryption standard for basic encryption techniques, and over ten thousand times of key stretching of PBKDF2. However, these are the basic qualities required for a qualified Password management tool. One of the important New features Dashlane brings with it is Password Changer. It locks all your passwords behind a single master password. You only have to remember this to get at all the others. It helps you save time by creating a secure password within second and fill forms automatically when registering. All information you store on your account is protected with the best security standard. Dashlane is a very useful password manger.

Dashlane Prices & Discount
Dashlane provides free, premium and business packages. The free package comes with most of the features, but you can't sync your passwords across multiple devices with a free account. All of your Dashlane information is stored on one single device and will not be accessible through the backup copy it maintains. The premium package is $3.33 USD per month billed annually. The business package is $4.00 USD per month billed annually. Currently, the provider offers sweet discounts. Under the premium package, the 1-year plan is $39.95 USD, the 3-year plan is 17% off, costing $99.99 USD and the 5-year plan is 25% off, costing $149.99 USD. The business package is $48.00 USD per seat for one year. It's relatively cheap in the market.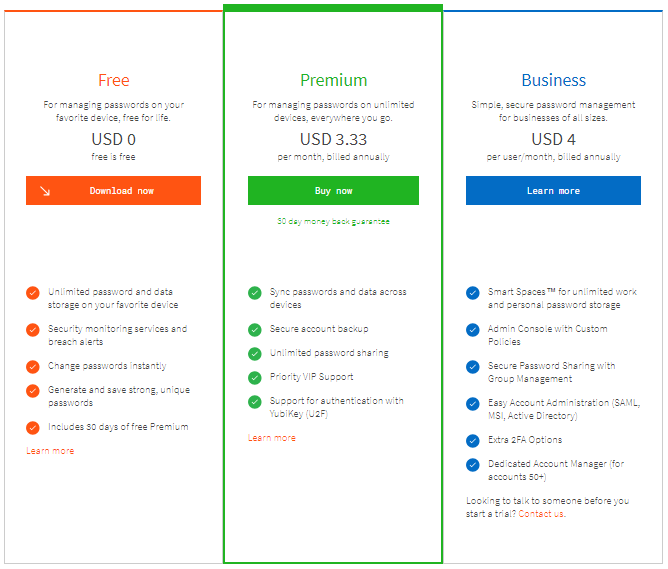 Why Choose Dashlane? Let's Begin With Dashlane Review
Dashlane has the highest level of password encryption and is one of the most secure password managers on the market. It offers a comprehensive list of features to serve users from any country and region. This password manager allows you to generate and automatically store complex passwords securely, making a brute-force hacking of your accounts much more difficult. It also assists you to share your passwords and other important information safely. To prevent others from stealing your accounts and confidential information, it requires to log in from an approved device, ensuring you are the owner of this account every time you unlock Dashlane. No one can access your account without the master password which is only stored in your mind. After it's installed on your device, it gives you an overall security rating based on the cumulative strength of your passwords, and offers suggestions for improving it by upgrading specific passwords. It's guaranteed that all of your passwords are strong. When you are about to sign up a service, it auto-fills the login details and also logs in automatically to the sites which lets you save time in typing long and complicated forms. Your personal information can be synced to different devices so that you can access them from anywhere at any time. In addition, Dashlane is affordable and easy to use.

Is Dashlane Secure?
We all know that we should use strong and different passwords on every site. The problem is that it's hard to remember all of them. Writing them down or having a web browser remember them is an option, but you can't get the security you need. If you write them down, other can access your accounts after you left them behind in somewhere. If you stored them on browser, the hackers can grab them by dropping spyware on your device. To keep your passwords safe, you need Dashlane. It encrypts the data using AES-256 encryption, using a cryptographic key it stores in RAM in order to provide easy access. AES-256 encryption is the strongest encryption known. Your master password is the key to open the data. Even if a hacker gets access to the data, without a master password, they can't do anything. Besides, Dashlane does not store any of your passwords or data within its own cloud or services. This ensures that even if hackers were to break into the company's databases there would be no information there to steal. When you use this password manager to syncs data from your computer to their server or sync data between your two or more devices, the data is encrypted and no one can view or intercept it. Besides, it offers instant security alerts. If one of your accounts is compromised, Dashlane will quickly send an alert to your phone and offer you the option of changing your password with a single click. You also can make the alert appear on an Apple Watch too. For example, you don't have to log in your Facebook app to change the password when it's compromised. Simply tap to change your password in seconds when you receive the alert. In addition, Dashlane offers 2 Factor Authentication which can be activated from the Security settings in the desktop application, to force the usage of a second factor each time the user logs into Dashlane. The methods it utilizes include 2FA Applications such as Google Authenticator or U2F. It is important to note that this feature is compatible devices such as Yubikeys. U2F is an open protocol from the FIDO Alliance.

Password Generator
If you are lazy to create a new password and reuse passwords again and again, your personal data is at risk because all of your accounts will be compromised when one of them has been attacked. Dashlane helps you generate long, random and unique password by using a combination of letters, numbers, cases, and symbols to form an unpredictable string of characters that doesn't resemble words or names. Every time you create a new account, it will generate the strongest password for you. If you think the passwords you created are too weak, this password manager also assists you to strengthen them. In its software or browser extensions, you can look through a list of stored passwords. The weak passwords will have a button next to them and an option is provided to generate and replace a stronger password for you. It lets you upgrade the passwords one by one and choose to strengthen them with one single click. To upgrade password, just click on Passwords on the left from the password manager screen. In the main portion of the window, you'll see Password Changer at the top. Click it and a new window will appear with all the various accounts in your database that Dashlane's auto-changing password feature supports. You are able to learn how strong your various passwords according to the color codes and percentages next to them. It lets you to select the weak passwords' checkboxes or hit the top checkbox to change them all. Dashlane makes it very simple and convenient.

Store Important Data Securely
Dashlane offers secure notes which is an in-built feature where you can store all sensitive information safely. It lets you store notes and stuff securely as well as allows you to add your personal information including your name, date of birth, and phone number. Preset templates for items such as software licenses, Wi-Fi passwords, or membership details are supported. If you shop online frequently, feel free to add your bank card details because it will securely store your credit and debit cards, bank accounts, PayPal info, and more in its advanced digital wallet. There is need to worry that someone can access your valuable information because it has patented security architecture to guard your data against potential hackers. It will help you automatically fills up online sign-up forms you come across with the stored information which is very useful.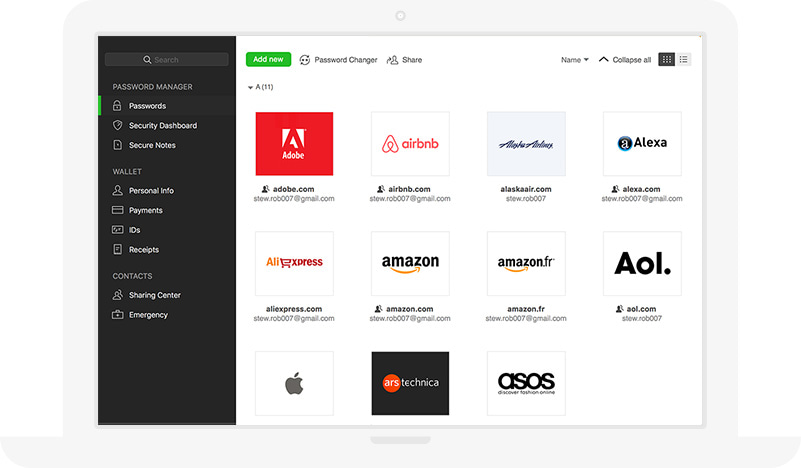 Form Filler
Having to type out long strings of meaningless numbers, dates, and codes to conduct a simple act of buying online? When you shop online or subscribe to a service, you need to enter your credit card/debit card details, address and other personal information every single time. How to skip this process and save time? Get Dashlane. This password manager comes with a plug-in which allows it to work with your web-based passwords. When you visit an online account, the password manager will fill in the data for you. All filled in information is based on its the stored information. When you create a new username and password, the password manager will offer to store the new information. It will automatically enter your payment and shipping information on your favorite shopping websites for a quick and secure checkout experience. Need to use different credit cards or emails? It lets you choose from multiple payments and multiple addresses with just a few clicks. The hackers won't be able to make use of this feature because Dashlane will check if the website you are visiting is safe and it will refuse to match your information on malicious website. It does not auto-fill any of your personal information when the network environment is not safe. Dashlane makes the whole process easier and you don't have to type in every detail. This is a huge time saver.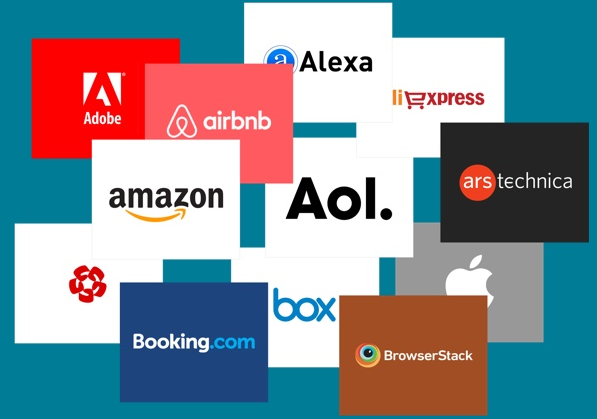 Secure Backup & Sync
You may lose your phone sometimes or your computer may be corrupted by a nasty virus. If those bad things happened, you could lose your contact, family photo, favorite songs & movies, work files or business document. The one who picked up your lost device may take it for grant. The ransomware could encrypt your files and make it impossible to recover. To avoid losing important data, you need to back up and sync your data regularly. Being too lazy to back up or don't know where you should sync to? Dashlane will take care of it for you. If you lost your device, you only need to log into Dashlane on a new device and it will automatically back up your passwords and recover your backup. You are allowed to sync your data to any device it supports. Every time you add or change information, it will sync to any device with Dashlane account. It lets you log in to your Dashlane account from its website to access all of your passwords even if the password manager app is not installed on the device. It is possible to access all of your passwords anywhere and anytime.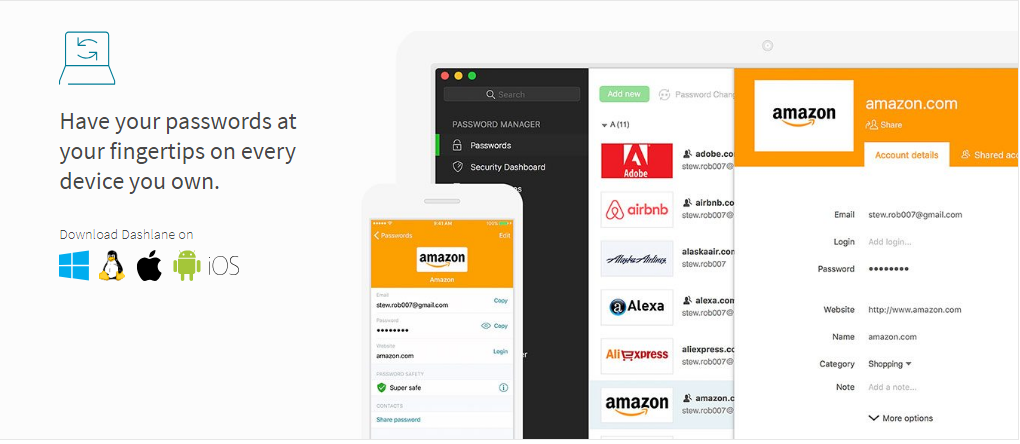 Emergency Contact & Password Sharing
Dashlane enables you to let your family or friend access your passwords if something bad happened to you by providing Emergency Contact feature. This feature lets you give nominated person permission to your password database within 48 hours upon request. The waiting time can set between 24 hours and 60 days. If you completely trust the person, you can set it to none. If the waiting period is long, you have more time to consider. If you change your mind, simply reject the request within the valid time. It is really an authentic emergency. If you don't want your emergency contacts getting access to the entire treasure trove, you can choose to give them access only to specific logins and notes.
To help you cooperate with your partners well, Dashlane grants shared access to an unlimited number of items, allowing you guys work easily though you are not in the same city or country. You are allowed to share credentials and secure notes with other users, or with groups of users at a time. Any change will be synced to everyone you share with on all their devices automatically. During the process, Dashlane never directly accesses any of the shared data at any point. To make sure your shared data is safe, it uses private RSA keys is created by the Dashlane application for each user. The private key is stored in the user's personal data while the public key is sent to Dashlane's servers. RSA public and private keys are generated using the OpenSSL function RSA key, using a key length of 2048-bit with 3 as a public exponent. There is no need to worry about information leak. Just share any password you want to share.
Easy-to-Use Software
Dashlane manager password is very easy to use. When you first launch the password manager, it takes you through a detailed step-by-step process to pick a master password, install the appropriate extensions for all your browsers, and import your existing information from other password managers. The step is clear and simple. The install and setup does not require complicated computer knowledge. It can be finished within few minutes. Dashlane supports all popular systems like Windows, Linux, Mac OS, Android, and iOS etc. If you do not like to install the app, simply install the browser extension. It is compatible with all three popular browsers and makes installing extensions for Safari, Chrome, and Firefox as easy as picking an item from a menu and following a few instructions. Once you finish installing and setup, it will take away the hassle of entering, regenerating and all aspect of password management with less effort on your side.
Top 5 Best Password Managers In The World
| Brands | Rating | Support Platforms | Offers | Price(USD) | Official Website |
| --- | --- | --- | --- | --- | --- |
| | #1 Read Review | Windows, Mac, iOS, Android, Linux, Chrome OS, watchOS | Offers Free Version | $39.99/Year | Best Choice |
| | #2 Read Review | Windows, Mac, iOS, Android, Linux, Chrome OS, Windows Phone, watchOS | Offers Free Version | $36.00/Year | View Deals |
| | #3 Read Review | Mac, iOS, Windows, Android, Linux, and Chrome OS | Offers Free Version | $35.88/Year | View Deals |
| | #4 Read Review | iOS, Android, Safari (Mac), Chrome and Firefox (Mac and Windows) | Offers Trial Version | $14.99/Year | View Deals |
| | #5 Read Review | Windows, Mac, iOS, Android | Offers Free Version | $12.00/Year | View Deals |
Conclusion
After reading this Dashlane review you understood that Dashlane is a good quality password manager which offers a comprehensive software package and customer experience to anyone looking to keep their passwords and other sensitive data secure. It creates an incredibly strong password and stores it for you with a click of a button. You are allowed to store your financial information and other sensitive information there and it will secure them with bank-grade encryption. Its auto-changing password feature is fantastic and robust. It fills names, addresses, emails, phone numbers, any payment types stored in the Secure Digital Wallet for you to save time. Besides, Dashlane makes it a breeze for you to share password and login information to your partners without your need of surrendering the security of the password. If you get deal, you will get up to 25 % off. The price starts from $2.49 USD per month. It's a small price to pay to have the convenience of secure passwords everywhere.
Published by & last updated on January 23, 2020 8:08 am