Is LastPass free trial available? Why you need LastPass? Because tired of remembering passwords? In those days, we all have dozens of passwords for work, online bills, shopping accounts, social media accounts and other websites. To access those websites and platforms, you need to remember the passwords accurately. However, you may find it's not an easy job to remember all of them. You may forget or get confused with some of them. In this case, you need a manager password to help you remember them. LastPass is one of the great password managers. It helps you remember and secure your passwords. Keep reading for its discount information and functions.
What is LastPass?
LastPass is a useful password manager which makes password protection effortless. It offers advanced password management features and keeps your information private, secure and hidden. After you add password or import password to this password manager, it remembers and secures the passwords for you. Every time you need them, you can access them on any device. Your LastPass account can be backed up and synced across all devices for access to your passwords no matter where you are. It has no limits on syncing or on the number of passwords. When you don't know how to create a strong password, it assists you to generate unique passwords to protect your accounts and identity. When you perform online activities, it helps you avoid password frustration and removes the hassle of typing on small mobile keyboards. You can have peace of mind on the Internet and confidence in your digital security. You only need to remember the master key to access all your passwords. The price of this password manager is affordable. Get LastPass, you will know how amazing it is.
Disclosure: This post contains affiliate links and I will be compensated if you purchase a premium package. The information on this page is based on our real experience and is not affected by LastPass company. Hope it help you.

LastPass Cost
To meet users' different needs, LastPass offers personal and business plans with different packages. Under personal plan, it has premium and families plans. The premium plan is cheaper which costs $2 USD per month. One user is allowed with this plan. The families plan is $4 USD per month and allows six users with one account. You can organize and secure all of your family's passwords easily. Under business plan, it has teams and Enterprise plans. The team plan costs $2.42 USD for one user per month. It lets you select five to fifty users. The enterprise plan costs $4 USD for one user per month. With this plan, you can have IT-grade control to monitor and manage password behavior. You can sign up for over five users.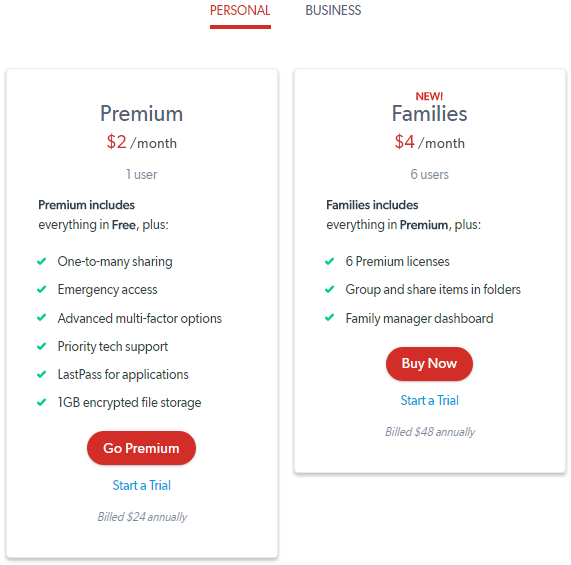 Sometime, the provider may offer discount to promote their product during holidays like Christmas, Thanksgiving and more. Currently, no discount is offered. Luckily, its price is friendly. You can sign up without discount and won't be broke for it. We will pay close attention to its promo and discount information and display it for you in time when it's available. The provider accepts Visa, Mastercard, American Express, Discover, JCB, Diners Club credit and debit cards etc. The flexible payment methods make it possible for all users around the world to sign up and use this service. This company is legit and transparent. It allows you to change and cancel your plan anytime by simply contacting the Support team. There is no minimum contract though your licenses are purchased on an annual basis. You are able to export your passwords once you decide to leave.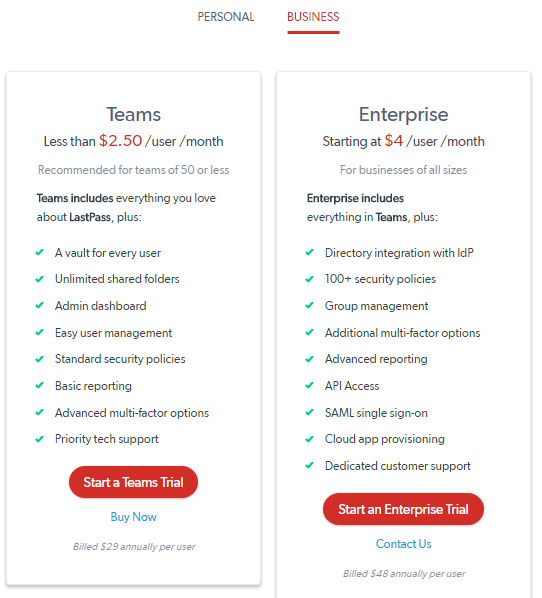 LastPass Free Trial
LastPass generally offers free trials which gives you access to all product features for a limited time. If you are a new user of this service, you can sign up with the 30 day free premium trial. 30 days are sufficient to test this service. Another good point is that it lets you enjoy full features of the password manager while some providers offer free trial with limited features. If you prefer the full feature of enterprise package, you can signup and get free 7 day trial. If you are a student, you can get SIX MONTHS Premium account for FREE by using your .edu email address. To get this special offer, you need to confirm your email address to apply associated credit.

How LastPass Works?
LastPass assists you to store your passwords in one secure system. They have the password encrypted and accessible only to you. To get password manager, you need to create an account and sign up a plan. It will demand a master password to access your account. Once you install it and create a master password, you can add all of your passwords or import them from your browsers. Some of you may wonder why you don't just store them on browsers. We can tell you that password manager not only stores your passwords, but also secures them with military-grade encryption. When you store passwords on browsers, the hackers can access them easily with browse hijacker, Ransomware, Trojan horse, Worm and other computer threats. Why don't we store important information in a safe place and we also can access them from anywhere? LastPass works like a built-in password generator also helps you create strong passwords for all your logins when you need them. The generation will be done client-side with Javascript on your device. You also can add personal information like ID, passport, drive license and more to the system. That information will be highly protected and never will be shared with LastPass itself. That means no one else can access your confidential information. You are the only can access and manage them. This product supports importing passwords from KeePass, Sxipper, Roboform, and others. Therefore, you can get started with LastPass easily without adding information manually. Let's view its useful features in detail.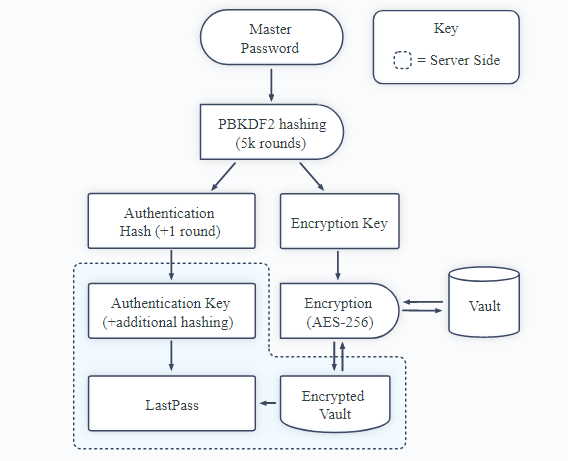 Log in and Go
LastPass goes everywhere you do. Once you login and save passwords in your account, you will always have it and can use them instantly on all your devices. No matter you are using the LastPass browser extension or mobile app, it allows you to generate strong passwords, manage your saved logins, share passwords and more quickly without any problem. You can install it on any computer, phone or tablet as it does not limit how many devices you use. You can travel across cities and even countries with all of your valuable information. In the event you forgot your master password, you could reset it using the one-time password. It allows you to dig in and create one-time passwords, but it's no longer part of the installation flow.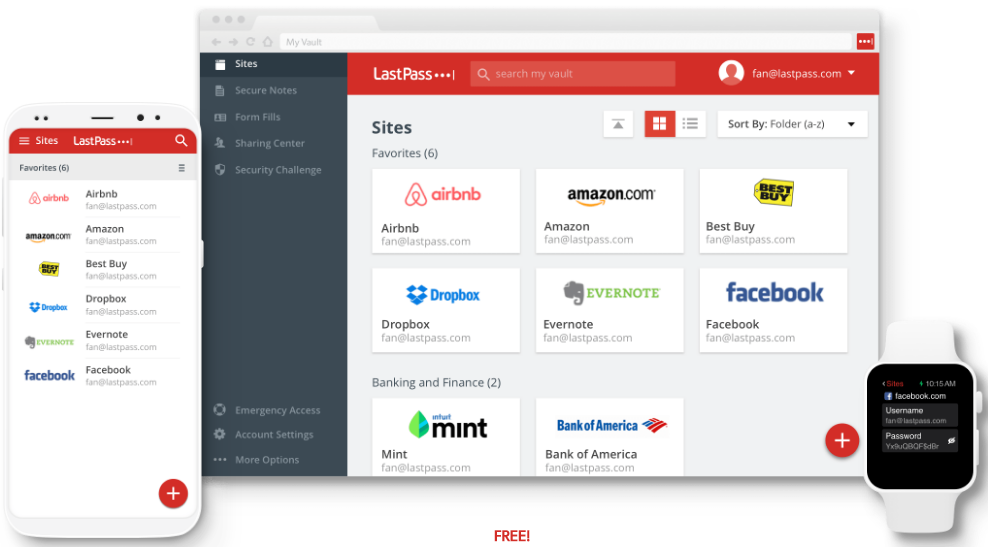 Strong Encryption Algorithms
LastPass encrypts your data with strong encryption algorithms. It utilizes local-only encryption and employs AES-256 bit encryption with PBKDF2 SHA-256 as well as per-user salted hashes to ensure complete security in the cloud. With the local-only encryption, others won't be able to steal your data. After creating an account with your email, you can generate a unique master password to secure your confidential information in your vault which is kept secret, even from LastPass. Your master password is never sent to LastPass' servers. Only you can decrypt and access them with the unique password. Without the master password, you also can't access them. You can trust LastPass and let it organize and secure your password for you. Also, you can try LastPass free trial for 30 days risk free first.

Multifactor Authentication
To further ensure your data security, LastPass comes with multifactor authentication. It is the requirement of a second piece of information before allowing access to an account. You can seriously enhance your security by taking advantage of the available multifactor authentication options. Its free supports Google Authenticator and work-alikes such as Duo Mobile and Twilio Authy. It requires email verification the first time you log in from a new device. If others try to login your account, you will get a warning email. You can set up an authenticator by simply snapping a QR code using your mobile device. After the authentication is configured, you will need a one-time code generated by the app as well as your master password to login your account every time. Sometimes, it also adds extra security to your LastPass account by demanding a second login step before authorizing access to your vault. The app supports 6-digit generated passcodes, SMS codes and automated push notifications for one-tap login. It offers user-friendly and secure verification with one-tap login to top sites, including Google, Facebook, Amazon, and more. Besides, it enables you to define specific devices as trusted. In this way, you can login on that device only with the master password. Please note that the trust expires every 30 days. You can set up it again and manually remove a lost device from the trusted list. The LastPass authentication keeps hackers locked out.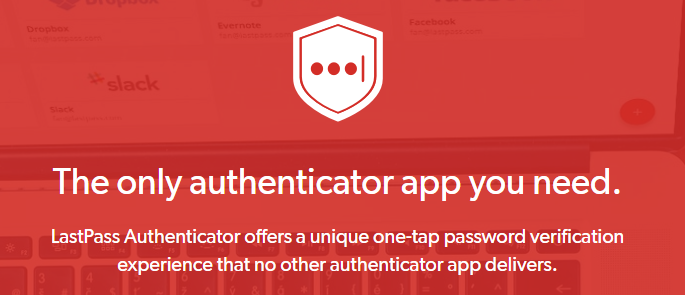 Filling Web Forms
If you always shop online or would like join forum on various websites, you may know that there are many forms to fill in to purchase products and join forums. That takes a long time. Sometimes you may forget some of your information type in the wrong ones, and you have to start over. That is annoying. In this case, LastPass comes to help. It allows you to store your profile, various accounts & passwords, multiple addresses with different personal and contact information. When you are about to make payment or sign up with a website, the password manager will fill all your payment and shipping details automatically for you. It stores your login credentials when you visit a website for the first time. When you visit the website again, a small icon appears in its login fields showing how many accounts you have stored. With the various addresses, you can click the little icon to open a drop-down menu and select the appropriate profile to fill from easily. Besides, it keeps you away from malicious websites. Password manager easily recognizes most websites that use a standard login format. If you visit a suspicious website, LastPass doesn't fill form automatically. Hence, you don't need to concern about information leak.
LastPass fills form automatically on Chrome, InBrowser, Firefox Mobile, Safari, Internet Explorer, Microsoft Edge, Dolphin and Opera. It can't automatically fill credentials on Javelin, Javin, Boat, Yandex, HTC Sense, Silk, and Ghostery Private Browser, but it pops up an offer to copy the password to the clipboard. You don't have to type the information manually.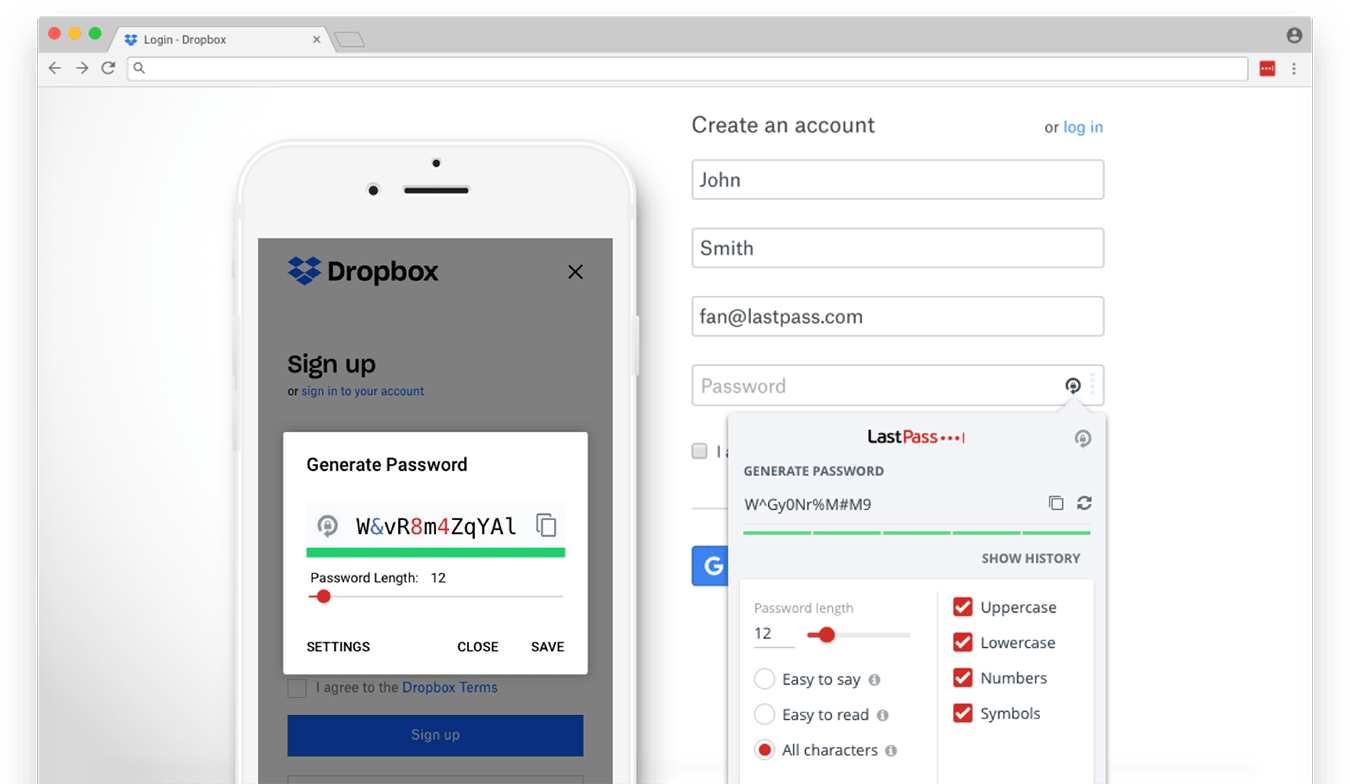 Generate Strong Passwords
Do you think it's difficult to think of a password when creating a new account? Do you reuse a password on many platforms? All your accounts can be compromised if one of your passwords is leaked. Do you set password with one row of letters on the keyboard or your birthday? The hackers can decode it and steal your money easily. How to set a strong password? Get LastPass. After you add passwords to it, you can also scroll down for a full list of all your passwords along with a password strength rating. It offers a button to help you update the password with less effort on your side. If you don't want to update all passwords one by one, you can click the Auto-Change button to make it automatically update the password. It helps you fix issues like compromised passwords, weak passwords, reused passwords, and old passwords. Besides, it offers to generate a secure password when you sign up a new account. By default, the password generator creates 12-character passwords, using at least one digit and a mix of capital and small letters and omitting symbols. Your password will be uncrackable.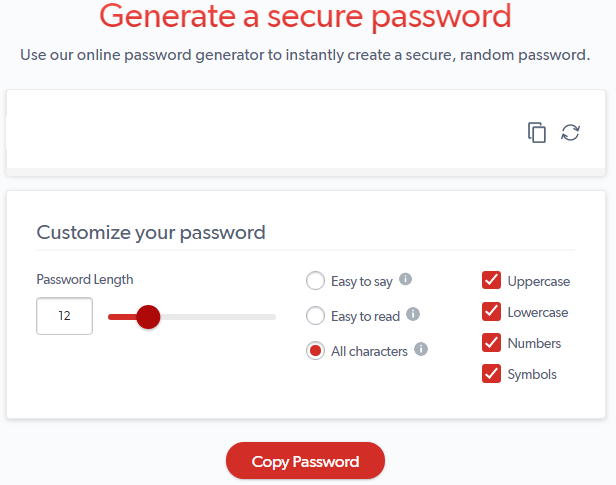 Generate Username
Commonly, many people use the same username on the Internet across multiple platforms and websites, from Gmail accounts to banking websites. That makes it easy to remember, but that also makes it easy to open the door to identity theft with one exposure to someone's username. Do you hear of Snapchat's 2014 data breach? 4.6 million of usernames and mobile numbers had been affected. Though no confidential information leaked, Snapchat still suggested users to get new account and password. When creating a username, your Email usernames and bank account usernames should be different. Never use your SSN as a username. For creating password, you should use one which is simple enough to remember but hard to guess. You ought to avoid using familiar numbers with your usernames, such as an address or birth dates. Do you think that it's too complicated? Ask help from LastPass. You only need an account and set a master password. It takes care of the rest for you. After you store it in the password manager, it secures and fills your information automatically. When you need to create or update a password, you only need to click on one button. It uses randomized username and password as well as makes it harder for someone to guess and break in. In addition, LastPass lets you store 13 other types of personal data that include logical items such as driver's licenses, passports database, server logins, software licenses and social security numbers. You can access them easily and have them filled in forms automatically on the Internet any time.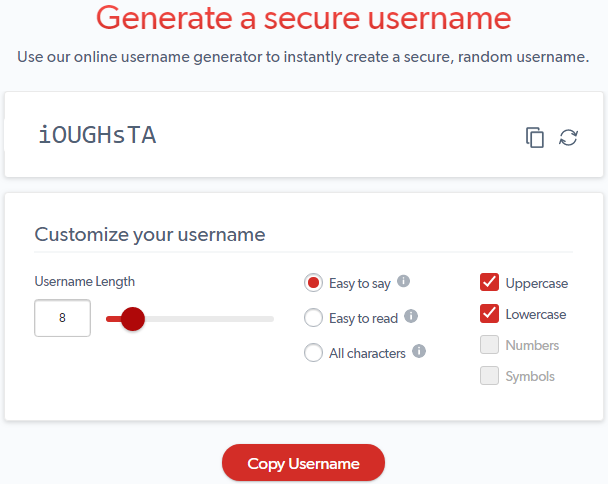 Share Effortlessly
It is a secure and convenient way to share passwords via LastPass. Passwords are valuable that you shouldn't be sent in a text without protection. Password manager's Sharing Center within the online vault lets you easily manage your shared items. It's not difficult to operate. You only need to select an item in the vault, click the sharing icon and then enter the recipient's email address. Your friends or partners will get see a notification that a new share has arrived if they are LastPass users. They are able to use the passwords that you shared to login. You can choose which items they can view or make all of them visible. If they didn't use it, they will get an email message explaining how to create an account and accept the share.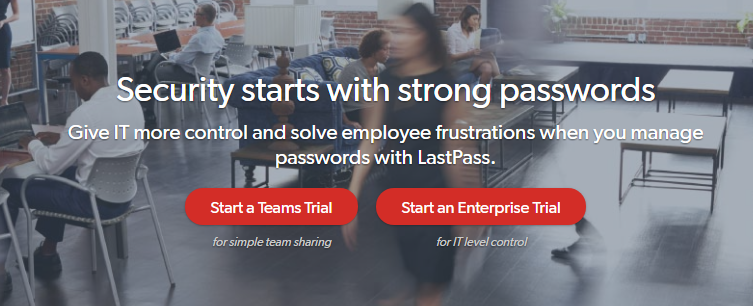 Prepare for the Unknown
In case something bad happens to you unexpectedly, you may want to tell your loved one to know your password to bank account or other important personal account. You can set an emergency contact on LastPass. It lets you relinquish access to credentials that others have shared with you, or cut off others with whom you've shared passwords. Once you set it up, your trusted friends and family can access LastPass account and manage your passwords in the event of an emergency or crisis.



How to Get Started with LastPass?
1. When you click the link to get a LastPass account, it installs as an extension in your default browser.
2. When you launch this extension, it walks you through creating a LastPass account.
3. After you enter your email, you create a strong master password. LastPass doesn't ask for much. The password must be eight characters, must not be your email address, and must not be "easily guessable."
4. After you created the account, it walks you through saving a password for Google, Facebook, Amazon, or Netflix. Pop-up notifications explain that you first log in as usual, then you click the Add button when LastPass offers to save it.
5. It starts by offering to import passwords from your browsers and proceeds to walk you through creating a password record. After you install the browser extension, it offers a tour of the extension's features.
6. Selecting a password entry reveals three icons, for editing, sharing, and deleting. I'll discuss sharing below. When you edit an item, you can change its displayed name, add a note, or move it to another folder.
7. You can drag and drop to organize your passwords into folders.
Platforms
You can use it on all your Windows, macOS, Android, Linux, and iOS devices. It also works on Chrome, Firefox, Safari, Internet Explorer, Opera and Microsoft Edge. LastPass is very easy to use. Its interface is clear. It has tips when installing browser extensions or creating an account. You can go through it quickly. If you have problem in using this password manger, you can navigate to the support session. Live chat support is not provided for users while LastPass offers useful information on FAQs. It has most popular FAQs, FAQs by product and FAQs by feature. If you still can't find answer on FAQs, try to contact them via email.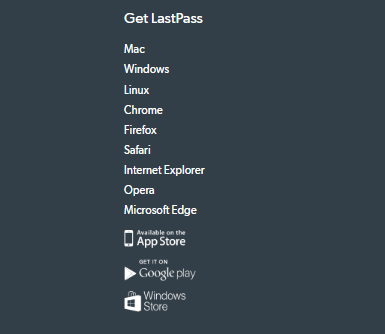 Top 5 Best Password Managers In The World
| Brands | Key Features | Support Platforms | Offers | Price(USD) | Official Website |
| --- | --- | --- | --- | --- | --- |
| | Get more details on Dashlane Review | Windows, Mac, iOS, Android, Linux, Chrome OS, watchOS | Offers Free Version | $39.99/Year | Best Choice |
| | Get more details on RoboForm Review | iOS, Android, Windows, Mac, Linux, Chromebook | Offers Free Version | $23.88/Year | View Deals |
| | Get more details on LastPass Review | Windows, Mac, iOS, Android, Linux, Chrome OS, Windows Phone, watchOS | Offers Free Version | $24.00/Year | View Deals |
| | Get more details on Sticky Password Review | iOS, Android, Safari (Mac), Chrome and Firefox (Mac and Windows) | Offers Trial Version | $14.99/Year | View Deals |
| | Get more details on LogMeOnce Review | Windows, Mac, iOS, Android | Offers Free Version | $12.00/Year | View Deals |
Conclusion
LastPass is a useful tool which puts all of your individual passwords behind one master password. You can get LastPass free trial to test all its features before purchasing. It has great features like secure sharing, password inheritance, an actionable password strength report and automated password changing. It stores your password locally and syncs passwords over the Internet securely so that all of your saved passwords on your work computer are instantly available. LastPass can automatically log you in to any web site you visit with saved login credentials. Don't want to remember the complicated usernames and passwords occupy your mind? A password manager is needed. It will secure and strengthen you passwords. It also helps you store personal information to fill forms online for you which saves a lot of time. We recommend LastPass. Its price starts from $ 2 USD per month which is affordable. Most importantly, it is useful and reliable. Get deal now.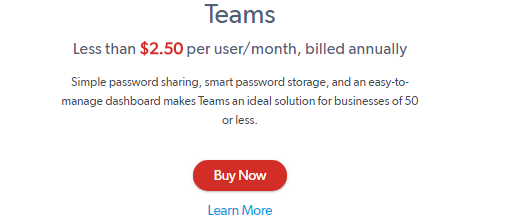 Published by & last updated on July 3, 2020 7:59 am