Do you look for a way on how to access Spotify in China as it has been blocked in mainland China? I need help of accessing Spotify in China. I recently moved to China and worked fine for a few days and then I kept having connection issues. Can't login or listen music on it any more. Did anyone find a good solution for this?
What is Spotify – Does it Work in Your Country?
Spotify is a great platform for music lovers with millions of tracks. No matter you are working out, partying or relaxing, you can find the right music easily with few taps on the app. It works as both a music recommender system and a radio network which gathers content from over 800 local Clear Channel across the United States. It also offers music from a station which belongs to companies aside from music channels. You can obtain Spotify online via mobile devices, computers, game consoles as well as cars. It also enables you to stack up around the hottest new releases and obscure album cuts. On it, you can listen to your most favorite song repeatedly and also explore from your vast report on new releases from every genre. You can stream music and download them so that you even can listen to music without an Internet connection in a more convenient time. This useful service has a large number of users around the world.

Unfortunately for those who already purchased an account of Spotify, or simply want to subscribe outside US, the access is forbidden from abroad. Especially in China and Russia etc., the government set many limits to the internet and block many famous websites. Even though you signed up account in your own country, you would still get problem in accessing this service. It does not include global coverage. The account you created may stop working after 14 days of being out of the registered country. Also, the government internet censorship in your country may set barrier to prevent you from accessing this service. To access Spotify in China, you need to connect to servers from a place outside China and country which Spotify have launched its service in.
Why can't You Access Spotify in China?
As a giant of the global music streaming industry, Spotify has expanded significant markets for itself in other countries but has yet to launch in China due to various reasons. That means you won't be able to access its contents from China. When you try to visit its website, you can view part of the website with a notice, telling the service is not available in your region. It allows you to view page like "About", Job, Help, communities and useful links. However, you can't search or listen to a song.
Spotify has the ability to block the access of users outside the country by determining their locations according to the IP address. Your IP address will be viewed by others when you browse the Internet and it is the easiest way to distinguish the location from which you're trying gain access to the website. Once the service detects that you are located outsides US, it refuses to let you access its content. China is one of the countries that have the biggest population. Why doesn't Spotify launch service in this country? Some users assume that Spotify does not launch its service in China because of the strict Internet limit and fierce competition. The Chinese government has censorship rules which add an additional barrier to entry because they would force these companies to comb through tens of millions of songs to weed out the ones that China's Communist Party could deem a threat to the country's political stability. The Chinese government demands service provider to assist them to monitor users' online activities and block content that they consider as harmful or improper. It's not an easy task.
Besides, living in China or visiting the country means that you will be restricted in what websites and content you can view. Google, Facebook and YouTube etc. are blocked by this country. If you don't have a username and password to login Spotify account, you can't login your account via Facebook there because Facebook is blocked in China. When you first arrived in China, you might be able to use the service. However, the bandwidth there is severely restricted. Browsing is painfully slow and playing new music pauses to buffer a lot. In addition, China has banned a large number of songs that were considered as "morally harmful." Some users assume that the government bans those songs and services to help the local services compete with foreign services. The three of the biggest web service sites Alibaba, Baidu and Tencent offer music streaming services and will more than likely be subject to the internet censorship. These companies have to censor their web content, and many of them even employ large teams of people to find and erase sensitive online material. There is no sign that the government will unblock the songs or the Spotify will launch service in this country. Luckily, there's still an approach to bypass the regional censorship of Spotify. You can tune in to Spotify outside of the US in China with a VPN service.
How to Access Spotify in China?
To access your favorite tracks on Spotify, you have to spoof your online location as the service refuses your request after learning you are not located in the "legit" location. Some of you may choose Smart DNS to access this service. However, it's not the best way as Smart DNS does not hide your IP address or encrypt your connections. It simply takes care of any URL that reveals your location to the geo-blocked content you are trying to access. As we know, the Chinese government blocks many foreign services and sets limit to some websites to cause connection issue. Besides, Smart DNS does not allow you to manually select your region in many cases. To listen to your favorite songs on Spotify smoothly, a reliable VPN is recommended. VPN masks your real IP address so that the geo-restricted websites and apps will only see the IP address of the VPN server you are connected to. When you use a VPN to access Spotify in China, it replaces your IP address with new one from US or other country which supports Spotify. It also encrypts your online sessions to prevent your ISPs and government from monitoring your behavior. In China, the ISPs control the bandwidth and speed strictly. When you try to download or upload files, they throttle your connection. You will have to wait for a long time to get it done. With the encryption of VPN, you can enjoy the unlimited bandwidth and some VPNs even speed up your connections.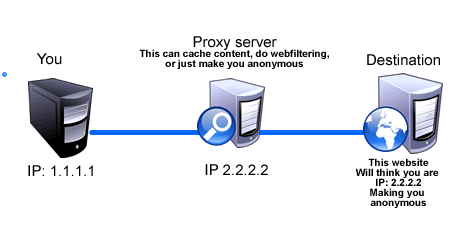 How Does VPN actually Help?
VPN stands for Virtual Private Network which transfers information using secure methods via the internet. The VPN provider offers a collection of IP addresses and servers from different cities in many countries. That means you can access the global network freely while staying at home. As we know, there are many streaming services that come with geo-restriction. Some services like BBC iPlayer are only available in UK. Services like Netflix and Hulu only are open to users in US. Services like NetEase music are only available in China. You need IP address and connect to the local servers to access the restricted content. That's how VPN helps. It provides IP addresses and servers from UK, US, China and Netherland etc. When connected to one of the global servers, you appear to be sending internet request from the local place. The geo-blocked services will grant you access to their content. Besides, it creates an encrypted connection between your device and the VPN server. Your ISP won't be able to interrupt your connection, and you can enjoy the music freely on Spotify in China. A VPN also is able to bypass the Great Firewall of China by utilizing special protocols and tunnels. With a VPN, you not only can access Spotify in China, but also unblock Gmail, Instagram, WhatsApp and YouTube etc.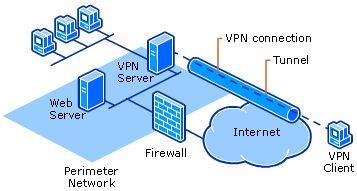 Still Can't Use Spotify With a VPN?
Some users complain that they still couldn't use Spotify even though they purchased a VPN plan. In this case, you might choose the wrong VPN. All VPN replaces users' IP and connect users to remote services. However, not all VPNs work in China and some of them do not work streaming services. It is well-known that the Chinese government blocks VPN. The VPN you purchased probably is blocked by the firewall. Therefore, you need to ensure the VPN works in China before purchasing it. How do you know which VPN works in China? ExpressVPN is the one which works fast and stably in this country which has the strictest Internet censorship on the earth. You also can try another VPN that we recommended. Some VPNs' websites may be blocked by the firewall, but they still can help. You only need to download VPN client and set it up in your country before travelling or moving to China. You will be able to avoid the connection issues caused by government censorship. If you are already in China, you can use Shadowsock to download and set up VPN. Besides, your VPN provider may block P2P connections which Spotify uses. Some VPN providers do not support P2P as it is banned in some countries. In this case, you can try to contact the VPN provider to see if they block P2P. You should use another VPN if it does not permit P2P connection.
How to Select a Right VPN for Spotify?
The most important factor you should consider when choosing a VPN for Spotify is its ability to convince the service that you are in a valid location. Some VPN connections can be detected by the web owner easily. The website may refuse your Internet request once it knows that you are using a VPN. To make the best use of a VPN, you are supposed to get one with a more servers. The large number of servers let you access more restricted content. Another important consideration is the encryption standard. It is should be secure enough to prevent cyberattack and information leak. In addition, the VPN you choose should be fast so that you can listen to and download music quickly.
If you have any questions about how to access Spotify in China, please live chat with YooCare Expert now.

Guides to access Spotify in China
1. First of all, sign up with a VPN service. Stay away from free VPNs like Hola as those can harm your online security and do not work properly in most cases.
2. Now that you have created your VPN account, download and install the VPN app from the VPN provider's website.
3. Launch the app and connect to a VPN server in the USA.
4. You now appear to be browsing the web using an American IP address.
5. Download Spotify app and enjoy the music without limit.
In the case you do not want to add the application, then you will need to follow the following steps:
a. You will have to select the server right after getting the subscription.
b. Then you will need to add the exact information to activate the VPN into your device. Go to the setting option and change or add the VPN configuration and enable the VPN for your entire web search.
How to Set up VPN for Mac?
Set up VPN for Mac is quite common for the majority of Mac computer users. After you buy a VPN, you will get an account. Before you move on, please note that you have gotten all the needed information prepared. Once all things are ready, you can follow the following manual guide to set up the VPN on your Mac by yourself. But, if you are not familiar with VPN set up process when you see the following steps, you are suggested to Live Chat with YooCare Online Expert for further help.
Step 1: Click the Apple menu, select System Preferences, and click Network or click the Wi-Fi icon on the menu bar and select Open Network Preferences.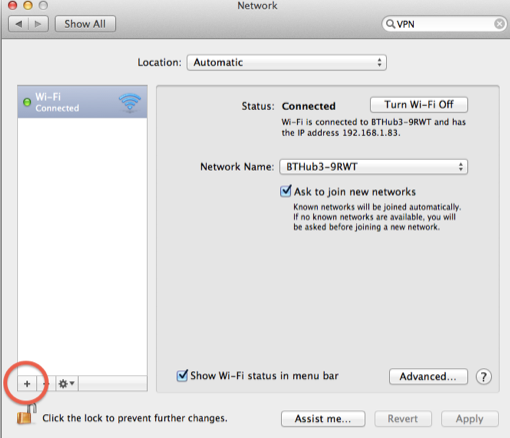 Step 2: Click the plus sign button at the bottom left corner of the window and select "VPN" in the Interface box. Choose the type of VPN server you need to connect to in the "VPN Type" box and enter a name that will help you identify it.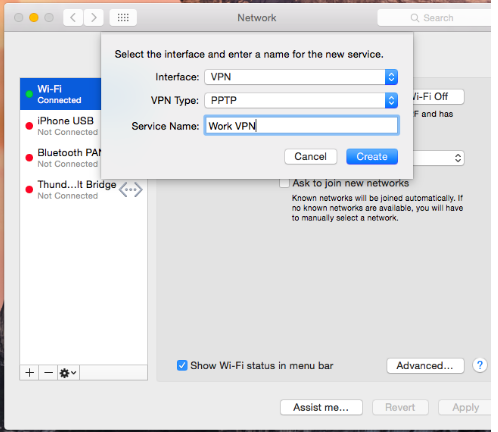 Step 3: The "Authentication Settings" button allows you to offer the authentication you'll need to connect — anything from a password or certificate file to RSA SecurID, Kerberos, or CryptoCard authentication.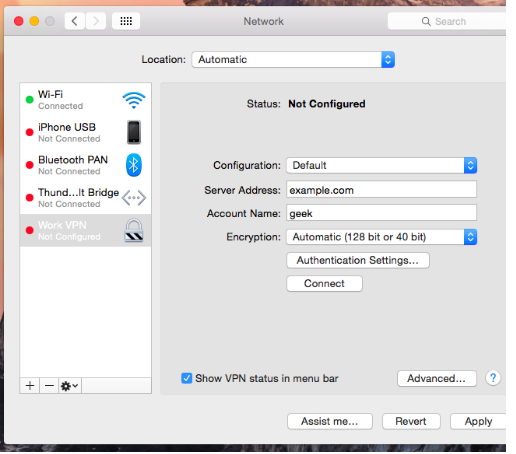 The "Advanced" button allows you to configure the VPN connection in other ways.
Step 5: When you finish all settings steps, please click Apply button to confirm your settings. And you're kindly suggested to enable the "Show VPN status in menu bar" option. Then you will get a menu bar icon to manage your VPN connection. The menu bar icon can easily help easily connect to your VPN and disconnect from it as necessary.

Once the new VPN connection is successfully created, back on the Network & Internet window, keeping the VPN category selected from the left pane, click to select the newly created VPN connection from the right.
After numberless tests, we have a conclusion of the best VPNs. These VPN services are reliable. They are quite inexpensive and provide the correct result. They keep their user hidden behind the encrypted data that is being passed the Internet via VPN. They are the primary source to get in touch with the servers in US and with the help of these servers the people get the access to the blocked Internet services. They also are capable of hiding your original IP address and converting it into the IP address of the country whose server is selected by the user.
Top 10+ Best VPN Services In The World
VPN Brands
Servers
Country
# of Connections
Price(USD)
Official Website
3000+ servers in 94 countries.
British Virgin Islands
5
$6.67/Month (Save 49%)
Best Choice
5570+ servers in 60+ countries.
Panama
6
$3.49/Month (Save 80%)
View Deals
200+ servers in 70 countries.
Bulgaria
6
$4.18/Month (Save 50%)
View Deals
Servers over 34 countries &

Still work in China

.
Czechia
5
$4.88/Month (Save 20%)
View Deals
Click Here to Read More Top 10 Best VPN Services »

Conclusion of How to Access Spotify in China
Spotify offers excellent music with amazing features. It has attracted an incredible number of music lovers all over the world. But sadly, this on-demand music service can be obtained only to those living inside the US. However, people have to travel or move to different countries for different reasons. It is awful that they have to give up their favorite music streaming service in an unfamiliar environment. Luckily, a VPN enables you to travel to anywhere with your favorite services. Though Spotify is a service with geo-restriction, a VPN masks your location and connects you to servers in US. That tricks the service into believing that you are location in US and have the right to listen to the music. Another reason why you need a VPN in China is that a VPN helps you protect your privacy. The Chinese ISPs works with the government to monitor users' online activities. The ISPs know who you are and what you are doing on the Internet. If you value your privacy, it is necessary to get a VPN to secure your online traffic. Of course, the most important task is to unblock Spotify in China. You can achieve several goals with only one tool. With a VPN, you can access Spotify away from US without having to face regional restrictions or limitations of any sort. You listen to the amazing music and secure your spirit anytime and anywhere. Try ExpressVPN as it supports five devices with only $6.67 per month and still works in China.

Kindly Reminder: If you have any question regarding how to safely access Spotify in China and how to Set up VPN on your device, you are recommended to live chat with YooCare online expert for help.

Published by & last updated on January 9, 2020 8:04 am