Are you a hardcore fan of the Pandora radio service? Do you have to give it up after moving to another country? In fact, you still can enjoy this library of music abroad. Why do people want to access this platform when it is not available in their country? It is because people consider music as medicine. People listen to music when they are down, stressed, and it uplifts their spirit. In this article, we will tell how to access Pandora Radio abroad.
Brief Information of Pandora Radio
Pandora is a really great radio application with a big library of music. It is a favorite stop for unlimited music streaming, holding almost all the music you will ever need. When using it, you will find that it is a great way to discover new music. It is an automated music recommendation service that analyzes your music preference and suggests you similar artists based on your choice of music. You will always listen to your favorite songs as it plays music according to your taste. It also is a neat app which can play in the background without interrupting your current work on your device.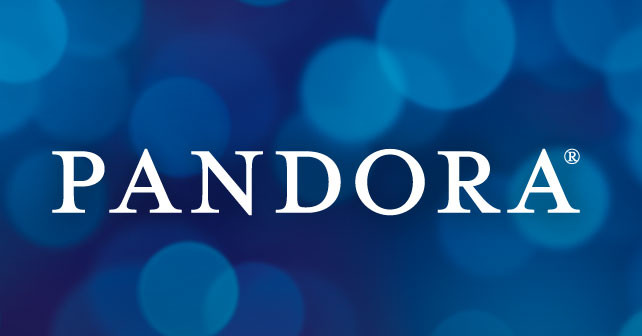 However, you may not be able to use this service. Pandora currently blocks all traffic from outside of US, Australia and New Zealand. Under pressure from copyright holders, this service started blocking users in other countries based on their IP address. When you try to access Pandora outside the U.S., you will be redirected to the restricted page due to licensing agreements. It may sound a bit disappointing to the music lover based in other than these countries that they cannot listen to Pandora. Don't be upset. There are workarounds though. A VPN gives you needed IP address to unblock this service from anywhere.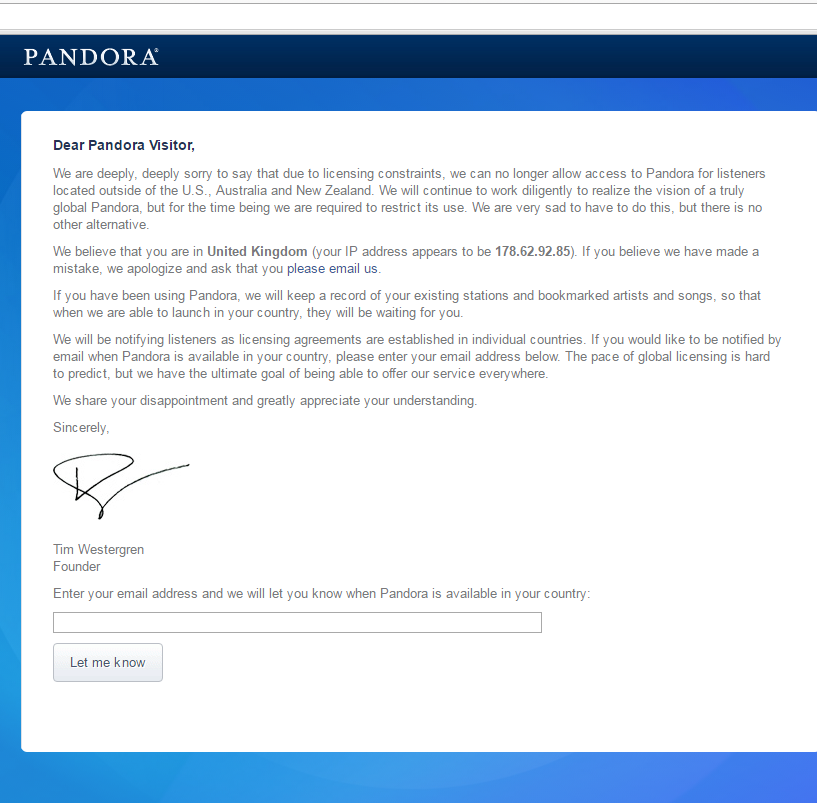 How to Access Pandora Radio Abroad?
Would you like to stream music to your bluetooth speakers when traveling? Get a VPN to spoof your location. As Pandora uses the IP address to determine users' physical location, you can fake a US IP address and get around the block. The Pandora sites know when to block your content because your IP address gives away your location on the Internet. In fact, web owner, advertiser, ISP and more can view your IP address when you browse or conduct other activities. Most streaming services that come with geo-restriction use IP flittering. The web servers know where you are easily. If you are not located in the United States and try to visit this music streaming platform, your access to the site or app will be disconnected. In order to access Pandora radio abroad, you need to change your virtual location to trick those services into thinking you are still at home on your couch in US.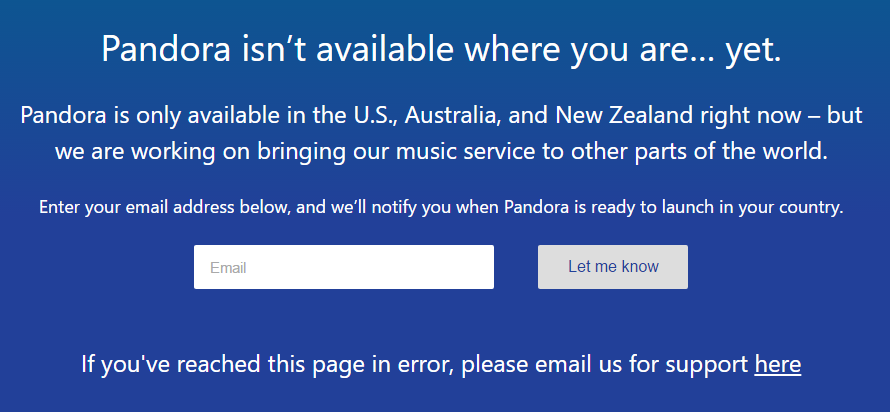 We suggest you use a VPN. VPN is short for Virtual Private Network. This tool encrypts your Internet traffic. The traffic will be routed through an intermediary server in a location that you choose. The location you choose can be any city in US. You also can connect to servers in another country for another purpose. Besides spoofing your location, VPNs offer many more other benefits such as high security, more privacy as well as access to geo-locked content and services in different countries. Using a VPN will allow you access again to content you are already paying for. When hearing of Virtual Private Network, you may think of complicated technology, network configure and programming etc. The truth is VPNs usually come with bespoke apps that don't require any special configuration on your device. The VPNs will take care of everything. You only need choose a VPN provider and install it on your device.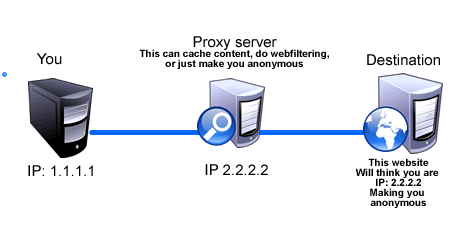 How does a VPN Work When Unblocking Pandora outside US?
If you are in China or Japan and want to access streaming music on Pandora, you need to trick them into thinking you are sitting at your device in the United States. You may think you have to do lot of things to achieve this goal. In fact, the music streamed by Pandora is using the standard HTTP port 80 which makes it very easy to bypass. When you use a VPN, it creates an encrypted tunnel between your device and the VPN server. That means your data is secured and it is channeled to the VPN server through a safe connection. After receiving your request, it decrypts your data and sends it to the Internet. The VPN alters and encrypts the returned data from the web before sending it back to your device. Finally, your device decrypts and displays the data on your browser. Your sessions won't be viewed by others. Before using this music streaming site, you only need to select as New York or other city in the US as your location to give you access to Pandora and other streaming services. Then, the web owner thinks you are located in the United States and unblocks its content for you to use. With a VPN, you will be able to access Pandora without any hiccups.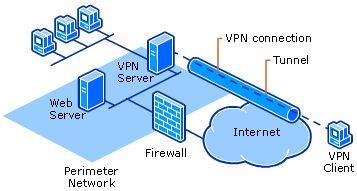 Free or Paid VPNs?
Some users may wonder if it is worth to invest a VPN? Some users may just give up their favorite music app and use another one instead after they move to another country. Some users get free VPNs to unblock restricted content. We believe that you deserve a VPN. On one hand, a VPN not only helps you access Pandora abroad. It also secures your online data, protect your privacy, keep you anonymous, speed up your connection and unblock Facebook, WhatsApp, YouTube and more basic websites in country with strict Internet censorship. You gain much more than what you pay. Some users may say free VPNs help them access restricted content as well. Commonly, free VPNs provide slower connections and not suitable for streaming content such as video and music. Besides, the free ones come with one to three servers. If none of the servers are close to your location or the music streaming company, the connection speed will be pretty slow. How can you enjoy the music when it is loading now and then? To simply browse the website, a free VPN does help. A paid VPN is needed for streaming. You will be able to effectively maintain Internet speed without causing additional delay when listening to Pandora abroad.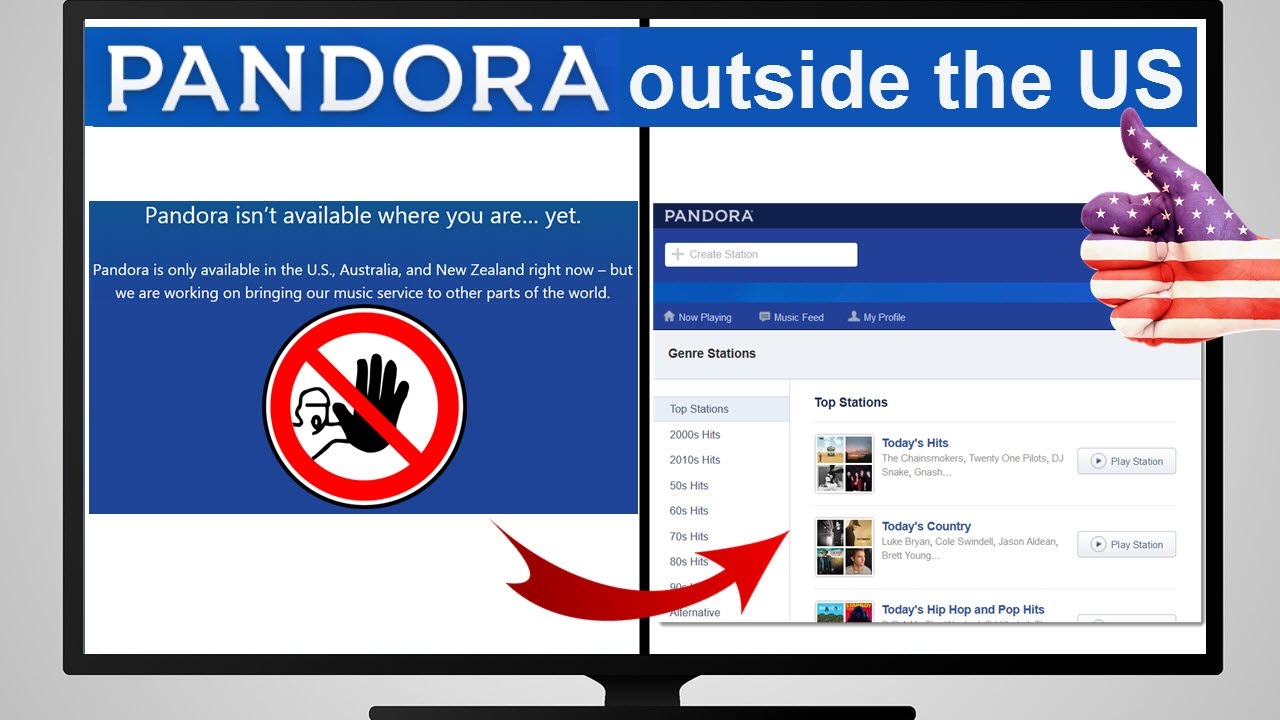 Benefits of Using a VPN
Why do we suggest you use a VPN? Is it crazy to buy a VPN plan simply to listen to Pandora abroad? It's not crazy at all. With a VPN, you not only can access this music streaming service outside US, but also be able to access other services which may not be available in your country. As we know, there are many streaming services are only open to users in their own country. For example, only users in US can use Netflix, Hulu, HBO, Spotify and more services. BBC iPlayer blocks users from outside UK. Tencent video only can be viewed by users in China. A VPN provider offers a large collection of worldwide servers. You can connect to any needed server and access any content you like no matter where you are located.
A VPN also is great for security. When browsing on public Wi-Fi hotspot at airports, hotels, or cafes, your Internet connection can be compromised. Snoopers can easily access the unencrypted data sent from your device. Hackers can intercept your session to steal confidential information. The VPN enables you to connect to encrypted servers. Your data will be encrypted with military-grade encryption. There is no need to worry about information leak any more. This security is great for traveling at sitting at home in a local cafe on public Wi-Fi. Besides, a VPN assists you to reclaim your privacy. It is well-known the ISPs are allowed to sell users' browsing histories to the third parties without users' permission. You can't stop them. On one hand, the laws allow them to do that. On the other hand, you have to rely on your ISP's server. That means everyone can buy your privacy and know every move of you on the Internet. How to get away from the hands of your ISPs? Get a VPN. A VPN provider gives you anonymous IP address. As your connection is encrypted, no information related to your ID will be revealed. Your privacy stays safe with you.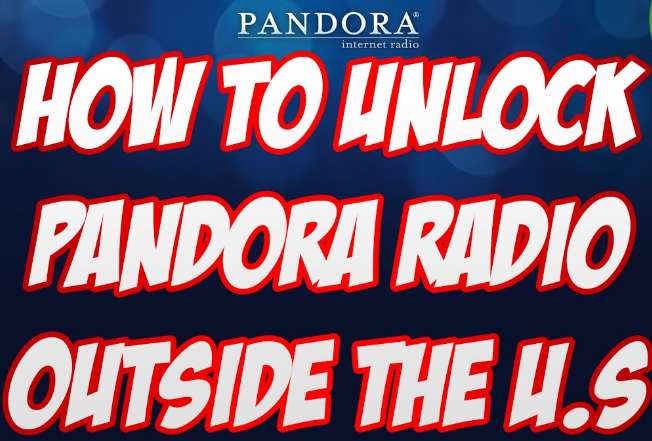 How to Select a Right VPN for Pandora?
The most important factor you should consider when choosing a VPN for Pandora is its ability to convince Pandora that you are in a valid location. Though all VPNs can make it look like you are in a different location, some of them do not have the servers in the right location. Some of them can be detected by the web owner easily. The website may refuse your Internet request once it knows that you are using a VPN. Not all VPNs can convince Pandora that you are a legitimate local user. To make the best use of a VPN, you are supposed to get one with a more servers. The large number of servers let you access more restricted content. Another important consideration is the encryption standard. It is should be secure enough to prevent cyberattack and information leak. In addition, the VPN you choose should be fast. Though Pandora audio is easier to send across the Internet than video files, interruptions in a song can really ruin your mood. Music will lose the ability to secure your spirit.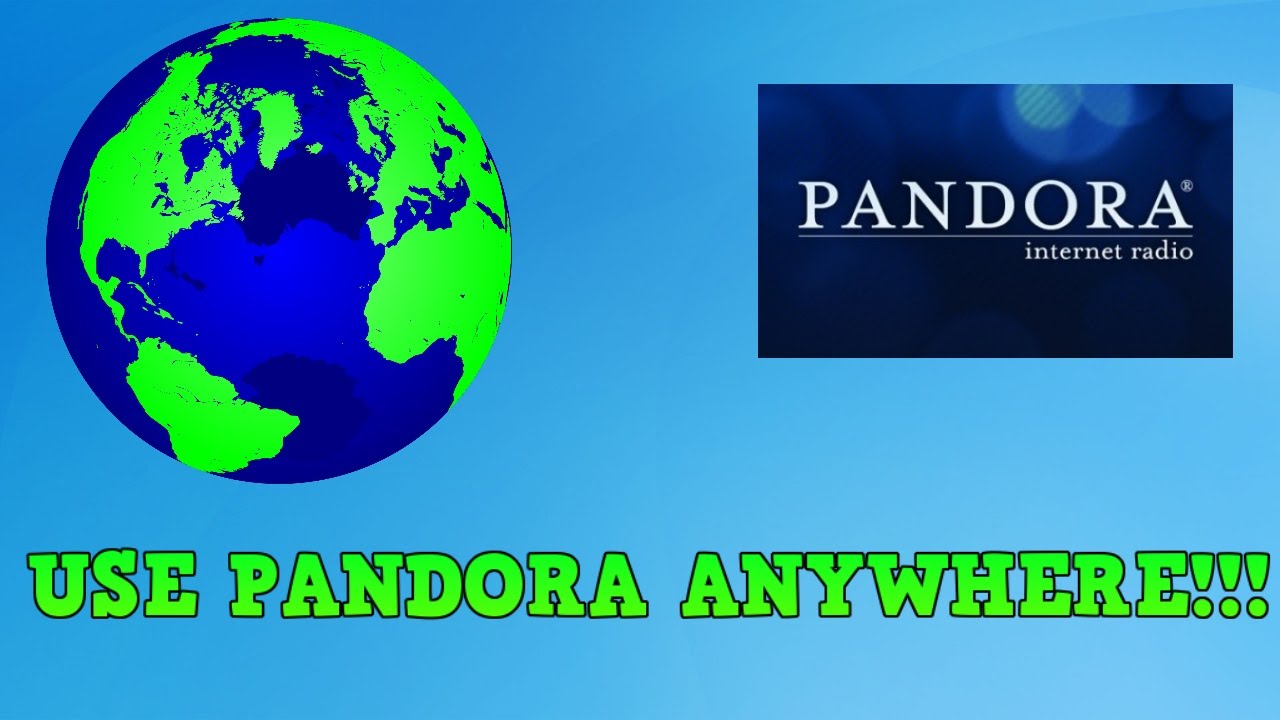 If you have any questions about how to access Pandora Radio outside US, please live chat with YooCare Expert now.

Guides to access Pandora Radio outside US
1. First of all, sign up with a VPN service. Stay away from free VPNs like Hola as those can harm your online security and do not work properly in most cases.
2. Now that you have created your VPN account, download and install the VPN app from the VPN provider's website.
3. Launch the app and connect to a VPN server in the USA.
4. You now appear to be browsing the web using an American IP address.
5. Download Pandora app and enjoy the music without limit.
In the case you do not want to add the application, then you will need to follow the following steps:
a. You will have to select the server right after getting the subscription.
b. Then you will need to add the exact information to activate the VPN into your device. Go to the setting option and change or add the VPN configuration and enable the VPN for your entire web search.
How to Set up VPN for Mac?
Set up VPN for Mac is quite common for the majority of Mac computer users. After you buy a VPN, you will get an account. Before you move on, please note that you have gotten all the needed information prepared. Once all things are ready, you can follow the following manual guide to set up the VPN on your Mac by yourself. But, if you are not familiar with VPN set up process when you see the following steps, you are suggested to Live Chat with YooCare Online Expert for further help.
Step 1: Click the Apple menu, select System Preferences, and click Network or click the Wi-Fi icon on the menu bar and select Open Network Preferences.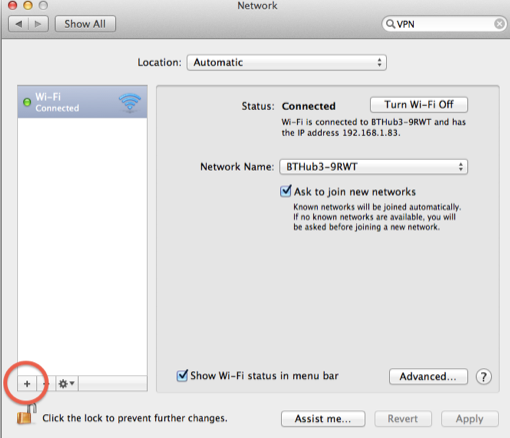 Step 2: Click the plus sign button at the bottom left corner of the window and select "VPN" in the Interface box. Choose the type of VPN server you need to connect to in the "VPN Type" box and enter a name that will help you identify it.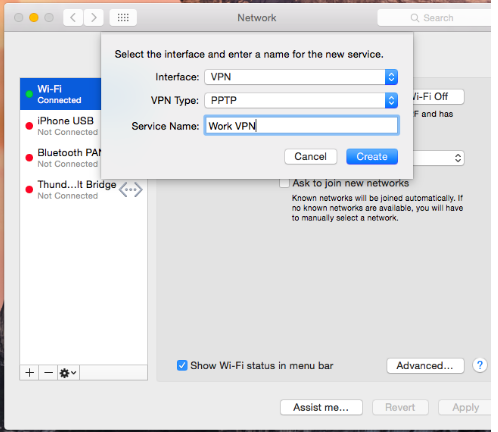 Step 3: The "Authentication Settings" button allows you to offer the authentication you'll need to connect — anything from a password or certificate file to RSA SecurID, Kerberos, or CryptoCard authentication.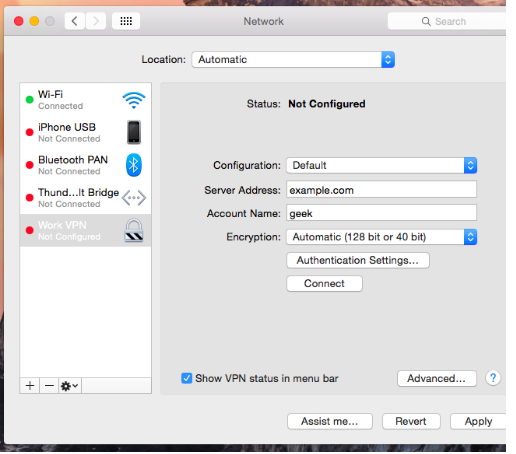 The "Advanced" button allows you to configure the VPN connection in other ways.
Step 5: When you finish all settings steps, please click Apply button to confirm your settings. And you're kindly suggested to enable the "Show VPN status in menu bar" option. Then you will get a menu bar icon to manage your VPN connection. The menu bar icon can easily help easily connect to your VPN and disconnect from it as necessary.

Once the new VPN connection is successfully created, back on the Network & Internet window, keeping the VPN category selected from the left pane, click to select the newly created VPN connection from the right.
After numberless tests, we have a conclusion of the best VPNs. These VPN services are reliable. They are quite inexpensive and provide the correct result. They keep their user hidden behind the encrypted data that is being passed the Internet via VPN. They are the primary source to get in touch with the servers in US and with the help of these servers the people get the access to the blocked Internet services. They also are capable of hiding your original IP address and converting it into the IP address of the country whose server is selected by the user.
Top 10+ Best VPN Services In The World
VPN Brands
Servers
Country
# of Connections
Price(USD)
Official Website
3000+ servers in 94 countries.
British Virgin Islands
5
$6.67/Month (Save 49%)
Best Choice
5570+ servers in 60+ countries.
Panama
6
$3.49/Month (Save 80%)
View Deals
200+ servers in 70 countries.
Bulgaria
6
$4.18/Month (Save 50%)
View Deals
Servers over 34 countries &

Still work in China

.
Czechia
5
$4.88/Month (Save 20%)
View Deals
Click Here to Read More Top 10 Best VPN Services »

Conclusion
The Pandora radio service is only available in the USA, Australia, and New Zealand. If you live somewhere else, you will need to change your online location so as to get around the blocking techniques Pandora uses to stop you from connecting. You are suggested to use a VPN to be able to access this streaming service on all your devices. The procedure of setting up is not very difficult and the reward certainly exceptional. It masks your IP address so that you appear to be from US. VPN providers offer many servers in US. You can connect to any city you want. Your online activity won't be monitored as VPN encrypts all of your connection to the Internet and keeps you anonymous on the Internet. The web server of Pandora won't be able to track your IP address as it is being hidden by the VPN server. Besides, the VPN helps you avoid ISPs throttling. You can enjoy the blazing speed when listening to your favorite songs. Your online traffics also are secure. No one can break your session with the protection of a reliable like ExpressVPN or others. Want to access Pandora abroad? Get a powerful VPN.

Kindly Reminder: If you have any question regarding how to safely access Pandora Radio outside US and how to Set up VPN on your device, you are recommended to live chat with YooCare online expert for help.

Published by & last updated on January 9, 2020 8:24 am