In those days, many users have suffered from cyberattack and lost money. In fact, every Internet user can become a victim of hackers who are trying to grab your personal data and use for illegal purposes. Sensitive data like your credit card information, passwords, emails and personal photos may fall into criminals' hands. That will be a disaster. The ISPs and advertisers also can track you for commercial and other purposes. In order to protect your privacy and keep safe on the Internet, you need a VPN. A reliable VPN will encrypt your online session and secure your personal data with military-grade encryption. It uses shared IP address to replace your real one to prevent others from tracking you or invading your privacy. It offers a collection of server locations to spoof your real location and supports advanced protocols to disguise your traffic so as to defeat Internet restriction. You can get rid of government censorship for Internet freedom easily. How to select a reliable VPN? Are you confused by the various VPNs in the market? Don't worry. We have tested and sorted out the great VPNs for you. GOOSE VPN is a recommended one. You will know if it is what you want in this GOOSE VPN review.
What is GOOSE VPN?
GOOSE VPN is a legit and useful service started up in 2014. It is a relatively new service coming straight from the Netherlands and has a huge list of eye-catching features that make the provider different from the rest. Its VPN app is very easy to use and is accessible to everyone. This VPN assists users to keep online activities private and secure with the help of anonymous IP address and advanced encryption technology. You can access services and websites that are not available in country you live because the VPN servers encrypt your connections and spoof your location. It allows you to overcome Internet restriction and get unlimited access to your favorite content. For Internet users, it is a very important privacy and security tool.


Value of Money & Promotion
GOOSE VPN provider offers limited and unlimited VPN plan for users' different needs. The limited package only has monthly plan. It comes with 50 GB data usage and costs $ 2.99 USD per month. Under the unlimited package, it has 1-month and 1-year plans. You can't get saving on the monthly plan because no discount is offered on this plan. It is $ 12.99 USD for one month. The 1-year plan is 62% off. It was $ 155.88 USD for one year, now it is only $ 59.88 USD. It costs $ 4.99 USD every month. It's a big discount. In fact, you can save more money when using a code to special promotion. You can visit VPN provider via link offered on this page and copy the code for more discount. Besides, every first month of those plans are free. You have plenty time to test this VPN.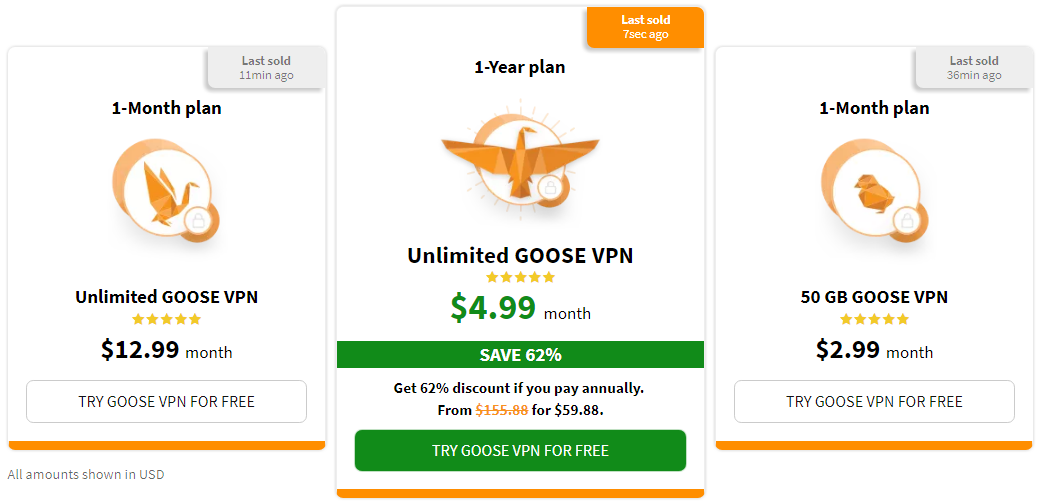 The provider has a 30-day refund policy. For all new GOOSE VPN customers, they have a no-questions-asked 30-day money back guarantee if less than 100MB of data has been used. If a customer is not satisfied with the service and cancels the VPN subscription, he/she will have a payment refunded if the above conditions are met. There is exception in some cases. If users experienced ongoing unresolved technical problems with GOOSE VPN software, the provider would still issue refunds for services with overused bandwidth.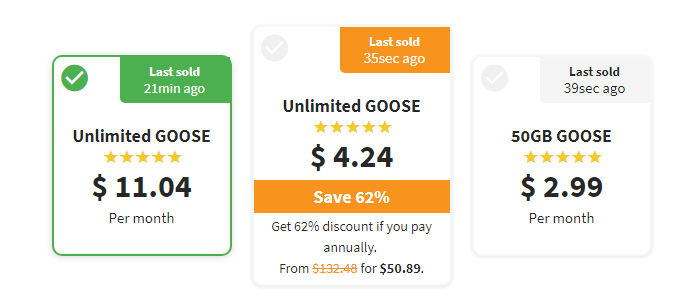 Payment Option
GOOSE VPN provider accepts payment credit, debit card, PayPal, and the Mint online prepayment system. Visa and Mastercard are widely used in many countries that are a convenient way to make payment. If you want something a little bit more anonymous, Mint options are great. You can load up with cash in a local store and then purchase a plan as the system is a prepaid card. Bitcoin is the best option for complete anonymous payment while this payment option is only available for annual subscriptions. Once using bitcoin to signup, there is no link between you and the account.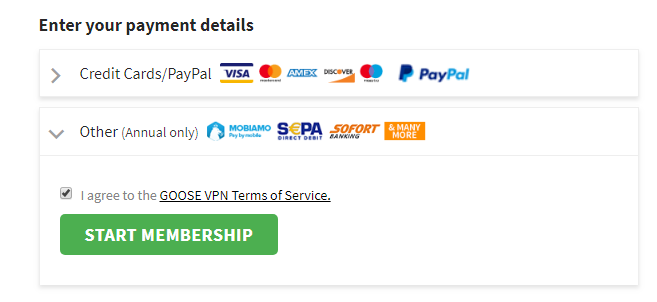 Why GOOSE VPN?
According to the provider, GOOSE VPN currently has more than 83,000 users on 8 different platforms. Why do users choose this VPN? You will get the answer by learning its useful features. It has perfect privacy measures that enable customers to completely mask their identities. You can get new IP address to browse to become anonymous on the Internet. The snoopers won't be able to track you. It uses the high-level of encryption standard and various protocols to ensure your online activities are complete safe from hackers, viruses and other threats. Besides, most users choose VPN to use blocked content and download via P2P. This VPN is good at both. It has special servers to unblock geo-restricted content, stream videos and anonymous download. You can access the Internet at fast speed and keep private as well as maintain secure. Besides, it allows each customer unlimited connections. Just use this VPN to protect all of your devices and you also can cover your family's devices. It works on all major devices and systems, so you don't need to worry about compatible issue.



Global Servers
The server network of GOOSE VPN has a presence in 28 countries. In some countries there are many servers in different cities. Though the amount of servers is not as large as some providers have, the servers meet users' various needs because they are located in most popular locations. They are located logically in different countries around the world. Besides, the provider owns and manages its own network, giving it much greater control over operations. Your data will not go through the third parities and prevent the chance of information leak. Among them servers, some of them can used to unblock websites. Some of them are fast and suitable for downloading. Some of them allow you to do something that you can't do in your country like Torrent & P2P. Your Internet speed highly depends on the chosen server. Therefore, choose the one which is closer to your location. As it has servers around the world, you still can go for the faster or the more secure one when you are travelling.

Security
Why do you need VPN protection on the Internet? It is because hackers and advertisers can view what you do and what data you use when browsing and downloading. Especially when you transfer business information or other important data or make payment, they can access your valuable information and take all of your money. In this case, you need to secure your online activities. GOOSE VPN helps you stop others from stealing your confidential data and gives you the peace of mind to do financial transactions safely on the Internet. It reroutes all your internet traffic through a securely encrypted tunnel. Usually, a hacker can use automated procedures to run through every possible combination of characters in the key to crack it. That means the longer the key, the longer it would take to guess it by brute force. This VPN's AES encryption uses a 256-bit key. This is equal to the length used by the best VPNs in the industry. The hackers and other parities will not be able to break your connection.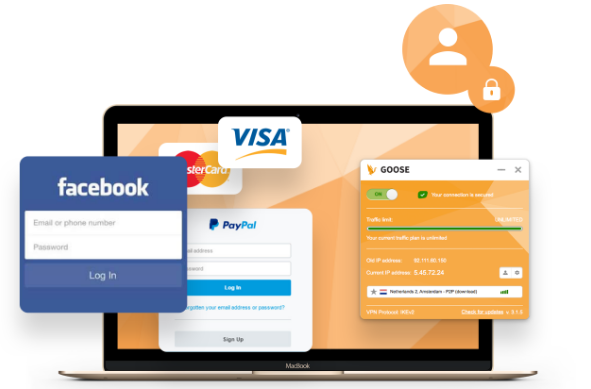 Likewise, GOOSE VPN provides different tunneling protocols such as OpenVPN, L2TP, and PPTP protocols. It lets you choose the protocol you prefer for every server you want to connect to. Do not bother yourself about the encryption level because OpenVPN applies 256-bit military grade encryption by default. OpenVPN should be your first choice as it is equipped with the highest encryption. Sometimes, you can't use it on your device because there is no preinstalled OpenVPN client. You can choose another protocol or download the client from the third party app store.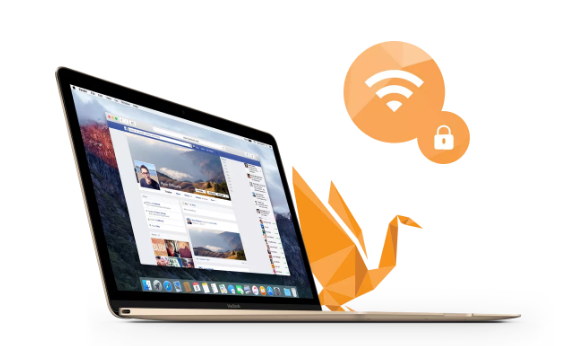 Virus Protection
Though most users have installed anti-virus program and applied firewall, they still would get attacked by virus easily. Together with installing the most recent software updates, these are important measures that you can take to secure your computer against unwanted viruses or hackers. Anti-virus software and firewall are not sufficient. To be fully safe on the Internet, you are suggested to make the best use of a VPN. Some users may think that VPN only are used to hide IP address and unblock banned sites. In fact, some VPNs like GOOSE VPN also have the ability to block ransomware, Trojan, browser hijacker and more threats. You even don't need to install security software. It's an extra feature.
Privacy Protection
The privacy measures of GOOSE VPN are solid. The connection established by this VPN not only ensures unreadable encrypted data, but also provides anonymity on the website. When using a VPN connection, others do not know who you are or where you are. It creates an encrypted connection with a VPN server that is usually located abroad. Without a VPN, Facebook, Google and other service may carefully monitor your surfing habits and show you targeted ads. This is really annoying when you are trying to work. With the IP address offered by the provider, you won't be targeted or tracked. Besides, its privacy policy creates humongous impacts on the success and credibility of the service. The provider does not record the personal information of the users that include username, password, credit card data and so on. When signing up, select the right payment options so that you can give a fake name and use a burner email account to make yourself completely untraceable through the company's membership database. In addition, the law enforcement agencies or lawyers in the jurisdictions of the server locations have no hope of ever holding any information about you or your activities on the Internet because of the strict no traffic log policy. Your privacy is secure.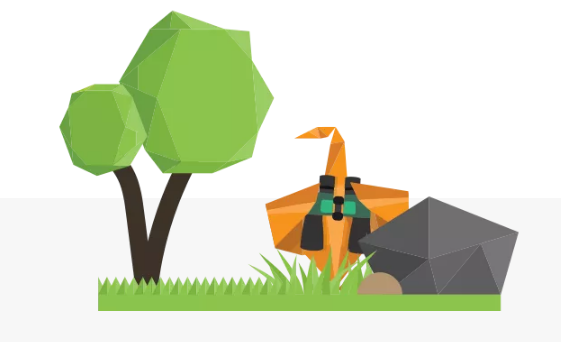 Defeat Geo-Restriction
Though we are in this globalized society, there are still many geo restrictions on the Internet. Many websites restrict access or decide what content you can view according to your IP address. In some cases, you even are not allowed onto the website at all. Some countries block certain websites due to some policies. For example, numberless of websites are blocked in China which has the powerful firewall. Russia, Turkey and Iran etc. block many famous international services. When you are in those countries, you can't use video sharing websites, social media platforms and search engines etc. like you do in your own country. Besides, some websites come with geo-restriction and are only open to users in their countries. BBC iPlayer is the most classic example.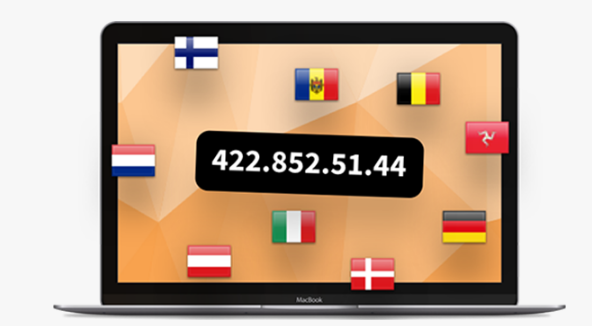 To get rid of those restrictions, you need GOOSE VPN. You can't decide your IP address, but this VPN enables you to resolve this issue by offering a range of different IP addresses for you to choose. You only need to pick a new IP address and connect to any website you want from anywhere in the world. When you try to visit a certain website, this VPN server will create a needed connection with the requested website. Your IP address is invisible. Others only see the IP address of the foreign VPN server. The dedicated streaming servers guarantee access to popular platforms like Netflix, Hulu, and BBC iPlayer. The smart servers will help you bypass government censorship. In this way, you will have full access to the contents of websites that can't be accessed in some countries. For example, you can access Facebook and Google in China. The provider doesn't use any bandwidth throttling. They do not slow down your connection at any time. Instead, it helps increase your broadband speed thanks to the secure connections. They give you the fastest possible route to your Internet destination. When we tested this VPN, no noticeable reduction in speed for general browsing and downloading etc. were detected when connecting to streaming servers. We could watch HD videos on YouTube smoothly.
Buy Cheap Local Products with VPN
Some of you may not know the same product from the same online shop is sold at different prices in different countries if you didn't change your IP address to shop online. Some consumers compare prices abroad because the prices of your local online shops are higher than those of foreign competitors. Other online shopping prices in your countries are cheaper than others. For instance, American online stores provide cheaper prices compared to Chinese sites. However, you may not be able to do shopping on American online stores from China as your access will be blocked by the firewall. GOOSE VPN assists you to overcome this issue and purchase affordable local products. You are able to save money when you purchase online by changing your IP address with this VPN.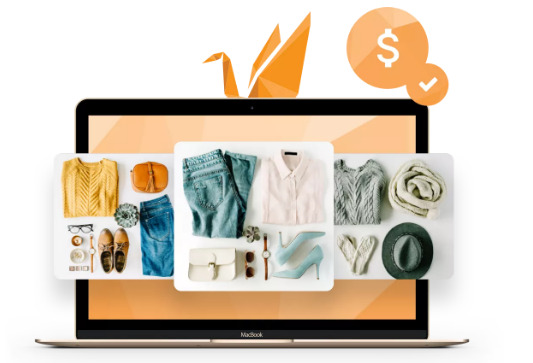 P2P is Permitted
According to research, one of the main reasons why users get a VPN is simply because of torrent. Why they need VPN for this purpose? It is because torrent and P2P are not allowed in some countries. You may receive DMCA notices from copyright holders as a result if you do P2P without a VPN. Luckily, GOOSE VPN supports P2P and torrent. There are a handful of servers in key locations dedicated to this purpose. That defeats many VPNs in the market as some VPNs only provide few servers for this activities. How to identify which one can be used for torrent? From the list of servers, you will see a P2P symbol next to them. They are the ones that you can use for torrent downloading. Please bear in mind that you should not opt US servers for streaming purpose. This is because you can become a victim of online copyright infringement when using improper servers. You will be fine for P2P/torrent when connecting to the right servers.
Easy-to-Use App
GOOSE VPN is compatible with different operating systems and devices like Windows, Mac, Linux, Android, iOS, and Routers. The interface is intuitive and easy to configure. When hearing Virtual Private Network, you probably think of complicated operations with switches, routers, network cables and complex software. We can tell you that there is no need to worry about that. You can finish setup and use it within minutes regardless of your computer knowledge. Besides, it offers user-friendly installation guides for various platforms and the support agents are always ready to help you on the live chat. The provider allows unlimited device per account which is rare in the market. You don't another account to protect extra devices.


Tech Support
GOOSE VPN has done a good job on customer support. You can start a live chat for instant help at any time because they are 24/7 online. You also can submit a ticket or leave your complaints or questions on the company's social media pages such as Facebook, Twitter, LinkedIn and Google+. The social media accounts are provided on the websites. When contacting them, you will receive quick and quality support to get you back on track. The support agents speak both in Dutch and English. You will be able to communicate with them without any issue.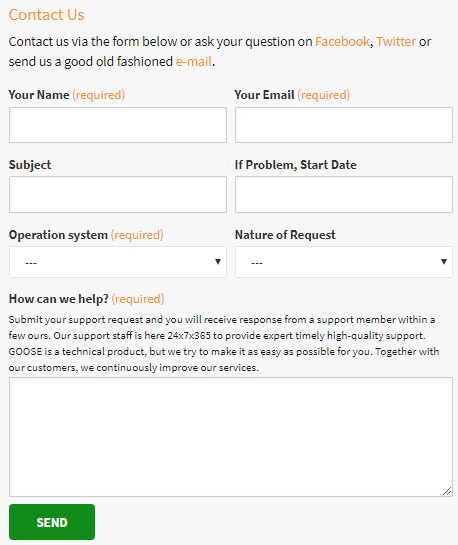 Top 10+ Best VPN Services In The World
VPN Brands
Servers
Country
# of Connections
Price(USD)
Official Website
3000+ servers in 94 countries.
British Virgin Islands
5
$6.67/Month (Save 49%)
Best Choice
5570+ servers in 60+ countries.
Panama
6
$3.49/Month (Save 70%)
View Deals
200+ servers in 70 countries.
Bulgaria
6
$4.18/Month (Save 50%)
View Deals
Servers over 34 countries &

Still works in China

.
Czechia
5
$4.88/Month (Save 20%)
View Deals
Click Here to Read More Top 10 Best VPN Services »
Conclusion of GOOSE VPN Review
With GOOSE VPN, you can avail various kinds of appealing features that make the service an interesting choice. It performs greatly and offers great value, complemented by a handy free trial and amazing customer support. It secures all your connections to the Internet. When surfing the Internet, the request you send from your device to the Internet is encrypted in a secret manner. Your personal data becomes unreadable for possible hackers that could be "monitoring" the connection. The ISPs and government can't spy on your either. You can stream videos, download and access any restricted content as you want with the well-developed servers. The provider comes with strong privacy procedures that are great for torrenters. It is a solid long-term provider with its transparency to the user and has ambition to keep improving its service. To use this service, you don't have to spend much money because the provide offers friendly price and big discount at this time. GOOSE VPN is 85% off. The monthly price is $12.99 USD. If you use GOOSE VPN discount link and coupon code, it will be reduced to $2.00 USD per month. As we know, the best deal does not last forever. You need to pick the right time to save money. GOOSE VPN 85% off is a limited time offer. Don't let yourself feel sorry when you miss this promotion. No one wants to pay $12.99 USD a month because they actually can pay it at $2.00 USD per month. Get deal to enjoy the unlimited, safe, anonymous and fast Internet connection.
Published by & last updated on February 4, 2020 3:55 pm