When selecting a VPN, you have many things to consider to see if it suits your need. Is Astrill VPN reliable? Is it working in China? Is it good at protecting privacy and bypassing Internet censorship? Is it secure and fast? Is it expensive? You will get your answer in this Astrill VPN review.
What is Astrill VPN?
Astrill VPN is a Seychelles-based provider that officially launched in 2009. It provides new IP address to replace your real one and secures your connection with the most advanced technology. Your privacy is not traceable and the hackers can't steal your precious information with the protection. It also helps users defeat Internet restriction issued by company, school, web servers, ISPs or government with the help of global server locations. You can browse freely, safely and fast.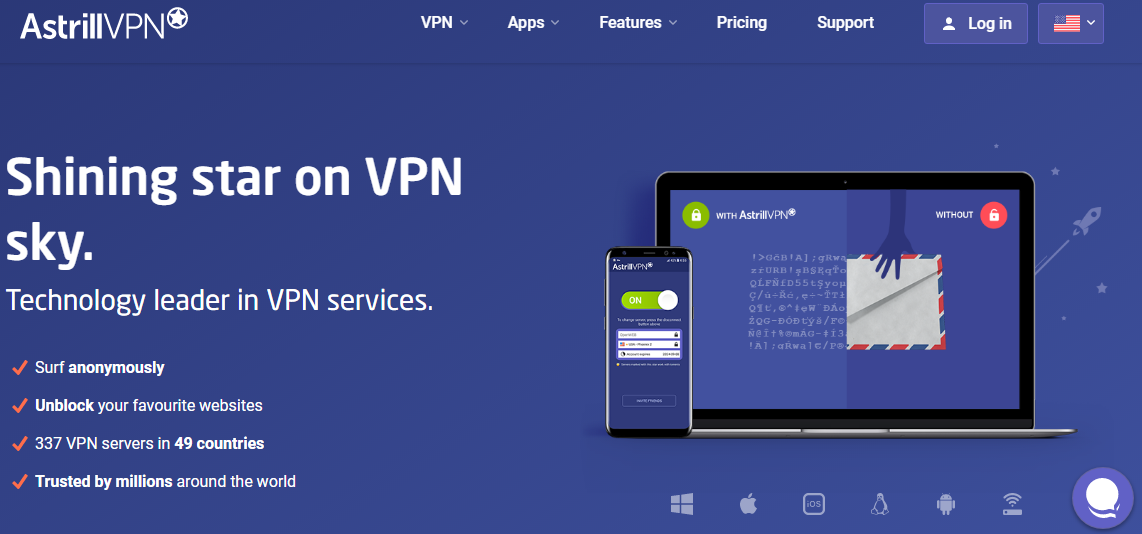 Price & Discount
Astrill VPN provider offers one package with three plans. There are 1-month, 6-month and 1-year plans. At this time, the provider gives promotion. If you purchase 1-month plan, it is $15.90 USD and you get no discount. If you purchase 6-month plan, it is 27% off. It costs $69.90 USD and is $11.65 USD per month. The 1-year plan includes the biggest saving which is 48% off and $99.90 USD for the whole year. It is only $8.33 USD per month. You can save nearly $100.00 USD. To save money, seize this good chance to save money.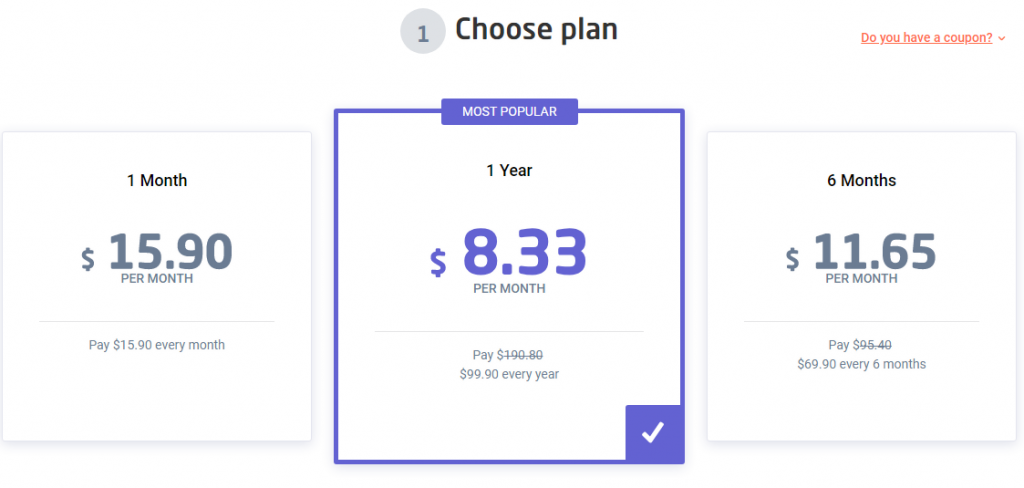 If you think it's too expensive, we suggest you signup IPVanish VPN which is cheaper and full-featured as well.


Payment Method
When purchasing this VPN, all transactions are confidential. You can feel free to make payment. Astrill provider accepts both standard and anonymous payment. You can pay via credit/debit cards, like Visa, MasterCard, American Express, JCB and Union Pay. eWallets like PayPal, PerfectMoney, Alipay, Wechat Pay and many more payment options are welcomed. You also can pay anonymously with Bitcoin. Others won't be able to track you according to your payment detail.
Money-Back Guarantee
There is a money-back guarantee for purchasers. However, the 7-days money-back guarantee comes with draconian restrictions which is only for customers who don't use the free trial. That means you will not get a money-back guarantee if you use the seven-day free trial. This is because they consider that you have already thoroughly tested the service prior to buying a subscription. It seems reasonable in a way. Therefore, do not purchase a long tern plan if you think you may change your mind.
Why Astrill VPN?
Thousands of worldwide Internet users choose Astrill as their virtual shield on the Internet every day. Why is it so popular? First of all, it is a legit and useful VPN provider. Its VPN servers are secured with 256-bit high-level encryption even on public Wi-fi connections and unsecured networks. Your Internet traffic is reliably protected from hackers and spies. It offers a large number of IP addresses for your online activities. Your real IP address is a total secret and you can surf the Internet without being tracked. With new IP address and remote servers, you can get access to filtered or blocked online content without any restriction. Besides, there are no bandwidth limitations. You can stream as much videos as you want. It supports unlimited devices. You can connect as many devices as you need. They can be phones, tablets, computers, TVs, gaming consoles or routers. The personal plan of this VPN allows up to five devices simultaneously to any servers from the vast VPN network. Moreover, it runs seamlessly in the background without any interruptions. Your connection speed won't be affected. Its no traffic log and jurisdiction are perfect for privacy protection. To keep safe, private and free on the Internet, Astrill is a great choice.
Want to save money? NordVPN is another great VPN provider which is one of the best VPNs. It offers cheaper prices and the same features with this VPN. NordVPN is a better deal.

Security
Without the protection of a VPN, hackers and government agencies can access your connection on an unsecured public Wi-Fi hotspot or even home network. Astrill VPN uses military-grade encryption to secure your online sessions in a "tunnel." It utilizes a wide range of encryption algorithms like AES, BlowFish, Camelia and others. To give the best protection, this VPN combines strong key exchange over 2048bit Diffie-Hellman groups, AES-256bit encryption and SHA256 hashes for integrity checks. It also offers NAT Firewall to protect your devices from malicious and corrupted web traffic, as well as fully dedicated IP addresses, port forwarding, application filter and more security features. No one can break into your Internet connection to steal sensitive data.
Likewise, this VPN supports OpenWeb, StealthVPN, OpenVPN, L2TP/IPSec, Cisco IPSec, IKEv2, PPTP and SSTP protocols. Choose any protocol to suit your network.
OpenWeb is very hard to detect by DPI. Traffic looks like regular website browsing, so nobody can say you are using Internet over VPN. OpenWeb traffic is encrypted with AES-256 which is the highest standard in VPN industry.
StealthVPN data streams are protected with AES-256 and authentication is done with certificates. This makes the protocol not only very secure, but also very stable. This option is perfect for users in China.
OpenVPN is an open-source protocol which is often analyzed by security experts from all around the world for vulnerabilities and exploits and it is frequently updated and improved. It can be your first choice if you mainly seek for security.
IKEv2/IPSec is an evolution of the IKEv1 standard developed by Microsoft and Cisco. It provides improved ability to reconnect when changing networks.
L2TP is most often used together with IPSec (Internet Protocol security) which guarantees very strong encryption on packet level at the expense of speed.
PPTP was the first VPN protocol supported on the Microsoft Windows platform. Its specification does not actually describe encryption or authentication features and relies on the PPP protocol being tunneled to implement security functionality. This protocol is fast, but not secure enough.
SSTP uses SSL over a fixed TCP port 443 which makes it appear as general HTTPS traffic and hard to block by firewalls.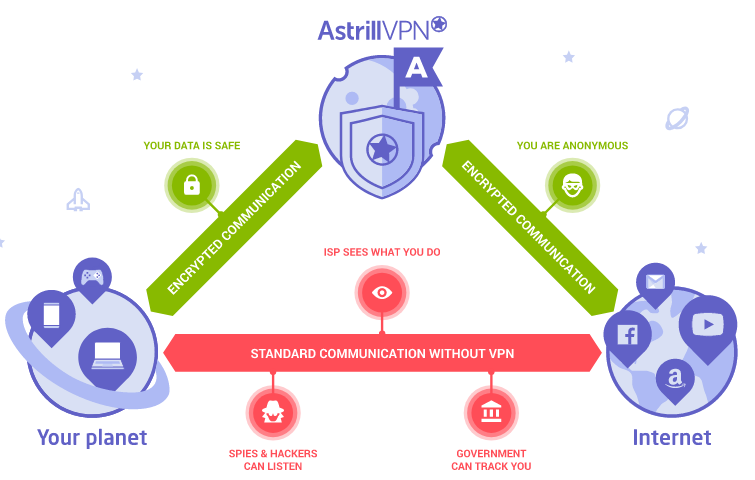 Server Locations
Astrill VPN offers 337 VPN servers in 49 countries, including the United States, China, Australia, United Kingdom, Germany, France, Netherlands, Portugal, Spain, Italy, Russia, Japan, Brazil and more. At the same time, new VPN servers and IP addresses are added regularly at no additional cost. Why are VPN servers important? On one hand, they secure your online traffics. On the other hand, it helps you bypass geo-restriction. When you connect to one of the servers, the VPN establish a secure VPN connection between your Internet provider and the VPN servers. All your online moves are secured and you are anonymous. This provider offers dedicated IP address and you can use it to conduct online activities privately. The hude network of super powerful dedicated servers all around the globe make everything run smoothly without lags or waiting. No matter where you are, you can connect to the needed server and get the best connection.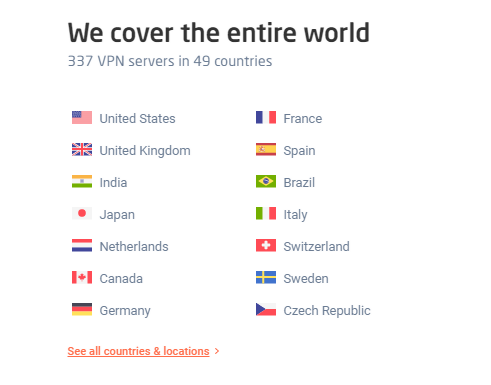 Unblock Streaming Services and Basic Websites
Schools, governments and workplaces may restrict web content by limiting your access to selected websites. Some services are only available in some countries and regions. Many users usually look for alternatives when they do not find a link to their favorite streaming service or their Internet speed dies down while streaming the movies and videos. A reliable VPN will help. As many Internet restrictions work according to location, anonymous IP address is the key to bypass restriction. Astrill VPN offers anonymous IP addresses and smart servers to hide your real location and connect you to remote network. You can appear local to any of the websites you visit. When you use VPN, it lets you choose an IP address in your preferred country or city so as to enable you to visit your favorite e-commerce websites. You can view prices in your preferred currency. Sometimes, you even can save money with a different IP address. When travelling, you can access the Internet in your native language and without any restrictions just like how you do at home.
Besides, this VPN helps a lot in streaming. It provides users with fast streaming to watch high-definition videos. Its servers are developed with a Video Accelerator which ensures that HD videos from the likes of YouTube, Netflix and Hulu transmit at lightning-fast speed. The Web Chache also helps. This means that you never have to wait for a video to finish buffering. You won't get stuck when playing video games. In addition, P2P is permitted when using this VPN. You can download via P2P anonymously without being caught. Get Astrill VPN to unblock your favorite websites and online services that are restricted due to your IP location.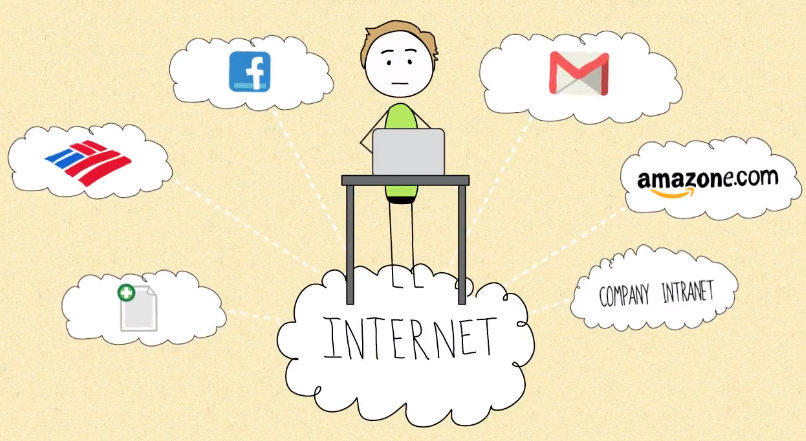 Astrill is a Favorite VPN for China
China is a tough challenge and the grip on online content and VPNs keeps getting tighter by the minute. Astrill takes on the most difficult online challenges to bypass censorship. Now it is still working greatly in China. It is considered a reliable VPN for China among a few other VPN providers. As a sturdy and highly secure protocol, OpenVPN can be detected by the China firewall. Therefore, this VPN supports various protocols. You are recommended to use StealthVPN as your main protocol for it's the only one that is able to bypass the strongest online restrictions in the world including those in China. To make sure everything works fine, we suggest you install and set up VPN before you enter mainland China. If you are already there, you can use Shadowsocks to visit its official website and download VPN client. It will surely help you bypass the strict Internet censorship and unblock millions of banned websites there.


Privacy
Astrill protects your privacy and stops ISPs from monitoring and controlling your online communications and browsing activity. It establishes a secure tunnel over the Internet to protect your data against eaves-dropping, tracking your browser activity and modification of the online content. It masks your IP address, preventing the ISP, web server, advertiser and hacker from tracking you. The provider adds NAT Firewall which is an optional packet filter which offers an extra layer of protection by protecting your VPN's IP address. That means your IP address will be protected by the VPN while the VPN will be protected by the NAT Firewall. This VPN works on desktop, laptop, tablet and smart phones to make a secure Internet connection on the road or at home on all of your devices. You are always protected.
The provider keeps your last 20 connection logs, including connection time, duration and country. Crucially, they do not store any personally identifiable information such as your IP address or physical location. If you don't use Astrill for 30 days, these logs are wiped. Besides, its jurisdiction is a guarantee that your privacy is untouchable without your permission.

Multiple Devices
Astrill provides free easy-to-use VPN apps for Windows, macOS, Linux, iOS, Android and router. On VPN apps, you can use website and device filters, app guard, smart mode and other features. If necessary, connect any device to VPN with Astrill VPN on your wifi router as the VPN routers allow you to share a VPN connection with multiple devices on your network. All routers come pre-installed to be ready for immediate use. The VPN setup on your device is simple and does not require complicated computer knowledge. The Interface is clear. The Windows app has one big ON/OFF button and all settings fit into conveniently small window. Under settings, you can choose which applications and which websites go through VPN connection and which go through your real IP. It has smart mode to let you set tunnel only international websites through VPN and let local websites be accessed directly with your real IP. The apps are easy to use while they are powerful.
Manual Setup on Windows
1. Download the setup installer from Download page. Do note that you need to click on any one of the Windows link and download the file to your computer. It should look like this after been downloaded on to your computer.
2. Double-click the "astrill-setup-win.exe" file that should be on your computer in your desktop, or downloads folders. You might get the security warning that you can safely ignore and run the installer application.
3. You can now proceed with the installation of Astrill application on your computer.
4. It is recommended you restart your computer after installation.
How to use Astrill?
1. Once Astrill application has been installed successfully, you can now run the application. Find Astrill application (looks as grey star icon) on the desktop and double click on it to open.
2. You can now login into Astrill application window by using your Astrill account login details (username is the email address you registered and use the password you set during sign up process).
3. Once logged in you would be connected in Openweb mode by default. You can switch to another protocol as you like.
4. You can select any server of your choice from the drop down list of application.
5. Once you are connected in Astrill application, you are ready to surf! Just check your IP address by clicking on Astrill icon in the system tray and selecting "Check My IP" option. It should open a page to confirm your IP address. If you see Astrill IP, you are good to go!
In any case, if you still face any issues or have any additional queries, feel free to contact the tech support for help.


Useful Tech Support
Astrill VPN provides non-stop support over live chat, e-mail and phone. To help you in time, they are available all the time, 24 hours per day without any exceptions. The support agents are friendly, patiently and knowledgeable. You also can get access to countless configuration guides, certificates, server lists and more. Don't hesitate. Contact them any time when you need tech support or answer to your confusion.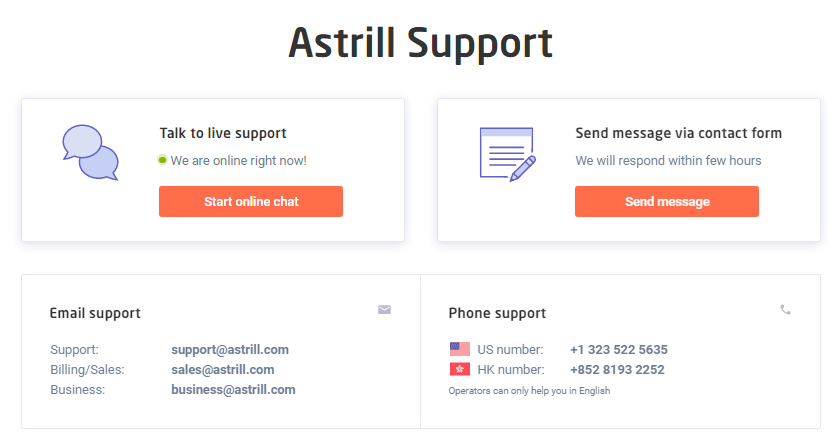 Jurisdiction
Astrill is located in Seychelles. There are no data retention laws within its VPN jurisdiction. That means this VPN company is not bound by the same aggressive regulatory laws that most U.S. or E.U. companies are. The company also claims that all of your information is completely secure with their software. This is very good news for privacy and is definitely a plus about VPN service.

Video About Astrill VPN
Top 10+ Best VPN Services In The World
| VPN Brands | Servers | Country | # of Connections | Price(USD) | Official Website |
| --- | --- | --- | --- | --- | --- |
| | 2000+ servers in 94 countries. | British Virgin Islands | 3 | $6.67/Month (Save 49%) | Best Choice |
| | 1,000+ servers in 60+ countries. | USA | 10 | $4.87/Month (Save 60%) | View Deals |
| | 4410+ servers in 62+ countries. | Panama | 6 | $3.99/Month (Save 66%) | View Deals |
| | 200+ servers in 70 countries. | Bulgaria | 6 | $4.18/Month (Save 50%) | View Deals |
Click Here to Read More Top 10 Best VPN Services »
Conclusion
Astrill is a high-end VPN service which offers all the perks that you expect. It is a great choice for those who want to prioritize privacy without compromising on performance. The provider offers the most advanced encryption and a wide array of security add-ons. It helps you out make the most out of your VPN experience. It enables you to be anonymous and conduct activities privately on the Internet by hiding your real IP address and giving you access to remote servers. The connection speed is fast and there is no problem emerging while switching from server to server. There are many servers available for you to choose from worldwide. There is no need to concern about server shortage or overloaded. Besides, the VPN service provider that is registered in Seychelles. It can live up to the challenge of getting a fair share of the VPN market. This useful VPN comes with reasonable price. You won't be disappointed. Astrill VPN is a bit expensive then you can think about IPVanish which is a great VPN tool.

Published by & last updated on January 31, 2019 6:53 am