If you are concerned about increasing government surveillance or want to foil aggressive advertising, you need a reliable VPN to change your IP address and make it difficult to trace your online activity. If you are looking for a way to access a service that is restricted by geographic region, you need a strong VPN to spoof your geographic location by overriding the IP address assigned by your ISP with one drawn from its pool of servers. The problem is which VPN is the reliable one. It is not an easy job for regular users to find out the useful VPNs. But don't worry. We have done the tough job for you. We show VPN review based on real-time test results. CyberGhost is one of the reliable VPNs with great features. Read this CyberGhost review and you will know it is what you need. Hope the information can help you.
What is CyberGhost?
CyberGhost is a Romanian-based Virtual Private Network which is an easy-to-use, fast, and reliable service. It carefully builds an encoded tunnel between your device and one of its servers with high encryption level. Once it works on your device, all your Internet operations, from surfing, to messaging, downloading or streaming are carried out safely. It has plenty of servers to provide you with options such as anonymous surfing, unblocked streaming and anonymous torrenting. You can be invisible, access geo-restricted sites and download via P2P on the Internet freely at fast speed without getting any trouble.


Pricing & Discount
CyberGhost offers three plans with affordable prices. You can choose from 1-month, 1-year, 2-year and 3-year plans. It offers huge discounts if you opt for a longer term. If you choose 1-month plan, it is 12.99 USD without saving. The 1-year plan is 60% off. It was $155.88 USD for one year. Now, it is only $63.00 USD for the whole year and it is $5.25 USD per month. Bigger discount is available on the 2-year plan which is 72% off. It was $311.76 USD for two years. At this time, it is $88.56 USD for 24 months and it 3.69 USD per month. You can save $223.20 USD in total. It's such a big saving. The 3-year plan is a new offer which includes the biggest discount. It is 81% off. It only costs $89.90 USD for 36 months of VPN subscription. It is $2.50 USD per month. You save $377.64 USD. It is the recommended plan which has the best value. By the way, all plans utilize OpenVPN protocol with AES 256-BIT Encryption for the utmost in security. It is definitely worth every cent.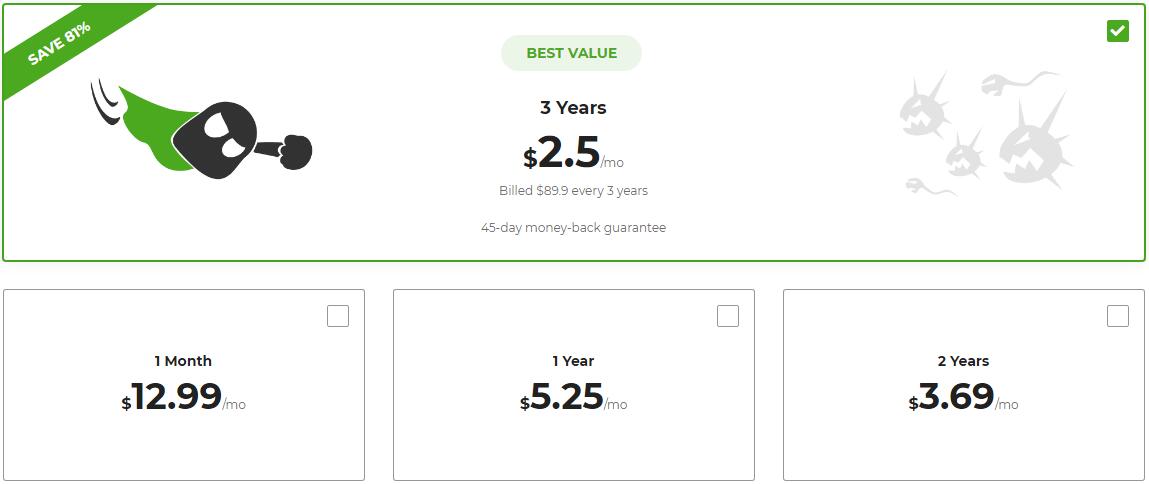 Payment Methods
CyberGhost accepts payment via credit/debit card, PayPal, direct debit and BitPay. Additional payment options may be available depending on your country of residence. Credit/debit card and PayPal are common payment methods, allowing all regular users to purchase a plan without payment issue. It is suggested to choose Bitcoin option as it allows you to make payment anonymously.


Free Version
Usually, free VPN versions come with limited servers or ads. The free version of CyberGhost has ads when working. The ad shows when you start the VPN. We didn't find popup ads after startup when we tested this VPN. This free version allows you to connect to only one device. The speed is not as fast as the paid version while it's enough to help you unblock basic websites and protect your privacy. If you would like to try the free version, it does not require an email which is good for privacy. You can enjoy a trial of the full-speed commercial product for its first three days.
Why CyberGhost?
CyberGhost is a fantastic VPN with reliable connections and speed. The affordable prices, numerous servers and other security features bring it to one of the top VPNs in the market. It encrypts all your online sessions and ensures data remain private from third parties with the highest encryption standard on the open wireless network. It offers over 1250 servers worldwide and helps you spoof your IP address to view content that is restricted to a certain geographic location. You will be able to unblock Netflix, BBC iPlayer and more services abroad successfully. Streaming will be much easier with this service. It's guaranteed to work. No more frustration and no more wasted time when watching your favorite movies and TV shows. You can enjoy the ultrafast experience when browsing, streaming, downloading or playing video games. The provider has no log policy and your privacy is safe. It is provides live 24/7 customer support to answer and help you fix the issue right away. The VPN plans start from 3.5 USD per month and allow up to five devices. Besides, it has 30-day money-back guarantee which means it is a risk free service.


Server Location
CyberGhost owns over 1250 VPN servers in over 50 most popular countries, and the provider keeps expanding the servers to perfect its service. Those servers have been designed and engineered to assist users to conduct online activities freely in the most secure way available. You can swap identity with one of those traffic servers and access otherwise geo-restricted content. It is awful when being blocked from your favorite video games, social media platforms and streaming services etc. after moving to travelling to a different country. Luckily, this VPN provides needed servers to make your favorite services available all the time. The large number of servers does the job effectively in spoofing location and unblocking restricted content. It is suggested to choose a server that is close to your real location to get fast speed when browsing. You can also tailor your browsing with additional features, such as ad blocking, automated HTTPS redirect and data compression. Get CyberGhost deal if you want access to the global network without limit.


High Encryption
To encrypt and safeguard your online and offline data from unwanted prying eyes, CyberGhost utilizes the highest encryption standard and most advanced protocols in developing the VPN. According to the provider, it uses an AES-256-CBC cipher with SHA256 hash authentication for data channel. For control channel, it makes use of an AES-256 cipher, RSA-4096 key encryption and SHA384 hash authentication. AES means Advanced Encryption Standard. 256-bit is the length of encryption code. It is best encryption standard in the VPN industry. The leading banks, schools and government agencies etc. use the same encryption protect their confidential data.
Besides, CyberGhost uses the PPTP, L2TP/IPSec, OpenVPN and IKEv2/IPSec tunneling protocols to create encrypted connections. Don't know which protocol you need? When using the VPN, OpenVPN is the default protocol but can be switched manually to L2TP or PPTP. OpenVPN protocol is the most secure one. PPTP is the fastest protocol. L2TP/IPSec and IKEv2/IPSec also are good. Choose any one to suit your network. Switching between different protocols is relatively easy and quick. With the uncrackable protection, nobody will be able to sneak a peek into your private conversations, bank account number or online transactions while you are connected to public Wi-Fi networks or any other kind of network.


Perfect Forward Secrecy
CyberGhost also utilizes perfect forward secrecy as an additional security measure. Perfect forward secrecy means that a piece of an encryption system automatically and frequently changes the keys it uses to encrypt and decrypt information. That makes it almost impossible for others to view your privacy. Perfect forward secrecy is provided by an ECDH-4096 key exchange with this VPN. The hackers and government will not be able to decode your online data. You can transfer business data and other important files to your partner over the Internet without any concern.
Privacy
CyberGhost takes user privacy seriously. When connecting to one of its encrypted servers, your IP will be hidden and replaced by one of their own. This address will be shared by others using the same server as an additional layer of security. Its VPN client automatically provides protection against DNS leaks, IPv6 leaks, and port forwarding leaks. You can also block tracking while browsing so that sources uses trackers will not be able to load content on the websites you visit. Besides, the provider doesn't log user's behavior, web targets or communication. Payment and registration details aren't logged and users are given an anonymous ID. They don't store any information related to your identification, let alone selling it to the third parties. Here is what the provider states on the website:
"Our servers keep no logs. We don't track your activity over the Internet. There's no way someone could track you back after you have visited a certain website on the Internet if you were connected to a CyberGhost VPN Server."
If you still want more to ensure privacy, you can remove information about the operating system, the browser version, and the browser language. How to achieve this goal? It's so easy. In the Settings menu, there is also a "Privacy Control" setting which lets you change the header information that browsers provide websites when visiting the page. You are the only person who knows what you are doing online. Your privacy stays safe with this provider.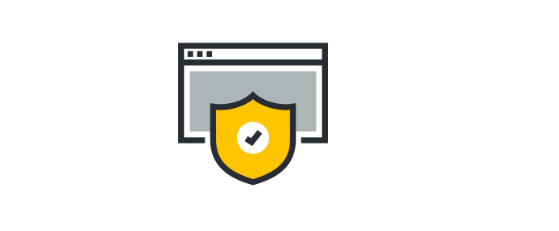 Internet Kill Switch
As we know, even the best VPN on the earth may drop due to connection issue. To deal with unexpected drop, CyberGhost offers Internet kill switch feature. Usually, this feature is enabled by default. If the VPN fails to work normally, it disconnects your Internet traffic automatically. In this case, you can choose to go on without protection or wait until the VPN connection is restored. If you think disconnecting all applications is inconvenient, you can set specific apps that will stop working without VPN protection in settings. You can use the App Protection option in the settings menu to specify it. In this case, your information won't be exposed for torrent when VPN drops.
Access Restricted Content & Unblock Streaming Services
Do you wish to access certain sites from your university or workplace or stream your favorite online TV shows at home or maybe live in a country with high Internet censorship? To make sure people concentrate on studying or working, some schools and companies block network in their places. You won't be able to watch videos on YouTube or chat on WhatsApp in some places. You probably have encountered at least once the problem of censored or geo-restricted content if you are a heavy Internet user. How to fix the problem? Get a VPN. CyberGhost is an efficient and user-friendly way to access geo-restricted websites. It assists you bypass filters and firewalls, enabling you to instantly visit your favorite websites at your school, office or abroad.
Though some streaming services block VPN access, CyberGhost never stops trying and it is great in defeating geo-restriction. If you're looking to unblock streaming, this VPN allows you to choose from Netflix, BBC iPlayer, YouTube, and Amazon Prime etc. from the main dashboard. During our VPN test, we were able to seamlessly stream 1080p video without buffering when connected to servers in Canada, Germany and the US. It worked stably and the connection didn't drop at all while surfing. You also will be able to play online games without any noticeable lag.
Besides, many users choose it to bypass the Great Firewall of China and unblock basic websites. It is well-known that China and Turkey are practicing censorship across their entire Internet, blocking very common websites like YouTube, Google, Facebook and Twitter. It's so frustrating to see that a lot of websites from your country are restricted when on vacation or traveling abroad for business purposes due to IP address in different country. Luckily, CyberGhost helps you circumvent the Great Firewall of China and easily access restricted content on the go, no extra skills or costs required. You can enjoy the Internet freedom no matter where you are. Besides, this VPN supports torrent/P2P, offering a special user profile designed to allow you to torrent anonymously. It automatically connecting to the fastest torrent-enabled server and optionally launching your torrent client at the same time. Use your favorite apps and enjoy your favorite show anytime and anywhere.


Block Ads & Malicious Content
In those days, ads and malware are commonly on the Internet. They are developed to monitor Internet users and collect sensitive information. They can adapt their content to what you look for online and thus boost their sales. How to stop the potential threat? Use a VPN. CyberGhost helps you block ads by removing tracking code and other website elements that try to pull and ad from a dedicated server. This feature is different from an ad-blocker as browser extension. This processing happens on servers. That means less data is transmitted to you.
There is a large amount of threat on the Internet, starting from sites that host viruses to sites that imitate something you are familiar with just to get your personal information like credit card details. With this VPN, the threats are away from you. Its malware blocker will verify the URL of the website which you are requesting to make sure it's safe for you. Its server checks this against a public database, replicated in its environment so it can control the anonymity. You don't need to purchase the anti-virus software. That helps you save money.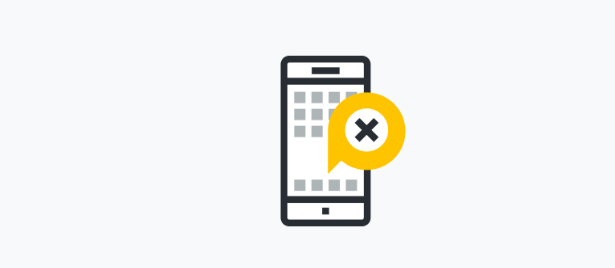 Easy-to-Use VPN
CyberGhost client software is a German-made one which looks very professional and offers many of the features found in the desktop client. At the same time, it is very easy to set up and use. With few clicks, you can finish the setup quickly regardless of your computer knowledge. Its clients are compatible with Windows, Mac, iOS, Android, Windows Phone and Linux, as well as on ChromeOS and routers running DD-WRT and Tomato USB open-source firmware. It allows you to get simultaneous top-class protection on up to five devices. If you own over five devices, we suggest you set up VPN on router to cover all device in the house. Protect all your devices with one account.



On the dashboard in settings tab, it gives you a choice of surfing anonymously, unblocking streaming sites, protecting your Wi-Fi connection, using BitTorrent, unblocking websites frequently blocked overseas or manually selecting a server to connect to. It is free to choose any mode you need. By the way, closing the dashboard won't cause CyberGhost disconnection. It will continue to run in the system tray. To access it again, you can right click. Then, it will display a mini dashboard showing your server location, IP and session duration. You will also see the option to disconnect or switch to a recently selected service. The client is an all-in-one online privacy app. The settings and interface are neat and easy to understand. Don't worry about the tech issue. You also can seek for customer tech support.


Customer Services
CyberGhost offers live chat, ticket, guides, troubleshooting pages and FAQs. It offers 24/7 live chat. When we tested the VPN and contacted them, the Live Chat agent was quick to answer and friendly. Feel free to contact them if you have issue. If you contact them via ticket, you need to wait for hours to get respond. In addition, the website offers tons of guides to help you troubleshoot. You also can find instant and useful solutions in the FAQs area.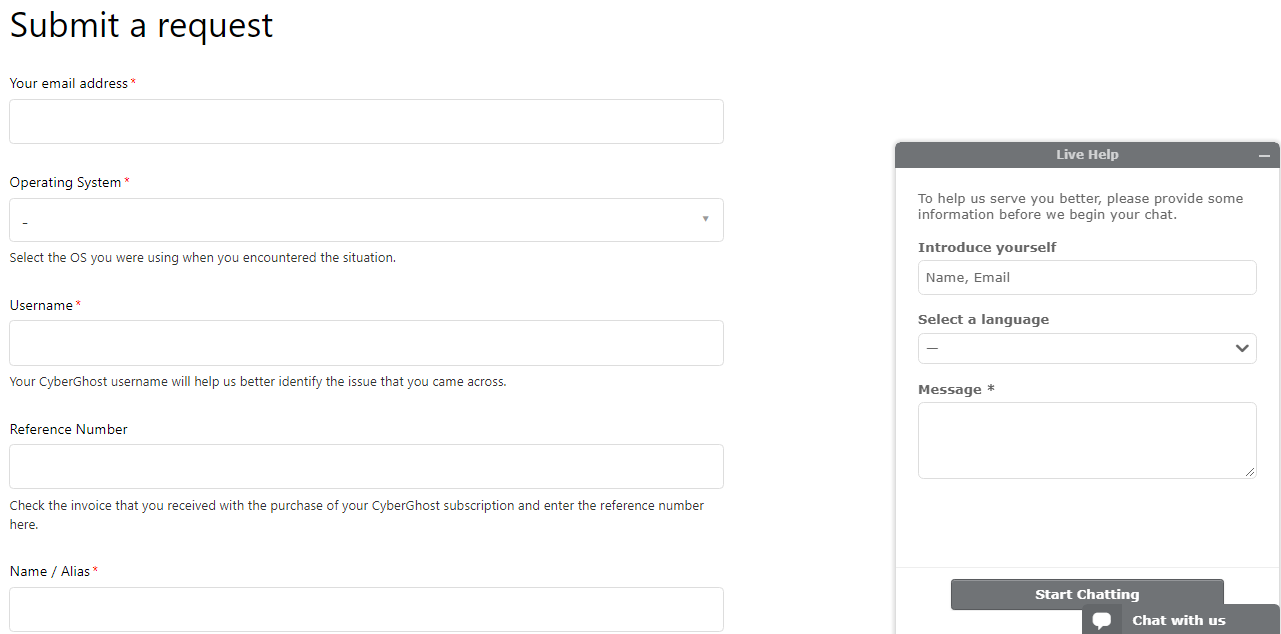 Top 10+ Best VPN Services In The World
| VPN Brands | Servers | Country | # of Connections | Price(USD) | Official Website |
| --- | --- | --- | --- | --- | --- |
| | 2000+ servers in 94 countries. | British Virgin Islands | 3 | $6.67/Month (Save 49%) | Best Choice |
| | 1,000+ servers in 60+ countries. | USA | 10 | $4.87/Month (Save 60%) | View Deals |
| | 4410+ servers in 62+ countries. | Panama | 6 | $3.99/Month (Save 66%) | View Deals |
| | 200+ servers in 70 countries. | Bulgaria | 6 | $4.18/Month (Save 50%) | View Deals |
Click Here to Read More Top 10 Best VPN Services »
Conclusion
CyberGhost is a leading VPN provider which has more convenient features than most other VPN services. It protects your privacy and secures your online data with the best encryption and protocols. It automatically protects you every time you are connecting to a new WiFi or Internet connection. You will not be vulnerable in a hotel, airport, restaurant or any other public places. This VPN provides outstanding server locations and anonymous IP addresses to keep you private and safe on the Internet. You also can download via torrent anonymously. It remains connected at any time even when you're away from your device. The eavesdroppers have no chance to view your privacy and steal valuable information. The global servers enable you to access geo-restriction content and defeat strict Internet censorship to get unlimited Internet access. Most importantly, your privacy will be highly protected by this VPN. CyberGhost was originally developed in Germany, the company later moved to Romania, a country in which there are no mandatory data retention laws. This is good news for users seeking privacy as personal data can only be retained if unequivocal consent is given. Now, it has been purchased by an Israel company and the company states that it will continue to run independently in Romania. Anyway, Israel doesn't currently have any data retention laws in place. Besides, transparency and willingness to engage with the public about security and privacy issues is uncommon among VPN providers. That makes it very popular all over the world. Additional, the price of this VPN is friendly. You can get up to 81% off. It starts from $2.50 USD per month. It is a risk free service as it offers 30-day money-back guarantee. CyberGhost is a reliable and affordable VPN service.

Published by & last updated on January 29, 2019 8:53 am