Hi. I need help of getting rid of FBI illegal child porn accusation. I have been wronged. I did watch porn, but it's not child porn. Now I have to pay $ 500 to unblock my Samsung S8. What should I do? Is there a FBI App Designed to Monitor Illegal Porn?-How to Remove False FBI Accusation? Is there anyone who had been in jail for FBI warning on phone? Please help. I am scared.
Is FBI Illegal Porn Warning Real?
In those days, many devices have been locked by FBI illegal porn warning which demands a ransom to unlock. Is this warning real? Is there a FBI App Designed to Monitor Illegal Porn? The answer is no. It's the fake popup brought by a virus. Some of you may hear that the FBI distributes child porn and catch those ones who watch, thus believing that it's the FBI app designed to monitor illegal porn. In fact, they are two different cases. The fake police threat locks your mobile device and asks for a fake fine, and you didn't watch child porn. It is designed by the cyber criminals to trick the innocent smartphone users and set them into a panic and then threaten them to pay for the ransom erroneously. If the real FBI caught you for watching illegal porn, they would arrest you directly.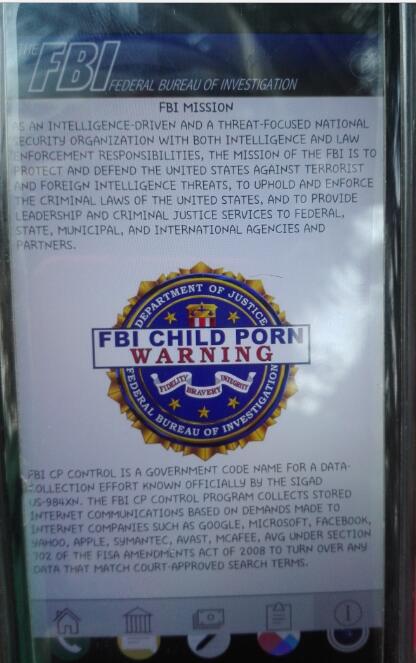 What can Fake FBI Virus Do on Your Device?
The fake police warning takes your device hostage and demands a ransom to unblock. Hence, we call it ransomware. Ransomware attacks are typically carried out using a Trojan virus that is disguised as a legitimate file that the user is tricked into downloading or opening when it arrives as an email attachment. Commonly, ransomware viruses exploit the names of authorities including the FBI, USA Cyber Crime Investigations, The ICE Cyber Crime Center, Department of Justice, CeU, Metropolitan British Police and AFP etc.
On the locked screen, you may see "ATTENTION! Your phone has been blocked up for safety reasons listed below." It may accuse you of watching banned pornography, using copyrighted files or other law violations. Pictures of child pornography, zoophilia and rape etc. are shown on the screen. It deceives you to believe that your device system has been controlled and blocked by FBI agent, requesting an immediate fine from you to avoid further criminal charges.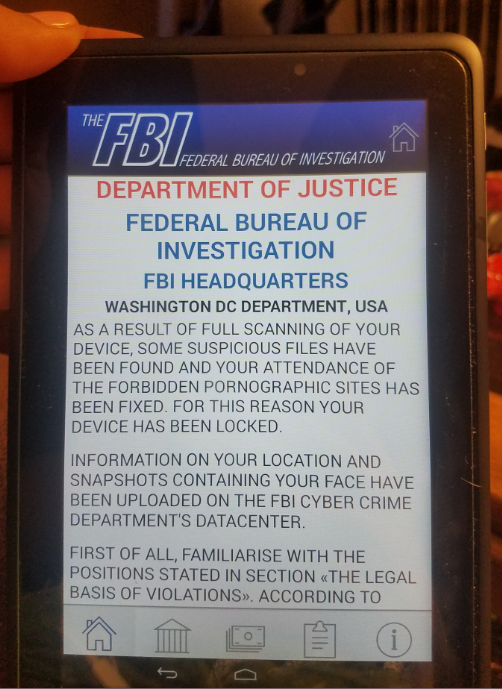 To make the warning authentic, it displays some your personal information, saying that your Internet address has been identified by the FBI or Cyber police due to having been associated with child pornography sites or other illegal online activity. It has your IP address, location, device system and contacts. A picture of political leader may be displayed there next to the FBI logo, pointing at you. By showing part of your contacts, it threatens that your family and friends will get message and notice your illegal activities. According to victims, some infected mobile devices did send an SMS message to all contacts in the address book. Some device didn't. It may depend on the version of virus you have. It may tell you that your friends also will be interrogated for your crime. The fake FBI virus even activates your camera and takes a picture of your face without your permission. It says your profile has been uploaded to FBI crime data center. If you don't pay the penalty in time, you will face an investigation from police and go to jail in the end. Is there a FBI App Designed to Monitor Illegal Porn?-How to Remove False FBI Accusation? Imaging that your face is placed with the FBI warning, it is really horrible. However, you need to calm down. Though it looks genuine in a way, the warning actually has nothing to with the real police.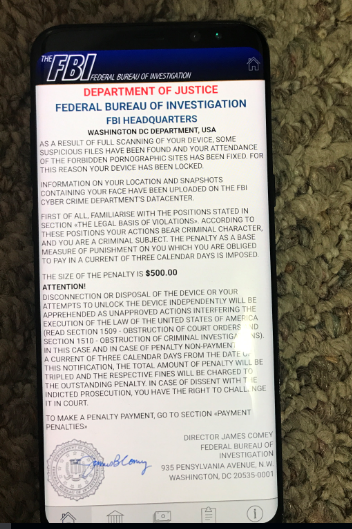 In most cases, cyber criminals employ the Green Dot MoneyPak, Ukash, Onevanilla or PaySafeCard pre-paid card services to collect fake fines from unsuspecting mobile device users. Why would they choose prepaid card? It is because the criminals can't be tracked for prepaid card payment. Usually, it demands a fine of $ 100 USD to $ 500 USD within 48 or 72 hours. It also has a countdown there. What will happen after the fake FBI fine time runs out? Will the police come to arrest you? No. You are fine with the police. The only problem is the virus will stay in your device and may corrupt your files. Some viruses even reset your PIN to prevent you from access the system to get rid of FBI warning. Besides, the virus is a big threat to your financial information. If the FBI illegal child porn appears on your device, you need to take action immediately to get the virus files removed from your device to prevent further loss.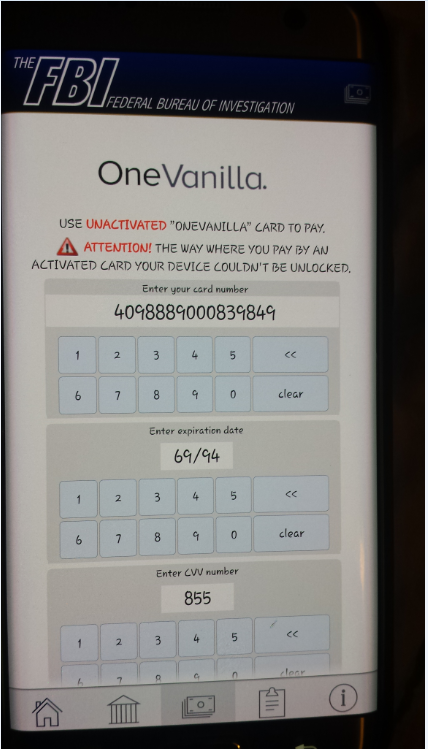 Should You Pay the Fake FBI Fine?
Is there a FBI App Designed to Monitor Illegal Porn? According to the Internet Crime Complaint Center, many victims fell into the scam. However, computer experts suggest you never pay the fine. On one hand, the warning is not issued by the FBI. Yu didn't violate the laws. On the other hand, it won't help your blocked device though you pay the penalty as it requires. According to victims, they saw "Your requested will be processed in 24 hour." They waited for days and the devices were still locked. That means it is useless to pay the fine. The only way to get rid of FBI illegal porn warning is to remove the fake police virus completely. You need to contact professionals to help you remove the nasty virus from their devices.
Is there anyone has been in jail for illegal porn. There was a special case. A 21-year-old Virginian boy was sufficiently stunned to receive a pop-up "FBI Warning" telling him to pay a fine for child pornography. He chose to go to his local police station with this computer. Finally, he was arrested and out in jail as the police fund alleged inappropriate messages and images found on his computer. He was jail not because of the FBI warning on his computer, but arrested for illegal Child porn he stored as well as inappropriate messages & images. The difference between them is this boy did store and view illegal porn.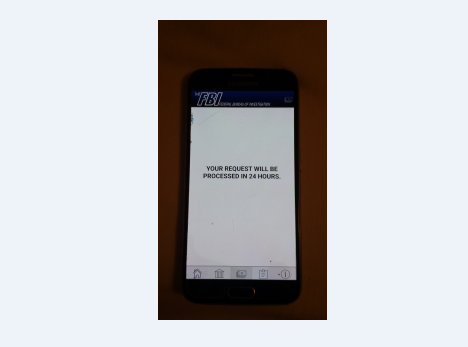 Manual removal process, which requires advanced computer knowledge and abilities as well to deal with the virus manually, is suggested here as the most efficient way of unlocking android mobile from ransomware Virus. Due to the changeable characters of virus files and associated settings, we suggest you contact computer experts for help.
How to Remove False FBI Accusation? Since paying the so-called fine won't help you remove this scam virus, manual removal is an effective solution for this. Just delete the rogue software behind this fake warning manually. Processing manual removal is supposed to have a certain level of tech skill. If you are not sure how to start and are afraid of making any critical mistakes damaging the mobile device, please live chat with YooCare Expert now.

Step-by-step Guide to Unlock Your Android mobile phone from this scam virus
Step 1: Please try to put the infected android device into Safe Mode at first to unlock the screen temporarily from the powerful scam virus
(1). For various android phones: hold down the power button to bring out the menu with Power Off and Reboot option—-hold down the Power Off option (If nothing happens, please tap and hold the Reboot option instead)—-click OK on the pop-up box asking if you want to access safe mode.
(2). For Samsung Galaxy S4 and Samsung Galaxy S5: power off the device first. Press power button to power it on and tab the soft-touch Menu button repeatedly
(3). For Samsung Galaxy S3 and other phones with similar customized android system: power off the device—-turn on and hold down the Volume Down button (try Volume Up or Volume Down and Volume Up together if Volume Down does not work) when the brand logo shows up
You will see "Safe mode" at the lower left corner of the screen if you access safe mode successfully

Step 2: Search and remove suspicious files which are related to the virus
Step 3: Reboot the device to get out of safe mode.
Conclusion
Is there a FBI App Designed to Monitor Illegal Porn?-How to Remove False FBI Accusation?
The malicious virus attempts to extort cash from a victim by flashing a warning message and pretending to be from the FBI. It claims that the victim committed an illegal act online, typically downloading child porn or using or distributing copyrighted music or videos. Users can be compromised with porn virus simply by visiting a website that has been seeded with malware which is a tactic known as drive-by download. To avoid being scammed, you should keep in mind that the FBI doesn't usually send you a pop-up online notice, asking if you could kindly pay a fine for child pornography. Ignore the false accusation and do not pay the fine. However, there is one thing you must do as soon as possible. The dangerous virus must be removed soon. The virus is very aggressive and harmful. Certain types of viruses have been known to capture personal information such as user names, passwords, and credit card numbers through embedded keystroke logging programs. More viruses may be downloaded with the help of remote hackers to damage device and steal valuable information. Your device and money are at risk. If you remove the virus on your own without professional guide, the virus may still operate in the background. To get rid of fake FBI illegal porn virus completely, contact experts from tech support.
Suggestion: How to Remove False FBI Accusation? Manual removal is a skillful and risky job, if any mistakes are made during the removal process, you may damage your device immediately. If you are not sure how to start, please contact YooCare PC experts online for help right now.


Published by & last updated on March 23, 2018 8:21 am