Is Windscribe promo code available? If yes, how do you get the valid promo code, voucher code, coupon code or discount code to save up to 75% off? Windscribe VPN is a reliable, safe and super fast VPN service in the world. If you still get confused by the numberless VPNs in the market, we would like to recommend Windscribe VPN as it is really a secure, fast and stable VPN with reasonable prices. You come to the right place if you are searching for the best deal offered by Windscribe, originally, one can use Windscribe promo code or voucher code to apply for extra coupon up to 75% off, now the codes has been closed, the most popular deal is 1-Year plan and you can save 55% off discount for your order.
What is Windscribe VPN?
Before we decide to use Windscribe VPN service let learn more about it again. Windscribe is based in Richmond Hill, Ontario, offering both paid and "free" VPN tiers. It is a transparent and reliable service. Its mailing address is 9251 Yonge St #8901, Richmond Hill, ON L4C 9T3, Canada. The company's founders are Yegor Sak and Alex Paguis, as first discovered on LinkedIn. Though its Jurisdiction is in Canada, it does delete all connection logs three minutes after a connection to the VPN ends. They won't be able to provide users' privacy to the government as they don't have it. Windscribe VPN is a great choice when it comes to privacy and encryption. It secures your online data with advanced technology and masks your physical location from 3rd parties in an encrypted tunnel. Also, it helps you access blocked service with the best VPN servers and blocks annoying ads. With Windscribe VPN, you can browse the web privately, watch American and British Netflix normally with advertisements blocked. And All due to the highest level of encryption that Windscribe offers, you don't need to worry about what your ISP can see, and never afraid of your traffic being intercepted and your information being sold.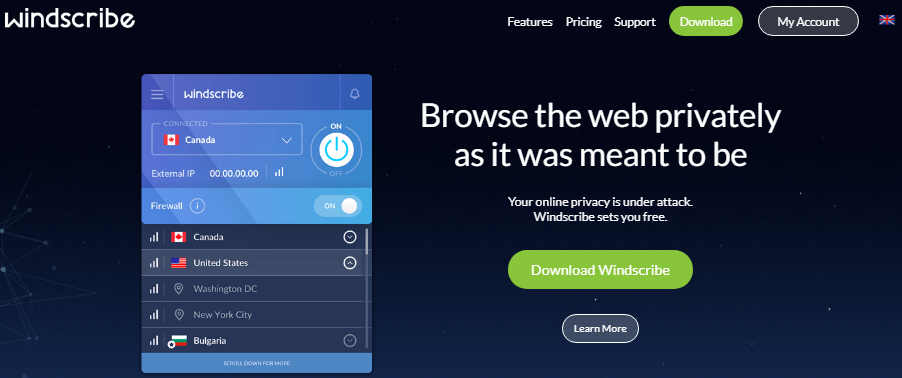 Windscribe Pricing and Plans
Windscribe VPN has free plan and pro plans for all users, you can choose any one of them. You can get more information below:
1. Windscribe Free plan
Windscribe generously provides free plan without strings attached for those who are on a tight budget. With a confirmed email address, you get 10GB/month of data, unlimited connections and access to over 10 countries. On a positive note, P2P downloads/torrents are allowed. That is greater than other providers.

2. Windscribe Pro plans
The pro plan starts from $4.08 USD per month. You can choose to be billed monthly or annually. It is $9.00 USD per month if you choose to sign up one month for one time. The annual plan is the best value for you to save 55% off. If you purchase 12 months at a time, it is $49.00 USD for one year and $4.08 USD per month. You can save $59.00 USD.
Of course, it is not only the discount. On the payment page, it allows you to use promo code to another 20% off. That means you can get up to 75% in total. But it is limited time offer and has been closed. Except for that, one still can build a plan himself, only $1 USD per location, per month.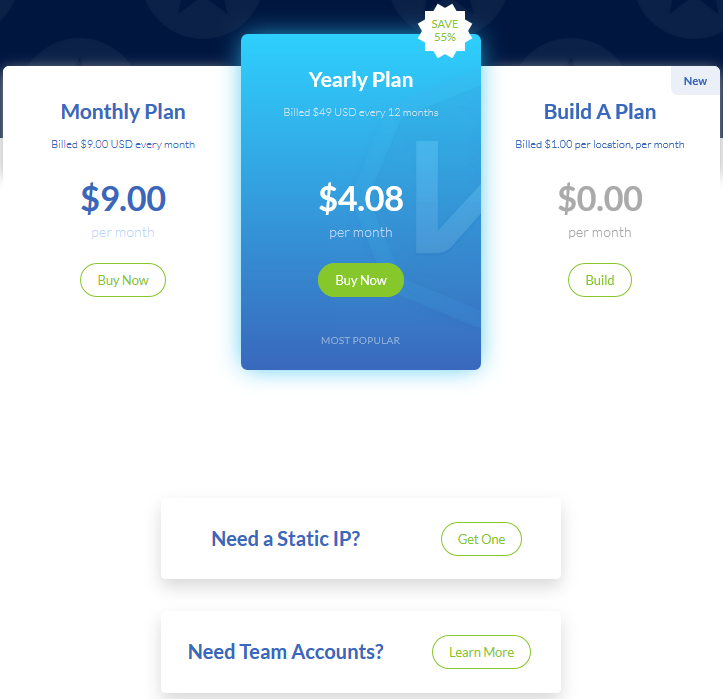 Why Windscribe VPN?
Windscribe is one of the most reliable VPN providers. It is a full-featured service which gives subscribers secure access to servers in 100 cities. The worldwide servers assist you to unblock geo-restricted content and government banned websites at excellent speed. The highest encryption standard and most advanced protocols are applied to ensure the safest online traffics. It helps you go beyond basic VPN protection, stop tracking and leaking personal information so that you can browse privately. The hackers won't be able to view your content and steal confidential information even when you are using the public network. Likewise, it has many privacy options like kill-switch, ad-blocker, and anti-social feature. It gives no chance to anyone to access your privacy without your permission. You have unlimited bandwidth and the ability to connect unlimited devices at a time. It protects your connections no matter you are at home, on a trip at hotel or airport. There is no more information leak, cyber attack and blocked content with Windscribe VPN. By the way, big discount is available on the annual plan currently, you can get up to 75% off Windscribe promo code. But they do not offer discount/promo codes to individual users. Sometimes they have limited-time discounted offers, and they usually email everyone about them. I don't know when they will have the next one, since you can get so many benefits from this famous VPN provider, why not just get it now? Or you still want to get more instructions about it like its features? Then go ahead.

Features of Windscribe VPN
Worldwide Server Locations
Windscribe has one of the most diverse networks out there with servers in over 50 countries and 100 cities. All severs are physically in the locations that they are advertised to be in. The provider will not fake the location with false IP WHOIS data to make it appear that it's elsewhere like some providers do. The VPN service has servers located all around the world including in the eastern and western United States, the UK, Canada, Hong Kong, France, and Germany. To get the best speeds possible, you should connect to a location closest to you geographically. Thanks to the huge VPN server collection, you have more chances to get good speeds even though you travel a lot. In order to maximize your speeds, the browser extension will automatically connect to the best location. If you are trying to access a geo-blocked service, it will automatically change the connected location to the required one to unblock the desired service. There is no need to switch connections manually. The difference in servers between this service and others is they also have servers in many less developed countries like Ukraine, Thailand, Azerbaijan, Indonesia, Brazil and even Israel and Libya. This sets them apart from the competition.

Strongest Encryption
Windscribe utilizes AES-256 cipher with SHA512 auth and a 4096-bit RSA key for client. TLS 1.2, ECDHE_RSA with P-256 key exchange and AES_128_GCM cipher have been used on browser extension. The provider also supports perfect forward secrecy. Likewise, it allows you to connect on a wide range of common ports and protocols. This VPN supports UDP, TCP, Stealth, IKEv2 and OpenVPN. Among them, OpenVPN is the recommended protocol 21, 22, 53, 80, 143, 443, 587, 1194, 3306, 8080, 8443 and 54783 ports. You are allowed to generate configuration files and profiles for OpenVPN, IKEv2 and SOCKS5 for all your devices.
In order to give you the best connections, Windscribe does not restrict you to a single protocol or port. There is not extra charge for port switches. It allows you to connect via the most common ports. Many of them cannot be blocked as the Internet would become impossible.

Secure Hotspot
Windscribe allows you to create a secure Wifi hotspot right on your computer. You won't be attacked or monitored by cyber criminals, ISPs or government when using hotspot at public places. At the same time, you can authorize others to connect to the hotspot and take advantage of your safe connection and they don't have to install VPN on their device.

How to share secure WiFi of this VPN with friends?
1. Go into Windscribe Preferences.
2. Select "Share" and enable "Secure Hotspot"
3. Choose the network name and create a password, and click OK.
4. Find the Wifi network on another device and connect with the password that you chose above.
In this way, your friends can enjoy the VPN protection without installing anything. At the same time, this VPN lets you create a proxy server on your network for other devices. Even though other devices do not support VPN protocols, they still can be protected by Windscribe after being connected to your machine. To fulfil this purpose, go to Preferences, select Share and enable "Proxy Gateway". Then, choose the proxy type you wish to use, HTTP or SOCKS5.

Windscribe VPN & US Netflix
Windscribe is able to bypass Netflix VPN block and help you unblock the content with restriction no matter where you are. It is a pity that this feature is not available on iOS which will be added soon. This VPN allows you to access Netflix on the rest platforms. By simply connecting to the server WINDFLIX location, you will gain access to the expanded Netflix library. When you travel abroad or moving to another country, you are still able to enjoy all the shows that you normally watch at home.
You also can unblock YouTube, Facebook, WhatsApp which is blocked in some countries with strict Internet censorship with the help of this VPN. In countries like China and Turkey, the government spy on users' online activities and censor the Internet strictly. Lots of famous international services and websites are blocked in those countries. Luckily, this VPN masks your IP address and connects you to servers in different countries. This gives you unrestricted and private access to entertainment, news sites, and blocked content in over 50 different countries. As the VPN allows unlimited bandwidth and helps you avoid ISP throttling, you can stream videos on all platforms at amazing speed. Windscribe VPN makes blocked services available in any country you are located.

Windscribe P2P
Windscribe allows peer-to-peer file sharing on almost all of its servers. For those where it's not allowed, you'll see a small P2P icon with a slash through it to the right of the country name. If P2P is not allowed in your country, get this VPN. It will hide your real IP and connect to remote server. Your ISP and government will not know who you are on the Internet. You won't get caught for P2P sharing. At the same time, the VPN does not limit your speed and bandwidth. You can enjoy the fast and secure P2P freely regardless of your ISP or government policy. So far, only the India and Japan servers of this VPN disallow file sharing. The rest servers embrace P2P.
VPN Firewall
Windscribe Firewall is built into the Windows and Mac client. It blocks all connectivity outside of the tunnel. If the VPN connection drops, the firewall will not allow a single packet to leave the machine. That ensures that there is zero chance of any kind of leak, including but not limited to DNS leaks, IPv6 leaks, WebRTC leaks, etc.

Privacy
Your privacy will be highly protected by Windscribe VPN. It keeps your browsing history private from your network administrator, ISP, or your mom. When you connect to public network, it prevents hackers from stealing your data and blocking nasty advertisers from stalking you online. Also, the cookie monster destroys all cookies set during a browsing session once a tab is closed.
As each browser is able to identify your operating system and other information to record your every single move on the Internet, this VPN offers split personality features, rotating your user agent between the most common ones out there to reduce the chance of fingerprinting.
Even the provider doesn't access your private online activities. By providing strict no log policy, Windscribe VPN provider does not use any 3rd party tracking or analytics services. They do not keep connection logs, IP timestamps, or monitor your activity. Session data is discarded within 3 minutes of you disconnecting.
The website only requires a username and password when you signup the VPN plan. If you wish to be able to recover your password, you can choose to provide email address. Besides, the provider uses third party payment processors. Only your payment transaction ID will be stored for a period of 30 days for fraud prevention purposes. If you make payment via bitcoin, the payment detail will be discarded after being confirmed. By the way, they keep the total amount of bandwidth used in a 30 day period to enforce free tier limitations and prevent abuse. That is so cool, why not just try Windscribe VPN now? And right now no Windscribe promo code is necessary to get the best deal as code has been added to discount.

Double Hop
Windscribe supports double hop which is an extra layer for security protection. It lets you to route your traffic through any two locations from the provided ones. When it works, it connects to one location in VPN desktop client and connects to a different location in the browser extension. Others will see your real IP of the server you are connected to instead of your real one. This feature provides enhanced privacy and anonymity as it significantly reduces the chance of a correlation attack with the help of the VPN servers.

Ad Blocking
If you picked a wrong VPN, you might notice many ads popped up when browsing. That is very annoying, interrupting your works badly. When you use Windscribe VPN, it removes those unwanted ads and blocks trackers that are able to compromise your privacy. It not only blocks ads from browsers, but also blocks annoying ads from social network. The ads will not be able to collect your browsing histories. You will have greater privacy and anonymity, and the websites will load fasters without ads. The ad blocking feature is built directly into the VPN client and activated server-side. It works once you connect to VPN and you don't need to click on or toggle anything.

Simple Client
Windscribe provides extremely minimalist clients for all platforms which make getting started a breeze. You don't have to spend a long time on configuring a dozen settings. Installation and setup can be done within one minute. It supports all major systems and devices. No matter you prefer Apple or Android, this VPN is able to protect you. It also allows you to set up VPN on router to protect all devices in the house. On browser, it has Secure.link Generator feature which is a link-shortening service with a security-aware twist. When you click on a link, it takes you to a landing page where you can see the name of the webpage you're visiting, how many advertising trackers the page has, and a privacy letter-score rating. Your link and message can be encrypted with a password and they only can be opened by users with the appropriate password. Your online activities keep private. By the way, the free plan allows only 1 device. Although sharing accounts is prohibited, the pro plan offers users an unlimited number of simultaneous devices. That is amazing.

Computers – Windows, Mac OS, and Linux
Browsers – Firefox, Chrome, and Opera
Phones/Tablets – iOS, Android, Blackberry
TV – Amazon Fire TV/Fire Stick, Nvidia Shield, Kodi
Routers – DDWRT and Tomato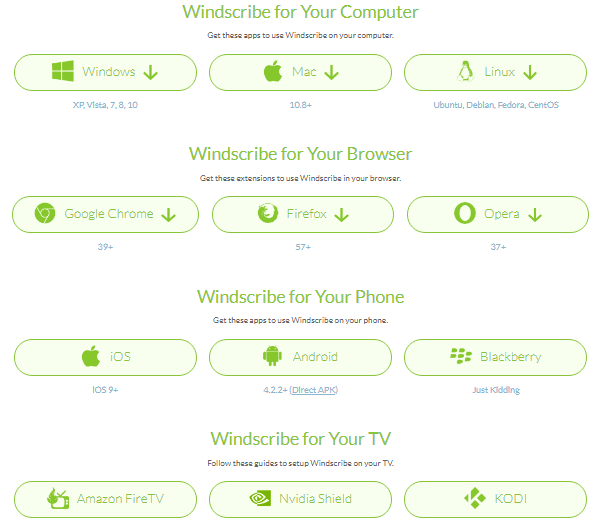 Payment Method
Windscribe accepts payment via credit card, PayPal, Paymentwall, and Bitcoin, allowing for varying levels of anonymity. Credit card payment is very convenient as it has been widely used in all countries. Bitcoin is the best choice for anonymous payment. During the payment, you can choose to provide email or not to. The email is used to reset or recover your password.

Customer Support
Windscribe offers some basic guides and articles. The information is written in plain words and easy to understand. All guides come with video that are very clear. They also have an FAQ section that answers a number of the common questions. You can find your answers to VPN issues there. That has been found very useful. To get technical support, you can choose Subreddit, Talk to Garry or submit a ticket. They also have a reddit page that appears to be fairly active. Garry can help any problems you may have. It is will be faster to an answer. Ticket via email is good, but it will take some times to respond.

Video Guide On How to Get Best Deal With Windscribe VPN
Top 10+ Best VPN Services In The World
VPN Brands
Servers
Country
# of Connections
Price(USD)
Official Website
3000+ servers in 94 countries.
British Virgin Islands
3
$6.67/Month (Save 49%)
Best Choice
5159+ servers in 60+ countries.
Panama
6
$2.99/Month (Save 75%)
View Deals
3,307+ servers in 32+ countries.
USA
10
$3.49/Month (Save 65%)
View Deals
1,300+ servers in 60+ countries.
USA
10
$6.49/Month (Save 46%)
View Deals
200+ servers in 70 countries.
Bulgaria
6
$4.18/Month (Save 50%)
View Deals
Servers over 34 countries &

Still work in China

.
Czechia
5
$4.88/Month (Save 20%)
View Deals
Click Here to Read More Top 10 Best VPN Services »
Conclusion
Summary of Windscribe Promo Code & Voucher. Windscribe VPN is one of the new VPNs in the marketplace while it has grown steadily to become one of the top VPN service providers. It has the most advanced encryption technologies and takes several measures to make sure user privacy and anonymity are protected. It adds various security features to the client and makes the client easy to use. One account covers unlimited number of simultaneous devices. You can use it to protect all of your devices. The provider offers a large number of server locations around the world. You get secure connections at blistering speed. It is fast enough to stream in HD. The smart servers also help you bypass geo-restriction and government censorship to unblock services from anywhere. Windscribe VPN comes with a free version as well so new users don't have to worry about their money. The paid plans are affordable as well. The annual plan is 55% off and it starts from $4.08 USD per month. Without using Windscribe promo code, you can save 55% off. Get Windscribe VPN immediately for this is limited time offer.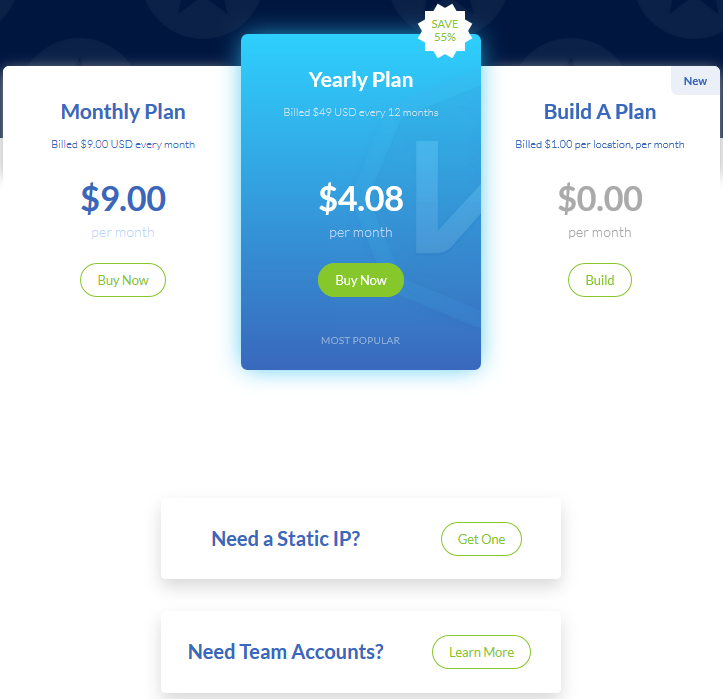 Warm Prompt: Windscribe may not be the cheapest product out there, but you get what you pay for. The Promo code is only available for a limited time, but one still can enjoy 55% off the yearly plan of your VPN purchase, just 4.08 USD per month. Or you can build a plan yourself, billed $1.00 per location, per month.
Published by & last updated on May 6, 2019 8:27 am