Is TorGuard a great VPN service? You can get the answer in this article. Are you new in VPN service? VPN stands for Virtual Private Network which is an advanced Internet security solution while it is very easy to understand. A VPN creates an encrypted and private tunnel for you. All your Internet data will go through this secure tunnel and others can't see the content in this tunnel. When you use a VPN, you are connected to a VPN server and your IP address as well as virtual location is changed. Your real IP address is hidden. All the VPN servers are encrypted. That prevents others from viewing your online session or tracking your online activities. The VPN servers also help in unblocking restricted contents. How to pick a proper VPN for your need? You can read VPN review to see which service offer features you need. In this page, we will learn about TorGuard VPN. Hope this TorGuard VPN review helps you.
Brief Information of TorGuard
TorGuard is a reliable VPN provider that is relentlessly committed to security and Internet users' rights to protect their online privacy. The provider offers wide range of package plans to meet your diverse needs. It fulfills not only your privacy and security needs, but also helps you evade geographic restrictions. This VPN utilizes advanced encryption technology and supports complicated tunneling protocols to deliver a secure network. That protects your data from unauthorized access and minimizes possibility of hacking attempts. You are free to browse any website without being censored by ISP or government.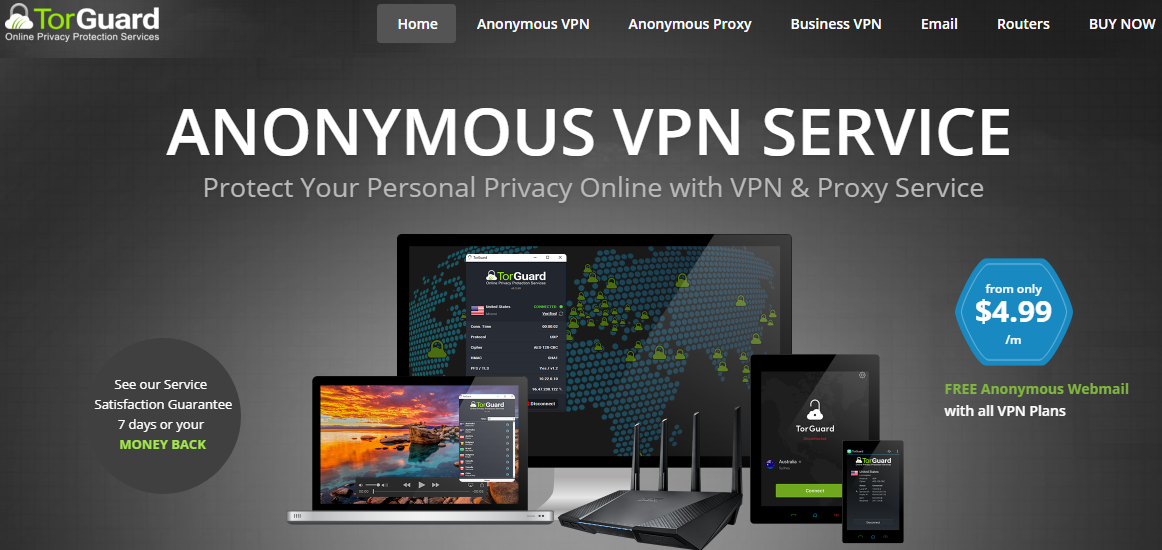 Pricing & Coupon
TorGuard offers four different services: Anonymous proxy, Anonymous VPN, Anonymous email, and Privacy bundle. Under those four services, you can choose to purchase monthly, quarterly, semi-annually or annually. The longer subscription, the cheaper.


The Anonymous proxy service starts from 3.9 USD per month. It is 5.95 USD for one month, 14.95 USD for three months, 29.95 USD for six months, 46.95 USD for one year.


Anonymous VPN service is more expensive while it has 2-year plan which makes price cheaper. It starts from 4.1 USD per month. The monthly plan is 9.99 USD, quarterly plan is 19.99 USD, semi-annually plan is 29.99 USD, annually plan is 59.99 USD and the biennially plan is 99.99 USD.


Anonymous email service is a bit cheaper than anonymous VPN which starts from 4.1 USD. It has no biennially plan. It costs 6.95 USD monthly, 15.95 USD quarterly, 29.99 USD semi-annually and 49.95 USD annually.


The privacy bundle service is 4.57 USD for one month without billing cycle. This service is a bundle of VPN and proxy. It comes with unlimited speeds, unlimited bandwidth, anonymous VPN access, anonymous proxy access, 3000+ IPs in 50+ countries, 3000+ servers and free 24/7 365 support. If you purchase bundle with monthly VPN or proxy, it is 11.54 USD for one month.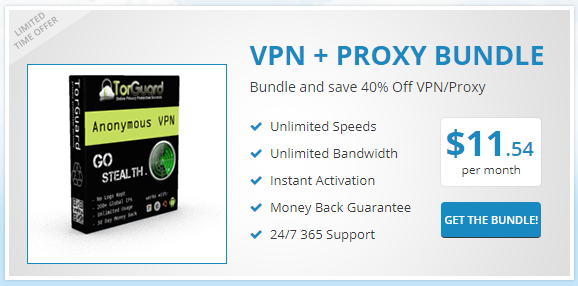 You know what? You can save much money with TorGuard VPN promo code/coupon. The provider offers our reader for 50% off promo code. No matter which service you purchase, you will save half of the price.
How to Use TorGuard VPN Promo Code/Coupon Code?
1. Visit VPN provider here.
2. Scroll down the web page, you will see four different services. Click on Buy Now button below service you need.
3. Choose billing cycle. The longest subscription contains the biggest saving. Then, click on "Add to Cart & Checkout."



4. Click on Promotional code blank and enter code provided on this page. Click Go and the price will be reduced.



5. Click on Checkout. Select Payment method and enter related information.



6. Complete order.
There you go. Get the amazing VPN service with less money with promo/coupon code.
7-day Money Back Guarantee & Payment Method
It is a risk free service as you can ask for a full refund on TorGuard within the first seven days, no questions asked, provided that you don't consume more than 10GB of network bandwidth during that time period.
TorGuard VPN provider accepts both standard and anonymous payment options including: Visa, Amex, Mastercard, Discover, PayPal, Google Checkout, AliPay, Bitcoin, Litecoin. In addition, the company also accepts anonymous payments through its pre-paid PIN system like Cashu. Bitcoin and prepaid card are the most popular payment methods as they allow users to make payment anonymously. That prevents others from tracking you according to payment information. By the way, you will save an additional 10% on checkout if youpurchase via Litecoin.


Why TorGuard VPN?
TorGuard VPN is one the best VPN which aims at protecting users' privacy and providing secure and fast access to the Internet. It encrypts your sessions with the highest standard to prevent snoopers from invading your privacy. This VPN has impressive network of servers in 50+ countries and dedicated IP that helps you access restricted content from anywhere. At the same time, the provider offers unlimited speed and bandwidth. That's why so many users choose it for streaming. No limit on content, speed and bandwidth. The connections also are secure. TorGuard VPN also is popular for fantastic privacy policy, 10Gbps premium network option, five simultaneous connections Inexpensive and advanced security options that avoid DPI. With 7 days money back guarantee, TorGuard VPN is worth a shot. You will love it.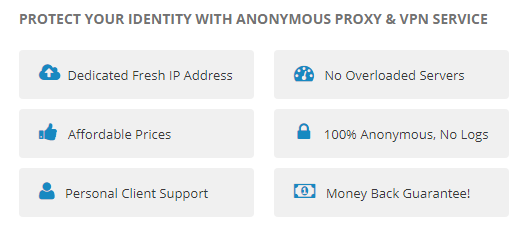 Don't know much about TorGuard VPN? Don't worry. Keep reading this article. You will know more features and functions of this VPN.
VPN Servers
TorGuard VPN offers a massive network of servers to help users achieve Internet freedom. Given the 3000+ servers in 50+ countries, you can connect to the best server to get the fastest access to certain website and services. Even when you are travelling, you always can pick the server which is nearest to you for best connections.
The servers are organized alphabetically, and an Australian server is selected by default. You also can select favorites to move them to the top of the list to save time on switching servers. Once you've selected a server, hit "Connect "back in the main screen. You'll then be prompted to enter your credentials. Once connected, you will be able to escape from government monitoring system and access content with geo-restriction under the help of remote server. As some websites and games don't have servers in certain countries and regions, it is very upset that users can't follow the trend on popular websites and play hit games. Though those servers are not available in your country, you can get them from TorGuard VPN provider. Enjoy your favorite websites via safe connections.


High Encryption Standard
TorGuard VPN uses military-grade encryption with the strongest cipher, AES-256/HMAC SHA512/RSA-2048 to secure its entire network of servers. Once your device connects to its servers, all of your connections to the Internet are encrypted in a tunnel. The hackers or ISPs will no longer be able to spy on you and decode connection for valuable information.
Likewise, this VPN supports multiple advanced protocols including OpenVPN, PPTP, L2TP/IPSec, SSTP, and IKEv2. You can choose whichever you like to suit network, but most experts recommend using OpenVPN for maximum security. Commonly, it is the default option on many devices. On Android, it is necessary to use third-party OpenVPN software which is available on Google Play Store. Though it requires additional step, the good news is that third-party OpenVPN software is secure, free and very easy to install. It won't take long to get it gone.


Unlimited Bandwidth & Data Transfer
Getting annoying by the poor quality service when connecting to online gaming or streaming services? Sometimes, you may feel traffic has been obviously slowed down though your network is great. In fact, it is not the problem of your network. It's the ISP who is restricting the bandwidth allocated to those services. This is a practice called "throttling." TorGuard VPN is able to help you get around such restrictions. It routes your sessions in an encrypted tunnel, the ISPs only see encrypted content. They have no idea of the speed and content. Hence, you will not be throttled. That keeps you free for faster browsing and streaming. You will be able to play online games without issue and stream 1080p with no buffering.
Aside from the company's refund policy, TorGuard does not limit your bandwidth and data transfer. It kindly supports P2P sharing/torrent. The provider asks users to follow the rules and keep file-sharing to the following servers: Dallas, Los Angeles, Miami, Norway, Switzerland, Poland, Luxembourg, Panama, Romania, Iceland, Finland, Hong Kong, Sweden, the Netherlands, and Canada. As the VPN replaces your original IP address, you won't be tracked and get caught for P2P/torrent.


Anonymous Proxy
An anonymous proxy service is offered by TorGuard as a complement to their main VPN. A proxy behaves in the same way as a VPN, except it does not encrypt the entire of your Internet traffic. It only secures torrent application and Internet browser. The proxy mediates all connections and adds a level of privacy to your anonymity. You can get both of them from this provider for various purposes. Its proxy service is quite easy to use through browser and inside a BitTorrent application. Simply download the extension, enter your login information, then you're ready to go! By the way, it's an excellent alternative to VPN for Chromebooks.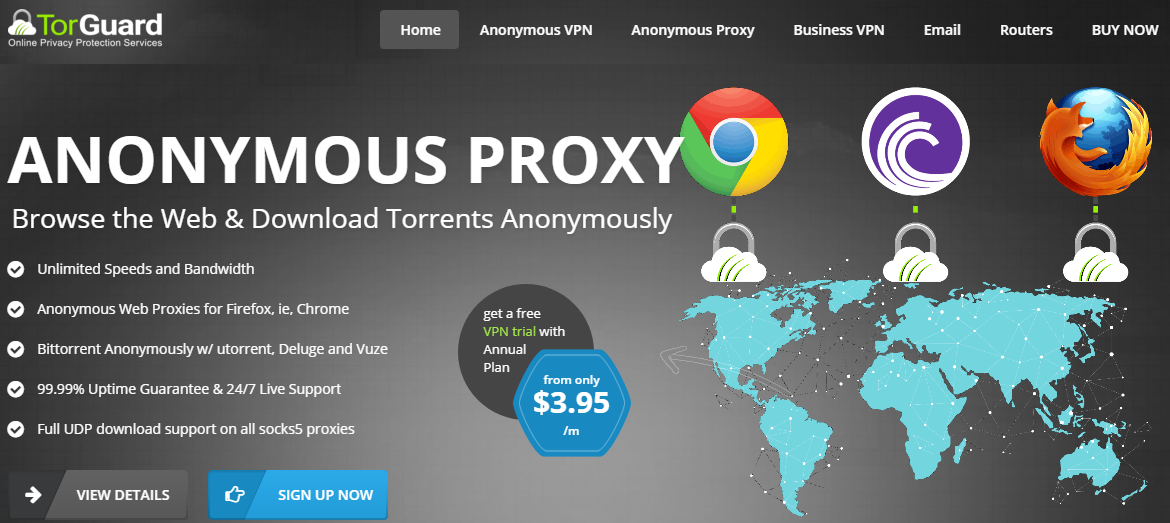 Encrypted Email
If you are looking for a more secure email service separate from other email service to avoid data tracking, TorGuard is a good choice as it offers encrypted email which comes with a free 10MB box with a sign-up. The premium version offers unlimited offshore email storage, end-to-end security and protection, no advertisements or marketing, and forward secrecy, and it is powered by OpenPGP encryption. A calendar, tasks, bulk import features, key storage and advanced search are built in too.


Privacy
TorGuard VPN encrypts your traffic and prevents privacy leak by utilizing different technology. This VPN includes DNS leak protection to make sure that a DNS leak doesn't give away your real IP Address. The client also has checkboxes to protect against IPv6 leaks and WebRTC security. Simply changing your IP address isn't enough to hide your identity online because ad networks use other factors to connect different IP addresses to keep track of your activity. Hence, this VPN has HotSpot Shield Elite which blocks ads at the network level.


Besides, the provider offers free Stealth VPN services as well as a complementary Stealth Proxy inside the primary VPN package. The Stealth connection uses OpenVPN, SSTP, and SSL tunneling, so you don't have to compromise your security to bypass a VPN block. Your VPN becomes invisible, making your Internet traffic look like regular HTTP traffic. It's perfect for users in censored countries.
Though TorGuard VPN is 99.99 % uptime, it has both a network and application kill switch to ensure that your data is 100% safe. Plainly, it closes down your network when your VPN disconnects. If your VPN connection drops, the chosen apps will close. In this way, you don't torrent without the VPN active. The ISPs will not know that you do torrent.
TorGuard Netflix
Today, many VPN providers have issues in unblocking Netflix. The VPN block keeps users outside US and Canada away from Netflix. Luckily, TorGuard has recently introduced a new dedicated IP address function that lets you quickly access Netflix abroad. The dedicated IP address is more suitable for unblocking streaming services as it is used by a single user is far less likely to be detected and banned by websites like Netflix. Also, it is pretty useful if you don't want the hassle of verifying your identity on certain sites every time you switch IP addresses.


Does TorGuard Work in China?
The answer is Yes. TorGuard VPN helps users in China to access blocked sites like Instagram, YouTube and Google etc. Stealth VPN servers will give you the best chance of getting through China's Great Firewall. Its servers have been optimized and advanced security options have been provided to bypass Deep Packet Inspection (DPI) firewalls like the ones used by ISPs in China and some other countries with high Internet censorship. Though China has blocked many VPNs, TorGuard is able to circumvent the powerful firewall with advanced technology. It is an effective way to unblock western websites from mainland China.
Jurisdiction
Though TorGuard VPN company is registered in the islands of Nevis, Caribbean, your privacy is still safe with it. The provider stops monitoring your network usage after seven days, and nothing else gets logged. The company does not keep your traffics and any information related to your identification. You can what the company say about falling under US jurisdiction here:
"Our legal representation at the moment is comfortable with the current corporate structuring in the US however we wouldn't hesitate to move all assets internationally should the ground shift beneath our feet. All of the main billing infrastructure, authentication servers, and engineering staff are already located internationally."
Multiple Devices
You have devices with different systems and would like to cover all of them with one single subscription? Get TorGuard VPN deal. It works on Android, iOS, OS X, and Linux. Custom apps has been created for mobile devices. If you want to protect all devices in the house in a time, just set up VPN on the router. At the same time, the provider kindly sells flashed routers with guides for flashing DD-WRT and Tomato routers with its software (for connecting with OpenVPN), as well as Boxee routers (PPTP only).


Support
TorGuard provides 24/7 live chat support. It has one of the most responsive live chat customer support team. When we contacted them via live chat, their response was almost instant, informative and to the point. You also can ask for tech support via email, and you will get responds within an hour via email. It allows you to join them and submit questions on its official Facebook page. If you think it's not clear enough to express your issue with words, call their toll-free number while this is only available for users within the US.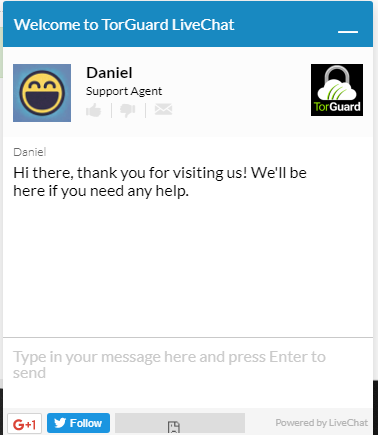 Video Guide on How to Set Up TorGuard VPN
Top 10+ Best VPNs Services 2019
Top 10+ Best VPN Services In The World
| VPN Brands | Servers | Country | # of Connections | Price(USD) | Official Website |
| --- | --- | --- | --- | --- | --- |
| | 2000+ servers in 94 countries. | British Virgin Islands | 3 | $6.67/Month (Save 49%) | Best Choice |
| | 1,000+ servers in 60+ countries. | USA | 10 | $4.87/Month (Save 60%) | View Deals |
| | 4410+ servers in 62+ countries. | Panama | 6 | $3.99/Month (Save 66%) | View Deals |
| | 200+ servers in 70 countries. | Bulgaria | 6 | $4.18/Month (Save 50%) | View Deals |
Click Here to Read More Top 10 Best VPN Services »
Conclusion (TorGuard VPN Review)
TorGuard VPN has been trusted by a large number of users around the world. Its servers are located in over 50 countries and give people more than enough choice for unblocking websites and bypassing censorship. Users who travel a lot benefit from the worldwide servers. No matter they are located, they don't have Internet limit. The connections are safe and fast. Its encryption is the best in VPN industry and it supports all protocol options. The protection is unbreakable. Also, this VPN provides a reasonably priced VPN service with fast connection speeds and great customer care. The service comes with unlimited bandwidth & speed, elite proxy IPs in over 50 countries, fast SOCKS5 proxy servers, up to 5 simultaneous connections, SOCKS5 + HTTP/SSL proxy support and much more. In addition, TorGuard VPN has excellent support staff & superb guides, sells a flashed router, and provides a no quibbles money-back guarantee. It is in line with the top-end of the VPN market. We suggest you get deal when 50% off promo/coupon code is still valid. Save cash on an amazing VPN. It's a great deal.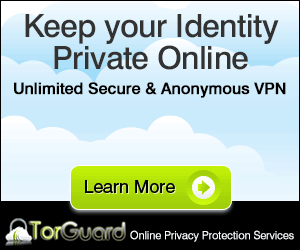 Published by & last updated on January 22, 2019 9:33 am