The Congress passed related law which makes it legal for the ISPs to sell your browsing histories to the third parties without your permission. That means others can know what you are doing on the Internet if they want. That's awful. Refuse to be monitored and exposed online? It's time to reclaim your privacy. Get a VPN to encrypt your online activities. All your web traffic will be routed to a VPN server through a secure, encrypted tunnel. Your ISP will have a hard time gathering and selling your data when you use a VPN. This means that someone who spies on your local network at a coffee shop or airport won't be able to see your activities. It is very important to select a reliable and powerful VPN to protect your privacy. When you use a VPN, your data go through the VPN provider's server. A reliable VPN provider should have zero traffic log policy. They won't access your private traffic, store your sensitive information or sell your privacy to third party for money or other purpose. Based on our timely test results and privacy policy items, we have a list of trustable and zero-knowledge VPN providers. If you are looking for a reliable and affordable VPN service, IPVanish is a great choice. It encrypts all your connections to the Internet, masks your IP address and channels your data through private remote server. The provider has strict no traffic log policy. You can trust it. You can get to know more about this service in this IPVanish review.
What is IPVanish?
IPVanish is a great service which provides a powerful VPN platform trusted by customers worldwide. It has been committed to offering fast, reliable, secure, and anonymous connections for Internet users. This company owns and manages its own infrastructure. No subcontracted service companies get involved in delivering private network. No need to worry about privacy leak. When it works, it assists customers to escape from snoopers, unblock restricted content and secure all connections to the Internet.


Pricing & Promotion
IPVanish offers one plan with different subscription periods. You can sign up 1-month, 1-year or 2-year plan. The prices work out cheaper per month if you take out a longer subscription. Originally, it was $11.99 USD for one month, $143.88 USD for one year, $287.76 USD for two years. Currently, the 1-month plan is 17% off, the 1-year plan is 46 % off and the 2-year plan is 66 % off.


Besides, IPVanish providers offer coupon code to our readers so that you can get extra 20% off. During the payment, click on "Have a Coupon" and enter coupon code provided on this page, clicking on "Apply". In this way, you can save another 20% off. Finally, it is $10.00 USD for one month. It costs only $6.49 USD per month if you get 1-year deal. For the deal with best value, it is only $4.12 USD per month for purchasing 2-year plan. Though it has no free trial, it offers risk free 7-day money back guarantee. It is the best deal.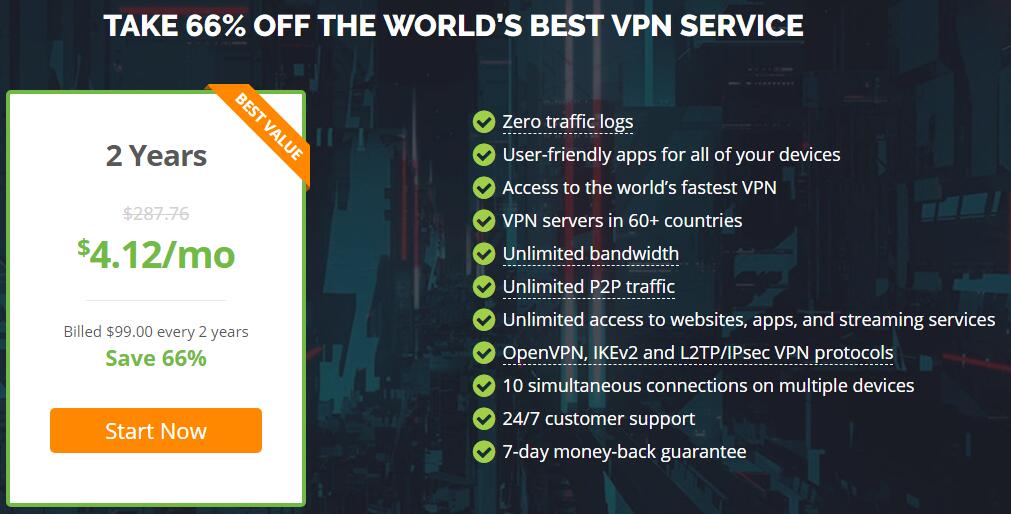 Why Recommend IPVanish?
IPVanish is one of the leading VPN companies in the world headquartered in Orlando Florida. It is known for great performance with a huge server network. This provider delivers 100% online identity and data protection and access to the fastest VPN network with 40,000+ shared IPs, 1,000+ VPN servers in 60+ countries. It utilizes the best technology to encrypt your traffics to stop hackers, advertisers, ISPs and government from viewing your private connection content. The company rightfully claims to have a zero-log policy and provides top-notch customer service. When connecting to this VPN, it is possible to browse safely without any limit regardless where you are located. No matter you would like to watch US-only Netflix shows abroad or secure sensitive data on public Wifi, IPVanish is a great choice for personal and business purpose.
Who Needs IPVanish VPN?
Ex-patriots
University students
Global citizens
Business travelers
People on vacation
Privacy conscious individuals
Professional individuals
Journalists and whistle blowers
Online gamers

IPVanish China
Users in mainland China need VPN the most because millions of western websites and services have been blocked by the Great Firewall of China which is the most powerful one on the earth. Those contents have been considered as threat to the government while most of them are popular international services. Google, Facebook, WhatsApp, Instagram and YouTube are part of them. However, numberless users travel and move to China, and they need those services to contact home or for entertainment. Luckily, VPN is able to circumvent the firewall. It is necessary to note that not all VPNs work in mainland China as the firewall always has been updated to block VPN too.
Trying to set up IPVanish, but fail? We can tell that this VPN is working in mainland China. Though its websites have been blocked, you can sign up and install this VPN with other free VPN or get it done before going to China. once you've signed up and downloaded their VPN client, you can use IPVanish's VPN from China without further problems.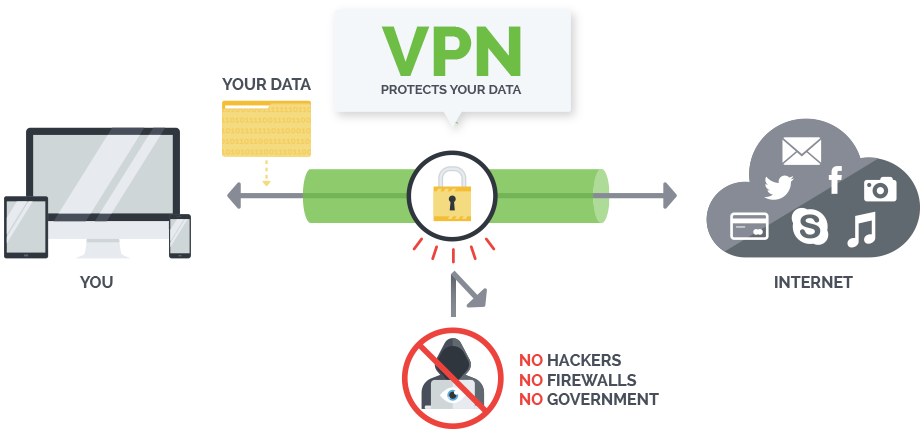 IPVanish is one of the most secure and fastest VPN. It is highly recommended by secure experts for the following outstanding features.
VPN Performance
IPVanish gives its customers the highly-equipped client. It can identify servers available to connect to in a very short period of time. It guarantees that you'll always have access to a server regardless of where the website you're accessing is hosted. It works steadily when being used for unblocking content, encrypting connections, downloading or other purposes. The connection is safe, fast, and stable. It rarely drops.
Even if it drops, your privacy is still protected. You are suggested to activate a network block which will prevent the apps on target device from connecting to the Internet once VPN connections fail. Others have no chance to have a look at your connection content.


Superfast VPN Servers
IPVanish is one of the great VPN providers who give the largest number of fast servers across the globe. The servers are distributed logically, covering almost every major continent including Europe, North America, Central and South America, Asia, Africa, and Oceania. There is no limit for switch between the given servers. Just connect to server in Belgium, Canada, China, France, Germany, India, Japan, the Netherlands, Spain, Sweden, Turkey, the UK or the US etc. as you want. It connects your device to its remote servers so that your IP address appears as if you are sending Internet request from another location. That is useful in bypassing geo-restriction.
Please keep in mind. The farther away geographically you get from a server, the slower your connection will be. The more servers a provider has, the more likely you'll be able to find a close connection. As it has lots of global servers, there is not any problem in finding a fast and reliable server to protect your privacy and secure your Internet transactions even though you travel a lot. Besides, the company is constantly expanding new servers and IPs in order to have enough capacity for their growing user base. It provides a page to enable you to submit wanted new locations. As long as your suggestion is reasonable, they will accept it. Get IPVanish for accessing to a more open and less restrictive online experience from wherever you live or while traveling for business or pleasure.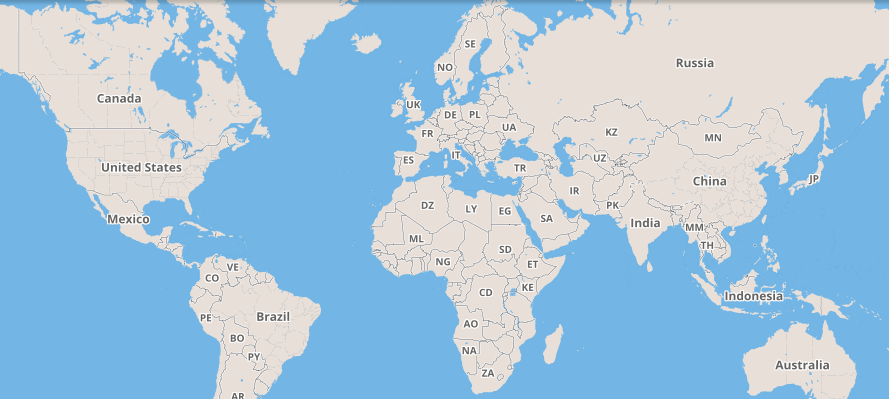 Unbreakable Encryption
IPVanish takes your online privacy very seriously. It makes sure that all your data is tunneled and safe with excellent encryption support. When it works on your device, the initial handshake uses 2048 RSA for key transfer with a control algorithm of: TLSv1.2, cipher TLSv1/SSLv3 DHE-RSA-AES256-SHA. Likewise, the data encryption and decryption uses the cipher 'AES-256-GCM' initialized with 256 bit key. 256 bit refers to the length of encryption key which is best standard in VPN industry so far. Authentication take advantage of HMAC SHA-256 for control and SHA-256 for data.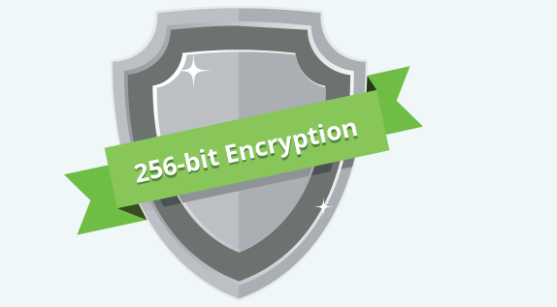 How do you know it is best protection? This standard is used by all US government departments to protect their communications over the Internet. Other governments, bank institutions, schools and other parties around the world also use AES because it is considered as the most secure encryption system available. It creates an encrypted connection between your device and the websites you're accessing. The hackers, your Internet service provider, the IT department at your company or other outsiders are not able to access the data that your device is sending or receiving on the Internet. If you don't want anyone snooping on your Internet activity, IPVanish can help with that.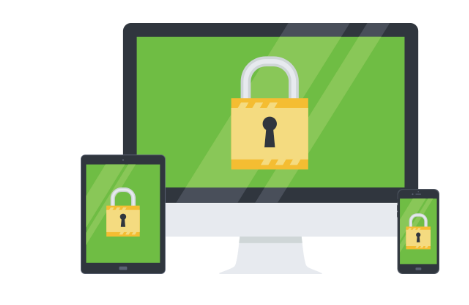 Advanced Protocols
IPVanish supports OpenVPN, L2TP, PPTP, IPSec and IKEv2 protocols as well as technical qualities to give you fast and secure access to the Internet. It allows you to choose protocol freely. OpenVPN is the top choice because of the latest technology. It ensures your traffic is 100% safe.
PPTP is the fastest but is less secure than the alternatives. It helps user access contents that are restricted to a particular geographic region simply by connecting to suitable server. Say goodbye to all the geo-restrictions with this VPN. L2TP protocol is chose by privacy concerned users or the ones who always use public WiFi hotspot. Users are protected against malicious attacks at favorite hotspot or while traveling and using poorly secured hotel and airport networks. This protocol is more secure than PPTP, but it will affect your Internet connection speed.
IPSec offers secure transport framework while it does not encrypt or authenticate on its own. Hence, it is suggested to use IPSec with L2TP. IKEv2 does not support all platforms. It is available on newly-developed devices. Customers use it as it allows devices to switch between a Wi-Fi and cellular network without disrupting the VPN connection.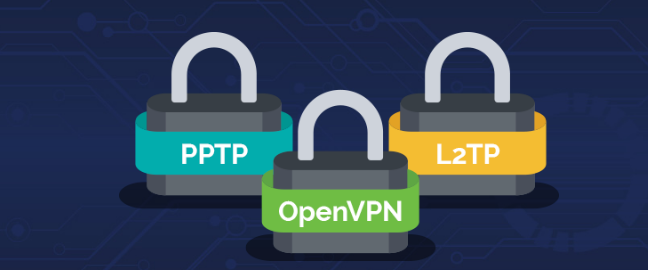 Zero Traffic Logs
IPVanish has zero log policy. That's what they stated. "We have a strict policy against the collection of both connection and activity logs. We will never store the metadata about your VPN session or information about how you used the service." That means there is no record of your activities online is stored by the service. Your browsing history, chat history, downloads and streams all remain private to you.


Great for Streaming
Nowadays, many streaming services have geo-restriction. If you would like to access content which is not normally available in a particular location, a VPN is able to give you access by setting your IP address to another location of your choice. It uses a VPN numerous servers to spoof your location to, enabling you to watch region-locked streaming content. IPVanish is useful for streaming purpose. This VPN helps you stop geo-targeting of popping ads, overcome government & institutional firewalls to working in bypassing censorship. Government blocked services and geo-restricted are available anywhere and anytime. Being able to view Netflix with a VPN is becoming a rare experience as Netflix decided to ban VPN access.
There is another reason why this VPN is great for streaming. It helps you escape far away from Internet snoopers like ISPs which can use deep packet inspection to observe your Internet contents and throttle its speed. You can't enjoy your favorite show thoroughly due to the throttling. IPVanish lets you avoid throttling, thus saving you money when using VoIP or other geo-priced services.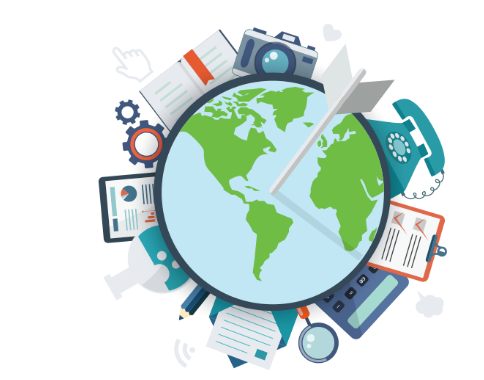 Automatic IP Switching
IPVanish has automatic IP switching feature which can cycle your IP address every 45, 60 or 90 minutes. The value is controlled by you. This is great for users who attach importance to their anonymity or who use several IPs for software development purposes. It is pretty useful.
Free NAT firewall
To protect customers' privacy and anonymity further, all IPVanish servers use a NAT firewall to share public IP addresses. This feature also blocks inbound traffic and protects customers from unwanted malware and malicious bots while using this VPN service. It is another layer to your device protection.


P2P for Torrent is Permitted
Torrent is not allowed in your country? Simply get IPVanish which provides a SOCKS5 proxy to act as a secure middleman for your device and the Internet by using advance technologies like UDP and IPv6. This is a popular feature for P2P / Torrent users. It is possible to enjoy wonderful videos, games and other resources on torrent sites without being caught. It is safe and anonymous for torrent.
Multiple Platforms
IPVanish offers apps for Windows, Mac OS X, macOS, iOS, Android, and Amazon Fire. It also works for browsers and routers. By the way, all users can connect up to five devices at the same time on one account. The self-Installing app and easy-to-use interface are provided. No special technical knowledge is required. The website provides tutorials and visual setup guides to connect to their service using Windows, Mac OS X, Android, iOS, Windows Phone, Ubuntu, Chromebook, and DD-WRT and Tomato routers. The step-by-step instructions let you get it done within minutes.

Setup Guide on iPhone/iPad
Go to "Settings"
You will be redirected to your 'General' profile, where you will see the option "Network"
Tap on "Network" and create a new VPN profile
Now you will see "Add VPN Configuration", tap on it to continue
Once you have tapped on it, you will be asked to enter the details
Fill in the details assigned to you by IPVanish and select the desired protocol to connect
Once your software is installed, just run the VPN and safely browse or view blocked content!
Useful Customer Support
IPVanish has no live chat support. Instead, it provides a 24/7/365 email ticketing system. Commonly, email tickets are handled within a few hours. Some involved issues can take up to two days to be fixed. Besides, they have an extensive support page on website, covering FAQ, setup guides, billing questions, troubleshooting, announcements, and information about the service. They also publish blog about online privacy tips and privacy news. Also, you can join the group forum and contact them on Facebook, Twitter, and YouTube.


Jurisdiction
IPVanish is owned by a company called Mudhook Marketing based in Florida, USA. Though USA is not the best jurisdiction option when considering a VPN for privacy, the company has no log policy and good track record of protecting customer privacy. They can't provide information that they don't owe.
Payment Options
IPVanish VPN provider gives you diverse payment options to attract as more users as possible. It accepts major credit cards like Visa, MasterCard, American Express, Discovery, and JCB. Visa debit cards, Electron and Delta are welcomed as well. Paypal is another good option as it lets you keep your online purchases in a central location. It allows you to use prepaid cards from other merchants for anonymous payments. Payment via Bitcoin can help increase your online anonymity by requiring only a valid email address to activate your IPVanish account. If you don't have the above options, you still can pay via Alipay, iDEAL, Giropay, Bolero Bancario, CashU, and others.

Video About How to Set Up IPVanish VPN
Top 10+ Best VPNs Services 2019
Top 10+ Best VPN Services In The World
| VPN Brands | Servers | Country | # of Connections | Price(USD) | Official Website |
| --- | --- | --- | --- | --- | --- |
| | 2000+ servers in 94 countries. | British Virgin Islands | 3 | $6.67/Month (Save 49%) | Best Choice |
| | 1,000+ servers in 60+ countries. | USA | 10 | $4.87/Month (Save 60%) | View Deals |
| | 4410+ servers in 62+ countries. | Panama | 6 | $3.99/Month (Save 66%) | View Deals |
| | 200+ servers in 70 countries. | Bulgaria | 6 | $4.18/Month (Save 50%) | View Deals |
Click Here to Read More Top 10 Best VPN Services »
Conclusion(IPVanish Review)
IPVanish is a solid choice for advanced users who look for a VPN. It has a good reputation for offering one of fastest, most professional, support oriented VPN services in the industry. This VPN has been trusted by worldwide users due to amazing features including DNS leak protection, the ability to periodically change your IP address, IPv6 leak protection, and VPN kill switch. You will be protected against connections to unsafe open networks that have no password requirements as hackers sometimes use fishing network to sneak malware onto mobile devices. Your device, privacy and connections are surely safe. Besides, the service does not restrict P2P and Torrent use in any way. It also includes a SOCKS5 proxy to help guard your anonymity. IPVanish is competitively priced for the service that they offer which is an important reason why it is one of the best sellers. It is the right time to get deal because the 1-year deal is 46 % off and 2-year plan is 66% off. It is only $4.12 USD per month. You can save extra 20% off by using promo code/coupon that IPVanish provider give to us.

Published by & last updated on November 26, 2020 3:09 pm