How to get the best Hide.me VPN coupon & discount? Is there any Hide.me VPN coupon code? Here is the right place where you can find the latest VPN promotion information and biggest discount. Sometimes the provider supports coupon code and sometimes they don't use the codes. By applying Hide.me coupon code or using promotion link, you get the best deal. Commonly, the coupon code is available during Christmas or other holidays. If coupon code is not available, you still can save much money when the provider runs promotion via discount link. When the provider releases new promotion or coupon code, we show it immediately to help you save as much money as possible. Currently, you can get up to 64% off Hide.me discount. Learn about Hide.me discount information and its amazing features with us.
What is Hide.me VPN?
Hide.me VPN is one of the fastest VPN service provider in the VPN industry. It is committed to develop VPN services to provides an open & secure access of the Internet and protect users' online privacy with 256-bit key Advanced Encryption Standard (AES) encryption. It is a Malaysian-based VPN provider with a large German presence. By providing VPN servers in 34 countries and self-owned and maintained feature, Hide.me VPN offers a comprehensive reach to its users and enable them to access blocked and restricted services and websites anytime from anywhere. Hide.me VPN thoughtfully offers easy-to-install apps for Windows, Mac, Android and iOS with best-in-class Internet security. No matter you are computer expert or illiterate, you can get it to use quickly without any problem. A large number of users choose Hide.me VPN and the number is still growing.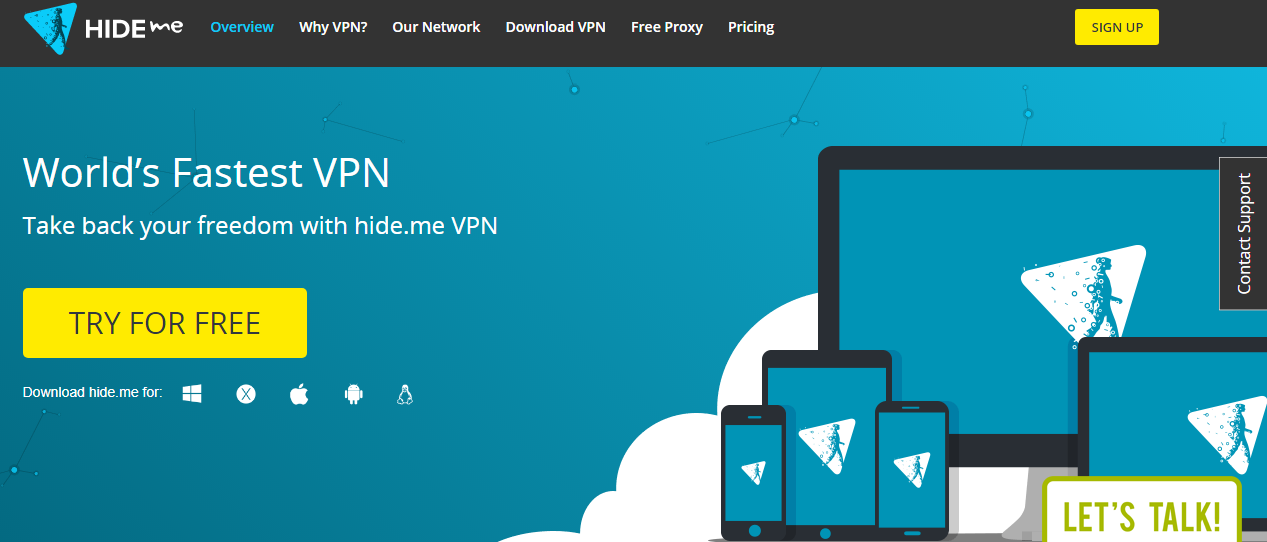 Overview of Hide.me VPN Coupon, Discount and Deals
Hide.me has free and paid trials. The free version has limited access. The paid trial is its premium plan. If you seek for fully use of VPN, the premium is highly recommended.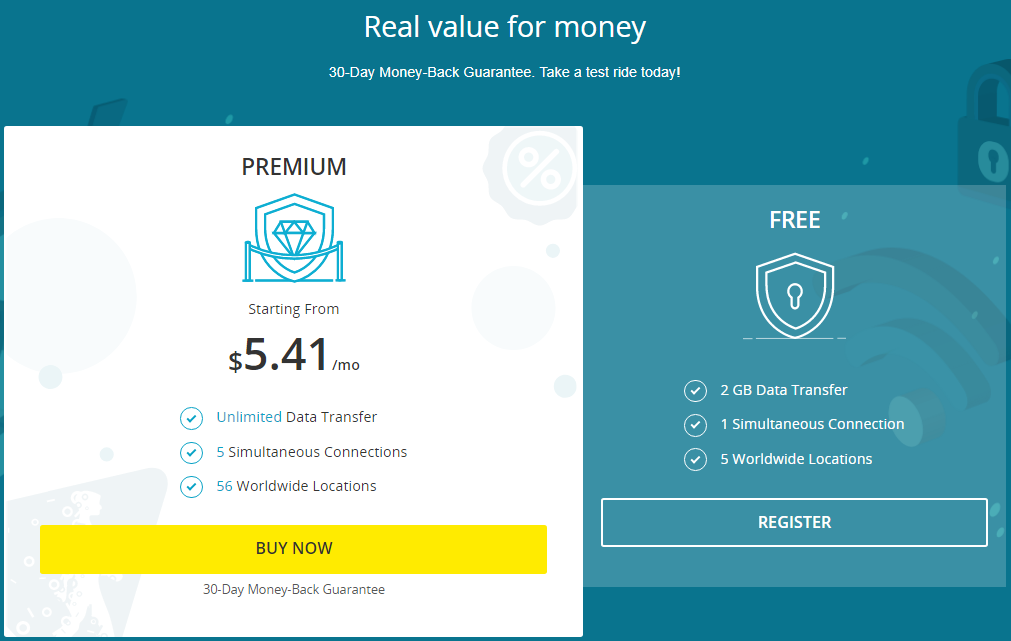 Free Trial
You are allowed to use the free forever trial with limited features. Only servers in Canada, the Netherlands, and Singapore are available for free version. The speed is at least 3 Mbps and 2GB of data is given per month.
5 worldwide locations
2 GB data transfer
limited protocol support
1 simultaneous connection
Premium Plan
The premium plan allows up to 10 simultaneous connections, full support and unlimited bandwidth and connections. It is the most complete and popular plan of their product. Under premium plan, it has 1-month, 1-year and 2-year plans. It is $14.95 USD for the one-month plan, you save 0%. The 1-year plan is $9.99 per month, billed $119.95 every year, you save 34%. And the 2-year plan includes the biggest promotion, it is 64% off discount, billed $129.95 every two years. In other words, it is only $5.41 USD per month!
56 worldwide locations
unlimited bandwidth
unlimited data transfer
full protocol support
10 simultaneous connections
port forwarding

Why Hide.me?
Hide.me is a solid, reliable and likeable service. With high level of encryption up to AES-256, it encrypts all of your traffics to the Internet and protects your privacy from hackers, ISPs and other third parties. This VPN uses a wide range of protocols: IKEv2, PPTP, L2TP, IPsec, OpenVPN, Softether, SOCKS and SSTP and you are free to choose any one you need. You don't need to worry about information leak even when connecting to public network. Also, Hide.me offers a free anonymous proxy browser which allows users to access blocked websites and use the Internet anonymously. No one can track you on the Internet. Hide.me VPN protects all your devices, providing apps for Windows and Android, iPhone, iPad, Mac and more devices. In addition, Hide.me VPN is currently offering big discount with up to 64% off promotion. You save cash on its order now. Visit the promo links given on this post and you will get big discount!

How Does VPN Work?
A VPN creates a secure tunnel using most powerful VPN protocols. It hides your original IP behind one of its own. In this way, you have a different online ID and are anonymous. VPN encrypts all your communication and passes through the secure tunnel allowing you to surf the web freely and safely by helping you bypass Internet censorship and ISP throttling.
Hide.me VPN works effectively and stably with advanced technology. We will elaborate the impressive features to know better about this VPN service.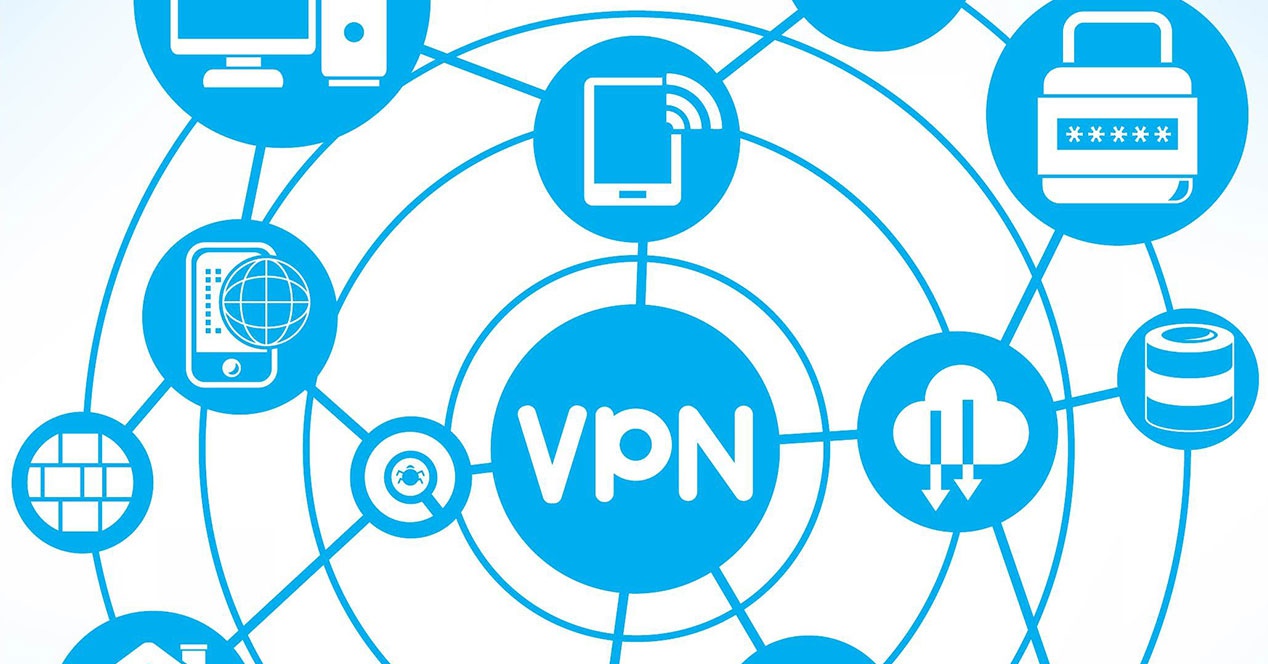 Encryption
Hide.me VPN use bank-grade encryption to make sure that no one can steal precious information from you. You should know that there are fishing networks and malicious programs out there, being ready to attack you for precious information all the time. Without protection, the hackers can steal all of your money from your bank easily once they grab your bank card information and password. When connected to Hide.me VPN, your traffics are secured by AES-256 bit encryption with 8192 bit keys. It encrypts all of your Internet activities and buries it below several layers of security. No one can intercept your online session. The snoopers and even the hackers have no way to attack you.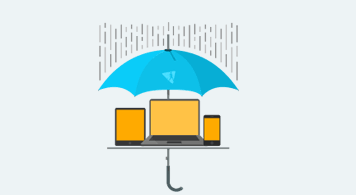 Unblock Services
Hide.me VPN enables you to access worldwide websites securely. Internet freedom is possible even in China or Russia where there are many Internet limits.
For example, China has the most advanced firewall to block access to millions of famous western websites as well as tools that are used to bypass it. Users can't access Google, Facebook and YouTube etc. from mainland China. You need powerful VPN like Hide.me to unblock those services.
Besides, some services like Netflix, Hulu, Spotify, BBC and more are only available in certain countries due to geo-restriction. You have to be in UK to watch videos on BBC. If your location is not US or Canada, Netflix website server will refuse your connections. Luckily, you don't have to move to US or UK to have their IP address. Hide.me VPN provides various IP address from almost all popular countries. It lets you access YouTube, Crackle, Spotify, BBC, Netflix, Hulu and the rest blocked websites in your country.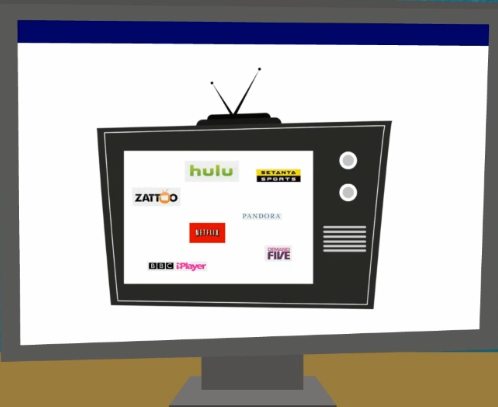 Anonymous
With Hide.me' assigned IP address, you are anonymous. It is well-known that others can view your IP address, DNS and other personal information when you are browsing. When you upload or download something, others can track you easily. Especially when you do torrent, you easily attract ISPs' attention. Sometimes, you may get email from your ISPs after they figure out your contacts according to information that are exposed on the Internet.
We are glad to tell you it has been confirmed Hide.me VPN ensures you are invisible on the Internet. It masks your IP address with a new one. The ISPs, government or other third parties only see the IP address which is provided by Hide.me VPN. If you select a US-based IP address, others will believe that you are in US without knowing who and where you really are.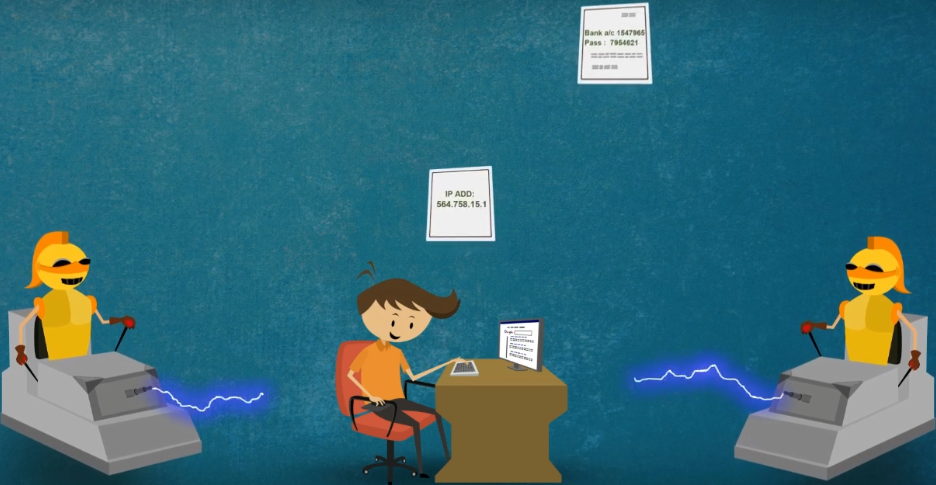 Security
Hide.me protects your security well. Your connections to the Internet are secured with AES-256 bit encryption. It provides various protocols to provide the best connections. Besides, this VPN incorporates DNS leak protection on its features. The DNS test results only revealed DNS from Hide.me VPN. Others will not be able to attack you according to IP and DNS records.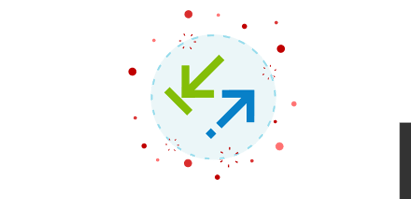 100% zero-log policy
Hide.me VPN has 100% zero-log policy. This VPN company claims that its software is incapable of recording which sites and Internet services its customers connect to while using the VPN, but all records on terminated connections. And, other than aggregated data usage counts, are deleted every two to three hours. At the same time, customers' personal details and account payment information are held by outsourced payment collection agencies. That means Hide.me never holds identifying information about its customers. This VPN provider will not be able to share your data with third parties because they don't own the data at all.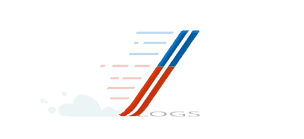 Fast Speeds
To provide you the fastest speed, Hide.me VPN provider have hand-picked the very best from key locations around the world, tweaking them to make sure your experience is perfect. You can expect seamless streaming. When downloading videos or playing video games, Hide.me VPN lets you escape from the ISP throttling. You don't have to wait for a long time to make video ready with unlimited bandwidth of Hide.me.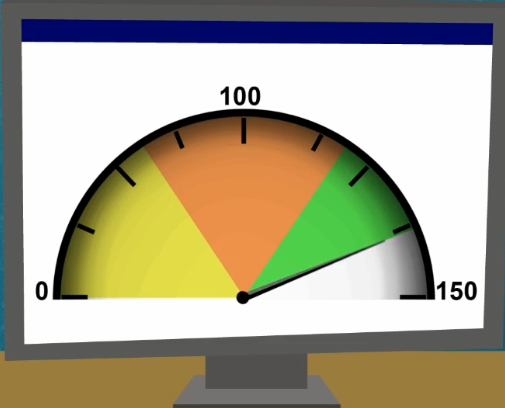 99.99% Uptime
Hide.me VPN provider have built their servers to support millions of connections with ease. It works stably and there is rarely connection drop. You will not suffer from annoying disconnections like when you are using one of the free VPNs.
VPN Servers
To fulfill high standards of online security and fast speed, Hide.me VPN provider select VPN servers and locations carefully. They control and run self-owned VPN network with no involvement of third parties. It provides lots of servers in 34 countries. Just select and switch to any one you need. There is no extra charge on server switching.
Dynamic Port forwarding
Hide.me VPN has Dynamic Port Forwarding which is the third major method of port redirection with SSH. Dynamic allows a full range of TCP communication across a range of ports. It also is used to force any program you wish to use through the dynamic proxy. This feature stops hackers from attacking you via corporate network.
Internet Kill Switch Feature
Internet kill switch is added in Hide.me VPN's app. it literally shuts down your connection and all your apps and programs connected to the Internet when something goes wrong and you get disconnected from the VPN. The snoopers and ISPs have no chance to view your connections without VPN protection.
Signing Up
The price of Hide.me VPN is friendly. It is totally worth every penny. Besides, it is offering big discount now. Hide.me VPN 2-year plan is 64% off and the 1-year is 34%. You can select one of them to meet your need.
After selecting premium plan, you will be directed to select the long-term or short-term plan. It's up to you. By the way, the long-term plan includes bigger discount. Then, you need to fill up the account details with your email to receive payment result.

After, select the payment. Hide.me VPN accepts Visa, American Express, Mastercard, PayPal and Bitcoin. It is one of the few VPN companies that allows payment via Bitcoin. That is important because users who want to remain absolutely anonymous can use this form of payment and avoid giving even the most basic information that are needed with credit card payment. After you proceed to checkout, you finish the payment. Instantly, you will get detail information of your Hide.me VPN.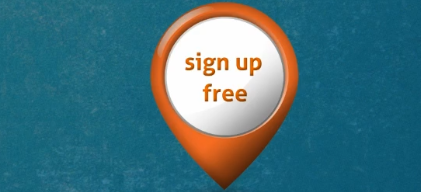 Streaming Services
Hide.me VPN allows you to stream videos on YouTube, BBC, Netflix and Hulu etc. from anywhere with numerous server locations worldwide and a system that's built to support high speed connections. You also can stream US, India and UK sport any time you want. There is no restriction on accessing foreign websites any more.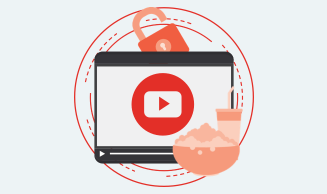 How to Watch Live Sports with VPN
Basically, all the major platforms and operating systems are covered by Hide.me VPN. It supports Android, Apple, Windows and Linux etc. devices. This VPN service provider offers a designated Windows client that is simple, clean, and relatively easy to use. You also can use Hide.me VPN on your router so that the connection covers all the devices connected to it. In this way, your entire home or office network are covered. It is very convenient. In addition, selecting between different protocols is really easy which can be done in just one simple click. The same goes for server switching.

Multiple Protocols
Hide.me VPN offers unlimited bandwidth and server switching, albeit only with their premium packages. The good news is this plan is the best offer. It is only $5.41 USD per month for the 24-month plan. Premium Plan users also have the choice of the full protocol suite, which means SoftEther, L2TP/IPsec, PPTP, SSTP, IKEv1 and IKEv2, and, of course, OpenVPN. Here is the detail of its protocols.
L2TP/IPsec is a good VPN solution for non-critical use when device does not support OpenVPN.
PPTP's ease of setup and cross platform compatibility are attractive.
SSTP offers most of the advantages of OpenVPN but only in a Windows environment.
IKEv2 is also a secure and fast protocol especially for mobile users who may even prefer it to OpenVPN thanks to its improved ability to reconnect when an internet connection is interrupted.
OpenVPN is easily the best all round VPN solution which is reliable, fast and secure (even against the NSA)
Jurisdiction
Hide.me VPN is based in Malaysia, which is a good location for protection against actions by copyright lawyers. Lots of users choose it because Malaysia is far away from any Western government jurisdiction. It is not legally obligated to store users' Internet session logs or hand them over to any authority. You should know that the cost of implementing legal proceedings in a foreign country is much high. That may make legal action economically unviable. Besides, Hide.me plainly claims that it keeps no connection or activity logs at all. Therefore, you can relax because your online privacy will not be compromised by any third party.
Learn More In This Short Video
Top 10+ Best VPN Services In The World
VPN Brands
Servers
Country
# of Connections
Price(USD)
Official Website
3000+ servers in 94 countries.
British Virgin Islands
5
$6.67/Month (Save 49%)
Best Choice
5159+ servers in 60+ countries.
Panama
6
$2.99/Month (Save 75%)
View Deals
800+ online servers in 50 countries.
British Virgin Islands
Unlimited
$1.99/Month (Save 83%)

Chinese Click Here>>

View Deals
3,307+ servers in 32+ countries.
USA
10
$3.49/Month (Save 65%)
View Deals
1,300+ servers in 60+ countries.
USA
10
$6.49/Month (Save 46%)
View Deals
Click Here to Read More Top 10 Best VPN Services »
Conclusion of Hide.me VPN Coupon, Discount & Lifetime Free Trial
Hide.Me is a VPN provider with a great reputation for security, anonymity and transparency. It offers unlimited bandwidth, unlimited data transfer, full protocol support, port forwarding and the ability to have up to 5 connections at the same time. The security levels offered by this VPN and the privacy procedures of account setup are very reassuring. It uses the highest encryption standard to secure your connections and privacy. The worldwide VPN servers free you from Internet censorship and geo-restriction. No more blocked websites and services with Hide.me. The stable and fast connection speed allows you to stream videos and play video games smoothly from anywhere. Hide.me's jurisdiction in Malaysia and the zero logs policy are important for most users. You can select the lifetime free VPN or 30-day money back guarantee for the paid plans. It is a very good time to get the best deal. Hide.me VPN is 64% off during this promotion. Don't hesitate. Get it when the discount is still available!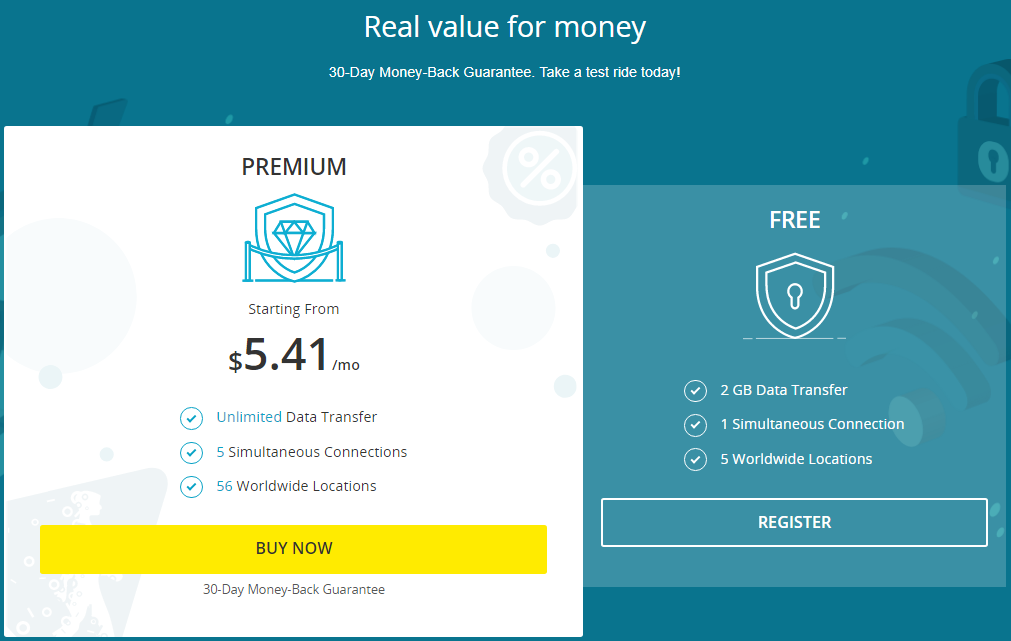 Published by & last updated on June 10, 2020 2:03 am