I received the following message on my iPhone: Your iPhone have been locked due to illegal activity! Immediately call apple support to unlocked. The phone number they provided was not working (+448081698360). I could not use internet on the phone for 35 mins. Tried several times to switched off. It started working as normal after. I'm worried about it. Let me know what was the problem and want to make sure anybody hacked anything. Thanks a lot in advance for your reply.
Is "Your iPhone has been Locked due to Illegal activity" Warning Real?
Do you get a police saying your device has been locked due to illegal activities? Have you been fined for watching porn on smartphone or tablet? Is the police alert real? We can tell you that this kind of popup warning is surely fake. It was made up by the hackers and displayed by malicious virus to scare you into paying non-existed fine. In order to bypass "Your iPhone has been Locked due to Illegal activity" warning, you need to remove the fake police virus completely.
The owners of this police threat are not the police, but the hackers who are trying to swindle money out of you by using the aggressive ransomware. Security experts discovered rising arms race among competing malware developers in those days. The hackers spare no effort to attack device for money.
In the very beginning, ransomware mainly attacked desktop and laptop. Now, mobile devices are widely used and play an important role in daily life. In order to grab more money, they developed various malicious programs, including ransomware, Trojan, Worm and browser hijacker etc. to attack mobile device no matter what the brand and system are. According to research, Android, IOS and Windows phones/tablets are the main targets.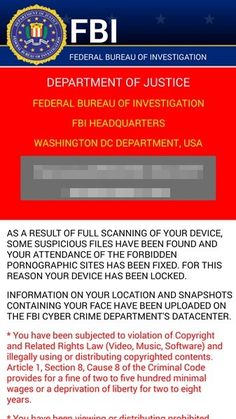 What can Scam Virus do?
When "Your iPhone has been Locked due to Illegal activity" warning appears, it does not allow you to do anything on browser, except sending them a fine. This scam virus is able to attack Safari, Google Chrome and Mozilla Firefox etc. After the virus takes over your browser, a JavaScript alert is showing up on your iPhone and asking you to pay for a fine of $500.
The fake police virus usually pretends to be a legitimate message pop-up from law enforcement agency, such as FBI, Cyber police, Department of Justice and UK police etc. It claims that your device has been locked due to involving illegal activities. Sometimes, the nasty virus only blocks the Internet access, not the whole phone screen so you are still able to make a phone call. However, it does not let you bypass "Your iPhone has been Locked due to Illegal activity" warning no matter how many times you restart the iPhone.
You may be accused of abusing copyrighted content, viewing & distributing pornographic material and similar crimes. It states your device has been used to visit websites containing pornography, child pornography, and child abuse. The dirty pictures also are showed on the screen.
It scares you that you violated the laws and are obligated to pay a fine to avoid more trouble. To make the warning look authentic, it displays logo of FBI, Cyber police or federal government with a picture of president, pointing at your face. Specific laws that you broke and related punishment are listed.
On "Your iPhone has been Locked due to Illegal activity" warning, the virus even grabs part of your contacts, threatening that your friends will know your illegal actions and also be interrogated for what have done. The scam virus also has the capability to run your camera and take a picture of your face. It says your profile including name, IP address, location, system, email, facebook and pictures have been uploaded to the center crime data. If you don't pay the fine in time, the police will come to you and take you to court. You will have to spend years in jail.
You may be demanded to pay a fine which ranges $100 to $500 by using Ukash or PaySafeCard payment methods in order to get your mobile phone or tablet unlocked. The Ransomware utilizes such alternative payment systems as Vanilla card, iTune gift card, Ukash, PaySafecard, Walmart gift card or MoneyPak etc to collect ransom fees from the victims. Victims should know that paying the fine is equal to sending money to cyber criminals. The police message that blocks your iPhone has nothing to do with the real police. It is the hackers who demand you to pay a fine.
The fake police warning says a criminal case will be initiated against you and you will be taken to jail if the penalty is not paid before the countdown ends. In fact, this police warning is a scam virus. You didn't do anything against the laws and are not in trouble with the FBI. The real police will not inform you of a crime and collect fine via a popup on mobile device. The real criminals would just run away after they received such warning. The police will break in your house directly and take you immediately if you did violate the laws.
Since paying the so-called fine can't help you bypass "Your iPhone has been Locked due to Illegal activity" warning, manual removal is an effective solution for this. Just delete the rogue software behind this fake warning manually. Processing manual removal is supposed to have a certain level of tech skill. If you are not sure how to start and are afraid of making any critical mistakes damaging the cellphone, please live chat with YooCare Expert now.

Bypass "Your iPhone has been Locked due to Illegal activity" Guide
1. Turn on airplane mode on the infected device.
2. Locate malicious files related to fake battery virus warning.
3. Remove them one by one.
5. Restart the device and turn off airplane mode.
How Your Device Got Infected with Virus?
The criminals spread malicious software via various ways. Your device will be infected easily before you can react. Let's talk some of the situations.
Situation 1: Viewing suspicious sites. Virus on malicious sites and legal sites that have been compromised can catch you and block the device immediately when you visit them.
Situation 2: Opening corrupted attachment or click on malicious links in a spam. The cyber criminals dispatch tons of spams with virus to worldwide users every day. Sometimes, virus is embedded in attachment. Sometimes, it hides on site that the malicious link redirects you to. Once you click on them, virus sneaks into your device quickly.
Situation 3: Downloading unknown software that includes malware. Sometimes, you may be convinced that a piece of certain software is useful and meet your needs very much. After you see description of the software, you may think that you will not lose anything after you install it even if it is not as useful as it says. You are totally wrong. Once you download software with virus, your device will be blocked. You are putting your device at risk.
Conclusion
In a word, the "Your iPhone has been Locked due to Illegal activity" warning is totally a scam virus. If you see this warning on your iPhone, do not trust it and pay the penalty as it demands. The warning is not issued by the FBI or Cyber police. You will not go to jail or court. Your browser is locked by the nasty virus but not the police. Just ignore the fine. Many innocent users complained on the web that their devices were still locked by the police warning after paying the fine as it required. They couldn't bypass "Your iPhone has been Locked due to Illegal activity" warning until they removed the scam virus completely. We suggest you remove the fake police scam virus as soon as you see it because it is harmful to your device and information. Do not put your valuable information at risk. Get the malware off your device right now!
Suggestion: Manual removal is a skillful and risky job, if any mistakes are made during the removal process, you may damage your phone immediately. If you are not sure how to start, please contact YooCare PC experts 24/7 online for help right now.


Published by & last updated on January 19, 2018 2:57 am