Well, I have this message popping up saying that I have 4 viruses and my device is 28.1% damaged, telling that I need to install some apps to remove it. I didn't follow but googled around. It turned out that many of the reviews say it isn't legitimate and that it does not remove the pop ups. The problem is I can't even use Google Chrome anymore because it is constantly popping up. Besides, it says it came from adult content which I know can be risky so I don't know if it's real or not. It says it'll lock my phone in a day every time I keep clicking the back space. What can I do to get rid of the "four viruses"? Please help.
What is "Your Device is 28.1% Damaged Because of 4 Harmful Viruses" Alert?
Do you get popup about 4 viruses while browsing? Have you been warned that your device was 28.1 % damaged due to some viruses? Why would you get such alert on mobile? It is because your device is affected by a nasty browser hijacker virus. The four viruses are not real. The warning seems to be helpful which tells you have virus and provides a solution. In fact, it is not helpful at all. Instead, it is the real threat which hijacks your browser and mess up your device. Do not be tricked by its appearance. As you know, it pops up frequently which stops you from using the browser normally. It is trying to persuade you to download suspicious software, thus helping its developers make money. There is nothing good it will do to your device. Meanwhile, it puts your device and information at risk. This fake alert virus should be removed as soon as possible.
What the "Four Viruses" can do?
The "four viruses" is developed to compromise mobile devices. The main purpose of this scam virus is to display message about viruses and instructions on how to clear viruses. We have to tell you that the instructions are not helping you get rid of the viruses, convincing you to download software with potential threat or a rogue antivirus program. The "four viruses" is very tricky which sneaks into your device alongside with the third party programs and continue to disguises itself as a useful program in your system. After the virus is installed, it hijacks and injects malicious code to your browser. When you use the browser, it displays virus alerts and system errors to scare you into downloading useless software. It says your system is infected with four viruses and your device is 28.1% damaged. Ads are added into your search results and ranked at the top while it has nothing to do with the information you want. Once you click on the ad links, its developers get money. Even when you don't use browser, different ads pop up after you connect your mobile to the network. That is so annoying. The virus warning redirects you to app store or a website to download a piece of software. You need to be careful at that time because the software or website can be dangerous. After all, the hackers distribute viruses everywhere they can access. After you have been redirected to suspicious website, the virus may collect what you have typed on the site, like your name, address, credit card number, security code and other crucial information. If you have encountered similar popups and warnings, we strongly urge you to immediately shut down your web browser and remove the browser hijacker virus right away.
Since installing the so-called software can't help you get rid of "Your device is 28.1% damaged because of 4 viruses" message, manual removal is an effective solution for this. Just delete the browser hijacker virus behind this fake warning manually. Processing manual removal is supposed to have a certain level of tech skill. If you are not sure how to start and are afraid of making any critical mistakes damaging the cellphone, please live chat with YooCare Expert now.

How Your Device Got Infected Browser Hijacker?
The criminals spread malicious software via various ways. Your device will be infected easily before you can react. Let's talk some of the situations.
Situation 1: Viewing suspicious sites. Virus on malicious sites and legal sites that have been compromised can catch you and block the device immediately when you visit them.
Situation 2: Opening corrupted attachment or click on malicious links in a spam. The cyber criminals dispatch tons of spams with virus to worldwide users every day. Sometimes, virus is embedded in attachment. Sometimes, it hides on site that the malicious link redirects you to. Once you click on them, virus sneaks into your device quickly.
Situation 3: Downloading unknown software that includes malware. Sometimes, you may be convinced that a piece of certain software is useful and meet your needs very much. After you see description of the software, you may think that you will not lose anything after you install it even if it is not as useful as it says. You are totally wrong. Once you download software with virus, your device will be blocked. You are putting your device at risk.
Screenshot of "Your system is badly damaged by 4 viruses" Message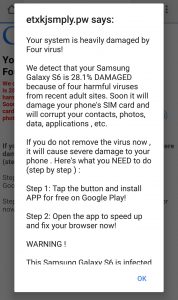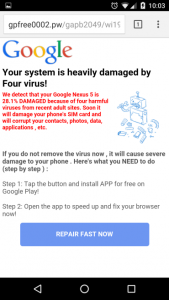 Conclusion
"Your device is 28.1% damaged because of 4 harmful viruses" alert is fake. There is no "four viruses" on your device. The virus which really exists is the warning itself. This warning is different from the system alert and error. The system alert reports real threat for users' good while this "four viruses" alert tricks users into downloading unknown software with potential threat. Do not trust the alert. What it wants is not helping you, but gets some money from you. Your device is not damaged. However, you still ought to be more cautious because the browser hijacker virus can bring more aggressive malware in order to ruin your system for your name, location, browsing habits and financial details etc. The app it pushes you to download can be ransomware and the websites you are redirected to can make you download more threat. After that, the viruses do not simply hijack your browser. They can block the whole device and will not allow you to do anything on it. In order to prevent those things from happening, you must get the browser hijacker virus behind this "Your device is 28.1% damaged!" message off your device now. As some of the security programs can't detect this browser hijacker virus, we suggest you remove the virus manually. Get rid of it once for all.
Suggestion: Manual removal is a skillful and risky job, if any mistakes are made during the removal process, you may damage your phone immediately. If you are not sure how to start, please contact YooCare PC experts 24/7 online for help right now.


Published by & last updated on November 2, 2017 11:11 am