Hey. I find it is very difficult to load VUDU video in China. To be clear, my Internet connection on PC is very good. I can watch the video with high quality smoothly on Youku (It is a China-based video sharing platform). However, it is totally different on VUDU. Do you know what the problem is? How can I fix it?
Brief Information of VUDU
VUDU is a video streaming service which allows subscribers to rent, buy, and watch more than 17,000 HD movies and TV shows on demand. It doesn't require a subscription fee. Sign-up is free. So, you only pay for what you rent or buy, no more else. You can rent the one-time movie which is cheaper. Also, you can purchase the movie and own it forever. Compared with some video platforms, movies on VUDU come sooner. You can purchase feature movies which are still in theaters. Besides, you can enjoy the free streaming service on it. In order to win competition with other streaming service, it offers Movies On Us which is ad-supported. You only need to sit through the commercial ad time, but no need to pay to stream. VUDU is an Internet-based application, which means you access VUDU movies through an online connection. The fast connection, the better. Of course, it doesn't matter if your connection is not that good. You are allowed to select quality of your video download. Or, you can download video at a place where the connection is good and watch it any time you want. VUDU is very popular due to the latest and huge video library. If you would like to watch the latest movies without going to the theater, VUDU is the best choice.
Why is it Difficult to Watch Video on VUDU?
VUDU is an open stream services which allows all users to access the videos. However, users in China find that it is difficult to watch video on it. It takes a long time to load the homepage. When you try to open a channel, you need to wait for a while to see the content. It is very annoying especially when you are trying to watch the video. It just gets stuck and loads now and then. Besides, Internet censorship is very strict in China. The Golden Shield Project has been created to monitor Internet users' activities and prevent them from accessing websites which are deemed to be harmful. As a video and related statement on the Internet caused a big riot in China, the Chinese authority decided to create the Great Firewall to censor and block some of the western services, such as Facebook, YouTube, Google and VUDU etc. There are many limits for browsing foreign websites and the connections are slow. In order to have the amazing experience on VUDU and other similar websites, we suggest you use a VPN. It helps you bypass the high censorship and view websites fast and freely.
What is a VPN? VPN stands for Virtual Private Network. It creates an encrypted and secure connection between you and the website you are visiting. The VPN server plays the role of a middleman between you and the website that you are visiting. Given that the network traffic between you and websites is encrypted like a tunnel, the ISP will have no idea of your traffic emerges without signs of who you are or where you're connecting from. The VPN server provides IPs from other country to replace your real IP. With the help of VPN, you will be able to access VUDU any time when traveling in China.
Some of you may not choose VPN because it not free of charge. What we want to tell you is you get what you pay for. Though other tools are free, they can't give what you want. With a lack of access or reliability, many tools simply aren't an option for you. As we know, the Great Firewall of China is the most powerful and advanced one in the world. How come it allows you to defeat so easily? The free tools can cause a number of problems, such as unreliable collaboration and document sharing. That will be too bad.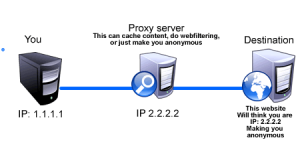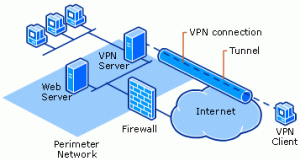 If you have any questions about how to watch VUDU Video smoothly in China on iPhone 8, please live chat with YooCare Expert now.

Before you read the steps, let us tell you something important. There VPN websites are filtered by the Chinese government almost every day, and hence there may be a possibility that some of these websites are not working anymore. So make sure that you have seen the updated VPN list before choosing one.
Here are some steps:
·First of all, you will need to go to the website of the particular VPN and register yourself there.
·Then you will need to buy the subscription package because no VPN in China is free of cost.
·Once you have purchased the package that will allow you with the different types of features, bandwidth, and data usage and so on, you must download the application for the desired device. You can select the desired sever either before downloading the application or after it a server that is allocated outside China but in the country near China should be chosen.
How to Set up VPN on Mac?
Set up VPN for Mac is quite common for the majority of Mac computer users. After you buy a VPN, you will get an account. Before you move on, please note that you have gotten all the needed information prepared. Once all things are ready, you can follow the following manual guide to set up the VPN on your Mac by yourself. But, if you are not familiar with VPN set up process when you see the following steps, you are suggested to Live Chat with YooCare Online Expert for further help.
Step 1: Click the Apple menu, select System Preferences, and click Network or click the Wi-Fi icon on the menu bar and select Open Network Preferences.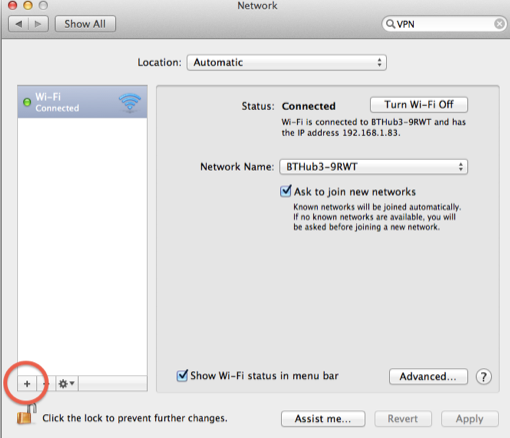 Step 2: Click the plus sign button at the bottom left corner of the window and select "VPN" in the Interface box. Choose the type of VPN server you need to connect to in the "VPN Type" box and enter a name that will help you identify it.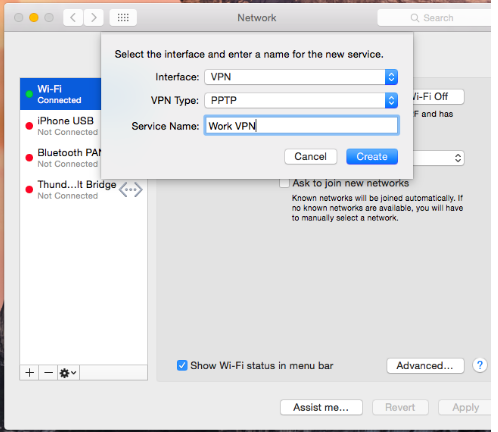 Step 3: The "Authentication Settings" button allows you to offer the authentication you'll need to connect — anything from a password or certificate file to RSA SecurID, Kerberos, or CryptoCard authentication.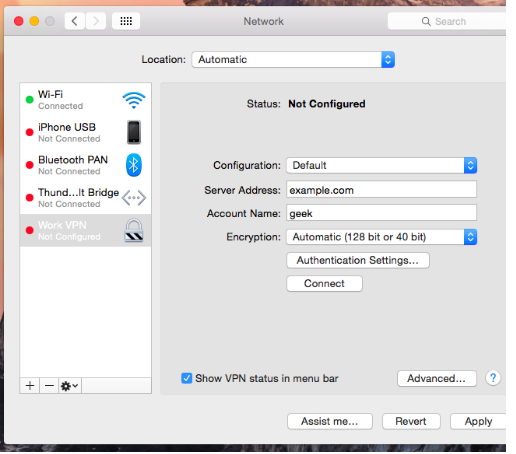 The "Advanced" button allows you to configure the VPN connection in other ways.
Step 5: When you finish all settings steps, please click Apply button to confirm your settings. And you're kindly suggested to enable the "Show VPN status in menu bar" option. Then you will get a menu bar icon to manage your VPN connection. The menu bar icon can easily help easily connect to your VPN and disconnect from it as necessary.

How to Set up VPN on Windows 10?
Setting up a VPN connection with Windows 10 requires you having the proper credentials to access a server. Before you move on, please note that you have gotten all this prepared. You may have to coordinate with your system administrator. Once all the needed information is ready, you can follow the following manual guide to set up the VPN connection to your Windows 10 computer by yourself.
•Log on to your Windows 10 PC with an administrator account.
•Once on the desktop window, click the Start button from the bottom-left corner of the screen.
•From the left section of the displayed Start menu, under the Places section, click Settings.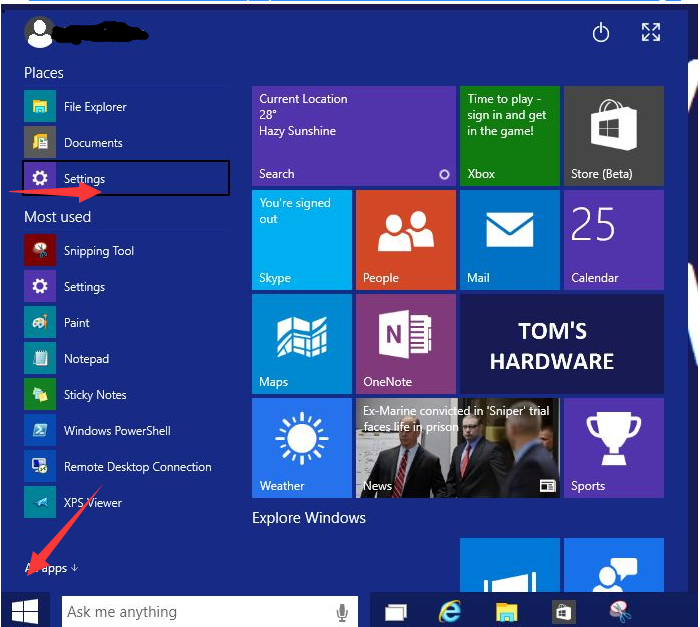 •On the open Settings window, click the Network & Internet icon.

•From the left pane of the open Network & Internet window, click to select the VPN category.
•From the right pane, click the + icon representing the Add a VPN connection option.
•On the Add a VPN connection box, populate the fields with the correct values.
•Make sure that the Remember my sign-in info checkbox at the bottom is checked, and click Save.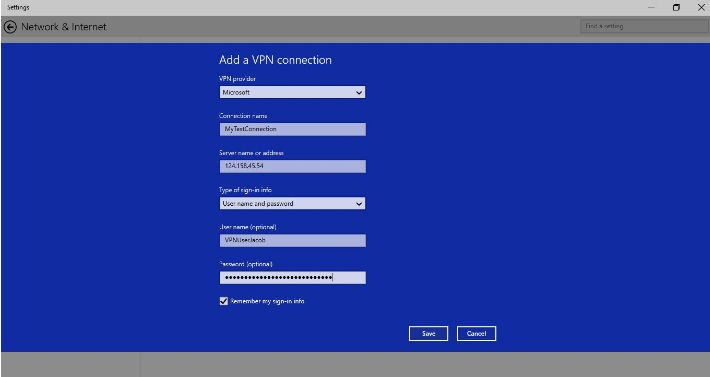 •Note: You may not want to save the sign-in info on public computers such as those in Internet cafes, or libraries. Do NOT check the Remember my sign-in info when using such computers.
Once the new VPN connection is successfully created, back on the Network & Internet window, keeping the VPN category selected from the left pane, click to select the newly created VPN connection from the right.
Notes:
1. Always choose the server that is near China so that one can get the fastest possible results.
2. These VPNs are not free of cost hence ready to pay some affordable price to get the access to the Telegram and other blocked websites.
3. If you use VPN in China, make sure to get the updated list of the VPNs because most of the old VPNs have been banned by China.
4. Moreover, never search or do something that can be offensive to Chinese authorities something traceable by GFW.
Top 10+ Best VPN Services In The World
| VPN Brands | Servers | Country | # of Connections | Price(USD) | Official Website |
| --- | --- | --- | --- | --- | --- |
| | 3000+ servers in 94 countries. | British Virgin Islands | 3 | $6.67/Month (Save 49%) | Best Choice |
| | 5159+ servers in 60+ countries. | Panama | 6 | $2.99/Month (Save 75%) | View Deals |
| | 3,307+ servers in 32+ countries. | USA | 10 | $3.49/Month (Save 65%) | View Deals |
| | 800+ online servers in 50 countries. | British Virgin Islands | Unlimited | $1.99/Month (Save 83%) | View Deals |
| | 1,300+ servers in 60+ countries. | USA | 10 | $6.49/Month (Save 46%) | View Deals |
Click Here to Read More Top 10 Best VPN Services »
Video Shows How to Watch VUDU Video Smoothly on PC in China

Conclusion
VUDU is very welcome among the young. They rent and buy only the video they need without a signup fee. The feature which attracts users the most is the latest videos. Movies on VUDU are available earlier than Netflix and other traditional streaming services. Though it is difficult to access VUDU under the cover the firewall, the users in China still would like to use it. In this age, people are eager to learn different culture by watching video and listen to music on foreign platform. Many people choose VUDU because they can catch up with the latest movies at the first time. Otherwise, users have to wait for months in China after the movie has been released in the US. They also try to use Facebook, Twitter and other international social media platforms. However, the Great Firewall of China does not allow them to access those websites. The strict Internet censorship makes it very inconvenient to access foreign websites. In order to watch video on VUDU freely and access the blocked websites, a VPN is necessary. It allows you to choose a server which is located in the place where VUDU is so that you can load the website and videos fast. Besides, the VPN encrypts your connection on the Internet. The ISPs do not how fast your speed is and will not throttle it. In this way, you can enjoy the smooth movies on VUDU with the amazing speed. Get a VPN for the latest movies on VUDU in China.
Kindly Reminder: If you have any question regarding how to watch VUDU Video smoothly in China and how to Set up VPN on your device, please live chat with YooCare online expert for help.

Published by & last updated on May 30, 2019 8:08 am