Hey. How can I avoid censorship in China to use the blocked messaging app? I need Viber messenger to contact my friends from my iPhone 8. Please help. I am new here.
Brief Information of Viber Messenger
Viber is a free messenger which was developed by Viber Media. Later, it was bought by a Japanese company named Rakuten. It is a cross-platform instant messaging and voice over IP (VoIP) application which allows you to message or call anyone in the world through your Internet connection. You not only can send instant message, but also can exchange images, video and audio media messages by sending files to each other. Besides, Viber messenger protect your privacy. Its communications are end-to-end encrypted with keys. In this case, the provider also doesn't have access to communication. You can chat with your friends via Viber messenger freely without worrying about information leak. It has apps for Android, IOS, Windows and Linux devices. You can contact your friends anytime and anywhere. In addition, it provides the option to call mobile and landline numbers. You don't need username or login information. To activate it, you only need to enter your phone number. Once it's done, you can have face-to-face chat with your family or make international call for free while the calls boast HD quality sound.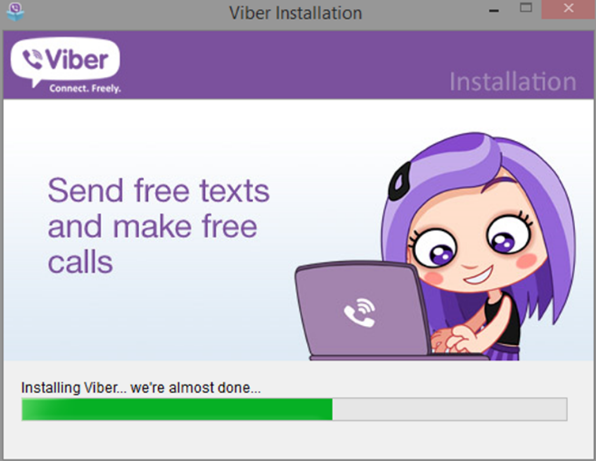 Why can't You Use Viber Messenger in China?
Viber messenger has a huge number of registered users all over the world. It has been famous because of the communication encryption feature. However, it has been blocked by the Great Firewall of China due to this same feature. If you live in China or are familiar with China, you may know that Internet censorship in China is pretty high. The ISP and firewall both work to help the government to monitor users. Since 2009, lots of websites and services, such as Facebook, Twitter, YouTube, Google and Viber messenger, have been blocked. The Chinese government believed that the rumors spread on the social media platform caused the Riot which brought harmful effect to its country. Therefore, they block those websites and services that are deemed to be harmful. Besides, Viber messenger communication is encrypted. The Chinese government can't monitor and learn what users are saying and doing via Viber. Hence, they keep updating the firewall to block anything that is not under their control. In this case, you can't use Viber messenger with the help of local server in China.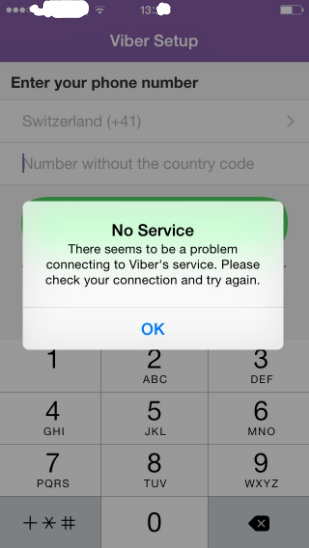 How to Access Viber Messenger in China?
Though Viber messenger is blocked, many users in China still want to access it. Some of them are Chinses who prefer a secure way to contact others. Some of them are foreigners from all over the world. They used Viber messenger before coming to China and need it to contact home. Therefore, people found ways to bypass the firewall to access it. So far, the best way to bypass VoIP and chat messaging restrictions is a reliable VPN service. It encrypts the connection and replaces client's IP address with IP address located outside of country where Viber was blocked. Others do not know that you are located in China. There is no reason for the firewall to block your connection.What is a VPN? VPN stands for Virtual Private Network. It creates an encrypted and secure connection between you and the website you are visiting. The VPN server plays the role of a middleman between you and the website that you are visiting. Given that the network traffic between you and websites is encrypted like a tunnel, the ISP will have no idea of your traffic emerges without signs of who you are or where you're connecting from. The VPN server provides new IPs to replace your real IP. With the help of VPN, you will be able to use Viber messenger any time when traveling in China.
If you have any questions about how to use Viber messenger in China on iPhone 8, please live chat with YooCare Expert now.

Before you read the steps, let us tell you something important. There VPN websites are filtered by the Chinese government almost every day, and hence there may be a possibility that some of these websites are not working anymore. So make sure that you have seen the updated VPN list before choosing one.
How to access Viber messenger on iOS in China
Below you can see simple instructions.
1. Click Settings > General > VPN
2. Tap Add VPN Configuration
3. Select L2TP VPN and enter you VPN account data. You will receive your VPN server, username and password in the e-mail
Server address must be exactly as in your account data (without http://, www or any other symbols).
4. Save your VPN configuration. Once you have created VPN connection you can switch it ON and OFF on the main settings screen
When you are connected to VPN you can use Viber messenger without any restrictions.
How to use Viber messenger on Android in China
To use Viber messenger on your Android device you need to make a VPN connection between you and VPN server. You do not need any additional software or applications. All you need is make a few simple steps:
1. Tap Settings
2. Select Wireless & Networks and tap on VPN
3. Add VPN Network
4. Input connection name, select the type of your VPN connection – PPTP VPN, input VPN server address from your account data.
Please be carefully – don't use any additional symbols like spaces, http://, www, / …etc in the server address.
5. Input your Username and password that you received from VPN account service in e-mail.
Save it and tap Connect
For connection to vpn server:
1. Select Home > Menu > Settings
2. Tap Wireless & networks
3. Tap VPN settings
4. The VPN connections you have added are present in the list
5. Tap the VPN you wish to connect to
6. A dialog box will open asking for your credentials, enter them and click connect
When you are connected to VPN, you will see an ongoing notification in the Status bar on your Android device. If you are disconnected, you will receive a notification and an option to go back to the VPN settings section.
Notes:
1. Always choose the server that is near China so that one can get the fastest possible results.
2. These VPNs are not free of cost hence ready to pay some affordable price to get the access to the Telegram and other blocked websites.
3. Moreover, never search or do something that can be offensive to Chinese authorities something traceable by GFW.
Top 10+ Best VPN Services In The World
| VPN Brands | Servers | Country | # of Connections | Price(USD) | Official Website |
| --- | --- | --- | --- | --- | --- |
| | 3000+ servers in 94 countries. | British Virgin Islands | 3 | $6.67/Month (Save 49%) | Best Choice |
| | 5159+ servers in 60+ countries. | Panama | 6 | $2.99/Month (Save 75%) | View Deals |
| | 3,307+ servers in 32+ countries. | USA | 10 | $3.49/Month (Save 65%) | View Deals |
| | 800+ online servers in 50 countries. | British Virgin Islands | Unlimited | $1.99/Month (Save 83%) | View Deals |
| | 1,300+ servers in 60+ countries. | USA | 10 | $6.49/Month (Save 46%) | View Deals |
Click Here to Read More Top 10 Best VPN Services »
Video shows you how to use Viber messenger in China on iPhone 8

Conclusion
Viber messenger is a useful application. You can connect with friends and family using instant messaging, voice calls, or live video chats. Enjoy the free long-distance calls with high voice quality. Most of you do not give it up because of the encrypted communication. For this reason, VPN is very popular in China. It helps you circumvent the censorship to access geo-restriction contents. You are anonymous online because the VPN hides your online identity. The snoopers can't steal precious information from you. The ISP and firewall do not know what you do and who you really are on the Internet. VPN will allow you to appear to log on from a different location, outside of China or other countries where Viber is blocked, thus bypassing the chat messaging restrictions by the ISP. The Great Firewall is powerful and it has been updated all the time. You need a reliable VPN to overcome it to use Viber messenger in China freely and securely.
Kindly Reminder: If you have any question regarding how to use Viber messenger on iPhone 8 in China and how to Set up VPN on your device, please live chat with YooCare online expert for help.

Published by & last updated on May 30, 2019 8:14 am