I have the ransomware virus on my phone with the cyber police message. They took a picture of my face and say pay this fine, and it says I had some images on my phone of child porn, and it showed me and I never had those images even on my phone! Long story short I wanna use my phone and get rid of it, I have an Samsung Galaxy phone and it won't let me shut it down, what do I do?
Brief Description of Cyber Police Ransomware
Is your phone locked by a cyber police threat? Have you been fined by a popup on smart phone? That does not mean that you get trouble with the cyber police or any other legit agency. In fact, your phone has been attacked by a virus. This cyber police virus is a member of the Troj/Koler Ransomware family. It has been defined as one of the most dangerous viruses. In the very beginning, the cyber police ransomware was made to attack and lock Windows-based computers to extort money from innocent users. With the development of mobile devices, cyber criminals gradually changed their main target. As mobile device becomes a necessary in daily life, Android-based mobile is the first choice. As the apps from third party are allowed to be installed on android, virus can be installed without your knowledge and permission.
Commonly, ransomware virus locks your phone or limits the Internet access. In order to scare you, it exploits the names of authorities including the Cyber police, FBI, USA Cyber Crime Investigations, and the ICE Cyber Crime Center. It claims that your phone is locked due to law violations such as watching pornography, using copyrighted files, etc. You must pay an amount of fine to end the trouble and take the phone back. In most cases, cyber criminals employ the OneVanilla, iTune gift card, Green Dot MoneyPak, Ukash, or PaySafeCard pre-paid card services to collect fake fines from unsuspecting mobile device users because it is hard to trace where the money is going to with the prepaid card.
What Cyber Police Virus can do?
Once the virus is installed, it disables your security software and changes settings to avoid being removed. It is able to hijack your browser and display bogus notification. The notification is not a regular one which will disappear soon. This police waring will not go away even though you quit the browser. Every time you open the browser app, it pops up immediately and does not allow you to close it or open a new tab. What's worse, the ransomware is capable of blocking the whole phone screen. You can't access the home screen or do anything on the phone. Sometimes, it even does not allow you to power off the phone. With the help of the remote hackers, it can activate your camera and take a picture of you without your permission to scare you. On the phone, you only can the see fake police warning.
From the appearance, it does looks like a real police warning. It says that your android phone has been blocked due to it being involved with the distribution of pornographic material, SPAM and copyrighted content. Several specific laws are listed with the seal of cyber police. In fact, you didn't do anything wrong. The cyber criminals make up them to trick you. You don't need to pay the fine as it requires. Another variant of this ransomware is capable of changing victims PIN for the lock screen. It is the worst situation because you still can access your phone though it is in safe mode. Therefore, get rid of the cyber police ransomware virus as soon as possible.
CYBER.POLICE American national security agency
ATTENTION! YOUR DEVICE HAS BEEN LOCKED REASONS INDICATED BELOW. Remaining time to pay a fine. Otherwise the case file will be transferred to the court. All actions are illegal, are fixed. History query stored in the database of the U.S. Department of Homeland Security. To unblock your device and close your case you should pay a $200 file to Treasury account. Pay to unblock device with iTunes Gift Card. Your case will be closed immediately after the transaction processing! Avoid becoming a fraud's victim! Evade the scams, that ask you to afford you iTunes Gift Card. Please, observe following rules for your safety: You mustn't give your prepaid card number or your bank account details, till you are absolutely sure, that the person is conscientious. Remember, if somebody asks you to buy a iTunes Gift Card, it is a scam. Don;t show or report your iTunes Gift Card Code to anyone. Use only approved Apple partners.
What's The Best Way to Remove cyber police ransomware?
The FBI virus is believed to be from the Internet, spreading for illegal purpose. It is a ransomware created and controlled by cyber criminals who are qualified with certain levels of tech knowledge and skills. Since almost every single android device like Kyocera has an authentic virus protector, cyber criminals must make this virus quite smart in order to escape from the detection and auto removal by legitimate antivirus programs. That's why smart device with antivirus protections still get infected by this FBI Vanilla virus. As the virus block the anti-virus programs, virus manual is the most effective way so far. That will make sure that the FBI virus will not come back again.
Manual removal process, which requires advanced computer knowledge and abilities as well to deal with the virus manually, is suggested here as the most efficient way of unlocking android mobile from FBI Vanilla Virus. Due to the changeable characters of virus files and associated settings, we suggest you contact computer experts for help.
How to remove cyber police ransomware from Samsung galaxy phone? Since paying the so-called fine won't help you remove this scam virus, manual removal is an effective solution for this. Processing manual removal is supposed to have a certain level of tech skill. If you are not sure how to start and are afraid of making any critical mistakes damaging the cellphone, please live chat with YooCare Expert now.

Screenshot of similar fake police Warning Virus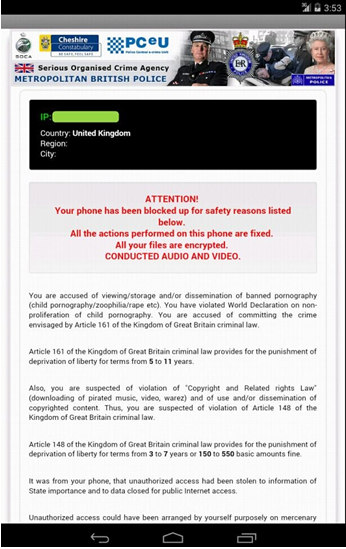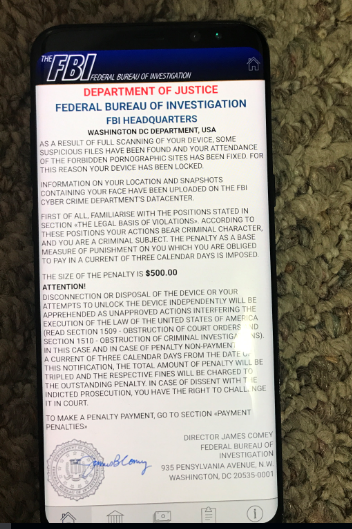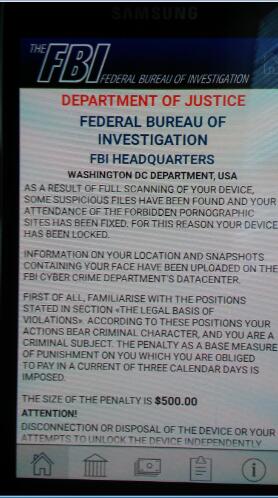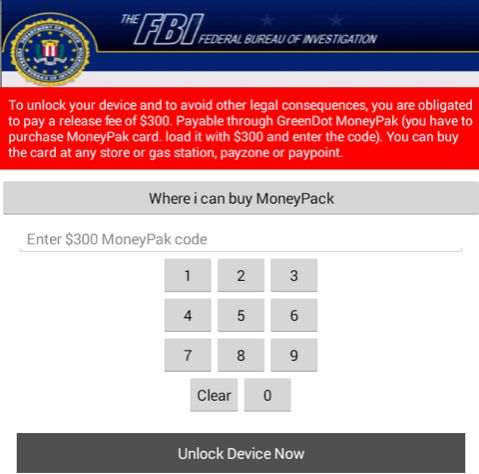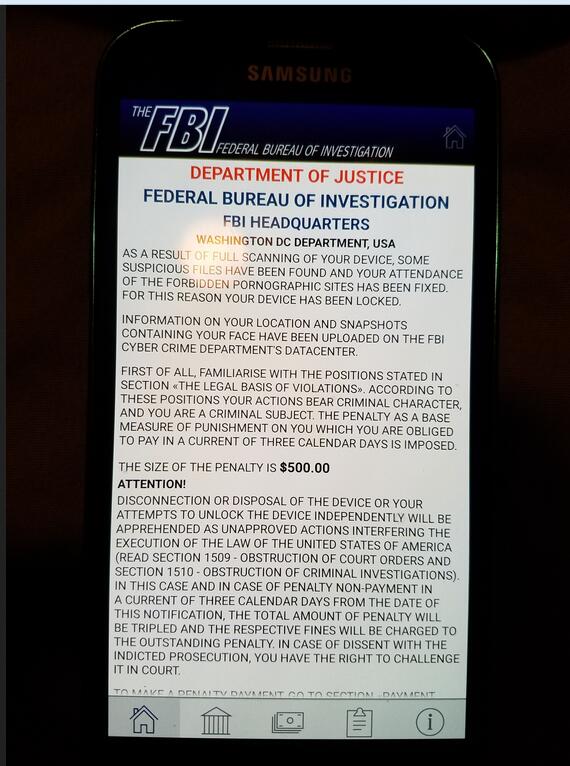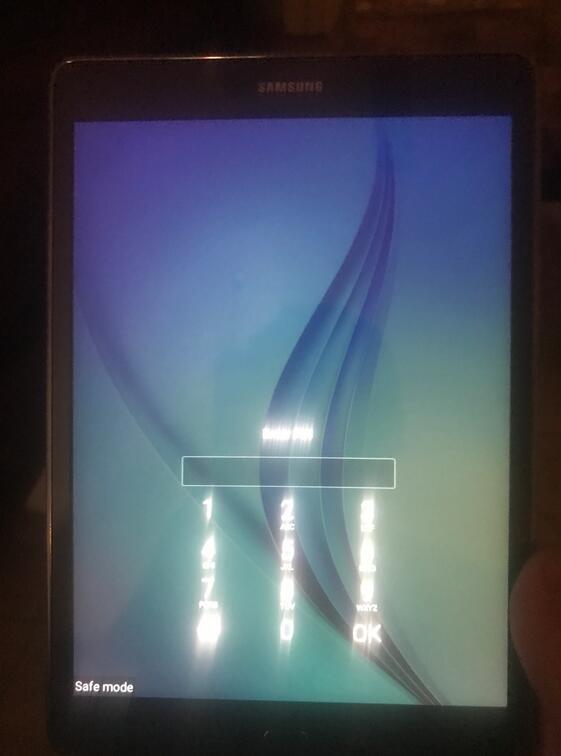 How Your Device Got Infected with police-theme Warning Ransomware?
The criminals spread scam virus via various ways. Your device will be infected easily before you can react. Let's talk some of the situations.
Situation 1: Viewing suspicious sites. Virus on malicious sites and legal sites that have been compromised can catch you and block the device immediately when you visit them.
Situation 2: Opening corrupted attachment or click on malicious links in a spam. The cyber criminals dispatch tons of spams with virus to worldwide users every day. Sometimes, virus is embedded in attachment. Sometimes, it hides on site that the malicious link redirects you to. Once you click on them, virus sneaks into your device quickly.
Situation 3: Downloading unknown software that includes malware. Sometimes, you may be convinced that a piece of certain software is useful and meet your needs very much. After you see description of the software, you may think that you will not lose anything after you install it even if it is not as useful as it says. You are totally wrong. Once you download software with virus, your device will be blocked. You are putting your device at risk.
Step-by-step Guide to Unlock Your Android mobile phone from this scam virus
Step 1: Please try to put the infected android device into Safe Mode at first to unlock the screen temporarily from the powerful scam virus
(1). For various android phones: hold down the power button to bring out the menu with Power Off and Reboot option—-hold down the Power Off option (If nothing happens, please tap and hold the Reboot option instead)—-click OK on the pop-up box asking if you want to access safe mode.
(2). For Samsung Galaxy S4 and Samsung Galaxy S5: power off the device first. Press power button to power it on and tab the soft-touch Menu button repeatedly
(3). For Samsung Galaxy S3 and other phones with similar customized android system: power off the device—-turn on and hold down the Volume Down button (try Volume Up or Volume Down and Volume Up together if Volume Down does not work) when the brand logo shows up
You will see "Safe mode" at the lower left corner of the screen if you access safe mode successfully

Step 2: Search and remove suspicious files which are related to the virus
Step 3: Reboot the device to get out of safe mode.
Conclusion
The cyber police virus is very dangerous and tricky. It corrupts your phone and displays fake police warning to threaten you. It states that you will be arrested and stay in jail for years if you don't pay the penalty within the given time. Your friends will know that you violated the laws and they also will suffer from it. When being attacked by the cyber police virus, a plain reboot won't help, because the malware comes back to life early in the restart. You may despair and believe that the warning is real, thus paying the fine. It is not the right thing to do. Many victims told that their phones were still locked though they paid the fine. Hence, do not pay the fine. Though the warning is fake, the virus is real. You need to remove it completely because the ransomware targets on your money and other precious information. As long as the virus stays on your phone, your information is at considerable risk. Remove the cyber police virus off your phone before it is too late!
Suggestion: How to remove cyber police ransomware from Samsung Galaxy phone? Manual removal is a skillful and risky job, if any mistakes are made during the removal process, you may damage your phone immediately. If you are not sure how to start, please contact YooCare PC experts 24/7 online for help right now.


Published by & last updated on December 23, 2017 5:10 am