Hi. Can you help me unlock my phone? It is a Samsung phone and blocked by the FBI warning message. I cannot do anything now. It accuses me of watching illegal porn and asks to pay $500 dollars to fix the problem. I have done nothing wrong. I was visiting websites and trying to click out a commercial. This FBI thing took control suddenly. I can't even turn off the phone. Is this message real? Please help me delete the message and I don't want to pay $500 dollars. Thanks.
Yes, I need your help. Please help me delete the FBI screen on my LG phone. It blocks everything. It says I watched illegal porn videos and violate the law. I need to pay $100 bucks to unlock my phone. If not, I will be put into justice and sentenced 5-8 years in jail. Is it real? Can it delete my data on the phone? How can I get it off without paying the money? Help me please. Thank you very much.
More Information about the Fake Warning Message Claiming to Be from FBI.
The fake FBI alert has prevailed for several years since the first variant was programmed by the cyber criminals to corrupt all types of android phone and tablets. If your device is infected with the FBI warning message, you will be blocked completely from using the device the to do anything. Victims can't even power off the device let alone trying to run an antivirus program to get rid of it. The victims are accused of watching illegal pornography and needs to pay an unreal fine ranging from $100 to $500 dollars to unlock the device and fix the issue. It is not advised to make any payment. First, some victims report that they pay the fine but the phone is still locked. Secondly, it is not wise to trust that a scammer will help remove the virus completely he develops to attack you. Finally, as a matter of fact, you can get rid of the FBI warning message completely at much lower cost by turning to an expert in a legit company to help deal with it.
Many users want to know if the warning message is from real FBI. The answer is no. It is just a trick that scammers use to fool the victims into their trap. This ransomware often disguises to be a law enforcement agency to make the victims scared and move to pay the unreal fine as fast as possible. That is why some users who know little about such a virus feel frightened and hurry to make the payment as the virus requires. In this case, Federal Bureau of Investigation is the law enforcement this virus pretends to be by stealing the logo and name of the agency. So, there is no need for you to feel so nervous and panic as to fall into the trap the scammers set up. The message is not real. The police will not come to your house to arrest you and put you into justice. You should turn to an expert to delete it manually and completely as fast as you can.
Screenshots of Variants of the Ransomware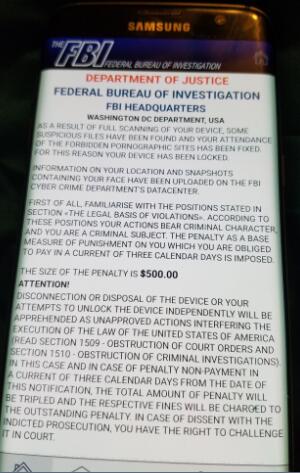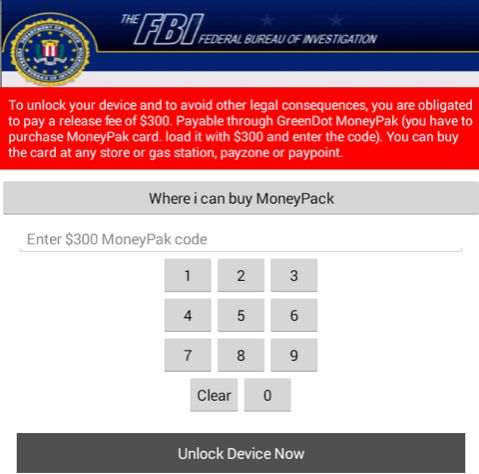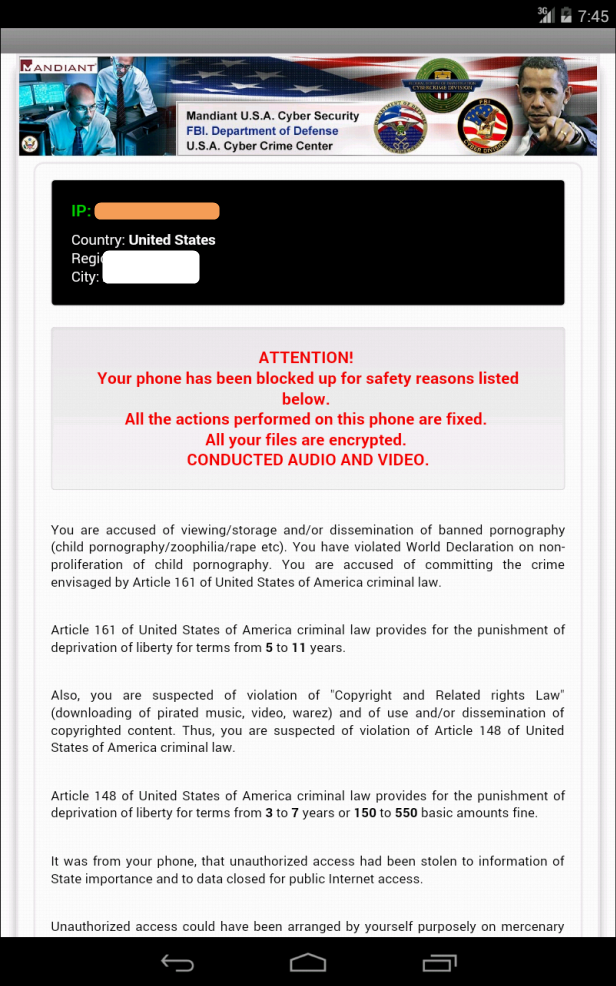 Please Contact YooCare 24/7 Online PC Expert now if you don't know how to start the virus removal on your devices.

Possible Danger Caused by the Ransomware:
It will take control of your mobile phone or tablet rapidly once it is downloaded.
It will pretend itself as a legit warning and then ask for a ransom.
It will not allow you to call, text or even access your home screen on the infected device.
It will not let you power off the device or do anything else except for inputting the demand Ukash/Moneypak code.
How to Remove the Message of FBI Scam Virus?
Once your phone or tablet is blocked by the FBI prism scam, you will have no access to its home screen. Thus, you need to bypass this FBI prism scam block and then you have the chance to locate the scam on your Android device. Here are some instructions on bypassing this FBI prism scam on your phone or tablet.
Step 1: Restart the safe mode on your infected phone or tablet.
For Samsung Galaxy S4: 1. Power down. 2. Turn on and repeatedly tap the soft-button for "Menu."
For Samsung Galaxy S3 and others: 1. Power down. 2. Turn on, then press and hold Volume Down (Galaxy S3 and others), Volume Up (HTC One and others), or Volume Down and Volume Up together (various Motorola devices) when the vendor's logo appears.
Note: "Safe Mode" on Phone and tablet starts up without loading any third-party add-ons and different devices have different ways to access safe mode.
If you have managed to select Safe Mode successfully, you will see the text "Safe Mode" at the bottom left corner of the screen. As the picture shows below: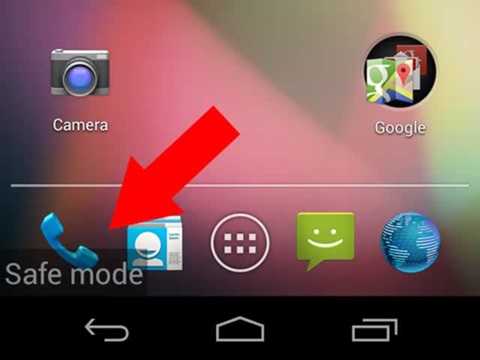 Step 2: If you can find "Safe Mode" on the left hand corner, that means your phone or tablet is in safe mode already, then you can contact an expert for further ransomware removal instruction.
Note: The ransomware removal guide is so complicated, and it requires sufficent skills. If you are not an Android device repair expert, do not try by yourself. In case you lose your confidential data and photos, an expert is needed during the process of manual removal. Yoocare experts can provide you with the most professional service of the ransomware removal.
Conlusion
The FBI alert is surely a scam virus developed by the cyber criminals to steal money from the victims. It can attack the android phones and tablets of various brand like Samsung, Motorola, LG, HTC, Huawei etc. The ransomware pretends to be the FBI agency and block the victims from using the infected devices to do anything. It accuses the victims of watching illegal porn content online and demands an unreal fine ranging from $100 to $500 dollars. If the fine is not paid, the device will be locked all the time and it threatens the victims will be put into justice. They will be sentenced several years in jail according to the local law. It looks real and terrifying. We don't suggest you pay any money to the scammers. Paying the fine can't help you fix the problem and you will suffer a financial loss because the payment is not reversible. At the present, manual removal is turned out to be the most effective and efficient way to remove the ransomware completely. Users can't even power off the infected device, not to mention running a security tool to detect and kill it. So, when you find the FBI warning message on your android phones or tablets, you should stay calm and turn to an expert for help to deal with it as soon as possible.
To completely get the warning message off phones or tablets, you can contact YooCare PC experts 24/7 online for help right now.

Published by & last updated on July 3, 2017 2:52 pm