I should have not visited this website. This is embarrassing. I don't want to say anything about this but i don't know how the get rid of it. I have tries many ways but not work. I was on my iphone and watching porn things, all of a sudden, a message appears saying something like "Your device has been blocked due to illegal activity". The Safari is soon locked, saying i need to pay £100 via paysafe card to unlock the device. It threatens to delete my photos, videos etc. and send me in prison if i don't pay because i watch illegal pornography. I am very scared. Can you help me? Is it real police department? I want to pay if issues can be settled after payment. But can i fix it with money? This is really horrible. Please help me! Many thanks for any reply quickly!
I have a message like "Your device has been blocked due to illegal activity" on my Ipad. It is frightening and i am very worried. So i turn off the Ipad in case of more damages. It demands 100 pounds to unlock Safari within 24 hours. It seems problem can be fixed in this way? But if I don't pay, it says something like police will come to house to arrest me and i will be sentenced in prison because i watch illegal porn content. This is unbelievable and ridiculous. I was just watching normal video clips on a website. Suddenly, this thing shows up and take control of the Safari. Anyway, I want to know if they are real law enforcement department? Is the message real or just a scam? How can I get rid of it without paying 100 pounds? Please help me! Thanks!
Is It Real? More Information about the "Your device has been blocked due to illegal activity" Message.
The "Your device has been blocked due to illegal activity" alert has been confirmed to be a piece of scam virus developed by hackers to corrupt Iphone/Ipad to rob the victims of their money. This type of scam virus often pretends to a law enforcement agency of the nation to lock up the victim's Iphone/Ipad to threaten the victim to pay an unreal fine to resolve the issue. The victim is usually accused of violating relevant national law because of carrying out illegal activities such as viewing child porn video, accessing prohibited websites and illegal use of pirated content etc.
For example, there is a virus of this type called "blocked-safari.com/fbi/index.html" , which is actually a part of domain of a scam message.
Your Safari browser has been blocked up for viewing and distributing illegal materials prohibited by the criminal law of the United States of America, called pornography with elements of child pornography, rape and zoophilia.
In order to unblock your Safari browser, you are obligated to pay a fine in the amount of $ 100.00 with iTunes Prepaid Card.
Send the SMS with iTunes Prepaid Card Number Marked on the back of the card to the following number +1-5095960953
In this example, the cybercriminal disguises to be the FBI agency of America. In the message, to make it look real, a badge of this agency is presented strikingly on top left corner of the page. As what you have seen, the victims of this infection are accused of viewing child pornography. The Safari is blocked from using to accessing the Internet and the hacker demands a fine of $ 100 with iTunes Prepaid Card.
In many cases, the victims become so scared at sight of the "Your device has been blocked due to illegal activity" alert that they finally end up paying the nonexistent penalty in hope to resolve the issue. In fact, the victims shouldn't have paid the unreal fine. The alert is just a scam virus. The statement in the message is all fake. The real law enforcement agency is not investigating against you. The ultimate purpose of the virus is to cheat your money. What is more, the payment is not reversible. So, it is impossible to get back your money when you find it is just a scam virus. But how to remove the virus and unlock the Safari blocked by the ransomware? At present, manual removal is the only way to get rid of this virus. When you find the "Your device has been blocked due to illegal activity" message on your Iphone/Ipad, what you should do is to stay calm all the time and turn to an expert in this field to deal with it properly.
Screenshot of Some Variants of the Ransomware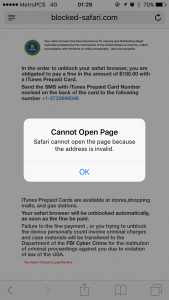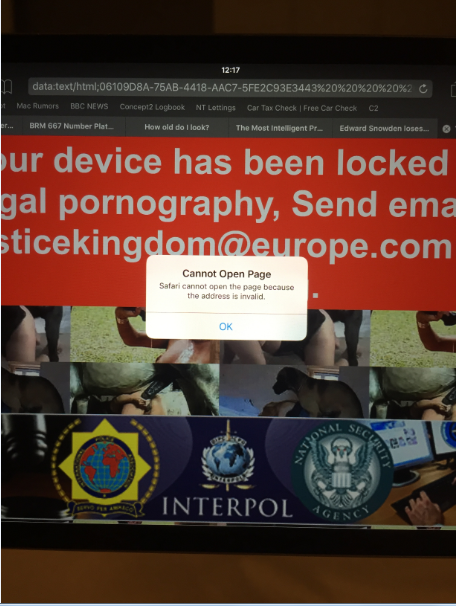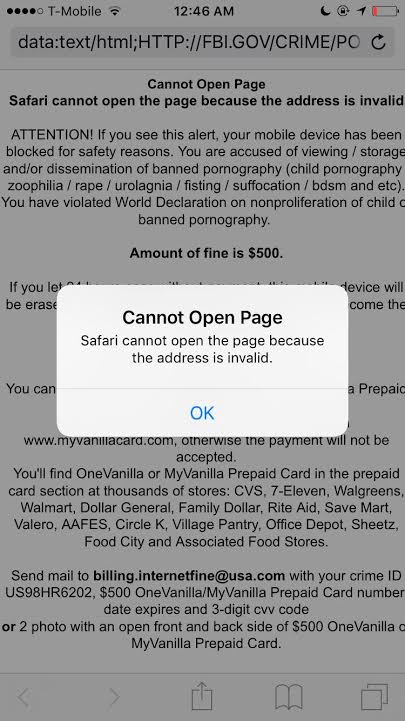 How Do You Get the Ransomware on iPhone/iPad?
We used to think that Apple iOS gadgets were well immune to viruses and malware. Sadly, over the past year hackers have turned their attention to our mobile gear. Usually, the installation of the "Your device has been blocked due to illegal activity" ransomware can be completed in a short time and then it pops up immediately to lock your iphone or ipad without signs if you visit a phishing site, open a junk e-mail attachment, click on an unknown link or download an application from an unsafe source. You will be easily get infected by this virus after you jailbreak your device.
Possible Danger Caused By the disscussed Virus:
It will take control of your mobile phone rapidly once it is downloaded.
It will pretend itself as a legit warning and then ask for a ransom.
It will not allow you to change your phone settings or open Apple Store to download antivirus program.
It will not let you close Safari or Chrome except for inputting the demand Ukash, Paysafecard or Paypal code.
Important Things You Have To Know If Your Iphone/Ipad Has Been Blocked by the Scam Virus:
1. The ransomware can attack smartphones running with Android or Mac OS X system.
2. Don't pay for anything or provide your personal information to this hoax, it won't help lock out of the An Garda Síochána Ireland's National Police Service warning but just waste your money.
3. Currently antivirus app is not able to detect or remove this malware, and there is not an app can prevent the virus from attacking the mobile device again.
Conlusion
The "Your device has been blocked due to illegal activity" alert is surely a piece of ransomware programed by hackers to attack devices like Iphone/Ipad. A lot of Iphones and Ipads have been infected with this ransomware. The virus is well designed to rip off its victims. When you find this fake message on your system, you don't need to become so frightened as to end up paying the unreal fine as the ransomware requires. The fake warning is actually an annoying scam plotted by cyber criminals to earn illegal money online. Unfortunately, no antivirus program has been proved to be effective and efficient to delete this annoying message. But manual removal implemented by an expert in the area can help fast and completely delete the "Your device has been blocked due to illegal activity" warning from your Iphone/Ipad. To completely get this off iPhone or iPad, you can contact YooCare PC experts 24/7 online for help right now.

Published by & last updated on June 20, 2017 4:13 pm