Please help. My data was encrypted by the Bitcoin virus, I believe. Now all of them have an extra file extension – .crypt, which goes after the original one. I got a note. It says, "All files including videos, photos and documents on your computer are encrypted by Crypto Software. In order to decrypt the files, I have to pay $ 300 worth of bitcoin. What do I do? Is there a way to restore my files? Should I pay $ 300? How to remove the Bitcoin virus? Need your suggestions.
Brief Information of Bitcoin Virus
broke out on a Friday and waited to attack thousands of computers on the next Monday. Indeed, lots of computers had been attacked when users turned on their computer to start working. Most of the victims were working in school companies where many computers worked together. It was because that was very convenient for the hackers to spread Bitcoin virus. Once one computer was infected, the other ones would be compromised soon. Besides, files of school and companies are pretty important and worth money. Therefore, that was considered as an effective way to spread virus and collect illegal money. The Bitcoin virus is very nasty. It
encrypts
your videos, photos, music, document and other important files and demands an amount of $ 300 via bitcoin currency. Do not pay the ransom. You should not trust the criminals. They only care about money. They may just take your money away and leave the files encrypted. The bitcoin virus will stay on your computer and keep encrypt more files you store on it.
How Does Bitcoin Virus Spread?
Bitcoin virus is widely spread all over the world. It is written in different languages in different countries. No matter where you are living, there is always a chance to be attacked by this virus. How the hackers spread the virus? First of all, hackers usually spread virus via spam email. The emails may claim that they were delivering something for you but failed for some reasons. Sometimes, it pretends to be the shipping company like DHL or FedEx who send you a notification of your shipment. In the email, a link or an attachment is embedded. It asks you to click on to view the detail information. Do not click on them. They will redirect you to a malicious website to download Bitcoin virus. In the second place, the virus can attack you on malicious websites and good legit websites that have been compromised. The hackers place virus on websites that users would like to visit, such as adult and game websites. Virus can be downloaded easily if you click on a link or picture on suspicious website accidently. Last but not least, the hackers embed virus in the third party apps. If you download malicious apps, virus is installed alongside. Do not download unknown free app to keep away from virus.
How Bitcoin Ransomware Works?
Once Bitcoin Ransomware invades your computer, it blocks your antivirus and enables itself take control of the system. It scans your whole system and encrypts your important files immediately. It appends certain file extensions to encrypted files and drops a .html or .hta note file with the ransom payment directions to every infected folder on the computer. You can't view your photos, watch the videos or open documents. You need a code to decrypt them. In Chinese version, it says users can click on the decrypt button to decrypt part of the files while they have to pay a ransom for the rest of the files. It demands a ransom of $ 300 via Bitcoin currency. Why they require users to pay via bitcoin? It is because Bitcoin is often believed to be completely anonymous. In fact, it is not true. The law enforcement agencies have figured a way to trace it. They can trace according to the bitcoin addresses when hackers try to withdraw money. Also, the Bitcoin virus threatens that the ransom will double if users don't pay within 3 days. The decrypt key will be destroyed after a month. No one will be able to recover the files. That is really a threat if the files are very important. According to the analysis, many users paid the ransom. The hackers have grabbed lot of money from the Bitcoin virus. Some of the victims were about to pay while they had no idea how to pay via Bitcoin currency. That was good for them because they didn't lose money for paying the hackers. We strongly suggest you remove the Bitcoin virus instead of paying the ransom with the risk of losing money for nothing.
Processing manual removal is supposed to have a certain level of computer literacy. If you are not sure how to start and are afraid of making any critical mistakes damaging the computer system, please live chat with YooCare Expert now.

How to Remove Bitcoin Virus (Ransomware Removal Guide):
Removing the Bitcoin ransomware seems to be difficult for ordinary computer users, even those famous antivirus programs cannot do that successfully. Hence, manual removal can ensure that the stubborn virus will be gone completely. As mentioned above, manual removal needs professional knowledge, because the lack of experience may cause errors resulting in some other unpredictable problems. The following guide provides a general concept of the removal. You may not be able to find out some certain files for the virus can be changed. If you fear the loss of important data, please consider making a backup before starting the removal.
1. Restart the Infected Computer into Safe Mode with Networking
(* Usually the malware will be temporarily disabled in Safe Mode which will provide users a chance to get this problem fixed. If you are still getting the virus popup in safe mode with networking, please try safe mode with command prompt instead.)
Restart your computer, immediately, quickly and repeatedly hit F8 key before the Windows start-up screen shows. Select "Safe Mode with Networking", and then press Enter key.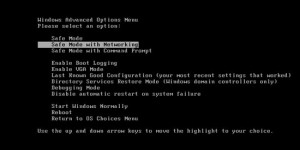 2. Stop the Processes Related to the Bitcoin virus in Windows Task Manager
Press Ctrl+Shift+Esc keys together and end the virus processes in the Processes tab of Windows Task Manager.

3. Show Hidden Files
(1). Press Win+R to get Run window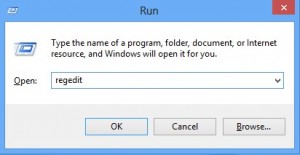 (2). Type Control Panel in the Run window and hit enter to get Control Panel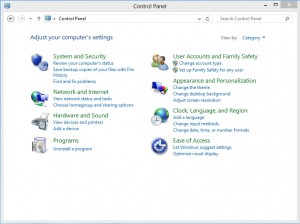 (3). Click on Appearance and Personalization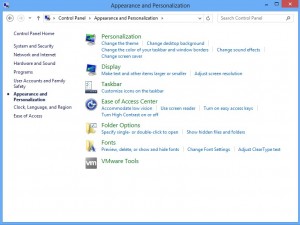 (3). Click on Folder Options

(4). Click on View tab in Folder Options window
(5). Tick Show hidden files, folders, and drives under Hidden files and folders tab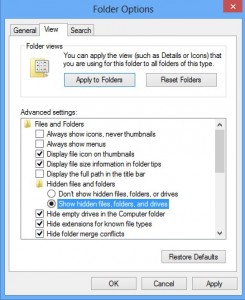 (6). Click Apply to take effect, then click OK at the bottom of the Folder Options window
4. Delete Virus Files
(1). Using Registry Editor to delete or adjust all the related registry entries of Bitcoin virus.
*Guides to open Registry Editor:
Press Win+R key together to get the Run box, type in 'regedit' then click OK, Registry Editor window will pop up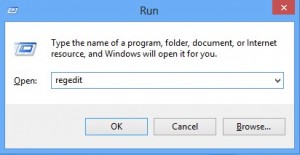 (2). Find out and remove the associated files of this Bitcoin virus
Video shows how to remove Ransomware

Conclusion
There is no doubt that the bitcoin virus is very nasty and harmful. While encrypting your files, the ransomware creates a text file ransom note in each folder that a file has been encrypted and on the Windows desktop. Sometimes, it may also change your Windows desktop wallpaper. The wallpaper is scary. Both the wallpaper and the text ransom note will contain the same information on how to access the payment site and get your files back. That is really upsetting for business companies and organization database. Losing the files means losing lots of money. As the needed private key to unlock your encrypted file is only available through the cyber criminals, victims may be tempted to purchase it and pay the exorbitant fee. However, this action may encourage these bad guys to continue and even expand their operations. Besides, there is no guarantee that the hackers will surely send you private key to have your files back. They are the ones who made virus to attack your computer and corrupt your files. Do not trust them. The bad news is that there is almost impossible for computer experts or antivirus to decrypt the files. However, there is one thing you need to and must do. You have to remove the Bitcoin virus right now to prevent further damage to the system. Do not give it any chance to it to corrupt your system or steal bank card detail. Take action in time. As we all know, the hackers keep updating the virus all those times, it makes it very difficult for the antivirus to block and remove it. So far, manual removal is the most effective way. Get Bitcoin virus off your computer once for all.
Note: Still have trouble in removing this virus? If you still have question about How to Remove Bitcoin Virus (Ransomware Removal Guide) and don't want to mess up your whole PC, Please contact YooCare Experts for useful help now.


Published by & last updated on May 25, 2017 8:47 am