Hey. I would like to know if I am monitored when using BitTorrent. Can the ISP and hacker see what I am downloading? Is there a way to protect being monitored when using BitTorrent? Can you tell me how?
Are You being Monitored When Using BitTorrent?
In this Internet age, people more attention to their online privacy. However, it turns out that protecting privacy is a easy job. Especially after the US Senate voted to do away with broadband privacy rules that prevent ISPs from selling subscribers' internet browsing histories to third parties, users concern about their privacy so much and are looking for a proper way to protect themselves.
Internet brings us great convenience. People can communicate and transfer files to theirs partners on the other side of the earth by simply click on a button on computer. Lots of people use BitTorrent to share files with other staff. They would like to transfer important files of their business via the Internet instead of delivering them in pack. We suggest you be cautious when using BitTorrent because your ISP is able to monitor you. Besides, the hackers can make use of bugs to intercept and steal precious information. You need to note organizations that track BitTorrent users rely on information they obtain from BitTorrent trackers. This is an easy and convenient technique to gather info, but also one that can be circumvented. Your careless action can cause seriously information leak. You need to prevent being monitored when using BitTorrent.
How to Prevent Being Monitored when Using BitTorrent?
In business field, information and related files are very important. Information leak can lead to huge loss. How to prevent being monitored? Nowadays, pretty much all BitTorrent clients allow users to remove the trackers from a torrent before downloading. You can do so by clicking the advanced button in the torrent opening dialog box. You'll then see the trackers included in the torrent plus some other info. That's also the way how people find you after you download something improper. If you want to go tracker-less you'll have to delete the trackers and make sure that the DHT, Peer Exchange and Local Peer Discovery boxes are checked otherwise you won't be able to download at all. This method is a bit complicated and you need to do it over and over again. So far, the best way to prevent being monitored when using BitTorrent is encrypt your connection with a VPN. Once your connection is encrypted and secured, others will not be able to spy on your activities and steal information from you.
What is a VPN?
VPN stands for Virtual Private Network. It creates an encrypted and secure connection between you and the website you are visiting. The VPN server plays the role of a middleman between you and the website that you are visiting. Given that the network traffic between you and websites is encrypted like a tunnel, the ISP will have no idea of your traffic emerges without signs of who you are or where you're connecting from. The VPN server provides new IPs to replace your real IP. Having the new IPs from a VPN server, you have a new ID online which is not related to your real name. You can be a US, UK, Chinese, Japanese or any other countries' Internet users. They don't know your real name according to the IP address because this one is not related to your real identity. Your Internet privacy is highly protected. The VPN also helps you access website and services blocked by firewall and other restriction. You can use the same computer while browsing as a different user online. You stay anonymous from the ISP. The ISP doesn't know who you really are and what you are doing online.
If you have any questions about VPNs, please live chat with YooCare Expert now.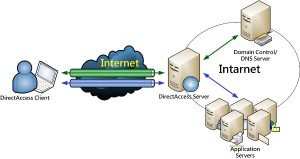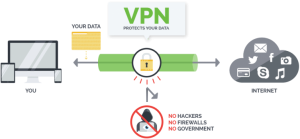 Important things you need to keep in mind about a VPN service
How VPN works while you are trying to access a website?
In order to let you know the functions of VPN, let's talk about how it works in detail. You run VPN and click on link you want to visit. The browser sends encrypted your account & password and request to your VPN service first. Then, VPN service decrypts the communication and sends it to the targeted website. After the website receives data, it generates session cookie and send it to your VPN service. VPN encrypts the session data it received and then sends it back to your device. In this way, you can view the website you like after your browser received the session cookie. You may think that the process is too complicated and it will take a long time before you can access the targeted website. In fact, everything we mentioned above happens at an amazing and unbelievable speed. In the blink of an eye your request will be sent and everything will respond. Your Internet connection is secure, encrypted and extremely fast with VPN service.
Problems that you may meet while using VPN service
Problem 1: I can connection VPN service via 4G mobile data on my phone, but I can't connect it via WiFi hotspot? I saw WIFi signal bar there while it still used my mobile data.
The problem may be that WiFi hotspot sets limits on VPN connection. NAT of VPN, namely PPTP/L2TP has been limited. WiFi hotspot refuses to transfer your data to the VPN service.
Problem 2: I failed to visit some regular websites after I turned off VPN. I could access those websites before I first used VPN. I am a Chinese user and I use VPN service to access Dropbox, Vimeo, Facebook, Twitter and watch Youtube. Now, I can't visit my favorite Chinese websites in a normal way. I have to run VPN so that I can access them.
Firstly, there may be something wrong with your routing tables. Check your default route and VPN gateway.
Secondly, your DNS may have been hijacked. Check your DNS and scan your computer for malicious programs
Thirdly, it may be the mechanism network problem or Internet proxy. Check your Internet settings.
Fourthly, it may be caused by non-normal exit. Next time, remember quit it in a normal way.
Problem 3: I can't access local area network after I connect to VPN.
It may be caused by IP address conflict. Check your network line and correct the settings. Find your original gateway address via command.
Problems 4: Why I have blue screen after I run VPN?
Probably, your drive is not compatible with the VPN service you use. Besides, some anti-virus programs, game protection drive and bank security controls will bring blue screen when you use VPN.
Conclusion
Refuse to be monitored when using BitTorrent? Try to protect your privacy after the FCC rules have been shot down? What you need right now is a VPN. VPN becomes more and more popular in these days. If you can another way we mentioned, keep in mind that disabling trackers may slow your download speed or stop your download at about 89 %. To protect yourself when using BitTorrent, VPN is the best choice. It not only encrypts your connection and keeps your anonymity while using BitTorrent, but also help you avoid the ISP throttle. As we know, the ISP will monitor how much bandwidth you're sucking up when you download. They will slow down your connection once they find your download slows down others' connection. However, they will not know how much your bandwidth is with the VPN. In this way, they will not slow down your connection. It is definitely worth to use a VPN to prevent being monitored when using BitTorrent. Get a VPN to protect your privacy. You will not regret it!
Kindly Reminder: If you have any question regarding how to Set up VPN on your device, please live chat with YooCare online expert for help.

Published by & last updated on May 4, 2017 5:27 pm