Hey. Did you hear that the Congress voted to revoke of the FCC's privacy rules? I don't feel good about it. The ISP can sell our information without our permission. I would like to know if it is still possible to protect my Internet privacy. If there it is possible, please tell me how. Thank you.
Is Your Internet Privacy Safe?
To be frank, your Internet privacy is not really safe. In those years, the hackers and viruses are very rampant. They try every way to attack you and grab sensitive information for illegal money online. Besides, the ISPs are able to collect your Internet users' information. They know who you are and what you are doing on the Internet. The worse news is that they can sell your browsing information to the third parties without your permission as the Congress undid FCC's privacy rules. Commonly, they use your Internet privacy for advertising. However, we don't know what will happen if your sensitive information fall into the cyber criminals' hands. Will they use your information to attack you accurately? Will they use the information to do illegal things that make you have to spend years in jail? We don't know what they will do with that. In addition, some companies also develop certain apps to collect sensitive information from users while they are telling users that the apps are used to search for everything from restaurants to music and other useful information on mobiles. In fact, its main task is information collection. Those apps can monitor users' location, contacts, age, gender and social network account etc. Your Internet privacy is not that safe like what you think. We suggest you protect your Internet privacy well.
What Internet Privacy can Your ISP Collect?
The ISPs are able to monitor your browsing activities. They know exactly who you are and what you are doing on the Internet. They can collect your browsing histories, search terms, favorite websites, lately viewed product and other related information. Your browsing habits have been learnt by others. After they collect enough information from various users, they have data of the age ranges and genders of people who visited a store location. They record the features of websites that people would like to visit and apps that users installed which is useful for advertising. They also collect your name, IP address, location, operating system, brand and model of your device and various accounts etc. Later, the information will be sold to the third parties. If you are transferring confidential data to your partner via the Internet and the ISP happens to sell part of that information, your loss will be huge. At the same time, the hackers have the chance to access those data and use it to scam users. For example, they may use your personal information to pretend to be the police and demand users to pay a non-existed fine. It will be too bad if you are attacked by the hackers due to Internet privacy leak.
How to Use a VPN to Protect Your Internet Privacy?
VPN stands for Virtual Private Network. It creates an encrypted and secure connection between you and the VPN server online. The VPN server plays the role of a middleman between you and the website that you are visiting. Given that the network traffic between you and the VPN server is encrypted like a tunnel, the ISP will have no idea of your traffic emerges without signs of who you are or where you're connecting from. Having the new IPs from a VPN server, you have a new ID online. You can be a US, UK, Chinese, Japanese or any other countries' Internet users. They don't know your real name according to the IP address because this one is not related to your real identity. Your Internet privacy is highly protected.The VPN also helps you access website and services blocked by firewall and other restriction. You can use the same computer and browse as usual with a VPN. Meanwhile, the different thing is that the ISP does know who you are. You stay anonymous from the ISP.
If you have any questions about VPNs, please live chat with YooCare Expert now.

How to Use a VPN?
First of all, you need to find out a reliable VPN server and sign up a plan. Next, you have to set up VPN on your device and connect your device to the VPN server. Before you purchase a VPN, you ought to figure to which one is reliable and what kind of VPN you need.
Once you get a good VPN, you should learn how to make it work. Some VPN servers provide guides about how to use VPN on different devices while some do not. Therefore, you can setup the VPN connection step by step by yourself on your device by following the provided setup guides. Or, you can download and install a VPN app off the Internet on your device instead. VPN apps are available on PC, Mac, iPhone, iPad, and Android mobile devices. After you run the VPN app, you need to choose the VPN server you would like to connect to. Once the VPN connection is established, all your traffic is encrypted. Also, your IP address is hidden and you are anonymity online with a VPN.
Important things you need to keep in mind about a VPN service
How VPN works while you are trying to access a website?
In order to let you know the functions of VPN, let's talk about how it works in detail. You run VPN and click on link you want to visit. The browser sends encrypted your account & password and request to your VPN service first. Then, VPN service decrypts the communication and sends it to the targeted website. After the website receives data, it generates session cookie and send it to your VPN service. VPN encrypts the session data it received and then sends it back to your device. In this way, you can view the website you like after your browser received the session cookie. You may think that the process is too complicated and it will take a long time before you can access the targeted website. In fact, everything we mentioned above happens at an amazing and unbelievable speed. In the blink of an eye your request will be sent and everything will respond. Your Internet connection is secure, encrypted and extremely fast with VPN service.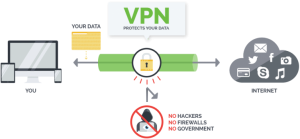 Problems that you may meet while using VPN service
Problem 1: I can connection VPN service via 4G mobile data on my phone, but I can't connect it via WiFi hotspot? I saw WIFi signal bar there while it still used my mobile data.
The problem may be that WiFi hotspot sets limits on VPN connection. NAT of VPN, namely PPTP/L2TP has been limited. WiFi hotspot refuses to transfer your data to the VPN service.
Problem 2: I failed to visit some regular websites after I turned off VPN. I could access those websites before I first used VPN. I am a Chinese user and I use VPN service to access Dropbox, Vimeo, Facebook, Twitter and watch Youtube. Now, I can't visit my favorite Chinese websites in a normal way. I have to run VPN so that I can access them.
Firstly, there may be something wrong with your routing tables. Check your default route and VPN gateway.
Secondly, your DNS may have been hijacked. Check your DNS and scan your computer for malicious programs
Thirdly, it may be the mechanism network problem or Internet proxy. Check your Internet settings.
Fourthly, it may be caused by non-normal exit. Next time, remember quit it in a normal way.
Problem 3: I can't access local area network after I connect to VPN.
It may be caused by IP address conflict. Check your network line and correct the settings. Find your original gateway address via command.
Problems 4: Why I have blue screen after I run VPN?
Probably, your drive is not compatible with the VPN service you use. Besides, some anti-virus programs, game protection drive and bank security controls will bring blue screen when you use VPN.
Conclusion
In this information technology age, the technology makes people's life much more convenient. At the same time, it brings bad things to us. It makes it easier for people to get other information online. People hope that the ISPs can keep our Internet privacy safe. However, it turned out that some ISPs sold users' browsing histories and other personal information to the third parties without permission. Now, the Congress turned down the FCC's privacy rules. The ISPs are allowed to sold your information without your approval. That is really awful. There are no rules for users to protect their Internet privacy. But, don't worry. You still can use a VPN to protect your Internet privacy. After connecting your device to a VPN, your network connection will be highly encrypted and secured. No one including the ISPs and hackers will not be able to spy on you. You can browse freely and safely. Do not hesitate. Pick a VPN to protect your Internet privacy right now!
Kindly Reminder: If you have any question regarding how to Set up VPN on your device, please live chat with YooCare online expert for help.

Published by & last updated on April 29, 2017 7:38 am