Hey. I got "System is heavily damaged by four viruses" message on Amazon Kindle frequently.How do I get rid of it? It looked real because it shows the Google logo, telling me to download and install Sharecloud for free on Google Play. Since then, lots of popups showed up. Kindle runs slowly lately and it takes a long time to charge. Does that caused by the four viruses? If so, how can I get rid of them?
Is "Your System is Heavily Damaged by Four Viruses" Message on Amazon Kindle Real?
"Your system is badly damaged by 4 viruses" message is brought by a piece of rogue software that you downloaded accidentally. This warning is not reliable or real. It is a trick of the software developers. The developers of rogue software use it as a tool to make unethical money. It creates fake alert to scare people into using their apps or even paying money to delete non-existed viruses while covering the real threat to your device. To make the warning authentic, it takes over your browser and injects annoying ads to your basic apps. It is not a easy job to close the page once it takes control of the browser. It just pops up again and again before the malware behind this message is removed. Most of people would be so scared when facing warning about viruses. They would worry that the four viruses would continue to attack their photos, videos and bank card detail as the warning described. Hence, they would choose to follow its guide to fix the problem. Many users spent a large amount of money on this fake alert. In fact, the four viruses do not exist on your device. Instead, the real threat is the warning itself, namely the rogue software. If you see "Your system is badly damaged by 4 viruses" message on your on Amazon Kindle or other device, seek for the rogue software that displays misleading warning and remove it completely. Get "Your system is badly damaged by 4 viruses" message off your device to prevent it from installing more dangerous malware.
How Does Rogue Software Work on on Amazon Kindle?
Once the rogue software sneaks into your Amazon Kindle or other device, it changes system settings and blocks security program without your permission to avoid being removed. It make use of Java-Script codes to inject malicious ads and display false notification on your device. Sometimes, it does not allow you close the warning page and occupies the whole screen. It states that your system is badly damaged by 4 viruses or your browser is seriously corrupted. Next to it, there is a "Remove" or "OK" button. Sometimes, the warning does not go away though you tap the button. Several days later, you may notice that things on your device have been messed up. Ads and warning pop up all the time. It takes longer to load a new tab. Some apps stop working suddenly. The device runs out of battery soon and takes longer time to charge. You may start to believe that there are 4 viruses on your device. However, we have to tell you that the so-called "4 viruses" do not exist. In fact, the rogue software that brings you "Your system is badly damaged by 4 viruses" message installs nasty plug-ins and ad-ons to perform malicious activities on your device to make the alert authentic. Some of the plug-ins bring you more alerts. Some occupy too much RAM which causes random force stop. Some consume power very fast. The speed even can be faster than the speed the device charges. Besides, this malware can be more aggressive. It is strong enough to block the whole browser and you will not be able to access the Internet. It tricks you that you can download an free app in google app store to fix the problem, providing a link. Do not click on the link casually as it can redirect you to malicious websites. More aggressive viruses will be downloaded by yourself. Sometimes, it asks you to pay after tapping "Remove". Do not fall for it because that will not help. It only wants to grab money from you.
Since installing the so-called software can't help you get rid of "Your system is badly damaged by 4 viruses" message, manual removal is an effective solution for this. Just delete the rogue software behind this fake warning manually. Processing manual removal is supposed to have a certain level of tech skill. If you are not sure how to start and are afraid of making any critical mistakes damaging the cellphone, please live chat with YooCare Expert now.

How Your Device Got Infected with rogue software?
The criminals spread malicious software via various ways. Your device will be infected easily before you can react. Let's talk some of the situations.
Situation 1: Viewing suspicious sites. Virus on malicious sites and legal sites that have been compromised can catch you and block the device immediately when you visit them.
Situation 2: Opening corrupted attachment or click on malicious links in a spam. The cyber criminals dispatch tons of spams with virus to worldwide users every day. Sometimes, virus is embedded in attachment. Sometimes, it hides on site that the malicious link redirects you to. Once you click on them, virus sneaks into your device quickly.
Situation 3: Downloading unknown software that includes malware. Sometimes, you may be convinced that a piece of certain software is useful and meet your needs very much. After you see description of the software, you may think that you will not lose anything after you install it even if it is not as useful as it says. You are totally wrong. Once you download software with virus, your device will be blocked. You are putting your device at risk.
Screenshot of "Your system is badly damaged by 4 viruses" Message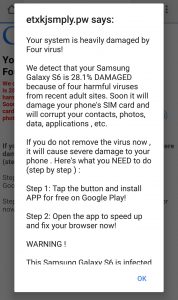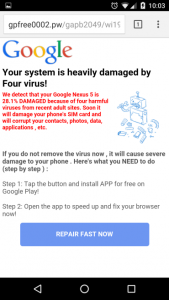 Conclusion
There is no doubt that "Your system is badly damaged by 4 viruses" message on Amazon Kindle is bogus. Apart from the rogue software which supports this fake alert, there are no four viruses that the message describe. The real malicious software installs plug-in, add-ons and other helpers to create chaos on your device. Some of them consume your battery at an impressive speed. Some slow down your device no matter you are browsing, watching videos or playing games. Other display bogus notification or misleading warning to scare you. That will create an illusion that your system is really damaged. Do not be fooled by this trick. Do not try to fix the problem by following the guide of that message. It is not helping but misleading you. You need to figure out which one is the real virus or malware and remove it soon. Though there are 4 viruses on your device, the nasty software will really damage your system, affect battery consuming if it stays in your device for a long time. Other malware, virus or Torjan can be installed to damage your system further. Therefore, take actions right now. Get rid of "Your system is badly damaged by 4 viruses" message on Amazon Kindle once for all.
Suggestion: Manual removal is a skillful and risky job, if any mistakes are made during the removal process, you may damage your phone immediately. If you are not sure how to start, please contact YooCare PC experts 24/7 online for help right now.


Published by & last updated on April 17, 2017 7:30 am