I have received this "your device has been locked due to illegal pornography" notice on my device. I then received an email from Interpol requesting payment of $300 or my bank accounts etc would be frozen. I have replied to this email requesting more details as they requested voucher codes to the value of $400 from Woolworths or several other outlets. This rang alarm bells in my mind as I didn't think Interpol would use this type of payment for fines. My iPad has since been unlocked, and I haven't provided any further information to them. Is this all I have to do? I am very distressed by this occurrence. I also received a case number CP-78190000-12687 and the sender name is Martin Beckingham. Any idea?
Is "your device has been locked due to illegal pornography" notice real or fake?
Hackers never stop spreading malware on mobile devices so they are still trying various ways in order to extort money from those innocent users. Now a fake warning was used by them to keep cheating unwary users. When mobile users firstly got attacked, a notice that said "your device has been locked due to illegal pornography" will pop up right away on the screen, with no way to close it. The window was usually labeled as FBI, AFP or metropolitan police and said user was in violation of illegally downloading media, viewing porn, or taking part in other illegal activities. It may list fines and penalties for each and then it directed users to pay $200 to $500 via a prepaid card such as MoneyPak, Moneygram or Paysafecard. Moreover, instructions were given on how to load the card and make the payment on the screen. The page says if the demands were not met, the phone can be blocked forever and criminal charges would be filed. Users cannot do anything on the device, even power off option is not working.

Even more frightening, the fake notice can simply seize control of web browser and collect browsing information without user's awareness. Whatever they are trying to open on Safari or Chrome, it goes directly to a fake site and then shows "your device has been locked due to illegal pornography" notice.
"I was using safari and then a white box pop up appeared saying I had been using sites related to illegal porn. I had not been viewing anything illegal at all, but now this "your device has been locked due to illegal pornography" notice is on my screen and doesn't seem to go away. It would not let me go back on Safari, but I can use the other part of my phone. Actually i thought it was real first because it happened when I was on Amazon on the safari browser. I was reading this can happen if you go to a malicious site, but Amazon is a site that pretty reputable and I haven't been on any weird sites before. I am not exactly sure why it happened. How do I get the notice off my iPhone 7?"
Typically, this fake message is a type of malware. On the warning page, it usually says the only way to unlock the device is to send an email to those suspicious addresses like [email protected], [email protected] or [email protected]. In fact, sending email doesn't help to get the notice off the ipad or iPhone, for the email belongs to the hacker but not the real government. Once did, users must be asked to pay something else. In other cases, infected users are required to call a number rather than sending emails. The fake pop-up message threatens users with some words like "Please do not use your phone it may lead to stealing of data, contacts and personal information", and then it provides a fake Apple tech support number falsely claiming the tech guy can help solve the lockup problem and secure the device, but actually the call just links to the hacker who attempts to rip off money from infected users. The real purpose of this notice is to scare people into thinking they were in trouble and paying the "fine" is necessary to avoid all the punishment. Don't be tricked into the scam. To sum up, "your device has been locked due to illegal pornography" is a fake message that should be removed from the device manually.
Please Contact YooCare 24/7 Online PC Expert now if you don't know how to get rid of "your device has been locked due to illegal pornography" notice on your iphone or ipad.

Screenshot of the fake warning: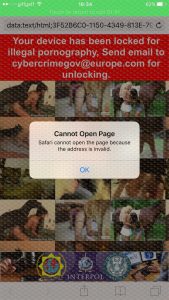 How to Remove Fake "your device has been locked due to illegal pornography" Notice Step By Step?
Removal on iOS devices:
We used to think that Apple iOS gadgets were well immune to viruses and malware programs. Unfortunately, over the past years, hackers have turned their attention to our iOS mobile gears. Usually, this kind of popup virus can be completed in a short time. Even you are on a legitimate site like Amazon or eBay, it still has the ability to pop up on your screen without your permission. The malware acts like a hijacker when it is running on Apple system that can block user's Internet access and prevent them from going online properly. Unfortunately no anti-malware apps can delete this malware so far and the virus won't go away unless you have removed all its components step by step. Even in some cases it may disappear itself for a while to let you get Internet access back, but your device is still unsafe. It is still a threat for your privacy. To completely get this off iPhone or iPad, you are welcome to contact YooCare PC experts for help.
Removal on Android devices:
The virus not only attacks Apple devices, it can be installed on Samsung, LG, Huawei phone, Kindle Fire, RCA tablet or other Android devices without any consent too. Here are some instructions on how to remove this fake warning from your phone or tablet.
Step 1: Restart the safe mode on your infected phone or tablet.
Note: Safe mode can help you to track down the causes of problems you may be having with your smartphone. When you boot your phone into Safe mode, it doesn't run any third-party apps installed on your device.
Press and hold the Power button and select Power off to turn your device off.
Press and hold the Power button until the vendor's logo appears, release the Power button, and press and hold the Volume down button.
Keep holding it until your device boots up.
You can let go when you see the words "Safe mode" in bottom-left corner. (like the following image shows)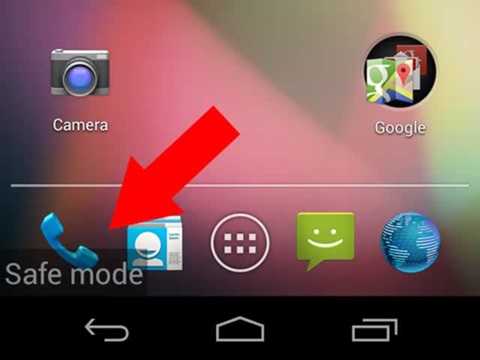 Step 2: If you can find "Safe Mode" on the left hand corner, that means your phone or tablet is in safe mode already, then you can contact an expert for further malware removal instruction.
Tips to prevent "your device has been locked due to illegal pornography" notice:
The fake notice mainly attack IOS devices including iPhone, iPad, and iPod, and sometimes it can be on Android system as well. Once you've managed to remove it from the device, there are still some tips you need to follow in the future to keep your device secure:
1. Be careful of downloading applications in the internet because many of them are just cloned applications. Visit legitimate app stores like Apple Store because it filters out the reliable application from what's not reliable. Most viruses are from gaming and anti-virus applications which are forged. Before downloading an application, try to read some customer reviews so that you will be assured that it is truly a trusted app. Stick with apps from App Store and don't jailbreak your device and install apps from third-parties.
2. Be cautious at opening attachments thru MMS, SMS messages and e-mails because you might open an unknown attachment from unknown sender. Never open any attachments which are suspicious to you.
3. Don't open your Bluetooth connection when not in need. It would be easy for the virus to go inside the phone's application and destroy the phone's performance.
4. Read the permissions. Every app you install has to declare its permissions, meaning the app lists what it will have access to on your phone. Don't just click OK without reading what the app will do.

Published by & last updated on April 12, 2017 7:51 am