Safari is locked by police-mobile-block.com. How to fix? When i was going to enter my iphone's safari to search up an image of a tree, it took me to this site that tells me that I have been blocked from my safari due to viewing and distributing illegal materials prohibite by the criminal law of the unite states of america, called pornography with elements of child pornography, rape, and zoophilla, which I have never been involved in. And it won't let me off the page until i pay $100.00 with an iTunes prepaid card. By the way, it is police-mobile-block.com. Is it the police? I am wronged. Please help me out. I would like to end this ridiculous case and take my Safari back right now.
What is police-mobile-block.com Scam Virus?
Police-mobile-block.com is classified as the dangerous program on mobile devices. It takes users' browser hostage and demands a fine to unlock. Therefore, we also call it ransomware. In order to grab money from innocent users successfully, it steals the name of cyber police, Cybercrime Government, FBI, Metropolitan Police, UK Justice, Federal Justice, Justice Zealand or other law enforcement agencies and accuses you of law violation. It has the logos of various authorities and items of specific laws to make everything look authentic. Many users were terrified and believed that the message was really from the police. They chose to pay the fine, trying to avoid trouble and unlock the browser. However, we must tell you that the police-mobile-block.com message is a scam virus. It is useless to pay the fine as they only want money from you. Even though you paid the fine, the hackers would not unlock your browser. Many victims told us that their browsers still were blocked and the virus did not disappear after they sent code to pay the fine. Hence, do not trust the fake police message and do as it requires. You need to calm down and figure out a way to remove Police-mobile-block.com scam virus as soon as possible to avoid further loss.
How the Scam Virus that Locks Safari Works?
Police-mobile-block.com scam virus is very tricky and dangerous. It mainly targets on iPhone, and iPad. Once it sneaks into your iPhone/iPad, it spares no effort to help its owners steal money from users. The nasty virus hides itself deep in your iPhone/iPad and creates chaos to scare you. It hijacks your browser and displays fake message on police-mobile-block.com. It may attack your Safari or Google Chrome. If you see the same warning on your browser, that means your device is infected with a serious virus created by the hackers. It says that your browser is blocked due to viewing and distributing illegal materials prohibite by the criminal law of the unite states of america, called pornography with elements of child pornography, rape, and zoophilla. It claims to be the police and demands a fine for your illegal activities. You have been threatened that your criminal case would be recorded and transferred to the FBI if you tried to unlock the browser without paying the penalty. Later, you would be taken to court and spend several years in jail. The whole page looks real as it seems to have everything the police have. The national flag, police logo, photo of president and specific laws etc. In fact, the police-mobile-block.com page is a scam. No matter how authentic it looks like, it is not sent from the police or any other legit agency. It is a virus that the hackers use to swindle money out of Internet users. It takes over the whole browser and does not allow you access the Internet every time you open browser. You can't close police-mobile-block.com in a traditional way as no button is provided to close it. You only can tap the button to pay the fine on that page. Though you quit the browser or even turn off the iPhone/iPad, the bogus alert is still coming back as soon as you turn on the device. The virus will not go away until you remove it manually and completely. Many people were so scared that the police-mobile-block.com message was real and they had to pay an amount of fine to end this "horrible" case. In this way, the hackers can make lots of illegal money every day. The hackers demand victims to pay the fine via iTunes gift card, Paysafecard, Vanilla Card and other prepaid card so that it is impossible to track where the money is going to. Hence, if your iPhone/iPad is infected with police-mobile-block.com scam virus, do not pay the fine. You can ignore the warning temporarily and catch the malicious virus to fix the problem. Get police-mobile-block.com scam virus off your iPhone/iPad in time.
How to Remove Police-mobile-block.com Scam Virus from iPhone/iPad?
Since paying the so-called fine won't help you remove this scam virus, manual removal is an effective solution for this. Processing manual removal is supposed to have a certain level of tech skill. If you are not sure how to start and are afraid of making any critical mistakes damaging the cellphone, please live chat with YooCare Expert now.

How Your Device Got Infected with Ransomware?
The criminals spread scam virus via various ways. Your device will be infected easily before you can react. Let's talk some of the situations.
Situation 1: Viewing suspicious sites. Virus on malicious sites and legal sites that have been compromised can catch you and block the device immediately when you visit them.
Situation 2: Opening corrupted attachment or click on malicious links in a spam. The cyber criminals dispatch tons of spams with virus to worldwide users every day. Sometimes, virus is embedded in attachment. Sometimes, it hides on site that the malicious link redirects you to. Once you click on them, virus sneaks into your device quickly.
Situation 3: Downloading unknown software that includes malware. Sometimes, you may be convinced that a piece of certain software is useful and meet your needs very much. After you see description of the software, you may think that you will not lose anything after you install it even if it is not as useful as it says. You are totally wrong. Once you download software with virus, your device will be blocked. You are putting your device at risk.
Screenshot of similar Scam Virus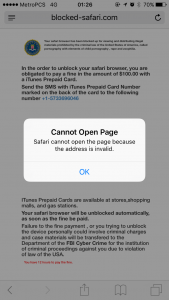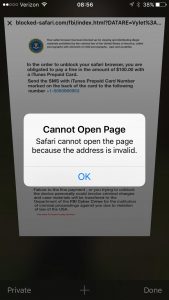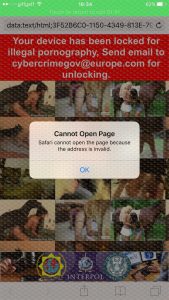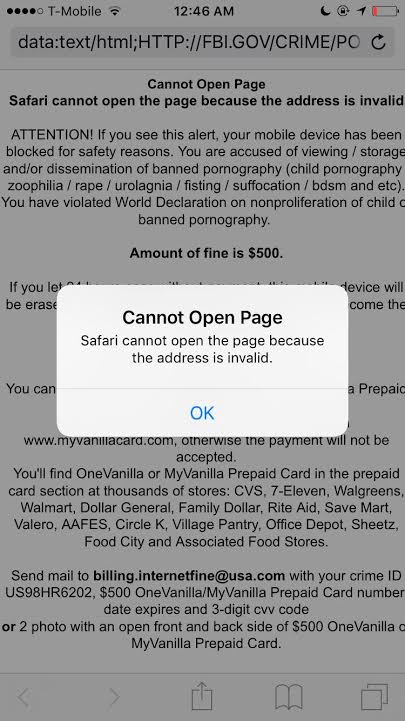 Conclusion
There is no doubt that police-mobile-block.com warning is a scam virus. It has nothing to with the real police. Behind this dangerous program, it's the hackers who are trying every possible to grab money from you. They made up fake criminal case and delivered you bogus warning to scare you. In fact, you didn't violate the laws or had trouble with the police. You have to keep in mind that the police will not inform you something important via a popup on browser and collect fine via prepaid card. It might order you to pay the fine in 24 or 48 hours. Otherwise, your files on iPhone/iPad will be deleted. They will contact your friends and families for illegal actions. Finally, the police will come to you and arrest you soon. Do not be fooled by it. The police will not come to you. You will be fine as soon as you remove the dangerous scam virus from iPhone/iPad completely. Do not allow it to stay on your device for long. We do not know what will it do on your iPhone/iPad to steal money and precious information. Do not hesitate any more. Delete police-mobile-block.com scam virus from iPhone/iPad right now!
Suggestion: Manual removal is a skillful and risky job, if any mistakes are made during the removal process, you may damage your phone immediately. If you are not sure how to start, please contact YooCare PC experts 24/7 online for help right now.


Published by & last updated on May 2, 2017 2:54 pm