I have a problem saying "This site can't be reached" many times while visiting Facebook. I am now in China on a business trip. I don't think there is something wrong with my computer or internet connection, because I can visit other websites successfully with them. I need to travel a lot as an oversea engineer. I remember it was good when I was in Canada several days ago. So what is going on? How can I fix this problem? Facebook is my very important way to stay in touch with my friends and families when I am on a trip. Please help!

How Popular and Important Facebook Is for Many Users?
Facebook is an important social networking service and online social media well known all over the world. With Facebook, users can post status updates, exchange messages, share digital photos, videos and links, use all kinds of apps and become informed when their friends or families make posts or update profiles. What is more, users may join user groups of common interest which may be organized by workplace, hobbies or other topics. There are many people using this service to keep in touch with their families, friends and acquaintances in daily life. It is reported there were more than 1.86 billion active users per month on Facebook as of December 31, 2016. And according to number of active user accounts, Facebook is regarded as the most popular online social media in the world. For many people, Facebook is not just a place for social networking, but also a life style. Many things may be messed up. They may feel unbalanced inside without Facebook.
While in China, Facebook is one of the many popular online services blocked by the Chinese government. Whoever you are, residents or visitors, you are not allowed to access Facebook directly from within China. When the domain www.facebook.com is typed into the web browser, you will receive a message saying "This site can't be reached" after a long time even though your computer, internet connection and remote servers are working perfectly well.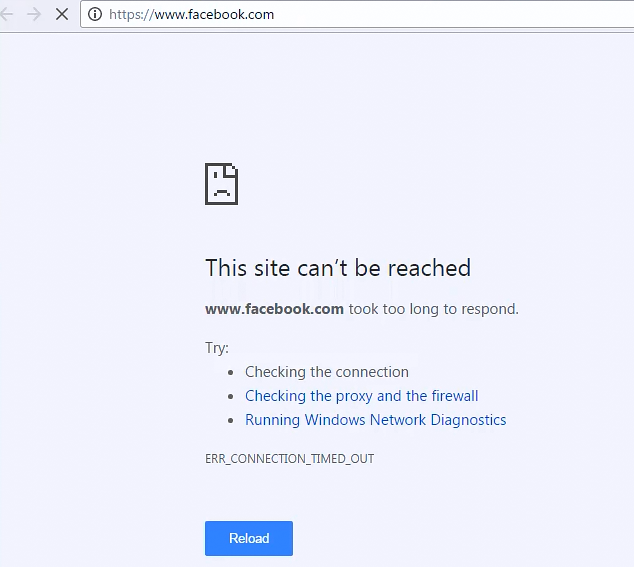 If you have any questions about VPNs, please live chat with Yoocare online expert now.

Why is Facebook Blocked in China?
There are many reports about why Chinese government blocked Facebook circulating in the air. Most of them relate this issue to the 2009 riots in Xinjiang, a western Chinese province. It is said Facebook is blocked as a consequence of the 2009 riots because Xinjiang independence activists were using the website as part of their communications network. While, there is another saying that the Chinese government wants to control content on the internet to the benefit of the nation. If a service is running on servers located in a foreign country, it will be difficult for the government to keep watch on suspicious or unfriendly content. So, Facebook as one of the most popular social networking platforms located in US in the world naturally falls into the list of services being blocked from accessing in China. The 2009 riots are direct cause of the block. This can be testified by a government transcript released in the fall of 2014, Lu Wei, director of China's State Internet Information Office, said that "foreign Internet companies entering China must at the base level accord to Chinese laws and regulations. First, you can't damage the national interests of the country. Second is you cannot hurt the benefits of Chinese consumers. If China's laws and regulations are respected, we welcome all of the world's Internet companies to enter the Chinese market."
In Which Way, Facebook Is Blocked in China? How Can We Unblock the Service?
Even if Facebook has been blocked strictly be the well-known GFW, which is short for Great Firewall of China, the service is still able to be successfully visited by many users located in China. They are using a technology called Virtual Private Network, abbreviated as VPN. It is a technology that can help replace your original IP with a new one to fool the service into believing you are from a nation that is allowed to access its content. It means, by applying a VPN service, you will be able to easily bypass the GFW to stay in touch with your friends and families again even though you stay in China. With a VPN service, you can logon your Facebook account to post status updates, share precious photos, videos and links, exchange messages and update your profiles again as if there never exists such a block. Of course, the "This site can't be reached" problem happened While Visiting Facebook in China will be perfectly resolved. Additionally, since your internet connection is running on a private network, your online activity will be kept anonymized well. Your privacy and security will be properly protected from such bad guys as cybercriminals, suspicious Internet Service Providers etc.
How to Solve "This site can't be reached" While Visiting Facebook in China Step by Step?
The guide consists of three steps.
Step 1: First, it is needed to go to sign up for an account from a VPN service provider. Usually there are various service plan available, pick up the one that you think it best for you. After that, you will be provided the options to make the payment. Choose the payment method and fill in all the information to complete. An email will be sent to you to confirm the account upon payment being completed. After confirming, the next step is to download and install the software onto your PC.
Step 2: Download and install the VPN software. Usually, a link to download the software will be provided in the confirmation email. You may be presented with a list of software where software for different operating systems or devices are listed. Select the one for the system you use to complete downloading. The installation is easy, just click through the procedures as prompted all the way to complete.
Step 3: Connect to a US-based server or other proper server location on VPN. When the software is ready, the left you need to do is to start the application and choose a proper location. You can select any server located in US. If you like, you can also choose other locations like Canada. It is all up to you. Now everything is done. You can access website fully in China with your own Instagram account. If you don't have an account, just go ahead to register a new one.
If you have any questions about VPNs, please live chat with Yoocare online expert now.

Video Guide Show You How to Access Facebook in China
Conclusion
Facebook is the most popular social networking platform and online social media in the world. It is hard to imagine how upsetting it is when a user, who is crazy about the service, fails to use it again while he needs to stay in China for a long time. When you receive an error page saying "This site can't be reached" while trying to visit Facebook in China, it is actually a notification as a result of the service being blocked by the Chinese government with the GFW. While, by apply the technology called VPN, you will be able to logon the website again as if such a block never exists. Hopefully, by following the detailed guides on how to use a VPN to access Facebook in China, you will successfully fix the problem of "This site can't be reached" all by yourself.
Kindly Reminder: If you have any question regarding how to Set up VPN on your device, please live chat with Yoocare online expert for help.

Published by & last updated on March 16, 2017 6:33 pm