Do you know how to access Youtube in China? I couldn't get access YouTube while I am in China. I kept being blocked to visit my favorite videos on YouTube. Why? How to get a method to access Youtube in China then? I heard VPN can help people unblock blocked site like YouTube abroad? Really? How does it work? How to set up a VPN on my device? I need it urgently can you please help? Or can i get guide by following the instruction in this article?
Why Do People Use VPN in China When They Want to Access YouTube?
If you are traveling in China or living in China, you may find that you can't get access to many websites which are created by other foreign countries. Why can't you visit YouTube, Facebook, twitter, Gmail, Instagram, Dropbox, the Wall Street Journal, Netflix, BBC, etc.? If you want to know "How to Access YouTube in China?", first, you should know about Great Firewall of China which is also named Golden Shield Project, created by Chinese government with the purpose of blocking unwanted websites showing in China like YouTube. Thus, if you want to access YouTube as well as other blocked website, a VPN is required to be set up on your device, no matter you are using a computer running a Windows system or IOS, android device (tablet & phone), and Apple (iPhone & iPad). VPN can help you unblock YouTube so that you can access YouTube without barriers. VPN service can help you hide your local IP address and then make your IP address to be another one from the places which are outside of China. Thus, when the VPN changes your IP address, you can enjoy your YouTube freely.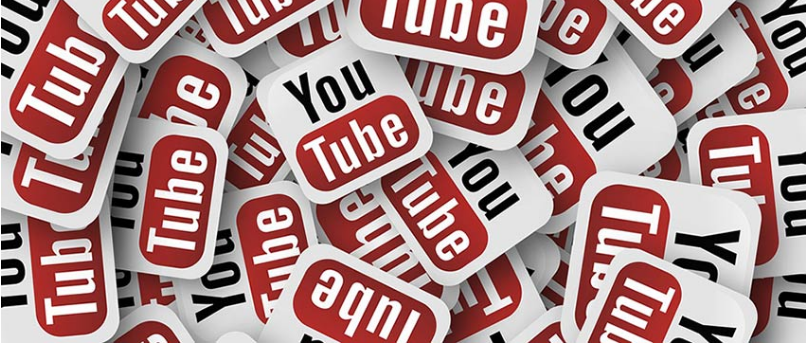 How to Bypass GFW Block of YouTube in China?
Everyone knows that YouTube is known as one of the most popular websites in the world. YouTube not only can provide you your favorite videos, but also to be a way for people search online information. However, YouTube is blocked in China by the so called GFW (short for Great Firewall of China). So, it would so inconvenient for lots of peoples who are traveling or living in China, such as tourists, business travelers and expats. In order to get access to YouTube as well as other foreign websites, some IT talents create a tool which used to bypass the Internet blocking by the GFW. It is named VPN (Virtual private network), which works by encrypting your Internet connection to keep your communications, data, location and other information private while online in China. VPN service is the most popular method used by the majority of people who want to access YouTube in China. Thus, "How to Access YouTube in China?" will not be a problem for you any more if you set up a VPN on your device. VPN allows you to receive and send data across networks as if your computer or mobile devices were directly connected to a private network, that is the way how VPN by pass the GFW. If you want to get a stable and fast and more secure Internet environment, you should choose a paid VPN. Anyway, if you don't care about your data, you can try a free VPN first. In a word, VPN is a useful tool to help you unblock YouTube by hiding your personal IP address to a VPN server's IP address. So, the GFW can't recognize your IP and monitor your online activities. You can enjoy a clean Internet environment no matter while you are on YouTube or other blocking websites in China if you set up a VPN on your device.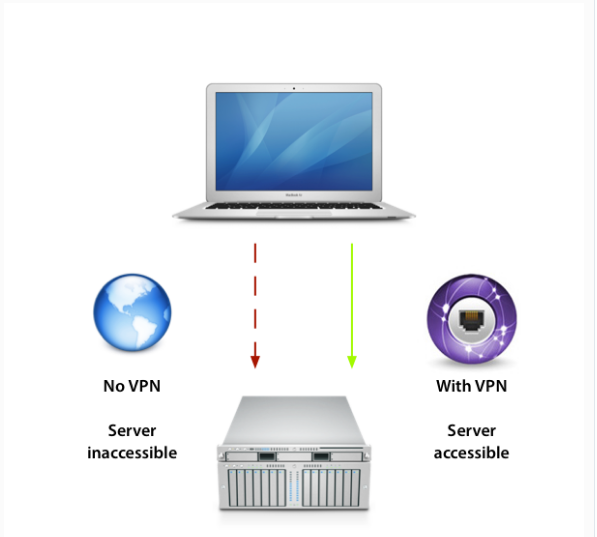 If you have any questions about VPNs, please live chat with YooCare Expert now.

Use VPN—Access YouTube in Seconds
It is known to all that, VPN stands for Virtual Private Network which is simple software which helps to hide and change your local IP. VPN services can provide you kinds of servers at every corner of the world to make your IP as you are from the country outside where you are in at the moment. If you are now in China, VPN services can help you change your IP to be the one from other countries like USA, UK, Australia, etc. When you surf the Internet via VPN, your online traffic will be encrypted so that your online security and privacy will be ensured. So, access Google from China will be very easy if you are installing a personal VPN service on your device, no matter you are using a Windows computer, IOS Mac computer, Windows phone, Android phone, tablet, iPhone or ipad.
Note: In order to unblock YouTube in China, it is recommended to connect to a VPN server in a country region where YouTube is accessible. So, you can access YouTube just in a second.
Which VPN Service Can Be Trusted?
No.1 – Express VPN: ExpressVPN is one of the most impressive VPN services in this list. Although the price is a bit high, it worth for its stable, fast and safe features. It also offers a 30 days money back guarantee which is the best in the industry.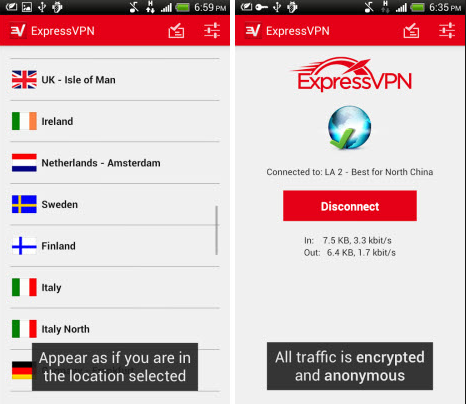 No.2 – IPVanish VPN: IPVanish VPN is constantly one of the best-rated VPN in USA because of its focus on keeping its users secure and anonymous online. With IPVanish, you get a unique content delivery network that has servers located in more than 60 locations around the world. Uptime is fantastic, and you will never have to worry about sluggish connection speeds. Finally, it is worth mentioning that their software is enjoyable to use, and that their customer service representatives are extremely useful and friendly. With a seven-day money back guarantee, IPVanish is undoubtedly one of the best VPN in USA.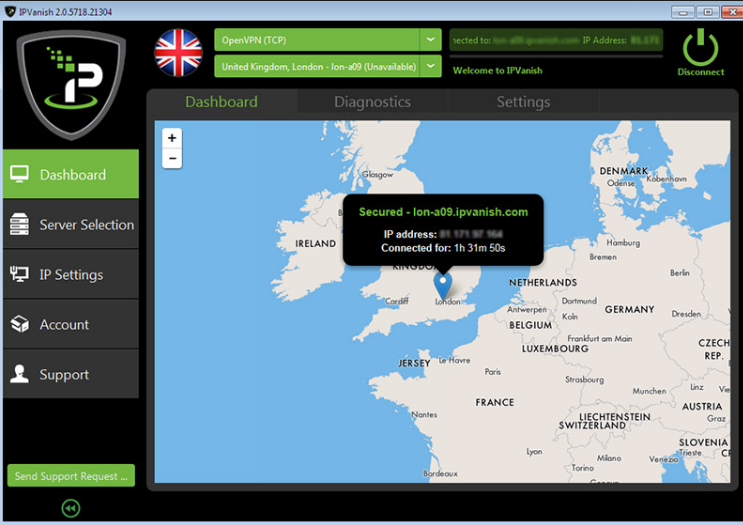 No.3 – NordVPN: Headquartered in Panama which screams freedom from NSA snooping, NordVPN is one of the most popular VPN services in the world despite its slightly expensive pricing. After all, it serves one of the most important purposes that people use a VPN for.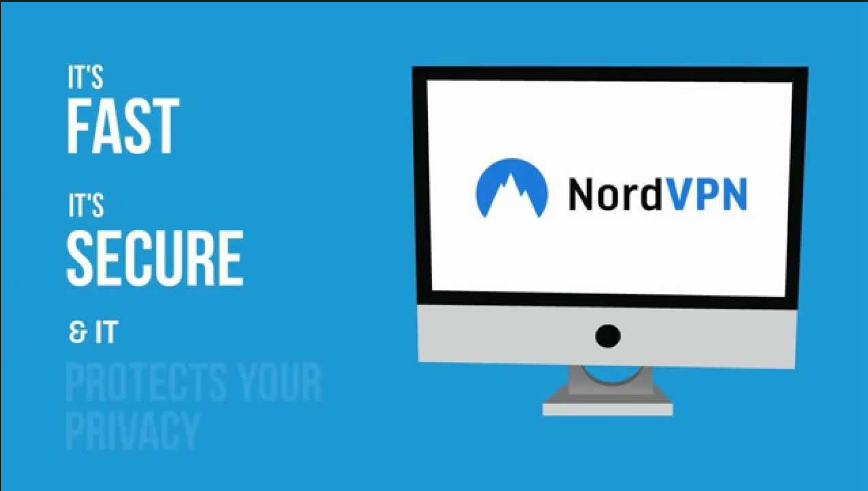 No.4 – PureVPN: PureVPN is one of the leading and oldest VPN & Network solutions provider in the world established on the premise of "Complete Online Freedom". The Hong Kong based provider has been servicing customers all over the world especially for removing geo-restrictions from VoD streaming services, securing online privacy while browsing and providing their optimized PureVPN servers for P2P & Torrent downloading.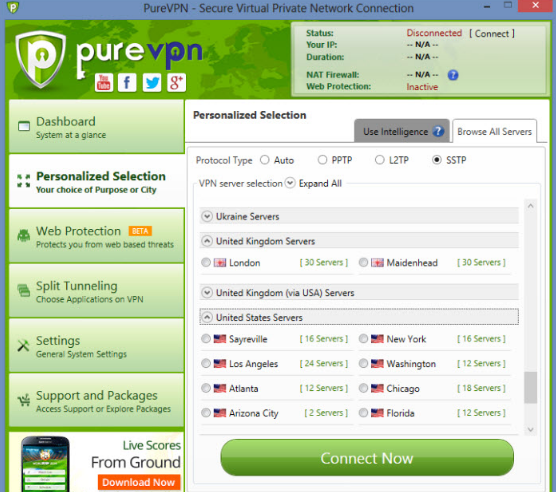 No.5- Zenmate VPN: Despite having a very funny brand name, Zenmate is one of the oldest and most popular VPN providers in the world. It is my #5 pick in the list of best VPN services because of a slightly connection which may not be in your best interests, especially if you are trying to evade the eyes of government snoops.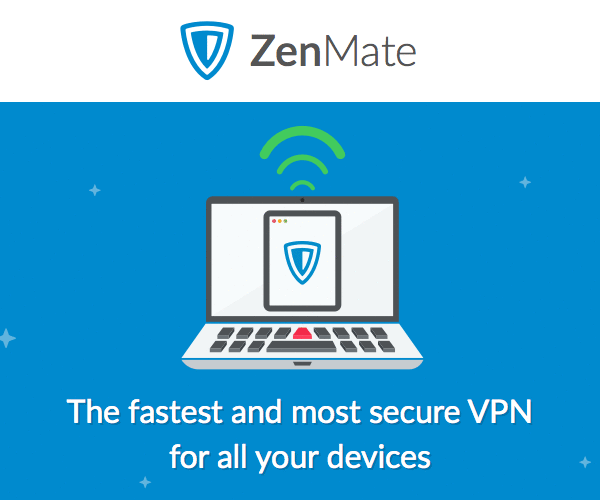 Note: Which VPN Service Can Be Trusted? Please consider your own situation of your device and your needs, and then choose the most suitable Best VPN for your device. If you don't know which VPN is better for your machine, please Live Chat with YooCare Agent right now. YooCare Experts not only can help choose the best VPN for you, but also can guide you through the steps of set up Best VPN on your device (Computers, Windows and Macs, Windows phone, Android phone, tablet, iPhone or iPad) to help you get online without barriers.
How to Choose a VPN Service to Make Accessing YouTube from China Easily?
How to Access YouTube from China? How to Set up VPN on your device (Windows computer, IOS Mac computers, Windows phone, Android phone, tablet, iPhone or ipad)? What should you pay attention to so as to ensure the perfect secure and quick Internet speed on your device? Now here comes the question: free VPN or paid VPN, which one is better? Almost everyone loves free stuff. However, when it comes to concern about security service, it is strongly suggest you pay for what you want to get.
1. To VPN Protocols, free VPN only provides PPTP VPNs which is not secure enough; Paid VPN allows you to use PPTP, L2TP/IPSEC, OpenVPN, SSTP and even SSH to tunnel your connections securely.
2. To VPN connection speed, free VPN used to get poor signal so the connection may be disconnected from time to time. A paid VPN, you can enjoy a stable Internet connection on bandwidth and servers.
3. To Support, free VPN will not help you solving your connection problem, nor help you set up VPN on your device if you don't know how to do. Paid VPN can do all these things for you and you can make an appointment with Yoocare online agent all the time when you want.
4. To VPN Servers/Nodes location, free VPN will not ask you to sign up for the service, nor allow you get access to too many servers in kinds of countries. Paid VPN will ask you to sign up and make you to be a real user of it service. You can get the stable service connections depends on how much money you have paid.
In order to get access YouTube from China without trouble, so, a VPN is essential and required while you are in China. Before you choose a VPN, you'd better take a look at the following tips, which would help you a lot.The correct one may help you access Google quickly.
1. Price – check if the price is reasonable by comparing with many VPN services.
2. Speed – see if the speed provides by it is stable and fast enough.
3. Privacy – all VPN providers promise privacy, but A VPN does not make you anonymous.
4. Security – this is mainly to see if the technical measures are strong enough to prevent a rival like hackers, the NSA, etc. forcing access to your data.
5. Number of servers/countries – if you need to connect to servers located in numerous places, then the more the better. Then you can find a server where you need it.
6. Number of simultaneous connections – some providers will only let you connect one device to their service at a time, while others allow you connect your PC, laptop, Mac, smartphone,tablet and your other friend, family member or colleague's device all at once.
7. Customer support – many VPN users especially beginner are still learning the ropes, so customer support will help answer your questions and solve problems while you're using the VPN software service.
8. Free trials and money back guarantees – free trials can help you decide if a VPN service is suitable for you and really helpful before you purchase its service.
9. Software – VPN software or app should look concise, good and be easy to use and also be with special features.
Kindly Prompt: if you are confused and don't know which VPNs you should choose or have any other questions about VPN, you're welcome to contact our YooCare online technical team by clicking Start Live button.
Advantages of Setting up Best VPN on Your Device While you are in China:
-Encryption your online network while you are accessing Google from China.
-Help you access some geo-blocked websites easily.
-Protect your data privacy if you are using the public Wifi at the public place, such as coffee shops and airports, etc.
-Get your resources from the working company securely if you are working from home or other place outside the company.
-Encryption access to all local networks from other part of the world.
Step-by-Step Guides to Set Up Best VPN in China on Your Device:
How to Access YouTube from China? Before you come to China, y'd better set up a VPN on your device to unblock Google first. How to get this done? A VPN service has to be set up on your device (Windows phone, Android phone, tablet, iPhone or ipad) and then install the apps on it. Here is the guide for iPhone/iPOad, as an example.
Step 1: Tap Settings >>> General >>> Network >>> VPN >>> Add VPN Configuration
Step 2: Select type of configuration (IKEv2, IPSec, or L2TP) depending on the type of VPN you want to connect to. Enter your VPN's connection details on this screen to connect. If your VPN is provided by your workplace, it should provide you with these details.

Step 3: Enter the information for your VPN in the corresponding fields. If you used a proxy, make sure to enable it towards the bottom of the settings page.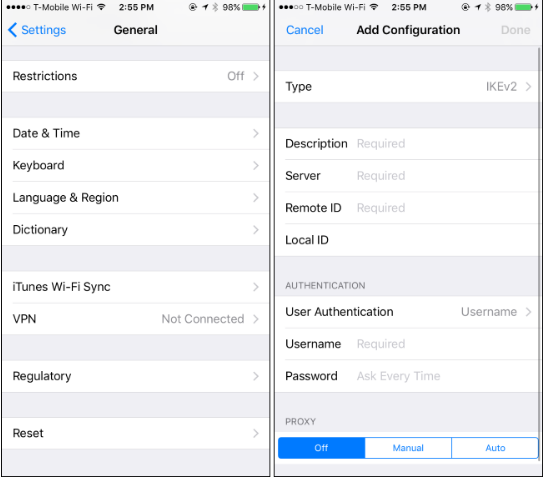 Step 4: After finish setting up your VPN, go back to homescreen, tap Settings, then see a VPN option which will appear only when you have a VPN installed. Toggle the switch to On.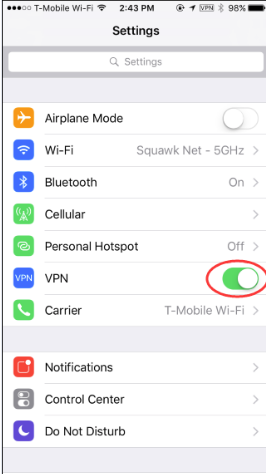 Step 5: Then iPhone will connect to VPN server. If an error message pops up, go back into your VPN settings and make sure all your settings are input correctly. Besides, if you want to set up multiple VPNs on your iPhone or iPad, you can switch between them by heading to Settings >>> General >>> VPN—on the same screen where you added those VPNs.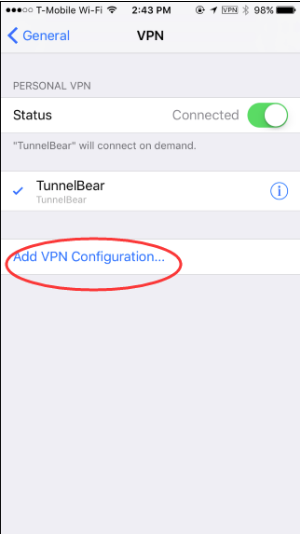 How to Access YouTube from China? How to Set up Best VPN in China for Mac?
How to Access YouTube from China? Set up Best VPN in China for Mac is quite common for the majority of Mac computer users. After you buy a VPN, you will get an account. Before you move on, please note that you have gotten all the needed information prepared. Once all things are ready, you can follow the following manual guide to set up the VPN on your Mac by yourself. But, if you are not familiar with VPN set up process when you see the following steps, you are suggested to Live Chat with YooCare Online Expert for further help.
Step 1: Click the Apple menu, select System Preferences, and click Network or click the Wi-Fi icon on the menu bar and select Open Network Preferences.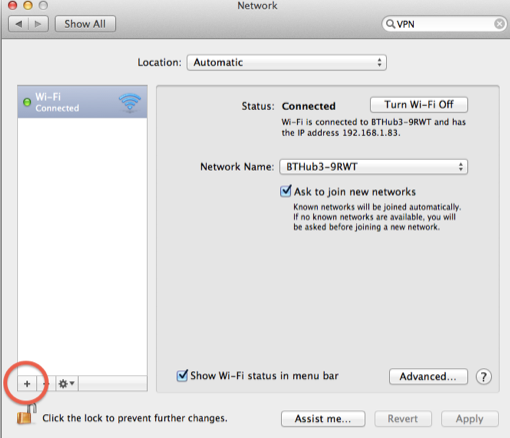 Step 2: Click the plus sign button at the bottom left corner of the window and select "VPN" in the Interface box. Choose the type of VPN server you need to connect to in the "VPN Type" box and enter a name that will help you identify it.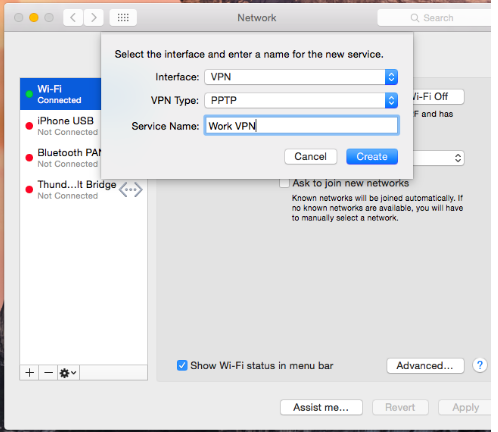 Step 3: The "Authentication Settings" button allows you to offer the authentication you'll need to connect — anything from a password or certificate file to RSA SecurID, Kerberos, or CryptoCard authentication.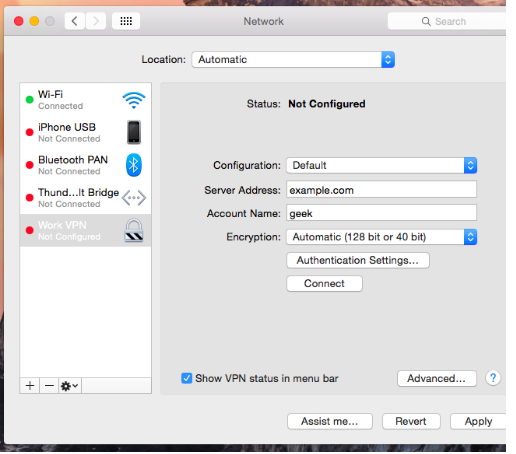 The "Advanced" button allows you to configure the VPN connection in other ways.
Step 5: When you finish all settings steps, please click Apply button to confirm your settings. And you're kindly suggested to enable the "Show VPN status in menu bar" option. Then you will get a menu bar icon to manage your VPN connection. The menu bar icon can easily help easily connect to your VPN and disconnect from it as necessary.

Once the new VPN connection is successfully created, back on the Network & Internet window, keeping the VPN category selected from the left pane, click to select the newly created VPN connection from the right. If you don't know how to use VNP or are afraid of any severe problems happening when you handle any VPN errors problems by yourself or you need expert advises to recommend advanced and excellent VPN server, you are recommended to contact professionals for tech support!
Video Guide Show You How to Access YouTube in China (Expired)
Top 10+ Best VPN Services In The World
VPN Brands
Servers
Country
# of Connections
Price(USD)
Official Website
3000+ servers in 94 countries.
British Virgin Islands
5
$6.67/Month (Save 49%)
Best Choice
5159+ servers in 60+ countries.
Panama
6
$2.99/Month (Save 75%)
View Deals
800+ online servers in 50 countries.
British Virgin Islands
Unlimited
$1.99/Month (Save 83%)

Chinese Click Here>>

View Deals
3,307+ servers in 32+ countries.
USA
10
$3.49/Month (Save 65%)
View Deals
1,300+ servers in 60+ countries.
USA
10
$6.49/Month (Save 46%)
View Deals
Click Here to Read More Top 10 Best VPN Services »
Summary: Up to now you know how to access YouTube from China, correct? To ensure the best Internet speed, it is recommended to use a VPN service to unblock your access to the media site, Express VPN and Surfshark VPN (only $1.99/Month) are the most popular using by users. What is the important they are still work in China, if you are in mainland China now then you are recommended to try the twos.
Kindly Reminder: If you have any questions regarding how to set up Best VPN in China on your devices, please live chat with YooCare online expert for help.

Published by & last updated on July 2, 2019 8:54 am