Hi. My iPhone browser is blocked due to metropolitan police scam saying to pay £200. I didn't do anything illegal like it said. The screen has frozen and I can't access the Internet. How do i get to use my browser again. How to unblock safari browser from scam? I need my phone for work. Please help me get rid of it soon. Thank you in advance.
Safari Locked by [email protected] Scam Virus – How to Remove?
Is your Safari locked by [email protected]? You must be careful. Your device is infected with a scam virus. The [email protected] message is made up by the cyber criminals to swindle money out of innocent people. Once your device is infected, it takes over the browser and displays fake warning to scare you. It steals the name of UK police or other Europe police and claims that your browser is blocked for pornography and other illegal content. It demands a fine from you to unlock the browser and get rid of trouble. Do not trust it. The warning is not real. It is brought by the malicious software but not the metropolitan police. You only need to remove the [email protected] scam virus to unlock Safari and keep your device safe.
Is [email protected] Scam Virus Harmful to Your Device?
[email protected] scam virus infection is very common among Apple device users. It is a malicious program developed by bad people for evil purpose which is very harmful to your device. The virus can sneak into your device silently without your knowledge. As soon as the virus is installed, it controls your browser, such as Safari, Google Chrome, Mozilla Firefox etc. and stop you from accessing the Internet. It changes the default browser settings and injects malicious code to support its scheme. Browser is badly corrupted. The object helper keeps the fake warning popping up all the time when you use browser app. Every time you tap Safari app icon, it opens up and quickly shows you the "scary" notice. As the JavaScript has been corrupted, the warning page is not actually a normal website. Hence, no button is provided to close the scam page in a traditional way. According to the victims, they got stuck at [email protected] and could not get rid of it. When they quit Safari and opened it again, the virus came along all the time just like a ghost haunting there. It did not disappear like other normal browser notification though they turned the device and turned back on repeatedly. According to computer experts, [email protected] scam virus works similarly with the browser. It hijacks your browser and will try everything to collect your information. That is why it sometimes has your Contacts or family photos on the warning page. It will not stop until its owners have your money. It is very necessary to remove [email protected] scam virus immediately.
Safari Locked by [email protected] Scam Virus – How to Remove?
Since paying the so-called fine won't help you remove this scam virus, manual removal is an effective solution for this. Processing manual removal is supposed to have a certain level of tech skill. If you are not sure how to start and are afraid of making any critical mistakes damaging the cellphone, please live chat with YooCare Expert now.

How Your Device Got Infected with Ransomware?
The criminals spread scam virus via various ways. Your device will be infected easily before you can react. Let's talk some of the situations.
Situation 1: Viewing suspicious sites. Virus on malicious sites and legal sites that have been compromised can catch you and block the device immediately when you visit them.
Situation 2: Opening corrupted attachment or click on malicious links in a spam. The cyber criminals dispatch tons of spams with virus to worldwide users every day. Sometimes, virus is embedded in attachment. Sometimes, it hides on site that the malicious link redirects you to. Once you click on them, virus sneaks into your device quickly.
Situation 3: Downloading unknown software that includes malware. Sometimes, you may be convinced that a piece of certain software is useful and meet your needs very much. After you see description of the software, you may think that you will not lose anything after you install it even if it is not as useful as it says. You are totally wrong. Once you download software with virus, your device will be blocked. You are putting your device at risk.
Screenshot of similar Scam Virus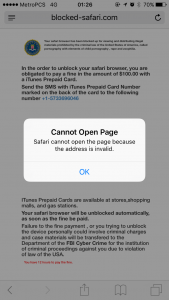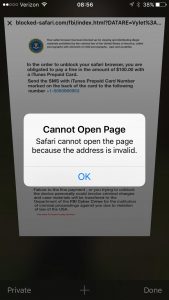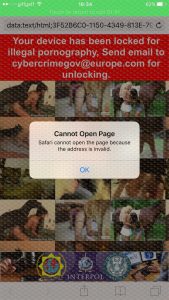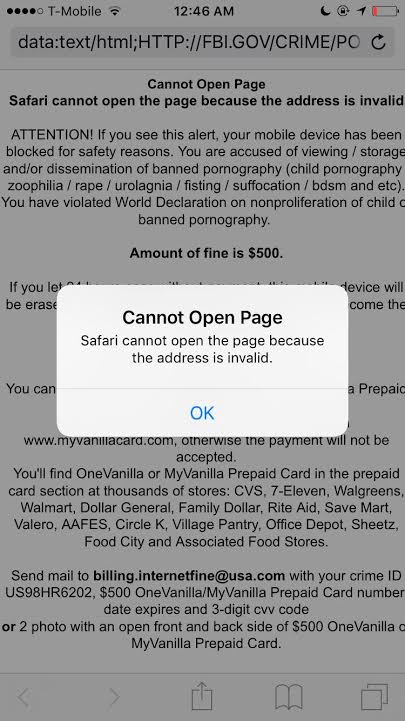 Conclusion
Safari Locked by [email protected] Scam Virus – How to Remove? We understand that it must be upsetting when seeing such as threat with the police logo. In this case, most people choose to pay the so-called fine to have their browser back and get rid of the trouble brought by pornography. Especially for someone who did watch porn before [email protected] scam virus showed up, they believed what the virus said was real and paid as it demanded. In fact, it is a bad idea to trust the [email protected] warning. On one hand, it is not from the metropolitan police. The accusation is not real. You didn't violate the law and do have the obligation to pay penalty. Besides, no police will arrest you or take you to court. On the other hand, it will not unblock your browser after you pay the fine. The cyber criminals only care about the money. They just took your money and left the virus there blocking Safari. Though the alert is bogus, the virus does exist. No one knows what will it do with your device and information. [email protected] scam virus has nothing good for your device. In order to protect your personal information and money, you must remove [email protected] scam virus out of your device immediately. Do not give it any chance to take your money away or corrupt the device. Stop the criminals before it is too late.
Suggestion: Manual removal is a skillful and risky job, if any mistakes are made during the removal process, you may damage your phone immediately. If you are not sure how to start, please contact YooCare PC experts 24/7 online for help right now.


Published by & last updated on February 25, 2017 3:12 pm