I was told Windows 8 runs faster and more safely than Windows 10. So, I updated my Dell computer from Windows 8 to Windows 10 several days ago. But I find it run so slow that my work efficiency with the computer is greatly reduced. It takes so much time to boot up and sometimes just fail to make it start up. The CPU consumption always increases to 100% even if I use the computer with only one regular software running at a time. And the web browser is also running abnormally. It often crashes when I try to open more new tabs. This never happened when I used the Windows 8. I am really tired of all the problems. Can you guys please help me fix this CPU 100% issue to make my computer run fast and smoothly again?
Reasons Cause the CPU 100% Issue on Windows 10.
How come the CPU 100% problem happens on a newly updated Windows 10? What are the possible reasons that may lead to the problem? How to fix the CPU 100% issue on Windows 10? We will discuss some most probable factors that may cause the CPU 100% issue in this part of the article. Hopefully, it will help you understand and handle the problem properly.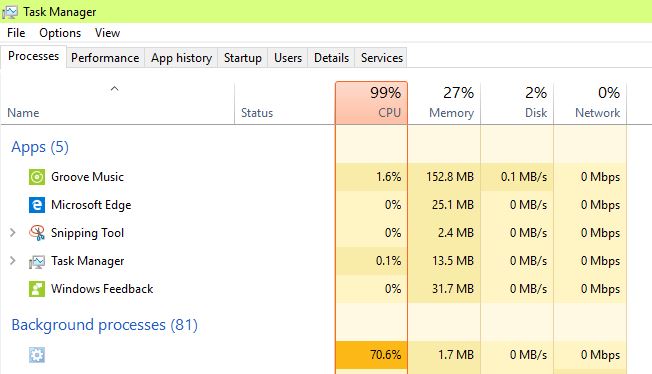 Viruses and malwares undoubtedly become the most important possibilities that result in the CPU 100% issue and low computer performance. A virus or malware is piece of program that is exploited by hackers to attack and corrupt computers and other smart devices like phones, tablets and routers. The damages caused by the virus or malware include deleting, modifying, replacing, and encrypting critical files and data of the system and all kinds of programs or changing the settings of them. This well explains the low performance problem and all kinds of system and program failures happen on an infected computer. What is more, some specific viruses and malware programs like Trojan horses and various adwares and browser hijackers are designed with the features of displaying tons of suspicious ads and recording the operations of the victims. The realization of such features needs to be supported with a great deal of system capacity and resource.
Multiple hidden processes or tasks of the programs operating in the background is another important cause of the CPU 100% issue on the Windows 10 system. Many applications or softwares are configured by default to be allowed to initiate some tasks at startup of the computer even if the main programs are not running on the system. Usually, these tasks are difficult to be noticed by the user because they are all designed to run in the background to support the normal operation of the main programs. It is a common feature of many applications or programs. While it also becomes one of the reasons that contribute to the CPU 100% issue and low computer performance. The more such applications you have on your system, the more CPU capacity will be consumed without notice. Fortunately, the users can stop the hidden tasks from running at startup by properly reconfiguring applications with such a feature.
A fat system full of all kinds of junks is of course a system of low performance. Computer junks are produced in every click of the mouse on your computer. The updating of system, registry and any program will bring about a lot of system junks, wasted registry entries and program waste. Regular operations such as copying, moving, deleting and opening documents or files will make many new changes to the system registry. Installing and uninstalling system widgets, tools, drivers and normal applications will lead to the introduction of various junks. There are so many junks produced every day. If these junks are not wiped out timely, as time passes, the performance of the computer will be undermined little by little and ultimately result in the total breakdown of the computer suddenly one day.
How to Fix CPU 100% Issue on Windows 10?
To fix CPU 100% issue, there is a lot of work to do. It is a complicated process involving in many computer skills such as how to detect and kill the viruses or malwares if there are any, how to locate and identify all kinds of system and program junks and how to properly reconfigure the applications that initiate hidden tasks at startup. For experts who have a lot of experience in the field of optimization of the computer, it can be a piece of cake for them to fix the CPU 100% issue by following the detail guides provided in this part after carefully studying the reasons that cause such a problem. While for ordinary computer users, it is more suggested to turn to an expert for help. Because the whole process of fixing the CPU 100% issue requires much computer knowledge, any improper operation may result in the critical damage to the program or the system and thus bring about the total failure of the program or computer.
Processing manual fix is supposed to have a certain level of computer literacy. If you are not sure how to start and are afraid of making any critical mistakes damaging the computer system, please live chat with YooCare Expert now.

The detail guides as follow:
1. Registry Hack:
Hit Win Key + R
Type in "Regedit" and then hit Enter.
Go to 'HKEY_LOCAL_MACHINE\SYSTEM\CurrentControlSet\Control\Session Manager\Memory Management'
Find 'ClearPageFileAtShutDown' and change its value to 1
Restart the computer
2. Fix the driver issue:
Open 'Device manager' and 'Scan for hardware changes'
3. Adjust your Windows 10 for the best performance
Right click on "Computer" icon and select "Properties"
Select "Advanced System settings"
Go to the "System properties"
Select "Settings"
Choose "Adjust for best performance" and "Apply".
Click "OK" and Restart your computer.
4. Disable startup programs
Hit Win Key + R
Type 'msconfig' and press enter
The Task manager window will open. Click on the "Startup" tab and you will see a list of programs that run at startup.
Right click on the applications that you don't want to run at startup and select "Disable".
5. Defragment Hard DrivesHit Win Key + R
Hit Win Key + R
Type "dfrgui" and press enter
In the new window click on the hard drives you want to defragment (Prefer the drive in which Windows is installed)
Click "Optimize" and follow the instructions on the screen to finish the defragment process.
Restart your computer.
Conclusion
The 100% CPU usage issue is one of the direct causes that results in the poor performance of a computer with the newest Windows 10 operating system of the Microsoft company. This upsetting problem will bring about lots of annoying inconveniences and troubles for the computer users, such as taking much time to make the computer start up, abnormal running of the web browsers, slow or no responding of regular programs and so on. This problem happens even though the computer has been updated to Windows 10 for only several days, which makes many users confused and disappointed. To fix this issue, if you are an expert yourself, this article may be helpful for you in some aspects, you are suggested to take some time to read it over and then carefully follow the details guides to fix the problem. If you are an ordinary computer user without little professional knowledge about the computer and Windows 10 operating system, it is more advised to turn to an expert for help.
Get stuck on removing viruses or changing Settings, and are afraid of making any critical mistakes damaging your computer? please contact YooCare Expert for further removal help.

Published by & last updated on February 19, 2017 10:36 pm