Hi, completely freaking out! The FBI headquarters locked my phone. Was web searching and a porn site popped up (not that uncommon on computers, by accident I clicked a link when mouse shifted – although not sure it matters even if I was looking at porn – idk) anyway then the website clicked out (exited) so I clicked my browser to start up again and a horrible page appeared saying it was from FBI headquarters and I had to pay $300 for viewing child pornography? Also that criminal charge would be taken against me? I am a twenty year old girl. I swear I am innocent. What do I do to end this creepy event?
FBI headquarters Scam Locked Phone or Tablet?
Is your phone or tablet locked by a FBI headquarters warning? Have you been accused of viewing illegal porn? Have you been fined for illegal actions that you never have done? Are you freaking out by this horrible police alert? Just calm down. You have not been in trouble with the FBI headquarters or any other police agency. The police warning is fake. Its owner is the cyber criminals instead of the FBI. The cyber criminals develop this virus to lock all Android, Windows and Apple mobile device, asking for money to unlock. Hence, we also call it Ransomware. In order to scare you into paying the non-existed fine, the nasty virus claims to be from the FBI headquarters and threatens that you will spend years in jail. Do not be scared by it. You will not face any judgement or go to jail. To unlock your device from the FBI headquarters scam, you have to remove the malicious virus behind it.
How to Protect Mobile Devices from FBI headquarters Scam?
FBI headquarters scam virus has been spread widely throughout the world. According to the online survey, this scam virus mainly targeted on US and UK users at the beginning. However, it attacks users in many countries, such as Australia, New Zeeland, China, Canada, India and Germany etc. Let's talk about how it spreads so as to protect your device away from FBI headquarters scam virus. First of all, the scam virus is bundled with unknown free apps and spread in one package. If you install a compromised app, the virus is installed alongside and locks your screen immediately. Hence, we suggest you download app from reliable app store or websites. Unknown free apps bring you huge potential risk. In the second place, scam virus can hide on malicious and legit websites that have been hacked. Most of those websites are popular among Internet users. People usually had been hacked on pornography and online game websites. On the websites, words or pictures are turned into hyperlinks. If you click on them by accident or try to enlarge the pictures, virus will be downloaded and installed quickly. Therefore, do not visit suspicious and unsafe websites. In the third place, FBI headquarters scam virus can sneak into your device via a spam. Cyber criminals dispatch thousands of spam to email users every day. Once people click on links or attachment, the virus has the chance to attack your device.
How FBI headquarters Scam Virus Works?
Once FBI headquarters Scam virus is installed on your device, it locks your screen and does not let you get rid of it easily. Sometimes, this scam can block your Internet only while you still can use other apps. However, the fake police threat hijacks your browser immediately when you try to access the Internet. Not like a normal information on browser, it will not disappear after you quit browser app. Sometimes, it blocks everything on your device. You are not allowed to access any apps or your home screen. The bogus alert takes over the whole screen. It still appears and locks your device after you restart it. Sometimes, you even can't turn off the device. You are accused of viewing illegal porn and violating copyright laws etc. In order to scare you, it pretends to be the FBI headquarters. It threatens that information on your location and snapshots containing your face have been uploaded on the FBI headquarters cyber crime data center. You are required to pay $ 500 penalty in three calendar days as a punishment. Otherwise, you will be taken to court and spends years in jail. It also has the logo of FBI and lists the specific laws that you have "violated". Most users are scared by this "horrible" warning and pay the so-called fine to avoid trouble. In fact, it is a scam virus created by the hackers for illegal money. That message has nothing to do with the real police. You are not in trouble with police but the cyber criminals instead. You must remove the virus to unlock your device.
Since paying the so-called fine won't help you remove this scam virus, manual removal is an effective solution for this. Processing manual removal is supposed to have a certain level of tech skill. If you are not sure how to start and are afraid of making any critical mistakes damaging the cellphone, please live chat with YooCare Expert now.

FBI headquarters Scam Locked Phone or Tablet?
Screenshot of Similar FBI Scam Virus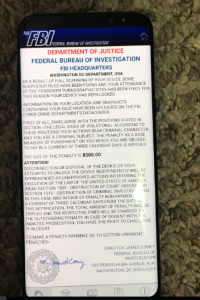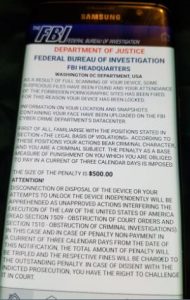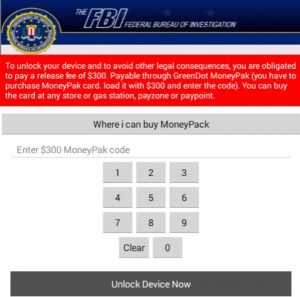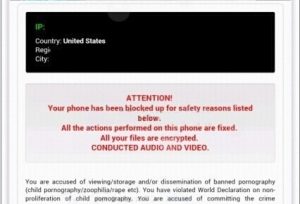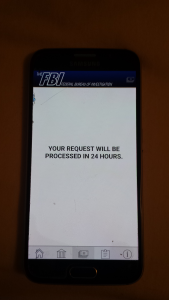 Step-by-step Guide to Unlock Your Tablet/Phone from this scam virus
FBI OneVanilla Locked Screen? Unlock On Android Phone
Step 1: Please try to put the infected android phone into Safe Mode at first to unlock the screen temporarily from the powerful scam virus
(1). For various android phones: hold down the power button to bring out the menu with Power Off and Reboot option—-hold down the Power Off option (If nothing happens, please tap and hold the Reboot option instead)—-click OK on the pop-up box asking if you want to access safe mode
(2). For Samsung Galaxy S4 and Samsung Galaxy S5: power off the device first. Press power button to power it on and tab the soft-touch Menu button repeatedly
(3). For Samsung Galaxy S3 and other phones with similar customized android system: power off the device—-turn on and hold down the Volume Down button (try Volume Up or Volume Down and Volume Up together if Volume Down does not work) when the brand logo shows up
You will see "Safe mode" at the lower left corner of the screen if you access safe mode successfully

Step 2: Search and remove suspicious files which are related to the virus
Step 3: Reboot the device to get out of safe mode.
Conclusion
FBI headquarters warning locks your device and wants money to unlock? It is totally a scam. Its owner is not the FBI headquarters. Do not try to unlock your device by paying the fine. You are not sending money to the police. Instead, the criminals will get your money. In other word, you are sending the money to support the criminals. Besides, many victims told us that their devices still were locked after 2 days they paid the penalty. They only want your money and do not care about safety of your device at all. They just take your money away and leave the virus on your device, damaging your system. What's worse, no one knows if the nasty FBI headquarters scam virus will install more malware to steal your information. You must get the FBI headquarters scam virus off your device as soon as possible. As the virus is changing all the time, virus manual removal is the most effective way so far. Locate the FBI headquarters scam virus and remove it once for all.
Suggestion: Manual removal is a skillful and risky job, if any mistakes are made during the removal process, you may damage your phone immediately. If you are not sure how to start, please contact YooCare PC experts 24/7 online for help right now.


Published by & last updated on September 26, 2017 6:17 pm