You can't browse the Internet normally when you want to visit the websites within the country or outside the country? It seems your personal data on your computer was revealed to the public because you get access errors from time to times. You are using a Windows 10 which is the latest version of windows. You still get problems without setting up VPN on your Windows 10? What should you do? Do you want to set up VPN to protect your computer security and browse the Internet quickly? How to Set up VPN on Windows 10?
What Is a VPN and Its Service?
VPNs are short for Virtual Private Networks which used to get access into privacy enhancement, censorship avoidance, anonymous file sharing, and more with rapid Internet speed. If your Windows computers connects to a VPN, it can make you browse online safely by rerouting your Windows computer via an encrypted server. Besides, your computer's IP address can be shown as the same local network as the VPN even though an IP address of other country. The most important thing is that, with a VPN setting up on your Windows 10 computer, you can enjoy the most secure network environment because all your network traffic is sent over a secure connection to the VPN. In addition, it allows you to get access the local network resources secretly and securely even when you are browsing on other sides of the world. Also, the VPN can be used within a company network for the workers to get company resources securely. Last but not the least, using a VPN's network location to browser the Net can allows gaining some benefits if you are using the public WIFI or want to visit some geo-blocked websites.
Why do you use VPN on your Windows 10?
VPN technology can offer people who are using it many advantages. Do you know why? The most significant season is that for device's security. Although Windows is known as the most popular operating system around the world, it is also largely reported as the least private one by the IT expert. Even though, Windows 10 (the last Windows ever) was released by 2016. People who had ever used Windows 10 on their PC will know that the news that different kinds of invasive features and security vulnerabilities had been discovered and reported to the public by security experts. Thus, do you still think that your Windows 10 on your machine can be away from being attacked by the spyware or hackers? Don't you think that a secure access to your home network via VPN is needed? With a VPN on your Windows 10 computer, you can access home network with highest security and minimal power consumption. How to Set up VPN on Windows 10 by yourself?
If you have any questions about VPNs, please live chat with YooCare Expert now.

5 Best VPNs for Windows:
No.1 – Private Internet Access: PIA or Private Internet Access is one of the most reliable VPN service providers that has a bunch of server options and also offers some very useful tools in addition. The best part is their affordable pricing which offers complete value for money.
No.2 – NordVPN: Headquartered in Panama which screams freedom from NSA snooping, NordVPN is one of the most popular VPN services in the world despite its slightly expensive pricing. After all, it serves one of the most important purposes that people use a VPN for.
No.3 – KeepSolid VPN: KeepSolid VPN unlimited is one of those services that almost grabbed the #1 position in this list. It has everything that you'd want from a VPN service. There are tons of server options, it is fast, secure and offers multiple flexible payment plans.
No. 4 –Express VPN: ExpressVPN is one of the most impressive VPN services in this list. If pricing is not a deciding factor for you, then it almost trumps Private Internet Access as the best VPN service in this list. It also offers a '30 day No questions asked' money back guarantee which is the best in the industry.
No.5- Hide My Ass: Despite having a very funny brand name, Hide My Ass or HMA is one of the oldest and most popular VPN providers in the world. It is my #5 pick in the list of best VPN services because of a slightly higher price tag and a logging policy which may not be in your best interests, especially if you are trying to evade the eyes of government snoops.
Note: please consider your own situation of your computer and your needs, and then choose the most suitable VPN for your Windows computer. If you don't know which VPN is better for your machine, please Live Chat with YooCare Agent right now. YooCare Experts not only can help choose the best VPN for you, but also can help you set up the VPN on your Windows 10.
Advantages of Setting up A VPN on Your Windows 10:
-Encryption your home network.
-Help you access some geo-blocked websites easily.
-Protect your data privacy if you are using the public Wifi at the public place, such as coffee shops and airports, etc.
-Get your resources from the working company securely if you are working from home or other place outside the company.
-Encryption access to all local networks from other part of the world.
-Can stream Netflix from other countries.
How to Set up VPN on Windows 10?
Setting up a VPN connection with Windows 10 requires you having the proper credentials to access a server. Before you move on, please note that you have gotten all this prepared. You may have to coordinate with your system administrator. Once all the needed information is ready, you can follow the following manual guide to set up the VPN connection to your Windows 10 computer by yourself.
•Log on to your Windows 10 PC with an administrator account.
•Once on the desktop window, click the Start button from the bottom-left corner of the screen.
•From the left section of the displayed Start menu, under the Places section, click Settings.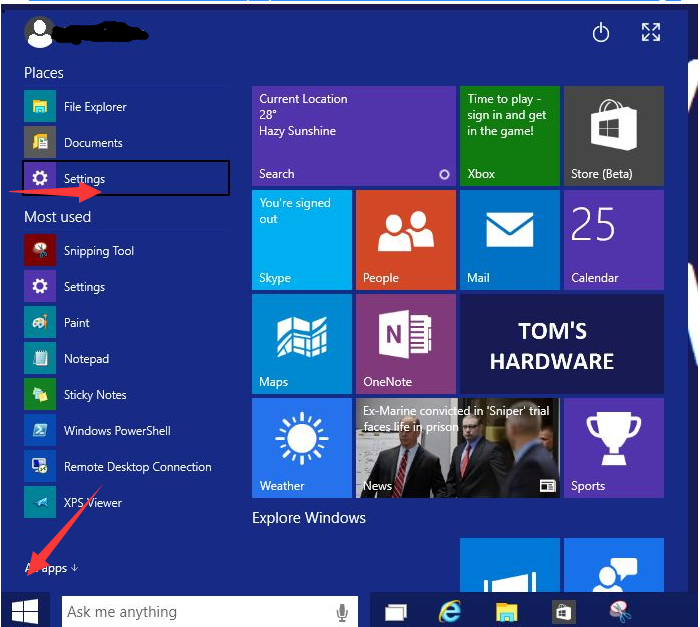 •On the open Settings window, click the Network & Internet icon.

•From the left pane of the open Network & Internet window, click to select the VPN category.
•From the right pane, click the + icon representing the Add a VPN connection option.
•On the Add a VPN connection box, populate the fields with the correct values.
•Make sure that the Remember my sign-in info checkbox at the bottom is checked, and click Save.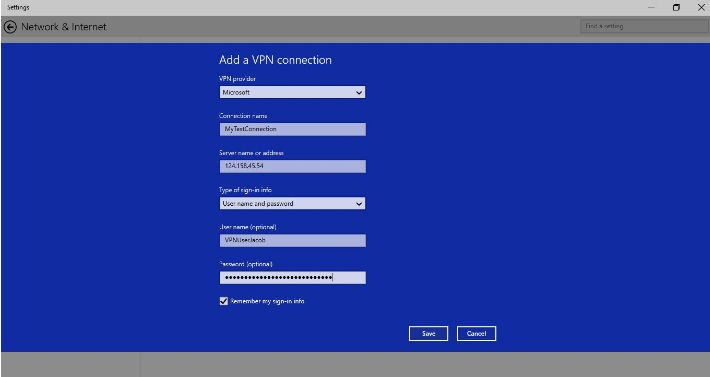 •Note: You may not want to save the sign-in info on public computers such as those in Internet cafes, or libraries. Do NOT check the Remember my sign-in info when using such computers.
Once the new VPN connection is successfully created, back on the Network & Internet window, keeping the VPN category selected from the left pane, click to select the newly created VPN connection from the right. If you don't know how to use VNP or are afraid of any severe problems happening when you handle any VPN errors problems by yourself or you need expert advises to recommend advanced and excellent VPN server, you are recommended to contact professionals for tech support!
Kindly Reminder: If you have any question regarding how to Set up VPN on Windows 10, please live chat with YooCare online expert for help.

Published by & last updated on January 5, 2017 7:20 am