Hi, please help me. I got this nasty FBI thing on my Galaxy s7. It says it is FBI agency and accuses me of visiting porn websites and watching porn things. And now my phone has been fully locked up. It also says I need to pay a fine of $500, or I will be put into jail for pornography. I am freaked out now. Is it real? Will they come to my house to arrest me? How can I unlock my phone without paying the $500 fine? Please help! Many thanks.
FBI Popup Virus Description:
The FBI popup virus is a malicious and nasty program developed by the hackers. It has been prevailing on phones/tablets for several years. Lately, some new variants of the FBI popup scam virus were developed and released by the cyber criminals to make as much money as they can. The new variants opf the FBI popup scam virus have been developed with the ability to attack phone/tablet users all around the world. You must feel unbelievable when you find your phone/tablet is blocked from making calls, sending messages, surfing the internet and any other normal use of the features of your phone/tablet by the FBI popup scam virus. Because it is all the time believed that phones/tablets are well designed in safety aspect to protect themselves from all kinds of viruses, including the FBI popup scam virus. Undoubtedly, phones/tablets are attacked by the FBI popup scam virus in an aggressive way and many victims are frightened much at the first sight of this infection. The virus will lock up the victim's phones/tablets and threaten to pay a non-existent fine from $100 to $500 to escape from possible punishments and to unlock the device. It is reported from many victims that their phones/tablets get infected with the FBI popup scam virus all of a sudden for visiting porn websites. In all cases, the victims' devices were completely locked up and none of them could escape from being demanded to pay a fine of certain amount within a period of time. And many victims said they had done nothing illegal before finding their devices get this FBI popup scam virus. While, many users were so scared as to be fooled into falling in this stupid and annoying scam trap. Many victims rushed to make the payment in an irreversible way without getting the problem fixed.

Please Contact YooCare 24/7 Online PC Expert now if you don't know how to start FBI Popup Scam Virus removal on your phone or tablet.

Possible Danger Caused By FBI Popup Scam Virus:
It will take control of your mobile phone or tablet rapidly once it is downloaded.
It will pretend itself as a legit warning and then ask for a ransom.
It will not allow you to call, text or even access your home screen on the infected device.
It will not let you power off the device or do anything else except for inputting the demand Ukash/Moneypak code.
Important Things You Have To Know If Your Device Has Been Blocked by FBI Popup Scam Virus:
1. "FBI Popup Scam Virus" scam can attack mobile device running with Android or Mac OS X system.
2. Don't pay for anything or provide your personal information to this hoax, it won't help lock out of the fake FBI Virus warning but just waste your money.
3. Currently antivirus app is not able to detect or remove this malware, and there is not an app can prevent the virus from attacking mobile device again.
FBI Popup Scam Virus Removal:
Once your phone or tablet is blocked by the FBI Popup Scam Virus, you will have no access to its home screen. Thus, you need to bypass this FBI Popup Scam Virus block and then you have the chance to locate the virus scam on your Android device or iOS device. Here are some instructions on bypassing this FBI popup scam virus scam on your phone or tablet.
Step 1: Restart the safe mode on your infected phone or tablet.
For Samsung Galaxy S4: 1. Power down. 2. Turn on and repeatedly tap the soft-button for "Menu."
For Samsung Galaxy S3 and others: 1. Power down. 2. Turn on, then press and hold Volume Down (Galaxy S3 and others), Volume Up (HTC One and others), or Volume Down and Volume Up together (various Motorola devices) when the vendor's logo appears.
Note: "Safe Mode" on Phone and tablet starts up without loading any third-party add-ons and different devices have different ways to access safe mode.
If you have managed to select Safe Mode successfully, you will see the text "Safe Mode" at the bottom left corner of the screen. As the picture shows below: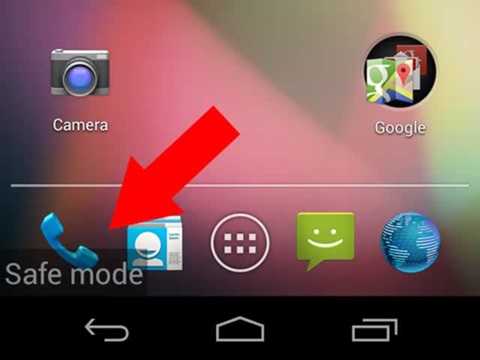 Step 2: If you can find "Safe Mode" on the left hand corner, that means your phone or tablet is in safe mode already, then you can contact an expert for further ransomware removal instruction.
Note: The ransomware removal guide is so complicated, and it requires sufficent skills. If you are not an Android device repair expert, do not try by yourself. In case you lose your confidential data and photos, an expert is needed during the process of manual removal. Yoocare/Yoosecurity experts can provide you with the most professional service of the FBI Popup Scam Virus.
Conclusion
The FBI popup scam virus is a frightening online scam virus. Phones/tablets are usually identified as their important targets. And all types of variants were developed within a short period of time to boost increase in illegal income all around the world. The common trait all these variants share is they all try to pretend to be a powerful government agency to scare the victims to pay a unreal fine as soon as possible to unlock their device and escape from being seriously punished, for example, going jail. And many antivirus programs have turned out to be helpless to remove this FBI popup scam virus and its variants. Because the victims will be blocked from performing any operation including running an antivirus program to detect and kill the virus after infection. According victims who visit us, they were not even allowed to power off or restart the phones/tablet. How nasty this FBI popup scam virus is. Therefore, when you come across an infection of the FBI popup scam virus or its variants, it is recommended to talk to an expert in this field about the problem in detail and ask them to help handle this issue in a safe way.
Suggestion: Manual removal is a skillful and risky job, any mistake will lead damage to your phone or tablet. If you are not sure how to delete this FBI Popup Scam Virus, please contact YooCare PC experts 24/7 online for help right now.


Published by & last updated on December 31, 2016 6:36 am