Hi I have been infected with an Android police paysafecard virus. The FBI logo occupied my whole screen where I cannot take it off my Samsung galaxy 7 edge. It says my phone is blocked for illegal porn, asking for $500. I cannot even restart my phone . I am freaking out. Please help. Thank you.
Brief Description of Android Police Paysafecard Virus?
Android Police Paysafecard virus has been categorized as a hazardous group of ransomware which is sponsored by Cyber criminals to attack unexpected users all over the world. Once installed on the targeted device, this Android police virus will threaten users with a fake alert that they have violated some law by moving into unauthorized websites. Android Police Paysafecard virus attempts to convince the victims that the alert comes from police or associations and then frighten the innocent Internet users to pay an inexistent fee to get a so-called code to get their devices unlocked. Plenty of Internet users from different nations who have been swindled out of money, because they have been scared by the screen which keeps displaying a distinctive institution of police or another association and victims maybe footed by the virus easily. And then victims will realize they can't get rid of the block page after paying the fee and they can't get their money back, as well. Please keep in mind that the Paysafecard police warning is completely a virus, despite its authentic appearance and threatening words.
Android Police Paysafecard virus can be distributed through several methods. To illustrate, a visit on malicious websites, or legitimate websites which have been attacked, may install the Android Police ransomware on a targeted device without any consciousness or approval. Additionally, an installation of some freeware, adware, and malware, which is bundled with Android Police Paysafecard virus, may also get a targeted device infected by the virus. Malicious links or attachment from a junk email will be also medium for the virus to attack a targeted device. In a word, the Android Police Paysafecard malware can be spread by freeware, adware, malicious links and junk email, so Internet user should be cautious with those traps when go online.
As soon as access a contaminated system successfully, Android Police Paysafecard virus resets the default setting of the infected system and when users do a restart, the virus blocks the entire screen before they get homescreen. The fake Police virus claims to be an authority and charges mobile device users of violated activities online and then intimidates the victims to pay a fine or their Android devices will be blocked totally. Innocent Internet users should be aware that the block page comes from Cyber criminals, instead of valid police or other associations. Accordingly, the fee is fabricated by the cunning virus and please don't be fooled by it. Manual virus removal is required for the victims before more destruction and loss. What's worse, the Android Police Paysafecard virus is equipped to collect victims' vital details and then reveal the information to Cyber criminals for illegal profits. Privacy leak is a huge headache for people and there is no one can stand such a degrading conduct.
Since paying the so-called fine won't help you remove this scam virus, manual removal is an effective solution for this. Processing manual removal is supposed to have a certain level of tech skill. If you are not sure how to start and are afraid of making any critical mistakes damaging the cellphone, please live chat with YooCare Expert now.

Screenshot of Similar FBI Scam Virus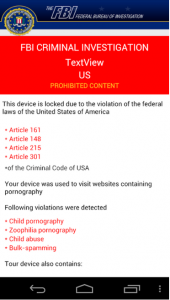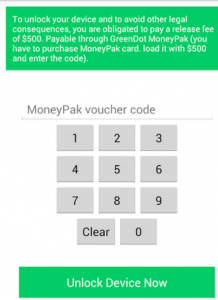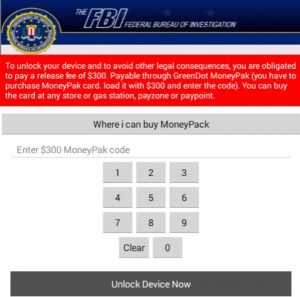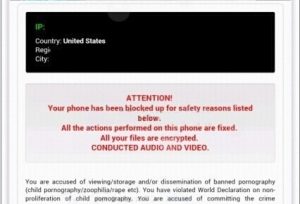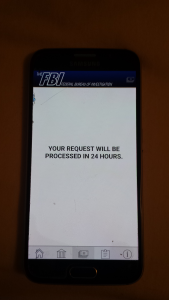 Have been hacked by Android Police Paysafecard Scam Virus? Follow those guides to remove it manaully.
Step-by-step Guide to Unlock Your Tablet/Phone from this scam virus
Step 1: Please try to put the infected android phone into Safe Mode at first to unlock the screen temporarily from the powerful scam virus
(1). For various android phones: hold down the power button to bring out the menu with Power Off and Reboot option—-hold down the Power Off option (If nothing happens, please tap and hold the Reboot option instead)—-click OK on the pop-up box asking if you want to access safe mode
(2). For Samsung Galaxy S4 and Samsung Galaxy S5: power off the device first. Press power button to power it on and tab the soft-touch Menu button repeatedly
(3). For Samsung Galaxy S3 and other phones with similar customized android system: power off the device—-turn on and hold down the Volume Down button (try Volume Up or Volume Down and Volume Up together if Volume Down does not work) when the brand logo shows up
You will see "Safe mode" at the lower left corner of the screen if you access safe mode successfully

Step 2: Search and remove suspicious files which are related to the virus
Step 3: Reboot the device to get out of safe mode.
Conclusion
There is no doubt that the Android Police Paysafecard virus is nasty and dangerous. It spares no effort to grab money from innocent users in the name of famous police. The vivid logo and photo of president would mislead users easily. They would believe that they did do something illegal and buy Paysafecard to pay the so-called fine. In fact, it is a bad idea to send them money because it will not help your infected device. Besides, you are not sending money to the FBI, Cyber police or Any other law enforcement but the evil hackers. You must stop them by removing the malware behind it. Before you start, you should keep in mind that the cyber criminals keep developing the ransomware so as to scam people effectively . Hence, the anti-virus programs always need some time to put forward new solutions for the newest version of Android Police Paysafecard virus. Manual removal is the most effective way to get rid of the annoyance so far. Please locate the malicious files and remove them manually.
Suggestion: Manual removal is a skillful and risky job, if any mistakes are made during the removal process, you may damage your phone immediately. If you are not sure how to start, please contact YooCare PC experts 24/7 online for help right now.


Published by & last updated on December 25, 2016 5:01 am