What is FBI Your Request Will Be Processed In 24 Hours? Hi, I am so scared right now. Can you please help me? I have a FBI thing with the message of "Your Request Will Be Processed In 24 Hours Warning" on my phone. I did not do anything wrong. I never visited a porn site and watched porn videos. Why the FBI wants to arrest me or ask me to pay a fine? I was playing a game. A window popped up and I clicked to delete it. But I not only failed to delete the popup, but also introduced more popups on my browser. And later on, my phone was totally blocked. Now I can't do anything like making calls, texting my friends with the phone. And I have a lot of important data stored on the phone. Please help!

More Information about the FBI Your Request Will Be Processed In 24 Hours Warning :
"Your Request Will Be Processed In 24 Hours Warning." Do you receive a warning like this from the Federal Bureau Investigation of the USA? Do you feel panic and horrible when you are at first sight of this FBI warning? Actually, there is no need to feel in that way, because it is just a variant of the series popular FBI scam viruses that pretend to be the FBI authority to trick victims into the trap of paying money. But for other issues that are involved with the FBI viruses, your attention and concern are needed.
First of all, it is reported in some cases that after infection, the victim's phone or tablet or any other infected device will be completely blocked from being able to restart and reach the home screen, letting alone the normal use of other features like making calls, texting and browsing webpages online. What does it mean? It means that the device on which you have spent so much money will become totally useless. It means if you can't get rid of the virus completely and need to own a phone again, you have to prepare a sum of money to buy a new one even though the infected one is still working very well. Secondly and maybe most concernedly by the victims is the security of their sensitive personal information. In some cases, the victims tell that their important personal information such as IP address and telephone contacts are collected and shown to threaten to make the payment to solve the problem. So they worry that information that may result in the ID theft and financial loss has already been stolen and sold to others for illegal purposes by the hackers. If this turns out to be true, a disastrous situation will not be avoided. On this occasion, what you need to do is to turn to an expert to remove the virus thoroughly as soon as possible and after that, double check whether all the critical information you store on the device has been stolen and used for illegal purposes or not. Finally, some violent FBI variants have been designed to have the ability to stop the victims from backing up or transferring important data from the infected device by connecting to a computer. This really causes a lot of inconveniences for the victims. On this occasion, if you have more than a hundred contacts stored only on the phone, it will be a lot of work to regain all the contacts by contacting each of them one by one. If you have many precious photos saved on the device, it will be a pity to lose all of them. Please remove FBI Your Request Will Be Processed In 24 Hours scam virus once found it on your android phone or tablet.
Please Contact YooCare 24/7 Online PC Expert now if you don't know how to start FBI Warning Virus removal on your phone or tablet.

Screenshot of the FBI Warning Virus: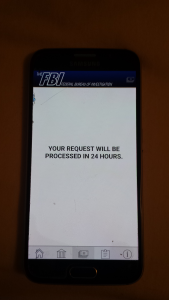 Possible Danger Caused By FBI Warning Virus Scam:
It will take control of your mobile phone or tablet rapidly once it is downloaded.
It will pretend itself as a legit warning and then ask for a ransom.
It will not allow you to call, text or even access your home screen on the infected device.
It will not let you power off the device or do anything else except for inputting the demand Ukash/Moneypak code.
Important Things You Have To Know If Your Device Has Been Blocked by FBI Warning Virus:
1. "FBI Warning Virus" scam can attack mobile device running with Android or Mac OS X system.
2. Don't pay for anything or provide your personal information to this hoax, it won't help lock out of the fake FBI Virus warning but just waste your money.
3. Currently antivirus app is not able to detect or remove this malware, and there is not an app can prevent the virus from attacking mobile device again.
FBI Warning Virus Scam Removal:
Once your phone or tablet is blocked by the FBI Warning Virus, you will have no access to its home screen. Thus, you need to bypass this FBI Warning Virus block and then you have the chance to locate the virus scam on your Android device or iOS device. Here are some instructions on bypassing this FBI Warning Virus scam on your phone or tablet.
Step 1: Restart the safe mode on your infected phone or tablet.
For Samsung Galaxy S4: 1. Power down. 2. Turn on and repeatedly tap the soft-button for "Menu."
For Samsung Galaxy S3 and others: 1. Power down. 2. Turn on, then press and hold Volume Down (Galaxy S3 and others), Volume Up (HTC One and others), or Volume Down and Volume Up together (various Motorola devices) when the vendor's logo appears.
Note: "Safe Mode" on Phone and tablet starts up without loading any third-party add-ons and different devices have different ways to access safe mode.
If you have managed to select Safe Mode successfully, you will see the text "Safe Mode" at the bottom left corner of the screen. As the picture shows below: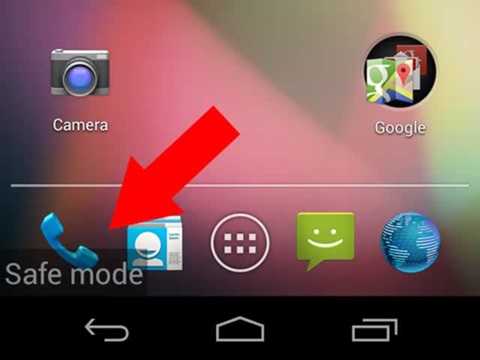 Step 2: If you can find "Safe Mode" on the left hand corner, that means your phone or tablet is in safe mode already, then you can contact an expert for further ransomware removal instruction.
Note: The ransomware removal guide is so complicated, and it requires sufficent skills. If you are not an Android device repair expert, do not try by yourself. In case you lose your confidential data and photos, an expert is needed during the process of manual removal. Yoocare/Yoosecurity experts can provide you with the most professional service of the FBI Warning Virus.
Conclusion
From the first infection of the FBI virus to today, the virus has developed itself for years. There are many different types of variants prevailing today. The "FBI Your Request Will Be Processed In 24 Hours Warning" is a symptom that indicates your device has been infected with a variant of the FBI ransom viruses. If you have got such an infection on your device, there is no need for you to worry that if the FBI will come to arrest you and put you into prison because of visiting porn sites and watching porn videos or other illegal activities. And you don't need to pay any fine they ask for this reason. Because to pretend to be the FBI agency is the trick the hackers use to threaten the victims who know little about the virus to make the payment. And according to some reports from some victims, the infected device will stay all the same even if you make the payment in accordance with their requirement. So anytime you have infected with a FBI virus like the one with the message of "Your Request Will Be Processed In 24 Hours Warning", instead of getting nervous and horrible, what you need to do most is to turn to an expert in this field and get the virus removed from your device as fast as you can.
Suggestion: Manual removal is a skillful and risky job, any mistake will lead damage to your phone or tablet. If you are not sure how to delete this FBI Warning Virus, please contact YooCare PC experts 24/7 online for help right now.


Published by & last updated on December 1, 2016 2:00 am