Hey, there. It was just an accident that I mistakenly clicked on a link while I was browsing for birthday gift on my iPhone 6 on Safari. Then, everything turned to be wrong because my safari got a pop-up saying "Safari cannot open the page because the address is invalid." I couldn't go anywhere even though I tapped on "OK". On my iPhone screen, I could see lots of nasty porn pictures. There were words in red saying "Your device has been locked for illegal pornography, Send email to [email protected] for unlocking." Oh, my god. Should I send email to that provided email address? I was out of my mind. My safari has been locked by [email protected] ransomware virus-how to unlock? Any advice?
Safari Has Been Locked by [email protected] Ransomware Virus-Is It Real?
[email protected] Ransomware Virus is totally a malicious scam virus which is created by cyber criminals with the purpose to rip off the device user's money. Cyber scammers used to take the scare tactics to threaten the infected device users into thinking that they really do something illegal online which goes against the law of the country. In order to make it looks like real, you will see warning messaging showing on your device screen as follows: "Your device has been locked for illegal pornography, Send email to [email protected] for unlocking."
"ATTENTION! If you see this alert, your mobile device has been blocked for safety reasons. You are accused of viewing/storage and/or dissemination of banned pornography (child pornography/zoophillia/rape/urolagnia/fishing/suffocation/bdsm and etc.). You have violated World Declaration on nonproliferation of child banned pornography. "
You will get a pop-up window with its name "Cannot Open Page". On that warning window, you will see "Safari cannot open the page because the address is invalid." You will get an option of "OK". However, you can exit out that nasty page which is showing you the so-called illegal pornography by tapping "OK" or pressing home button on your Apple device. You can't get off the screen. You can't get online normally by being locked the Internet access. You are required to pay an amount of $500 fine by sending email to [email protected] with your crime ID and $500 OneVanilla/MyVanilla Prepaid card number etc. All things look like legitimate and real. As a matter of fact, [email protected] Ransomware Virus made by cyber scammers is making the trap for the innocent Apple users who are living in USA and lock of legal knowledge. Hence, if you are living in the USA that is a country with strict enforcement of the law, if your apple device was locked, please calm down, please ignore the threaten warning alert message, please ignore the nasty banned pornography. The most important thing is that do not send the email to the provided email address and pay for the non-existent fine. You should make yourself be relaxed and then figure out a way to get rid of the malicious ransomware virus. If you don't know how to do by yourself, take it easy, contact YooCare/YooSecurity for tech support.
Please Contact YooCare 24/7 Online PC Expert now if you don't know how to start U.S. Marshals Warning removal on your iphone or ipad.


Screenshot of [email protected] Scam Virus and other Similar Scam: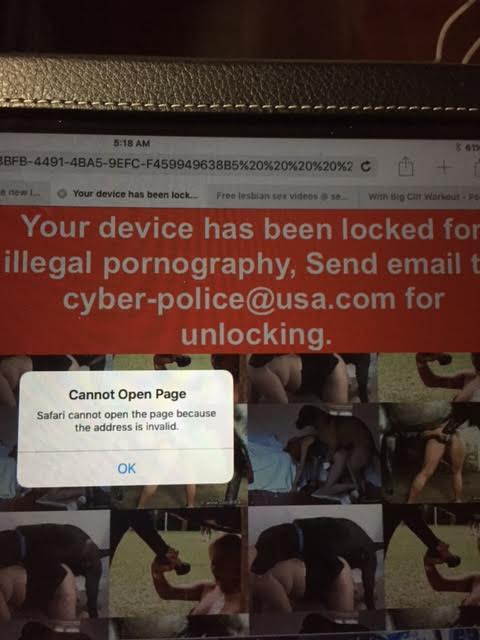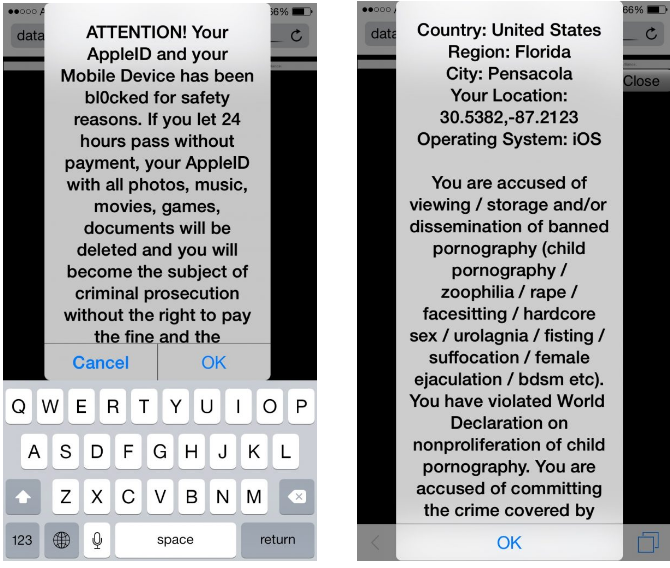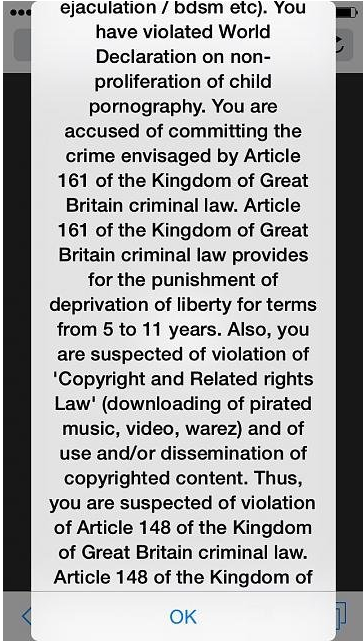 How Did [email protected] Virus malware Get on iPhone/iPad?
We used to think that Apple IOS system can get away from ransomware virus hacking safely. However, cyber criminals create malicious virus: [email protected] Virus message aiming to hack Apple device users. To distribute this scam virus, there are plenty of opportunities, strategies and methods are available for its distributors. The most common and popular method which works is bundling of software. So, you may get this virus while you are downloading or installing the free and infected applications. SPAM email attachments are also used for the distribution of this precarious virus. Sometimes, your online activities may give the virus to hack your Apple device, such as visiting pornographic or gambling website, clicking links on untrusted websites and advertisements, downloading items from unreliable sources, etc. From the previous analysis, you may know why we are saying the distribution channels of the virus are various.
Characteristic of [email protected] Ransomware Virus Message:
It will block your Internet access once it is downloaded.
It will pretend itself as a legitimate warning to lock you out of Safari or Chrome browser.
It will not let you exit the blocked page even you have restarted the device a million times.
It can block all types of antivirus apps.
Important Things You Have To Know If Your Internet Has Been Blocked by [email protected] Virus Message That Asks for $500 Fine:
1. This message can run on iPhone, iPad, iPod or other Apple devices.
2. Don't pay for anything or provide your personal information to this hoax, it won't help unlock Safari/Chrome, but just waste your money.
3. Currently antivirus apps are unable to detect or remove this malware.
4. There is no anti-malware software that can detect 100% of the malware out there.
How to Prevent Your Apple Devices from [email protected] Virus Message?
Since viruses are quite inevitable, there are some tips you can avoid being fallen into [email protected] Virus message in the future:
1. Be careful of downloading applications in the internet because many of them are just cloned applications. Visit legitimate app stores like Apple Store because it filters out the reliable application from what's not reliable. Most viruses are from gaming and anti-virus applications which are forged. Before downloading an application, try to read some customer reviews so that you will be assured that it is truly a trusted app. Stick with apps from App Store and don't jailbreak your device and install apps from third-parties.
2. Be cautious at opening attachments thru MMS, SMS messages and e-mails because you might open an unknown attachment from unknown sender. Never open any attachments which are suspicious to you.
3. Don't open your Bluetooth connection when not in need. It would be easy for the virus to go inside the phone's application and destroy the phone's performance.
4. Read the permissions. Every app you install has to declare its permissions, meaning the app lists what it will have access to on your phone. Don't just click OK without reading what the app will do.
[email protected] Scam Virus Message Pop-up Removal on Mac OS X System:
[email protected] Ransomware Virus will pop up and lock your iPhone/iPad when you visit a phishing site, open a junk e-mail attachment, click on an unknown link or download an application from an unsafe source, especially after you jailbreak your device. Now you know how the virus used to get into your Apple device. You should follow the tips below: 1) be cautious when clicking links. It can point your browser to download threats or visit malicious websites. 2) Do not download unknown "free" software. 3) Avoid opening unknown e-mail attachments. If your Apple device was locked by [email protected] Scam Virus by somehow, don't be nervous and be afraid of being sent into jail or getting into trouble. You should take the most effective way to get rid of this malicious virus. Manual removal is considered as the most effective and best way to remove the virus from your Apple device and unlock your screen. Do you know how to do that? If don't, please contact 24/7 YooCare Online Expert for further assistance.
Suggestion: Manual removal is a skillful and risky job, if any mistakes are made during the removal process, you may damage your device immediately. If you are not sure how to start, please contact YooCare PC/Mobile experts 24/7 online for help right now.

Published by & last updated on November 21, 2016 3:27 am