Hi. My Windows update started not to work last night. A Windows told me that it was checking for updates. The Windows kept openning for hours and I couldn't close it. So, I just shut down the computer and didn't pay much attention to it. I thought problems would be fixed automatically. It had worked greatly since I bought it. But, it doesn't update after I start the computer. Now computer freezes frequently. I don't know what to do. Please help me fix it. Thank you very much.
What is Windows Update?
Windows Update is a Microsoft service which keeps Microsoft Windows and several other Microsoft programs updated. Usually, it works in the background. You probably may not notice its work until something goes wrong with it. In fact, it is a program that has been used to provide updates like service packs and patches for the Windows operating systems and other Microsoft software. You also can use it to update drivers for popular hardware devices. It releases security updates regularly. However, Windows update also may keep doing one thing wihtout an end when things go wrong.
Why Windows Update Keeps Checking for Updates?
While you use the computer, notification may pop up saying that error occurs and update can't be completed. Sometimes, problem will be fixed soon. But sometimes, problem still exists until you fix it. So, why Windows Update remains the same state of checking for updates for a long time? Firstly, you might change your Internet connection settings incorrectly which prevents Windows Update from working normally. Secondly, your computer might be infected with an aggressive virus which blocks Windows Update to avoid being detected and removed. Windows Update might be corrupted and failed to work. Thirdly, some of its components are missing. You might remove important system files by mistake which would affect regular security update. We don't suggest you remove files on your C Drive if you know little about computer. Or, it will cause system crash and other serious system error. Windows update gets stuck in Checking for Updates is one of the tough problems.
Have questions about this article? If you are not sure how to start and are afraid of making any critical mistakes damaging the computer system, please live chat with YooCare Expert now.

Screenshot of "Checking for Updates"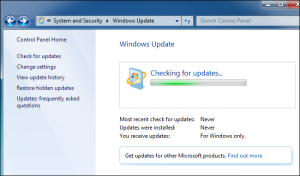 Windows Update Reports about Checking for Updates all the time-How to Fix?
When Windows update on Windows 7, Windows 8 and Windows 10 gets stuck, it stop updating and keep searching for updates. Like, this situation will remain all the time. You may think that your computer is badly damaged and can't recover. Do not worry. You can fix this problem and make things back to normal.
1.Run Windows Update Troubleshooter
Try to use Windows Update Troubleshooter which is a built-in program on your computer to fix the problem. Look for Troubleshooting under Control Panel
2. Select "System and Security" option from Troubleshooting menu, then go ahead with "Fix problems with Windows Update."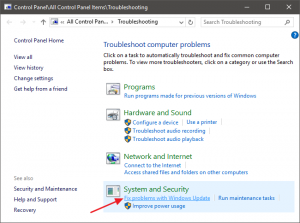 3.Select "Advance" option in the Windows update Troubleshooting windows. You can change the settings there.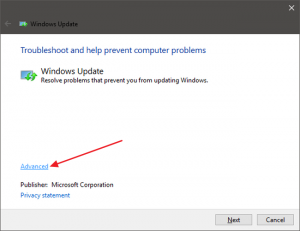 4.Click the "Apply repairs automatically" check box under "Advance" and then click "Run as administrator". At last, click "Next". That will help Windows Update Troubleshooter work smoothly.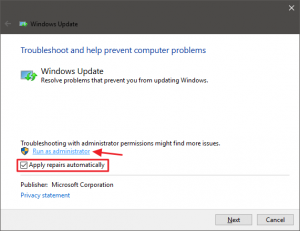 If the above method still can't resolve the problem, we suggest you to fix the problem manually. Restart the Windows Update service and clear related files after you start the computer in safe mode. Besides, we suggest you scan your computer to see if there are viruses that corrupt your system before you start the work. Virus infections are the common reasons that cause system errors in those days. You can pay more attention to the virus detection. If you still have problem in getting rid of "Checking for Updates" Windows, welcome to contact experts for help.
If you are afraid of making any critical mistakes damaging your computer, please contact YooCare Expert for further removal help.

Published by & last updated on November 21, 2016 3:27 am