Hi. My phone is coming up with a NCA message asking for money when I put my phone on and now it's not saying NCA its saying installing system's updates. Is this a virus? It is saying I have to pay £100 by a Paysafecard. What should I do about it saying £100 fine? Will I get the police coming to my door? It said I will receive a letter in 10 working days. It is not letting me turn on the phone. Should I pay the fine because they are going to send a letter out in 2 days? Will I get prosecuted? It is saying the act of 198 and 162. I'm really scared I don't know what to do. Please help me out. Thank you so much.
Brief Description of NCA Scam Virus
NCA scam virus is newly created by the cyber criminals to trick unexpected users into paying non-existed fine. If your device is locked by a NCA message which demands a penalty, you have been attacked by a virus. A piece of ransomware is installed on your device. The virus pretends to be the Metropolitan Police and cyber Crime Unit, accusing you of violating laws. To punish you, the police lock your device. You are required to pay £100 or more money to sort things out. Most of the victims were scared by this NCA message and chose to send money. However, we have to tell you that it is totally a scam. The owner of this waning message is not the NCA. It is sent from the cyber criminals. They build lies to trick you. In fact, it is useless to send them money as it required. They only want money from you and do not care about your device at all. Your problem will not get fixed until you remove NCA scam virus.
How did Your Device Get Infected with NCA Scam Virus?
The cyber criminals spread NCA scam virus widely to attack devices all over the world. In order to make you download virus, they bundle virus with the third party software. You may be persuaded that it is a piece of useful and download to use. Then, virus comes along. At the same time, the cyber criminals steal your email address from the third party and send you spam with virus. The spam may contain an attachment, links to a funny video or product promotion detail. If you open the attachment or click on link, virus can take over your screen immediately. In addition, your device can be infected with NCA scam virus on malicious adult websites or legit websites that have been compromised. Ransomware will be installed while you viewing those suspicious websites.
What NCA Scam Virus do on Your Device?
As a piece of ransomware, NCA scam virus takes your device hostage. It is able to block the whole device. You can't give a call or text. The NCA warning occupies the full screen. You can't access the home screen or any app there either. This page will not disappear though you restart the device. It explains that suspicious activities have been detected on your device and now it has been for safety reasons. Usually, it gives you 24 hours to send money. There is a countdown on the screen which really makes people feel nervous. The penalty can be from £100 to £500. Besides, the NCA scam virus can block your Internet. It has the capability to infect Google Chrome, Internet app, browser app and Safari. When you open the browser, it hijacks the homepage and will not allow you access the Internet. You only can see the scam message there. It threatens you that you will become the subject of criminal prosecution without the right to pay the fine. Though it looks real, do not trust it. Paying the fine will not help your infected device. Besides, we do not know whether this NCA scam virus will install more viruses to grab your sensitive information. It is harmful to your device and information. You must get rid of it right now.
If your device is infected with NCA scam virus, you would see message like this:
ATTENTION! YOUR MOBILE DEVICE HAS BEEN BLOCKED FOR SAFETY REASONS.
If you let 24 hours pass without payment, your mobile device with all photos, music, movies, games, documents will be deleted and you become the subject of criminal prosecution without the right to pay the fine and possibility of unlocking your mobile device expires!!!
Since paying the so-called fine won't help you remove this scam virus, manual removal is an effective solution for this. Processing manual removal is supposed to have a certain level of tech skill. If you are not sure how to start and are afraid of making any critical mistakes damaging the cellphone, please live chat with YooCare Expert now.

Screenshot of Scam Virus on Android Device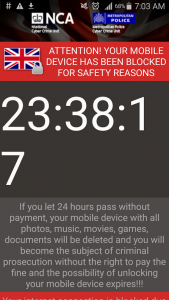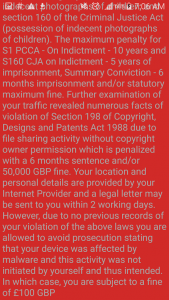 Step-by-step Guide to Unlock Your Tablet/Phone from this scam virus
Step 1: Please try to put the infected android phone into Safe Mode at first to unlock the screen temporarily from the powerful scam virus
(1). For various android phones: hold down the power button to bring out the menu with Power Off and Reboot option—-hold down the Power Off option (If nothing happens, please tap and hold the Reboot option instead)—-click OK on the pop-up box asking if you want to access safe mode
(2). For Samsung Galaxy S4 and Samsung Galaxy S5: power off the device—-turn on and tab the soft-touch Menu button repeatedly
(3). For Samsung Galaxy S3 and other phones with similar customized android system: power off the device—-turn on and hold down the Volume Down button (try Volume Up or Volume Down and Volume Up together if Volume Down does not work) when the brand logo shows up
You will see "Safe mode" at the lower left corner of the screen if you access safe mode successfully

Step 2: Search and remove suspicious files which are related to the virus
Step 3: Reboot the device to get out of safe mode.
Conclusion
In a word, you should never trust the NCA scam virus. Though it has the flag of the United Kingdom and logo of NCA, the message is not real. It just copies the related laws to scare you. Do not be fooled by its trick. They attacked your device and now are trying to steal your money under the help of ransomware. Do not send any money to support the criminals. Otherwise, you will lose money for nothing and the criminals will become more rampant. What you have to do is to get rid of this nasty virus immediately. We suggest you remove NCA scam virus manually to unlock your device. In the future, do not download unknown free software and visit malicious websites. Besides, do not open spam from suspicious people. Delete them as soon as possible.
Suggestion: Manual removal is a skillful and risky job, if any mistakes are made during the removal process, you may damage your phone immediately. If you are not sure how to start, please contact YooCare PC experts 24/7 online for help right now.


Published by & last updated on October 13, 2016 2:42 pm