My phone was locked by the FBI cyber crime department datacenter, is it a virus? If it is, how can I remove it completely from my phone? Do you know how and could you please help me? It locks everything on my phone now and I can't do anything with my phone, I want to make phone call to my friends, we will have a party tonight. And I also was worried that is it possible that my contacts will lose or will I lose anything in my phone? This phone just is very important to me. Please help me unlock my phone, please! It is an urgent issue, please help me immediately. Thanks a bunch in advance.
Know More About FBI Cyber Crime Department Datacenter
Is FBI cyber crime department datacenter a virus? The answer is "Yes". This scam virus has been distracted on the Internet for a last long time and it has locked many online users' computers, tablets or phones. When the device is infected by this virus, the device will not able to go to the internet or even can't work normally. The infected device's user may not surf on the internet or they even can't use the device to make a phone call, text message or open any applications in the device. If the virus locks everything on the device, what the user can do may just be turning the device off then turning it back on. But no matter how many times the user restart the infected device, what always appears on the screen is the FBI cyber crime department datacenter scam virus. In some case, the user even can't restart the infected device at all. Then what you can do to fix it if this scam virus locks your computer, phone or tablet? And what this virus can do in the infected device? Is any risk if you don't remove the virus from the infected device immediately?

This scam virus always tells the victim that they have violated some laws and would be involved in the court. And if you pay a XXX dollars fine, you will be fine. Some messages the virus told you like "By the 18 USC#2256 you have broken the U.S laws that prohibiting the possession and distribution of survey using materials containing child porn or distribution of video / photo materials & pirated software. According to Pub L 112-avoid much more strict punishment. You will be responsible to the supreme Court of The united states for the next steps. You need to be Verified. If you refuse this verification process within 24 hours your information will be sent to your local authorities. You will be CHARGE OR IMPRISONMENT." As you see, this FBI cyber crime department datacenter scam virus looks real and is really scaring. But you need to note that this virus is created to scam people. The real FBI won't never lock device screen or block device's internet to collect money. Please don't trust this scam virus. Please don't pay the fine the virus asked or you will be unable to get it back. What you should do immediately is to restart your device to safe mode. Can't restart your device or don't know how to get to safe mode? Let's see below.
Screenshot of Fake Police Message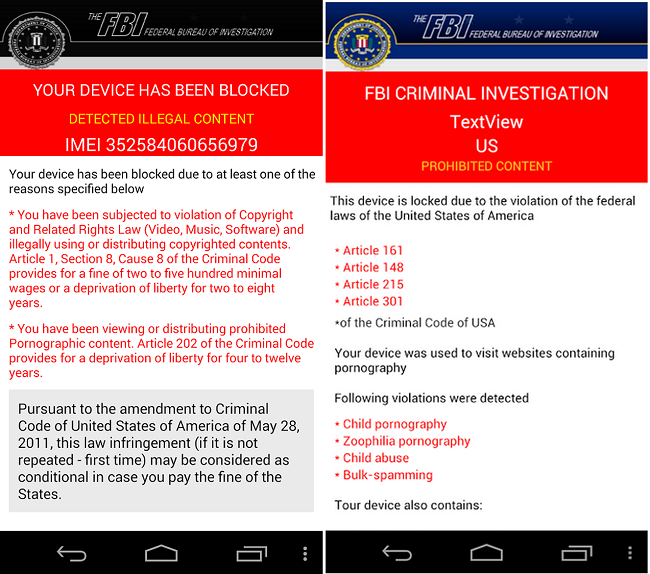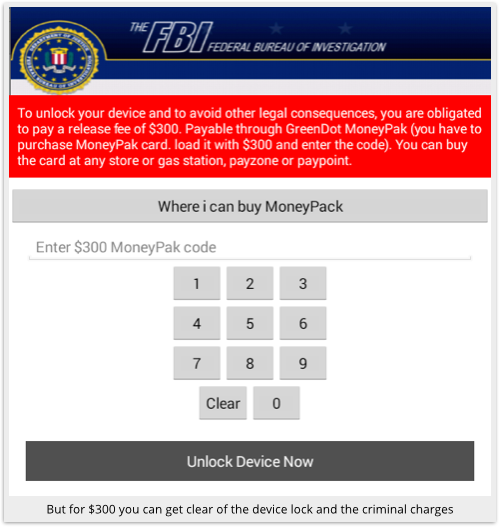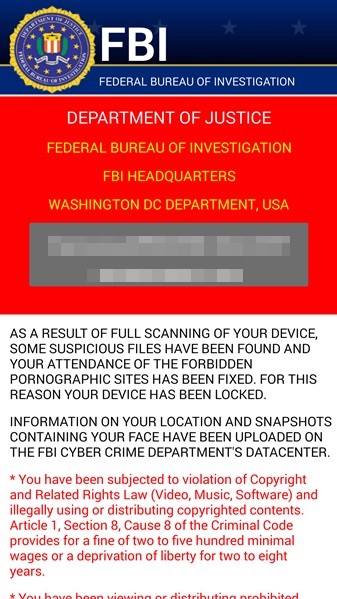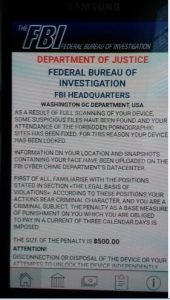 Some specialties of this FBI Scam Virus
1. Lock you out of your phone/tablet, and you just can turn your device off and turn it on.
2. Saying that you have visited some illegal websites or watched porn or something like that, but you never did before.
3. Asking for payment to unlock your device in a limited amount of time. And says if you don't pay, you might get police trouble.
4. It can remotely access to your phone/tablet and get your personal information.
If you find any symptoms listed above showing on your cellphone or tablet, then your device must be suffered with a malware infection(which can be United Kingdom Police virus scam, FBI scam virus, Mandiant U.S.A. Cyber Security virus, FBI Moneypak virus, Prism virus, U.S.A Cyber Security virus, AFP Crime Commission virus and GVU Ukash Virus etc.) that blocks your access to your smartphone or tablet. Welcome to contact YooSecurity Online Experts for manual removal guide. Also, we will provide a short removal guide below for phone and tablet literate.
NOTE: Being afraid to do any wrong operation during the process of removing FBI cyber crime department datacenter Scam on tablet or phone? Please contact YooSecurity Online Experts, we are here to help you:

How to Unlock Your Phone/Tablet From FBI Cyber Crime Department Datacenter Scam? Here Are The Guides
1st. Since your phone or tablet is blocked by this malware, you will need to get your phone or tablet first then turn it on to safe mode. By this way, you are capable to carry out malware removal steps on your device. Here is the example for you to put the android phone or tablet to safe mode. The method mentioned below is also applied to most android tablets.
Take LG Phone as an example: 1) Power down. 2) Turn on till you see the LG's logo, press and hold Volume Down key till you access to safe mode.
Note: Zte, Sony, Samsung and other brands' phone users can also try the same way as LG's to put your phone to safe mode. If you have put your phone to safe mode successfully, you should see a text "Safe Mode" at the bottom left corner.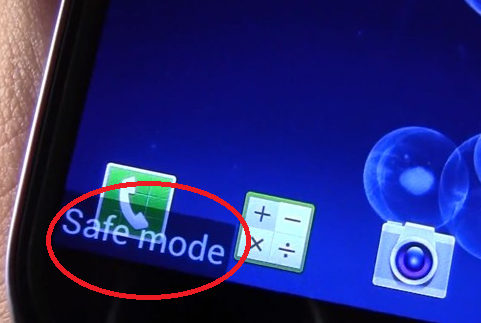 2nd. Once you have put your phone in safe mode, you are capable to uninstall malicious apps of your phone. However, the manual removal process of harmful apps requires sufficient expertise. To safely deal with this kind of ransomware and other hazardous apps, you had better contact an expert online for further removal help.
Conclusion
Your device got hacked by this FBI cyber crime department datacenter scam virus? Please note that don't pay to it and you should remove it as soon as possible. The virus is capable to block your internet or lock your device and not allow you to get into your device. You can't use it to surf on the Internet or make a phone call. You even have no ability to restart your device. The only way to use your device or internet again is to clear the virus completely and effectively. If you don't remove the virus instantly, the virus may install some malicious programs into your device then get your personal information, it will be very dangerous for you. Your personal information may be disclosed and your money may be stolen. So you should be aware that how important is it for you to remove the FBI cyber crime department datacenter scam virus as soon as possible.
Suggestion: Have spent a lot of time but can't get out of Fake police Message on your mobile device? Contact online experts for tech support now!


Published by & last updated on June 30, 2017 8:52 am