Hi there. Is there a way to free up disk space on my OS X Mac? I store lots of business files on it because I need them to deal with my daily business. Besides, I have lots of videos and picture of my lovely family, especially my little boy's stuff because I always go out for business trip. Though I have 512 GB space on the disk at the beginning, less space is available. It makes my Mac run slow, but my work needs a fast computer? Should I buy a new Mac? But I don't think the one I have is old. I bought it about 9 months. What should I do? Any advance would be appreciated.
Is Your Disk on OS X Mac Getting Full?
With the development of technology, users have larger and larger space on your hard disk. Meanwhile, do you notice that your disk is getting full? With large space, they can use the computer fast and freely. Especially when you use a Mac, you can enjoy the fast running during work. However, you may find that the space is still not large enough if you use your Mac to browse and receive new files every day. As time goes by, it will run out of storage eventually. If you want more space, you need to do something.
Why Should You Free Up Disk Space?
As we mentioned above, the full hard disk will make your Mac run slow. At that time, it takes more time to respond when you are trying to run an application. Sometimes, it just freezes suddenly or even crashes down. If you play games on your Mac, it will drive you crazy when your Mac stop working in the middle of game. If you work with your Mac, it is necessary to get more space on hard disk. One day, your boss is about to send you a certain tool with large size or lots of documents and attachments. You must make sure you have enough pace on your disk. If your hard disk is almost full, it will be pretty awkward. You may notice that it affects downloading speed. It takes much more time to download a small file. In addition, full hard disk may cause important files lose without your knowledge. We can't tell when and which file may be lost. You had better pay more attention to it. If you don't want potential risk, it is a good idea to free up disk space on your OS X Mac.
Freeing up disk space is supposed to have a certain level of computer literacy. If you are not sure how to start and are afraid of making any critical mistakes damaging the computer OS X Mac, please live chat with YooCare Expert now.

Note: Please do a backup before you start in case you make vital mistake.
How To Free Up Disk Space on Your OS X Mac?
Method 1: Remove photos, videos, music and other similar data which you don't use frequently. You can transfer them to external storage devices. and put them back when you need them.
Method 2: Clear temporary files on hard disk. After you use the applications, there are cookies, history data, cache files and other data that you don't need. Though their sizes are small, they still can eat up much space if you don't clear them in time. They will pile up soon. In the removal process, be careful and do not remove important files by mistake.
Method 3: Empty your trash cans in time. You may remove files you don't need every day. However, you ought to know that they still exist on your disk. To remove them completely, you have to empty the trash cans.


Method 4: Uninstall plug-ins and programs you don't need. You might install many programs to perfect your browsing activities or have better game experience. Some of them take up much space. If you don't need them any more, we suggest you uninstall them to get free space. Besides, plug-ins can be installed along with game applications while they do nothing good to your Mac. You can remove useless plug-ins safely.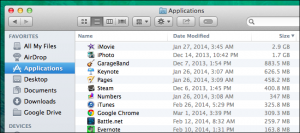 Method 5: Remove extra languages you don't need. OS X Mac supports over 25 languages which take up space. You only need to keep the ones you use frequently.
Method 6: You can compress files and folders into an archive that takes up less space. It is a wise idea to compress files with large sizes which is very convenient.
Conclusion
In a word, you will benefit a lot after you free up disk space on your OS X Mac. You deserve more free disk space. You may be afraid that you will make fatal mistake while you try to free up disk space. It is a problem if you have professional computer skill. You may remove the wrong files which can cause system crash. It is not worth trying then. But do not worry, you can ask YooCare Experts for help. They would like to help you free up disk space effectively and safely. Take action right now.
Have no idea to free up disk space on your OS X Mac and are afraid of making any critical mistakes damaging your Mac? please contact YooCare Expert for further removal help.

.
Published by & last updated on September 17, 2016 1:47 pm