When FBI Wal.mart Money Card Virus blocks your phone? I would like to complain about an incident which happens with me. This morning around 2.45 to 3.00 Am, I was watching some teen-age stuff on my phone and all of sudden my phone got blocked and said that your phone had been blocked by FBI due to some porn stuff which you were watching and they asked me to pay $500 penalty via moneypak, and since it happened with me first time. So I was so scared that's why I paid them without investigating that matter. I am trying to restart phone but it's not working, basically my phone is stuck and since i paid them money it's showing that it's processing and it will take 24 hours. But after 24h, the virus is still on my phone. What can I do now? Can you give me some advice? Please!
A General Description About FBI Wal.mart Money Card Virus
FBI Wal.mart Money Card Virus is an notorious ransomware, as similar with Ukash virus and PCeU virus. This kind of virus will threaten your android device, and it spreads fast through network, apps, and some strange-looking links. Nowadays Wal-Mart card virus has been attacked many people mobile phones. Maybe this virus is not a newly-released threat, but in recent years, it has been distributed all around the Internet. Why this sort of virus gets into an android operating system rapidly, the reason is an increasing number of Android users. Cyber criminals produce the virus in order to trick people's money. FBI Wal.mart Money Card scam blocks many Android devices covering tablets and any mobile phones. Once Android device is arracked, the whole screen will blocked by virus. The virus demands victims to pay a so-called fine about £100 to £500 for allegedly committed a crime going through illegal pornography websites. However, the fake UK Police warning page looks like real, because there are so many details on the screen like your IP address, the city where you stay and other information. But do not pay any fines to the virus unblock your device or you'll only lose your money and get nothing returned.
All in all. this fake police virus is just a scam. It will insinuate into your phone and block it, and then demands a ransom in exchange for unlocking your infected android device. So the best way is to remove the virus as soon as possible.
Processing manual removal should have a certain level of mobile phone. If you are not sure how to start or afraid of making any critical damage your phone, please open a live chat with YooCare Expert now!

Reasons that Your Phone Has Been Blocked
The reason why your mobile phone is infected by FBI Wal.mart Money Card Virus is clicking some pop-ups, going some illegal websites or watching Adult films. There are plenty of viruses in these websites, if you do not pay attention to them, you will put your smartphone into the arm of the virus. Sometime, in order to save money, you might download some apps from illegal website. Some of the viruses hide in the apps which you download. Such a move will make the virus get close to you. I believe most of us should have a little knowledge of ours phones. In fact, mobile phones if they are infected by virus, and they even more serious than computer. Maybe it will send messages or download some addition malwares to the infected device. The worst is, the virus will steal your credit card number and password. So we suggest that every people should download app from reliable app store and visit some legitimate websites.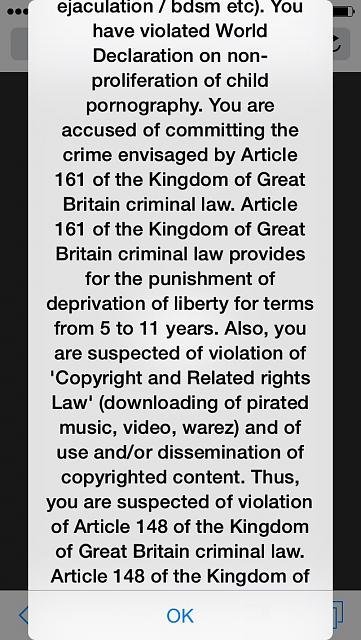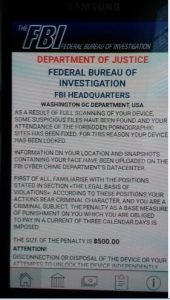 Tips to Prevent Fake FBI from Installing on Your Android Device
1. Pay attention to apps you are trying to install. You should always be judicious about which apps are safe and where they come from. The best way is to stick with downloading well-known apps from reputable markets like Google Play in order to have some security apps.
2. Avoid visiting some phishing websites or pornographic sites. There are a large amount of viruses involved in these shady websites. They could get your personal data and steal your credit card details. Experts suggest you go to some legitimate sites to watch movies.
3. Install a reliable antivirus app. An antivirus program can help you obstruct most of suspicious apps when you install apps on your android device, it will minimize the risk of your phone being infected with FBI Wal.mart Money Card Virus.
Removal guide Fake FBI From Android Phone
1. Restart your android device to safe mode.
Safe Mode is a mode that allows your phone to uninstall any suspicious apps which cannot be removed in the normal mode.
Guides to get to safe mode: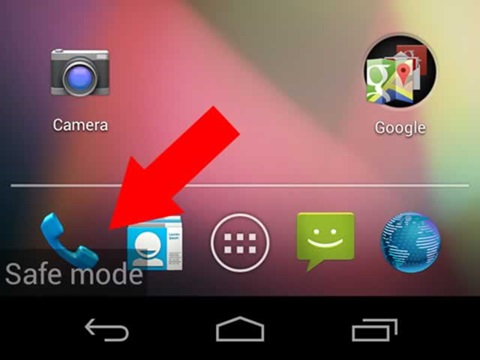 *For Samsung Phones
With the device powered off, press and hold the Power button (located on the right edge) until the Samsung logo appears then release.
With the Samsung on the screen, hold down the Menu button (the soft key at lower left corner) and then hold the Volume down key at the same time until safe Mode displays in the lower left then release.
*For LG Phones
With device powered down, press and hold the Power button until the LG logo appears then release.
With the LG logo still on screen, press and hold the Volume down button (located on the left-edge of the device).
Continue to hold Volume down button until 'Safe mode' appears in the lower-left of the unlock screen then release.
Note: The process may take up to 45 seconds to complete.
*For HTC Phones
With the phone powered off, press and hold the "Power" button for a couple of seconds to turn the device back on.
When the HTC logo appears on the screen, press and hold the "Volume Down" button.
Continue holding the "Volume Down" button until the Android OS is completely loaded.
Conclusion
We are not any time in a secure network environment. Sometimes, if you do not pay attention to surf on the Internet, the virus will attack your mobile phone. FBI Wal.mart Money Card Virus is a kind of ransomware that can infect both computers and cellphones. If you get it on your android device, it will block your Internet admittance. The virus will announce that you visit child pornographic contents or do something illegal things. So you need to pay a release fee about £500 via moneypak to get your device unlocked. The fake message will mislead you to make a payment by purchasing a Moneypak or Paysafecard. Otherwise it won't let you have any activity on your smartphone normally, like calling a phone, texting any messages to your friends and surf on the Internet. One thing you should be impressed on your memory, there is no reason for you to pay for the virus, even though the police warning seems real. It is just produced by scammer who uses these tactics to make money. If you have the same problem like you before, you must remove FBI Wal.mart Money Card malware from your mobile phone beyond all question.
Note: Still have trouble in removing this virus? If you don't want to mess up your mobile phone, Please contact YooCare Experts for instant help now.

Published by & last updated on April 22, 2017 5:07 pm